In a survey by Kaspersky Lab, 35% of the respondents admitted that they had suffered data breaches due to malware infection. This can happen to you as well. And this is not the only reason for data loss: phishing, accidental deletion, and third-party apps can also be the cause.
Such nuisance can be easily avoided with a good backup solution in place. However, the question is how to choose the best solution that perfectly meets your requirements.
In this article, we compare two prominent online backup service providers, Backblaze and Carbonite, to help you evaluate which is the best fit for your business. So that you can make an informed decision.
Carbonite vs Backblaze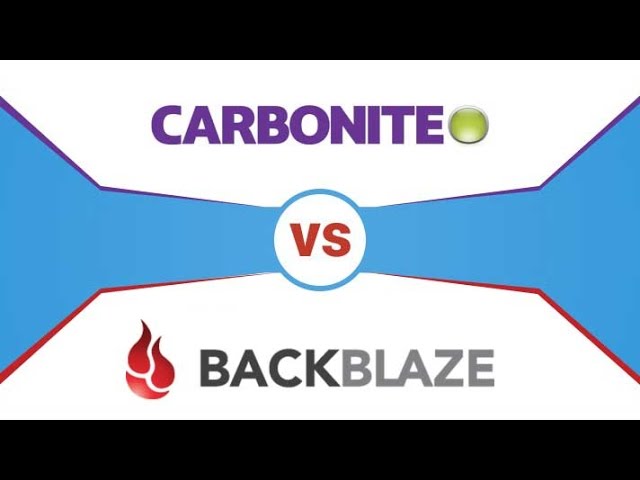 Backblaze is considered a pioneer in the online backup industry. It is headquartered in San Mateo, California, and has been in business since 2007. Backblaze was incorporated in Delaware and was started in the one-bedroom home of Brian Wilson, its co-founder and CTO, and since then, there has been no looking back.
Backblaze has customers all over the world, has won multiple awards, and has been featured in leading magazines and news sites Like USA Today, Yahoo! Tech, Forbes and VentureBeat.
Some of the interesting features it offers are unlimited storage space, unlimited cloud backup, cost-effective pricing, automatic, continuous, and instant backup, quick and easy multiple forms of data restoration, and support for over 11 languages. There's also auto-tracking of file changes, mobile appa for both iOS and Android, 256-bit transfer encryption and 128-bit AES storage encryption and advanced bandwidth control.
Carbonite is an award-winning online backup solution provider founded by Jeff Flowers and David Friend in 2005, the fifth joint venture for the pair. It is headquartered in Boston, Massachusetts, with data centers in multiple U.S. locations.
Carbonite backs up more than 350 million files every day and has restored 20 billion files so far. Carbonite has won several accolades, such as INC 500's Fastest-Growing Companies in America, the 2010 New England Innovation Award, and Lead411's Hottest Boston Company, and has been featured in top tech sites, such as Lifehacker, NextAdvisor, and Macworld.
Some of the popular features it offers are unlimited backup storage, mobile apsp for both iOS and Android, a user-friendly interface, affordable pricing, administrative browser-based dashboard, SSL encryption for data transfer, 128-bit Blowfish encryption for files, automatic and continuous backup. Plus free valet installation and HIPAA compliance.
Pricing is a critical parameter for consideration for every customer, and it seems like both Backblaze and Carbonite perfectly meet the need, as both of them have competitive pricing. But is that good enough? Let's see who wins here.
Backblaze
Backblaze offers a single plan across for all of its  users. It appears the company believes simplicity is the key. It provides unlimited data backup for both PC and Mac at $5 per-month, per-computer. However, with an annual-subscription commitment, you can get it at a price of just over $4 per month, which adds up to $50.
If you intend to save more money, then the two-year commitment should be a good choice. You can save a total of $25 by paying $95 for two years. Because Backblaze offers a single plan, it covers all the necessary features under the same roof.
You get unlimited data storage, zero restrictions on file size, automatic backup, faster upload speed, and the ability to add a personal encryption key. In a nutshell, it's simple. Plus, you get great value for your money.
Carbonite
With Carbonite, everything comes at a price, but you get what you pay for. While looking at Carbonite's pricing plans, you're sure to exclaim, "Well, that's not official, though!" Unlike Backblaze, it offers four plans to serve specific needs.
Individual users can avail of a personal plan, which has a starting annual price of $59.99 per computer. You get an automatic-backup feature, 7-days per week of customer support, and free apps to sync, share, and access files remotely.
If you need more features—for example, external hard drive backup, mirror image backup, courier recovery service, and automatic video backup—then there are two more plans available under Personal, both with an annual commitment: Plus, priced at $99.99, and Prime, priced at $149.99.
Carbonite understands that if there is a fish in the ocean, then there should be a shark as well. So to serve the large players, it has a Pro plan, designed specifically for businesses that need backup protection for unlimited workstations. It offers a maximum of 500GB cloud storage space and starts at a price of $269.99 per year.
If you are looking for a plan to meet your server security or disaster recovery needs, then you would be happy to know Carbonite has those areas covered as well. The server plan starts at $799.99 annually and offers hybrid protection for live applications and databases, like SQL, Exchange, and Oracle.
For disaster recovery, Carbonite has an Appliance plan, which costs $1,199.99 per year and is sold only through Carbonite's partners. It offers some valuable features, such as automatic cloud integration, faster on-site data recovery, and full system restore.
In a nutshell, Carbonite is a jack-of-all-trades, at least in terms of pricing. (We're not saying "master of none," though!)
Winner: Carbonite wins simply because of its versatility. Backblaze offers a super-simple plan and comes at a lower price, but Carbonite is the winner because it has all kinds of needs covered. However, the "winner" may change depending on your requirement. As we keep saying, "Choose what suits you best."
Can you leave the security part out of your decision in selecting a backup solution? You cannot afford to do that, right? It is critically important to know which stands out as a leader in the security category between these two, so let's hit the bell and get in the ring again.
Backblaze
Backblaze encrypts your files with an AES 128-bit key before transferring them through SSL to its data centers, where they are stored encrypted as well.
All you need to do is to key in your account login credentials, like your email address and password, to access your data. This is a good feature as it keeps your data safe and private, especially if you're backing up over public Wi-Fi, such as over Wi-Fi in a hotel room, airport or coffee shop.
The best part is Backblaze offers an additional security layer by providing a private key that can be used uniquely to protect your data. All you need to do is select a pass-phrase that can be used to encrypt a private key.
There is no way that anyone, including Backblaze employees, can access, decrypt, or restore your data. However, this can be a serious headache if you forget the pass-phrase as there is no "password reset" for this feature. The result? Your data becomes unrecoverable. 
If you request a restore, Backblaze will first locate the data on its secure restore server and then assemble a copy, which gets deleted automatically after 7-days (or you can do it manually). Backblaze's data centers are located in Sacramento and Oakland, California. Both data centers have a strict physical security system in place, such as round-the-clock guards, identification checks, biometric security, and facility monitoring.
Carbonite
Carbonite's encryption feature is the same as Backblaze's. It first encrypts your data with an AES 128-bit key and then uses SSL for file transmission. You can also set up your own 256-bit private-key encryption, but as in Backblaze, if the key is misplaced or lost, your data cannot be recovered
As we mentioned before, Carbonite focuses on satisfying customer-specific needs instead of being generic. So if you need better security, then the hybrid backup feature of its server plan should be a good fit. Your data lives on your local server as well as in the cloud at off-site data centers. When there is downtime or unexpected setbacks, your files remain ready at hand for recovery.
Carbonite has its own proprietary software, named Carbonite File System (CFS), which provides additional protection for storing and retrieving your data. This technology enables automatic monitoring of every storage server to ensure the data captured and stored doesn't get corrupted.
CFS uses RAID 6 technology, an enterprise storage architecture optimized for data protection. All of Carbonite's data centers have uninterruptible power supply, independent AC systems, and on-site generators and are guarded 24 hours a day throughout the year with physical security systems, such as access based on biometric scanners and electronic key cards as well as CCTV.
Additionally, Carbonite complies with HIPAA, and it is one of the first cloud vendors to do so with the new federal regulations.
---
Winner: It's a tie. Both Backblaze and Carbonite have a strict security system in place to ensure their customers never have to worry once the data has been backed up to their servers.
Backblaze and Carbonite both offer excellent features and affordable deals, but during tough times, do they stand beside you and offer the technical support you need? Let's investigate.
Backblaze
Backblaze has a robust ticketing system in place. You can both register and check the status of a ticket on the same page. To get your job done on high priority, you can update through follow-up emails.
Backblaze also has a knowledge-based section on the Help Desk page, which covers all the usual questions regarding the setup procedure, troubleshooting, billing, restoring data, and backing up and other FAQs.
Backblaze offers email support 7 days a week, and the usual response takes 24 hours. Last year, it launched Live Chat support, which is available Monday to Friday, 9 am to 5 pm (PST). The only thing it lacks is phone support, which is a quicker mode and very much needed.
Carbonite
Carbonite claims to have a 93 percent customer-satisfaction rating. Its support center is located in Lewiston, Maine, and offers both email and phone support between 8:30 am and 9 pm (EST) 7 days a week.
Like Backblaze, it has a knowledge-based section to help users get answers to all their basic questions, such as those about setup, restore, and billing. An exclusive feature it offers is agent-based support, wherein a representative takes you to Carbonite's remote desktop portal and provides you a session key to log in.
---
Winner: Tie. Backblaze doesn't have phone support, but Carbonite does. Similarly, Carbonite doesn't have live chat support, which Backblaze has recently started offering it. The rest of the features, like availability and response time, are essentially the same for both providers.
Winner (Customer Support): Tie

Backblaze and Carbonite both offer mobile apps, helping you back up and access files on the go, but which has better functionality? Let's find out.
Backblaze
Backblaze has mobile apps for iOS and Android, and it functions similarly on both platforms. Once it's installed and you're logged in, you will see a complete list of computers that are being backed up to your account, and you will find a list of the connected hard drives. All you need to do is to select your computer.
All the files and folders within the app are easy to find as those are organized in the same way as on your computer. You can download unlimited files, interact with them, and share them in many ways. However, the sharing options you get depend on the type of file, and you can't access any file larger than 30MB.
You need Ice Cream Sandwich 4.03 or higher to run the app on Android, and for iPhone users, it fully supports iOS 8. Notably, Backblaze can't backup your mobile device.
Carbonite
Like Backblaze, Carbonite supports both iOS and Android. The installation is pretty straightforward, and once logged in, you can access your files or backup your data easily.
One interesting feature it offers is backup based on your preferred Internet connection mode, such as if you want to backup only when there is Wi-Fi or when you're on a mobile data plan. The mobile app also comes with a locate-your-computer feature, which helps you detect your device in case it has been stolen or misplaced somewhere.
Winner: Backblaze has more limitations, so Carbonite comes ahead here as the winner.
The competition is tough, and we compared both of them in terms of four parameters to offer equal opportunity, but Carbonite has played well and won this comparison, 2–0, with the other rounds resulting in a tie.
Carbonite comes with more versatile pricing plans to address specific needs, and its mobile app has fewer limitations than Backblaze's—which puts Carbonite ahead.
Sign up for our newsletter
to get the latest on new releases and more.
However, the pricing also depends on the features you need, and you may find Backblaze is still good for you. You can find a Carbonite offer code here. Which one do you plan to use? Do you have the same verdict as ours, or is the winner of Backblaze vs Carbonite different in your eyes? Please share your experience and thanks for reading!
www.carbonite.com