Zoolz Review
Zoolz is a smart backup service with good functionality but some worrying security features.
By Joseph Gildred – Last Updated: 22 Mar'18

Good
Starts from
$
19
95
monthly
for

600 GB
| | | |
| --- | --- | --- |
| Plan | Free | HEAVY (archiving) |
| Price Plan | | |
| Storage | 100 GB | 600 GB |
| Details | 25GB of hot storage, 75GB of cold storage. Up to 5 users on up to 5 devices. | 500GB of hot storage, 100GB of cold storage. Up to 10 users on up to 10 devices. |
Zoolz Intelligent Cloud, or Zoolz for short, integrates with Amazon S3 and Amazon Glacier, providing both hot and cold cloud backup for businesses. However, as we'll show you in this comprehensive Zoolz review, it's the service's smart features that really make it worth a look.
This advanced online backup platform offers a range of capabilities uncommon to the competition, including optical character recognition, facial recognition and the ability to search the actual content of stored files. Zoolz also provides zero-knowledge encryption (sort of) and secure file-sharing capabilities, as well as backup for mobile, MS SQL, Facebook, Instagram and popular cloud storage services like Dropbox, Box and Google Drive.
Stick with us as we take you through the features, costs, user experience and everything else you need to know before deciding if Zoolz is the best cloud backup solution for you. Or, if you're ready to give it a test run, go ahead and sign up on Zoolz for a free 100GB of storage.
If you're not in the mood for much reading, check out our Zoolz video review below.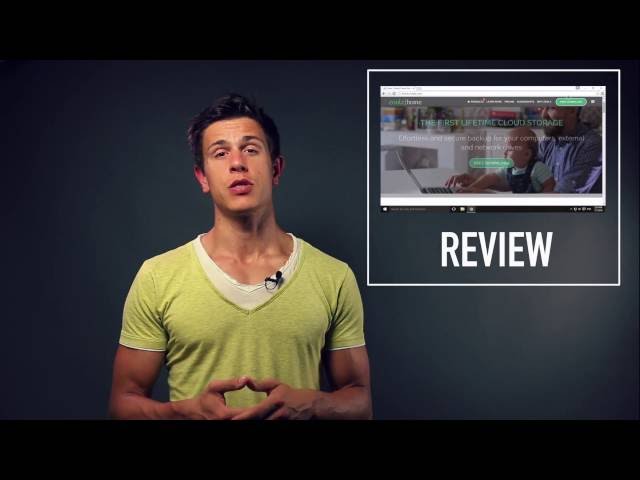 Strengths:
Hot & cold storage available
Zero-knowledge service
Backs up multiple mobile devices
Backs up cloud storage & social media
Advanced content search capabilities
Secure file sharing
Plays media without buffering
Weaknesses:
Collects file metadata
Not very intuitive
Limited backup capabilities
Limited customer service
When it comes to nifty features, Zoolz doesn't disappoint. It includes several that you might expect to find with a business-grade backup tool, and many more you wouldn't.
For starters, Zoolz gives you access to two types of storage: hot and cold. Hot storage is meant for content that you need frequent access to, while cold storage is designed for archiving.
Hot storage, which utilizes the Amazon S3 network, gives you faster recovery speeds but comes at a higher price. Cold storage, which sends files to the Amazon Glacier network, has much slower recovery speeds, but also costs less.
Zoolz also gives users specialized "media storage." Videos, audio and photos are stored in an optimized version for instant viewing (without buffering), while their full files are kept in cold storage.
In addition to sending your files to the cloud, Zoolz can send copies to local storage. This is called hybrid backup and is something we'd definitely recommend both SMBs and even ordinary consumers consider. Backup to a local device means faster restores, while backup to the cloud is safer in general because your data will be secured in a remote data center on RAID servers.
Another aspect of Zoolz that separates it from typical cloud backup services are its various data-processing algorithms, designed to both organize your data and help you search through it later. Zoolz collectively calls these features "Zoolz Intelligent," and with good reason.
One Zoolz Intelligent perk includes the ability to use a search feature called eDiscovery to not only find stored files by name, but actually search stored file content, just like a search engine. Zoolz also has optical character recognition (OCR) capabilities, which can be used to search text in both .pdf files and images.
Additionally, tags like resolution, date taken, location and even dominant color are automatically created for every photo you backup, making it easy to filter them later on. Zoolz Intelligent can also recognize and tag common objects in photos — for example, cats and dogs — and even perform facial recognition.
Zoolz lets you remotely access content from its browser interface and mobile apps. Subscription plans also include backup for a certain number of mobile devices and MS SQL databases.
Like most backup tools today, Zoolz supports file sharing of any content you have backed up. Unlike many of those backup tools, however, it approaches file sharing with a level of security that should keep your content from ever falling in the wrong hands.
Shares with non-Zoolz users are accomplished by generating a secure link that can be password protected, have an expiry date set and send a notification every time a file gets downloaded.
We'll take a closer look at both the user experience and backup processes later in this review.
Zoolz offers one of the more generous free backup plans we've seen to date, with 25GB of hot storage and 75GB of cold for business users. Many backup services don't provide any free backup at all, just a trial. Still, for most users looking to backup even a single computer, that's probably not going to be enough. If you need more space, Zoolz has one subscription-based business plan.
| | | |
| --- | --- | --- |
| Plan | Free | HEAVY (archiving) |
| Price Plan | | |
| Storage | 100 GB | 600 GB |
| Details | 25GB of hot storage, 75GB of cold storage. Up to 5 users on up to 5 devices. | 500GB of hot storage, 100GB of cold storage. Up to 10 users on up to 10 devices. |
600GB at $19.95 is very competitive for business backup, even with the 100GB of cold storage taken into account. By comparison, a 500GB Carbonite business plan costs $600 a year, which works out to around $50 per month. Granted, that's backup for unlimited computers, whereas Zoolz caps you at 10, but it's still significant savings.  
Of course, many business users will find they need considerably more storage space. For that, Zoolz offers a customizable "business" plan that lets you set your own hot and cold storage allotments (up to 50TB each), add high definition video streaming, set the number of mobile devices you want backed up and add MS SQL backup.
---
| Business Plan: | Cost per Month: |
| --- | --- |
| Hot Storage: | $0.08 per GB |
| Cold Storage: | $0.04 per GB |
| HD Streaming: | $0.03 per GB |
| Mobile Device: | $1 per device (multiples of 5; minimum of 5) |
| MS SQL: | $10 each |
---
With customized plans, you get the option of paying monthly or annually. If you pay annually, you'll get two months free.
It's fair to point out that Zoolz is using Amazon S3 for hot storage and Amazon Glacier for cold storage. If you were to buy Amazon S3 storage directly, you'd pay at most just $0.023 per gigabyte. Amazon Glacier would cost you at most $0.0125 per gigabyte.
That's quite a bit less than Zoolz's rates. Of course, you'd need a backup client like CloudBerry Backup to get your data into the Amazon's servers, and would miss out on some of the neat Zoolz features we detailed above. Check out our CloudBerry Backup review if you prize flexibility beyond Zoolz's features.
Zoolz requires a business address in order to signup. Signup is quick, and once you're logged into the browser, you'll be prompted to download the Zoolz client, called Zoolz Intelligent, for your desktop or mobile device.
Desktop clients are available for Windows and Mac. For our review, we downloaded and installed the Zoolz Windows client, which took just a minute. Once running, the client lets you "smart select" or manually select content to backup, either for hot or cold storage.
We'll walk you through the actual backup process in the next segment, but overall it's mostly straightforward, though perhaps not as simple to use as services like Carbonite or CrashPlan.  
In addition to the desktop client, Zoolz offers a powerful web client to manage your account. The homepage of the interface is a dashboard that gives you an overview of how many active users and servers your account has, how much hot and cold storage space you've used, general stats, bandwidth usage and some other top-level information.
Along the left side of the dashboard are menu items that let you jump to other pages. These include:
Discover: search content from various devices and services
Users/Servers: add new users and servers to your account
Policies: create backup policies for your users
Settings: set versioning and deleted file retention
Audit: run audits on account activities
Reports: run reports on alerts, bandwidth usage, billing, etc.
Upgrade: change your storage plan
The general account overview options available should appeal to business users who need to keep careful track of their backup usage.
The web interface is also where you go to connect your cloud storage services and Instagram and Facebook accounts to Zoolz for backup.  Smartphone access to your backup is available for Android and iOS devices. Each Zoolz subscription also lets you backup a certain number of mobile devices, as mentioned earlier
Mobile backup options include more than just photos. You can backup documents, videos, music (Android only), contacts, messages, call logs and your calendar, too.
Overall, its one of the cooler looking and more versatile mobile backup apps we've had the pleasure to try out here at Cloudwards.net.   
File Backup & Restoration
During this segment, we'll be taking a quick look at the backup process for a Windows computer. As mentioned earlier, the desktop client lets you either smart select or manually select files to backup.
The smart select options are somewhat handy, letting you automatically backup files of certain types and in certain locations.
Truthfully, though, we didn't find Zoolz smart select to be quite smart enough. For example, you could tell the client to backup "office" documents and it'll backup MS Office files — but only those located on your desktop or in your documents folder. We would prefer it if Zoolz could find and backup office files no matter where they're located in our file system. The same goes with smart selection of picture, audio, video, financial and eBook files.
Both Backblaze and Carbonite can automatically backup files of certain types regardless of location, which saves you from having to make sure your files are in a specific folder. Manual backup selection of folders and files happens on the "my computer" tab.
This method of planning your backup is more time consuming, but chances are you're going to have to go through it anyway given the limitations of smart selection. The third tab, cold storage, lets you tag files and folders for archiving by adding their path
As you tag content for backup, Zoolz will estimate how much space it's all going to take near the bottom of the desktop client. The cloud icon is for hot storage and the snowflake icon is for cold storage.
Once you've made your backup selections, the next step in creating a backup plan is to set a schedule. By default, Zoolz runs every two hours. You can decrease that interval to as little as five minutes or increase it to as much as 24 hours.
If you'd rather not run backups on set intervals, you can also tell Zoolz to backup your computer at a certain time of day. Unless you need more routine backups, this is the method we'd suggest, as it lets you set your backup to run over the evening, when you're not busy working.
Other available settings include an option to throttle your backup bandwidth so that it doesn't interfere with system resources and the ability to set up hybrid backup.
Once your backup plan is set, you can monitor its progress and revise any stage of it from the Zoolz desktop dashboard.
If you'd like to backup a cloud storage account, or your Facebook or Instagram account, that can be set up from the web interface by going to the "discover" page and selecting the option, "add service."
The Zoolz setup wizard will guide you through the process, which should only take a few minutes
Once everything is backed up, you can restore from the desktop client by selecting the "restore" option on the bottom-left side of the dashboard. This will open a restore window.
Navigate to the folder or files you want to restore and tag them. When you're finished, hit the "next" button near the bottom of the client.
Note that you can also restore content from other devices you have backed up to Zoolz by hitting the "restore from a different account" button, which is handy in the event of a hard drive crash or misplaced device. On the next screen, you'll be able to pick a restore location.
You can also choose to run a multi-thread download, which will be faster but take a larger toll on your system's resources. There's an option to restore to both the location you indicate and a local storage device, too, plus set a date range. Click "next," and the restore process will begin.
To test how long it takes to get data into backup (hot storage) and recover it, we performed a series of tests using a gigabyte test file. This test file was actually a compressed file that contained various different file types, including images and a video file.
Tests were performed in Mexico, over a WiFi connection with 5Mbps upload and 20Mbps download speed. Keep in mind your own times will vary based on your connection speed and location.
| | Test One: | Test Two: | Average: |
| --- | --- | --- | --- |
| Upload: | 0:48 | 0:43 | 0:46 |
| Download: | 0:12 | 0:18 | 0:15 |
On average, it took 46 minutes to upload our test file and 15 minutes to download it. Those speeds are very good, as we would expect of a backup service integrated with Amazon S3 and servers in the U.S., UK and Australia.
With Zoolz, it actually gets better, too. File backups use block-level transfer algorithms. That means that subsequent backups of a file only send the delta (the part of the file that changed) to the cloud, rather than recopying the whole thing, speeding up the whole process by a great deal.
Security & Privacy Policy
Zoolz is a zero-knowledge backup service, which means your files are encrypted on your machine (client-side) before being sent to the Zoolz servers, they won't be decrypted until you restore them and only you know the encryption key.
With zero-knowledge encryption, nobody at Zoolz can ever read your content, which is a good thing. It also means that if you forget your password, Zoolz won't be able to reset it, which is less good. If you don't want to lose access to your content, make sure you write your password down or use a password manager, like LastPass.
The level of encryption used is AES-256, which is what most cloud storage and backup services use. The "256" means that the encryption key used to scramble your content is 256 bits long, which would take an estimated several billion years for even the world's fastest supercomputer to crack.
More susceptible to cracking is the actual password you set. To prevent that, you'll want to make sure you take steps to create a strong password. You also may want to take advantage of Zoolz's two-factor authentication (2FA) option.
With 2FA on, logging into your account will require your standard user credentials and a security code sent to your mobile device. That way, anybody who cracks your password still won't be able to login without also having your phone.
As a zero-knowledge service, Zoolz can't actually give readable copies of your content to third-parties or even turn them over under a court order. However, the same may not be true of your file metadata. According to the Zoolz privacy policy, when you backup files, you send Zoolz the names of files and directories.
This is somewhat concerning since typically zero-knowledge services don't record metadata information like that, but apparently Zoolz does. That could be used to identify what you're storing, including torrent files.
Your IP address is also recorded, in addition to other personal information. For businesses, this includes your business name and number of employees. Zoolz states that it uses that information for support services, which is reasonable, and also to market other services to you. The privacy policy also makes clear that Zoolz will not sell your information to third parties for marketing purposes.
Direct support for Zoolz Intelligent Cloud can be sought via a help-desk web form, which will get you an email response. Zoolz has online chat, but it's primarily for sales. There is no support telephone number.
Zoolz Business plan subscribers get upgraded to something called "gold support" and have access to a dedicated account manager. For whatever reason, Zooz doesn't make it clear on its website what gold support entails, exactly.
Support technicians work 24/7. We fired off a few test questions to gauge response time during the week and received responses back consistently in around six hours.
For DIY support, Zoolz maintains a searchable wiki page. Wiki categories include access to videos and getting started guides for new users, plus a troubleshooting section. Overall, we were pretty happy with the quality of the support wiki.
While the Zoolz user experience feels a bit clumsy compared to some of the competition and the client could do a better job of intelligently finding and tagging file types for backup, overall the service has enough outside-the-box features to make it worth a little hassle.
We were particularly impressed by its ability to search file content — even text in .pdf files and images — and perform facial recognition. We also like the option of cheaper cold storage.
Perhaps the biggest concern, and one some users won't be able to overlook, is that Zoolz still snags your file metadata, which makes its claim to be "zero-knowledge" a tenuous one, at best and why fans of this feature may want to check out our best zero-knowledge cloud services article instead.
That's our take: if you have experience with Zoolz, we'd love to hear from you in the comments below. Thanks for reading.
Starts from
$
19
95
monthly
for

600 GB
| | | |
| --- | --- | --- |
| Plan | Free | HEAVY (archiving) |
| Price Plan | | |
| Storage | 100 GB | 600 GB |
| Details | 25GB of hot storage, 75GB of cold storage. Up to 5 users on up to 5 devices. | 500GB of hot storage, 100GB of cold storage. Up to 10 users on up to 10 devices. |
Security
Encryption Protocol
AES 256
Two-Factor Authentication