Zoolz Home Review
Cloud backup service using Amazon's Cold Storage. Takes long to retrieve files. Backs up files from NAS.
Last Updated: 23 Jun'17
Who is Zoolz For?
Zoolz offers unlimited lifetime storage to back up your computers, external and network drives. What makes Zoolz unique is that it stores data lifetime, meaning they do not delete your files after a certain period if you have deleted them from your backup.
That differentiates Zoolz from services like Backblaze or Carbonite where the software deletes files if it can't find an equivalent on your hard drive for 30 days. 
Our Zoolz Review 2017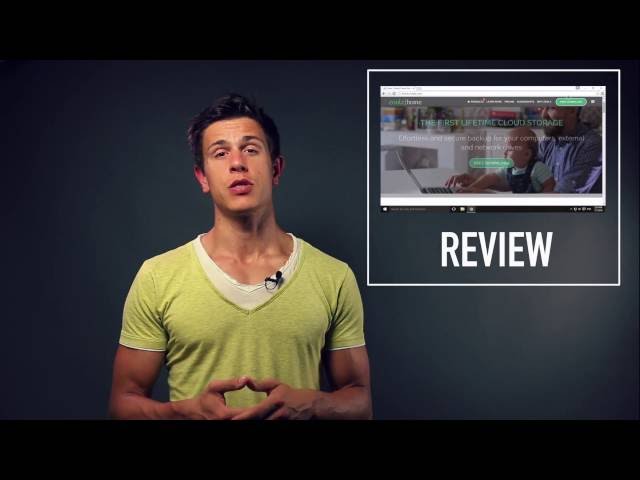 Especially, when backing up external hard drives that can be a problem because you might want to backup a hard drive that is not going to be connected to your computer all the time. 
Zoolz Pricing
---
---
Zoolz Uses Amazon Glacier
Zoolz certainly is one of the cheapest cloud backup solutions for consumers out there and that is possible because they make use of Amazon Cold Storage system "Glacier" which allows them to archive files at a very low cost. Why wouldn't you use Glacier?
Well, you could but it is fairly complicated to set up. Zoolz gives you an easy to manage software client that even your grandma can use. 
Using Glacier not only makes Zoolz cheap but it also makes restores very slow because file retrieval can take a couple of ours. Other services are a lot faster because they use their own file storage and server infrastructure.
Getting Started With Zoolz
After downloading and installing Zoolz you can either login with your existing account or create a new one. The account creation is free so you can play around with the software to see if you like it. 
Selecting Data
Zoolz allows you to select your files manually. You can add folders or individual files and the you are not limited by the size of the files or how much storage they will occupy as Zoolz offers unlimited cloud backup.
You can try it out for free via this URL: www.zoolz.com. For this review, we purchased the standard one year home plan but the free trial doesn't limit you in terms of features and accessibility.
The feature we particularly liked the most is how effortlessly we could select our files on our NAS which is rarely seen in consumer backup services. External hard drives can be backed up as well at not cost. Further settings include:
Backup scheduling – so that you can run backups while you're at work
Backup throttling – during certain hours, so that Zoolz can't interfere with other tasks
Exclude file extensions 
---
---
Another feature worth mentioning is "Hybrid Backup" which allows you to transfer your files onto an external hard drive before they are uploaded to the cloud – that way you'll have a backup even faster. 
Be aware that Zoolz disabled the SSL connection as a standard setting. We'd highly encourage you to reactivate it again. That is certainly something negative we have to point out in this review.
Restoring Files With Zoolz
Your backup isn't worth a dime if you can't restore your files properly. That's why we pay great attention to how the restore process of each backup service works. 
Zoolz opens a separate restore app that allows you to retrieve your files from the "Cold Storage". As the name suggest your files must first be gathered – and that can take up to 3 – 5 hours. So Zoolz certainly is nothing for people who frequently restore a great deal of data because this process simply takes too long.
On the flip side, this technique allows Zoolz to offer such competitive pricing. So in the end you need to decide which one you prefer. Cheap storage or speedy restores.
For most people it should be no problem waiting a couple of hours for their files. When your restore is complete, you can browse your rescued data in the folder that you've selected previously (that can also be on an external hard drive). 
Accessing Files Via The Web Client
Web access has several advantages: you can see and browse your files doesn't matter where you are, you don't even need access to your computer since you can open any browser an login with your credentials. Zoolz allows you to view your files online and download them.
However, we find this features fairly useless as you can't download your files instantly. You have to wait until your files have been called from the cold storage. 
Preview RAW files
One of the most interesting and unique features is RAW file preview capabilities. If you are a photographer you might like this feature as you can quickly browse your archived photos. Other than that you cannot preview Word documents or PowerPoint presentations which is a shame. 
Accessing Files on Mobile Devices
One of the most requested features nowadays is the ability to access files on mobile devices. Zoolz provides you with mobile apps for a variety of platforms (iOS and Android). You can:
Access encrypted backed up files from your mobile
Read your documents and save your photos offline
Photo Preview of all your backed up pictures
Share any backed up file no matter how large 
Especially the file sharing feature is something that will be interesting to a lot of people.
Sometimes you just don't want to publish all of your photos on Facebook. Photographers can use that feature to send larger archives to clients without the need of large email attachments. 
Zoolz is certainly an interesting alternative in the cloud backup space. Especially the ability to get unlimited cloud backup INCLUDING NAS backup is very nice. It doesn't delete your files after 30 days if you haven't connected your external hard drive like Backblaze. 
In the competitive cloud backup market, it is hard to come up with something new and noteworthy. We think Zoolz managed that pretty well through an abundance of useful features. 
If you are a photographer you'll certainly like the ability to preview your raw photo files directly from you mobile device or via any web browser, no need to convert them to JPG. 
Zoolz Home Features
www.zoolz.com
Free Storage
Free Trial
14 Days
System
Price
Starts from $ 2.99 per month
Mobile Access
Mobile Apps

iPhone
iPad
Android
WindowsPhone

Syncronisation
Free External HD Backup
Continuous Backup
Incremental Backup
Backup Scheduling
Bare Metal Backup
Exclude File Extensions for Backup
Network Drives
Bandwidth throttling
Web Access
HIPAA Compliant
File Size Limit
Unlimited GB
Included Machines
1
File Sharing
Multiple Accounts
Share Photo Albums
Music Streaming
Folder Collaboration
Outlook Backup
Local Encryption
256-bit
Server Side Encryption
256-bit
Keeps deleted files
Unlimited
File Versioning
Unlimited