Xero vs QuickBooks Online: Which Is the Best Online Accounting Software?
If you're in the market for cloud-based accounting software to support your growing business, it may seem like there are an overwhelming number of options. Here at Cloudwards.net, we want to help you pick the right accounting software for your business. In this article, we're going to compare Xero and QuickBooks Online to see what stands out about two of the industry's best providers.
If you've read our individual Xero review and QuickBooks Online review, you know that they're strong contenders and both made our list of the best accounting software programs. Xero and QuickBooks Online perform many of the same functions, including invoicing, paying bills and bank reconciliations, so the difference may be how easy they make these tasks.
1. Invoicing
One of the first areas in this Xero vs QuickBooks Online comparison that we'll examine is invoicing. After all, invoicing customers and collecting money owed keeps you in business. Below is a chart comparing Xero and QuickBooks Online's invoicing options.
---
| Services | QuickBooks Online: | Xero: |
| --- | --- | --- |
| Send recurring invoices | Yes | Yes |
| Automatically add late fees | No | No |
| Send payment reminders | Yes | Yes |
| Integrate with inventory | Yes (costs extra) | Yes (included) |
| Bill for hours worked | Yes (at highest plan) | Yes (at highest plan) |
| Customize Invoices | Yes (within software) | Yes (by uploading templates) |
---
On the surface, these cloud-based accounting software programs offer similar features to their users. When you delve deeper, though, you'll find key differences between Xero and QuickBooks Online.
To customize an invoice in Xero, you have to upload a template through the "settings" menu. Although that is useful if you already have an invoice form in Excel that you'd like to continue using, QuickBooks Online also allows you to customize invoices in its software. It lets you choose colors, upload a logo and rearrange the invoice's layout, too.
Sometimes you'll need to add notes to an invoice that references a job, terms or just to say "thanks." QuickBooks Online provides boxes for these notes that appear when the invoice is emailed or printed, whereas Xero's never show. Xero doesn't have a place on its standard invoices to add terms, either. If your business frequently offers terms, that could be a deal breaker and you may want to check out our FreshBooks review, instead.
Both Xero and QuickBooks Online will send automatic payment reminders on past-due invoices. In Xero, the reminder settings apply to all customers, though. Every client who hasn't paid their invoice will be sent a reminder at seven days past due. In QuickBooks Online, payment reminders can be selected and applied individually.
Although Xero and QuickBooks Online integrate with your existing inventory — updating quantities on hand when you pull items into invoices — only QuickBooks Online charges extra for its inventory functions. Xero includes inventory tracking at every subscription level (check out our OneUp review for another service that does it, too).
Not all accounting software is built for businesses that bill their customers an hourly rate. Project management in QuickBooks Online also tracks time, but it's a process to set up and add to invoices.
To track time with Xero, you'll have to sign up for one of several apps available, but you can bill customers for hours worked on your invoices (read our FreeAgent review for a service that really does a stellar job when it comes to this).
It's not enough to send an invoice, though, you also need to collect payment. QuickBooks Online handily beats Xero in this area. QuickBooks Online has payment links and payment processing integrated into its invoicing system. Customers just have to click and enter their credit card information, but you'll have to pay merchant processing fees if they do.
Payment processing with Xero requires signing up for an external provider, such as Stripe or PayPal. While that gives you more options and could save you money on fees, it's not as easy for customers to pay. That said, payments through those apps sync with activity in Xero.
A good accounting program doesn't just send invoices. It also helps you track your receivables. When you log in to Xero, it shows "invoices owed to you" at the top of the screen. Under the totals is a bar graph of amounts you're owed grouped by how long they've been owed.
QuickBooks Online displays detailed information on the "invoicing" screen, with the main dashboard only presenting "income."
It also includes the "accounts receivable aging summary" in its reports. Xero has an "aged receivables report."
Invoicing isn't complicated with either accounting service, and both Xero and QuickBooks Online have many advanced capabilities. QuickBooks Online offers more than Xero in customizing your experience and often lets you accomplish tasks in fewer steps.
2. Bills
Collecting money is much more fun than paying it, but a strong accounting program will enable you to do both with ease. With most accounting software, paying bills is simpler than invoicing, but we find it to be more intuitive in Xero.
Paying a new bill is simpler in Xero than it is in QuickBooks Online. All you have to do is navigate to "purchases" under "accounting," select "new," then click "bill." QuickBooks Online involves a few more steps.
Both expense payment forms include standard fields, such as payee and due date, and calculate the total due from quantities and price per unit. Purchase orders can be converted to bills once fulfilled, which is a nice time-saving feature the two accounting providers offer.
Expenses in Xero and QuickBooks Online can be automated, but the latter only offers that at its higher pricing plan. Paying regular expenses — such as rent, electricity or internet — through a recurring invoice saves you time each month.
There are multiple ways to set up a recurring bill in Xero. Under "accounts," "purchases" and "new," you'll find "repeating bill." Xero automatically saves bills you input as recurring and lets you select the recurrence options. If you realize that a bill will recur often after inputting and saving it, there's a box to click to make it repeat.
Setting up recurring bills in QuickBooks Online is far more painful. It's done through the banking register, where you find and click the last payment made to the vendor. After clicking "memorize," you select how often to pay the same bill and how many payments remain.
The problem is that you must have already paid a bill to the vendor and it has to have passed through the register for you to make it recurring. If you're new to the software, you won't be able to automate your monthly payments from the get-go like you can in Xero.
Finally, it's important to stay on top of bills that you owe. Xero's main dashboard has a "bills to pay" section on the screen's right. When you go to the "bills" screen, totals appear at the top in boxes as well as in a bar chart under that.
QuickBooks Online's dashboard doesn't show upcoming bills, only expenses paid. It has more of a historical perspective than one that looks to the future.
If your business pays many of the same expenses monthly, Xero may be the superior choice. It's simpler to automate your payments and its dashboard is easy to use and better designed for staying on top of current and upcoming bills.
Round: Bills
Point for
Xero
3. Reports
The core financial statements in Xero and QuickBooks Online — profit and loss, balance sheet and cashflow — present information about different aspects of your business and they are customizable. It's easy to add columns, change account groupings and display time periods side by side.
Unlike QuickBooks Online, Xero also gives you an equity statement, which is useful if your business has several investors. It displays the owners' investments and equity draws, as well as profits or losses kept in the business. If you're concerned that one owner may be taking too much out of the business, it will quantify those concerns.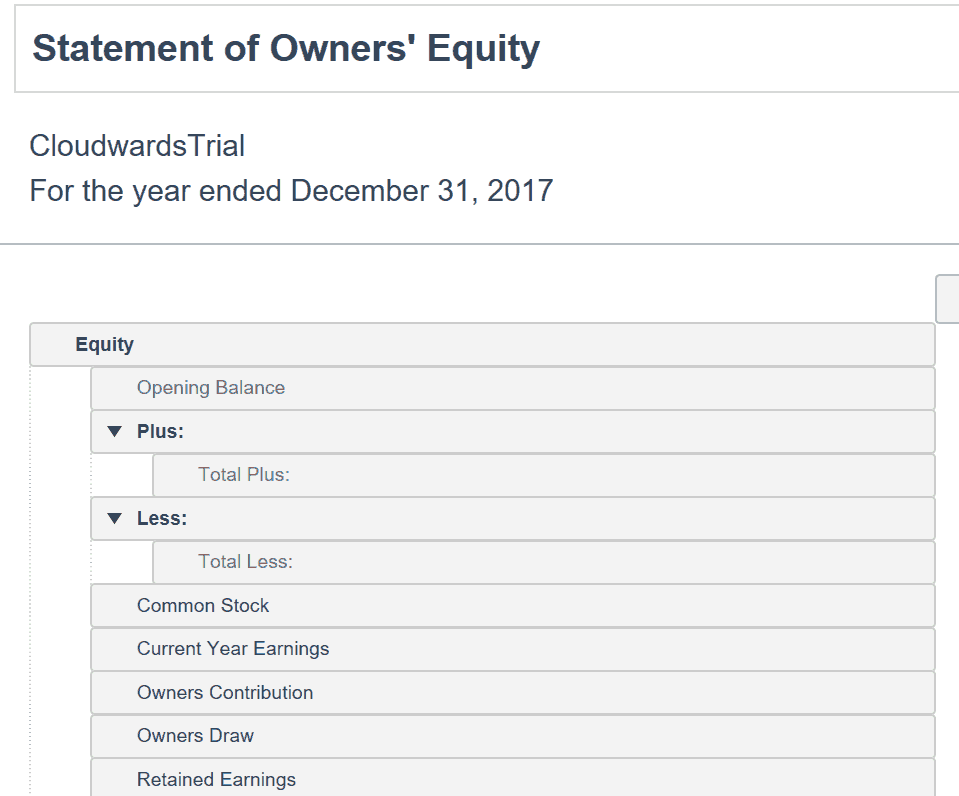 In addition to the core financial statements, basic accounts receivable and accounts payable aging reports track who owes you and what you owe by common past due buckets. QuickBooks Online delves deeper into accounts receivable than Xero.
QuickBooks Online offers reports on profit and loss by customer, a comparison of estimates prepared for a customer versus sales to that customer and collections reports. That is invaluable information for businesses that carry a significant amount of accounts receivable on their books.
Even though QuickBooks Online integrates payroll processing, it only provides reports on total wages and payroll taxes, worker's compensation and employee details. Xero has far more reports, and they have built-in human resources functions, such as time-off balances and requests, wage garnishments and more.
Simpler businesses will find all the reports it needs in Xero. We prefer having the ability to use drag and drop to modify reports with the service over QuickBooks Online's more involved process. That said, QuickBooks Online wins in this category because of the variety and usefulness of its reports.
4. Pricing
Common among software providers, tier-based pricing typically starts with lower prices for fewer features. On the surface, QuickBooks Online and Xero follow that model. Dig deeper, though, and you'll see that Xero restricts transactions at its lowest level, while QuickBooks Online adds access to software features and users as your business grows.
At the lowest per-month fee, there's a big difference between Xero vs QuickBooks Online. Xero's Early plan is $9 per month, while QuickBooks Online's Simple Start plan costs $20 per month. The former severely limits users' access to the accounting software. A business can only send five invoices and quotes, enter five bills and reconcile 20 bank transactions.
In contrast, the Simple Start plan includes estimates, invoicing and expense tracking, basic reports and sales tax. While only one employee can access the accounting software, compared to unlimited users on Xero, the lack of transaction limits makes it a better deal for small businesses.
Xero's mid-tier plan, called Growing, costs $30 per month and removes all usage restrictions without adding features. QuickBooks Online's Essentials plan is $30 per month. In addition to everything on the Simple Start plan, it gives you bill payment, time tracking and increases the number of users who are allowed access to three.
The Established plan is Xero's most expensive option at $60 per month. It adds multiple currencies and the ability to input or track expenses. The latter is an odd omission in the lower tiers. Xero's plans are clearly structured with the idea that they'll grow with your business, but even the smallest business has to pay bills.
Neither QuickBooks Online nor Xero lets you track the time and costs associated with projects until you're paying for their most expensive plan. QuickBooks Online's Plus plan costs the same as Xero's highest tier, $60 per month, and adds inventory tracking and up to five users.
Small businesses often struggle with payroll processing. It's easier to outsource it than to calculate and collect on taxes yourself. QuickBooks Online's payroll processing functions cost an additional $19 or $49 per month, depending on what you need, plus $2 per employee.
Xero doesn't have built-in payroll processing. Instead, its software integrates with multiple apps that provide the accounting service. Fees vary, but they commonly charge a monthly base and per employee after that. You may want a range of choices for your payroll processor, but you'll spend more time comparing options and fees.
After the lowest pricing plan, both Xero and QuickBooks Online have comparable pricing. However, QuickBooks Online offers payroll processing, giving it a slight edge.
If you prefer a simpler pricing plan, maybe check out our Sage review. If you prefer to pay nothing at all, our Wave review is the way to go.
5. User-Friendliness
Comparing the user-friendliness of QuickBooks Online and Xero is somewhat of an apples to oranges situation.
Though popular, QuickBooks Online isn't known for its ease of use. There is a learning curve to the accounting software, but this is partially because it can do so much. With more capabilities and options, it just takes longer to learn how to use it.
Xero has the more user-friendly interface, with clearly labeled functions and a simpler workflow. If you don't need the more advanced accounting functions of QuickBooks Online, we prefer Xero's dashboards and taking fewer steps to send invoices and pay bills.
Round: User-Friendliness
Point for
Xero
6. Advanced Functions
Now that we've covered the core accounting features that every business needs, we're going to look at a few advanced accounting functions that could help you choose between Xero vs QuickBooks Online.
Fixed assets include the land, buildings or equipment that your business owns. For some businesses, they could represent significant investments. If your accounting software doesn't track depreciation and retirements, you'll have to maintain them in separate spreadsheets and input manual journal entries.
Because you can import an existing spreadsheet, Xero's fixed assets functionality saves you time setting them up. Its software calculates depreciation and lets you process disposals. Under its reports, you'll find depreciation and disposal schedules, as well as fixed asset reconciliations.
QuickBooks Online doesn't have fixed assets modules built in to its accounting software, so everything has to be handled manually.
Xero just launched a projects module that's included in all pricing plans. With it, you can track quotes and request deposits on a project. It also lets you track time and money spent and calculates a project's profitability.
QuickBooks Online only tracks projects on its highest pricing plan. If you're paying for the Plus plan, you'll be able to associate expenses, time and invoices with a project. Reports calculate profitability, unbilled time and expenses, so you can stay on top of the project's health.
Xero has a slight edge on QuickBooks Online in inventory management. Inventory in QuickBooks Online is tracked by prices, images and categories. In both accounting programs, quantities on hand update when an inventory item is selected on an invoice. QuickBooks Online calculates the product's cost using FIFO, while Xero uses an average cost method.
Xero offers reports to find the best selling and most profitable items, too. Plus, you get up to 4,000 tracked items and unlimited untracked items on every plan. Once again, with QuickBooks Online you have pay for the most expensive plan to get inventory functions.
Round: Advanced Functions
Point for
Xero
7. The Verdict
If you're new to cloud-based accounting software, we recommend Xero. With its easy, straightforward interface, you'll be able to get started in less time than you would with QuickBooks Online. Additionally, the Xero dashboard and home screens for each function help businesses focused on day-to-day operations keep everything running smoothly.
Overall, Xero is an excellent choice for less experienced bookkeepers and small businesses not planning on growing too large.
However, if you need something with a bit more oomph, QuickBooks Online is the better choice, and the better choice overall, as well, making it the winner of this article, though only by a hair.
If you need payroll processing and integrated merchant processing, QuickBooks Online will definitely better suit your business' needs. Customers prefer being able to click a link in an invoice and pay directly, but you'll spend more time setting up recurring invoices. Businesses that have to make decisions about continuing relationships with customers will appreciate its in-depth reports.
Ultimately, if forced to choose between Xero vs QuickBooks Online, we recommend Xero for a small business just starting out and QuickBooks Online for a larger one or if run by people with a bit more experience with accounting software.
Have you tried using either accounting service? Which do you prefer? Let us know in the comments below. Thanks for reading this Xero vs QuickBooks Online comparison.