Table of Contents:
Today, every great idea starts with a website, and behind every internet site, is a web host.
No matter how amazing your idea is, putting it directly on an expensive VPS or dedicated hosting website will cost a lot.
And let's be honest, not many of us are willing to put money on a site when it's producing zero revenue.
Cheap web hosting services seem to be an answer to our problem.
But, finding the right web hosting service on a small budget, can seem like a big endeavor, especially for a new website owner.
After all, one wrong decision can lead to a struggling-to-stay-alive website and a non-existent customer base.
To help you find the best ones, I've researched extensively and uncovered 19 secrets about cheap web hosting services, which nobody on the payroll will tell you.
---
#Tip 1: Data Centers and Web Hosts Are Not The Same
A web host is a place where websites get stored. Think of a web host as a sort of house, but instead of storing clothes or furniture, a web host houses files like:
The term "web hosting" refers to a company which rents out its servers, to store other people's websites.
And the facility which houses these servers is called a data center.
So, a data center can be a small room, a large building, but it's usually a facility equipped with:
Security devices
Data communication connections
Backup power supplies
Environmental controls
High-end server racks
A web host can lease its servers, or a part of its servers, for website hosting at fixed monthly or yearly rates.
And the web host themselves usually rents or owns a data center.
---
#Tip 2: There Are Different Types of Hosting Servers

Generally speaking, there are four types of hosting servers – Dedicated, Shared, Cloud, and Virtual Private Servers (VPS).
All four types of hosting servers can act as a storage depot for websites, but they differ due to:
Server speeds
Technical knowledge requirement
Amount of storage
Control
Capacity
Let's go through all four hosting server types separately:
Dedicated Hosting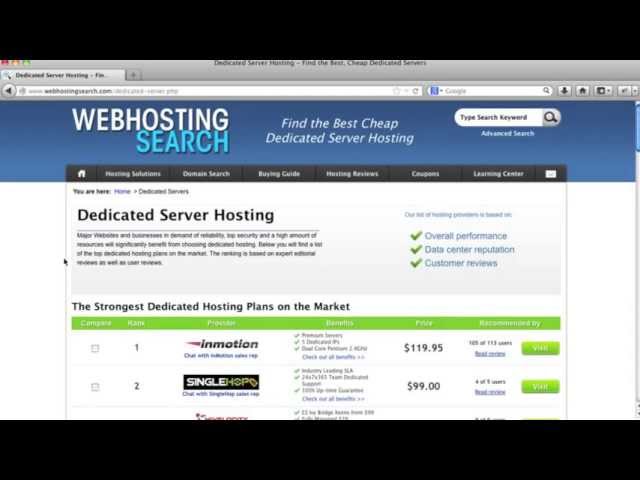 The purest form of web hosting, dedicated hosting, lets users rent an entire server.
While the internet host maintains and manages it, users get privileged access to the server in its entirety.
A dedicated hosting service provides maximum control, but it is also an expensive option, and that's why I only recommend it to users who need better server performance coupled with full control.
Shared Hosting
With shared hosting, multiple websites get placed on the same server — sort of like many eggs in a single tray.
The total number of sites on a single server can be anywhere between a few hundred, to several thousand.
All the sites, on a single server, share the same CPU and RAM resources.
Since the cost of shared hosting is slight, websites with low to medium traffic prefer this type of hosting.
It's also the most popular entry level hosting option, mainly because it requires minimal technical expertise.
But since shared hosting does not provide any root access or complete control, it has limited capabilities to handle high traffic spikes, which can affect a site's performance.
VPS Hosting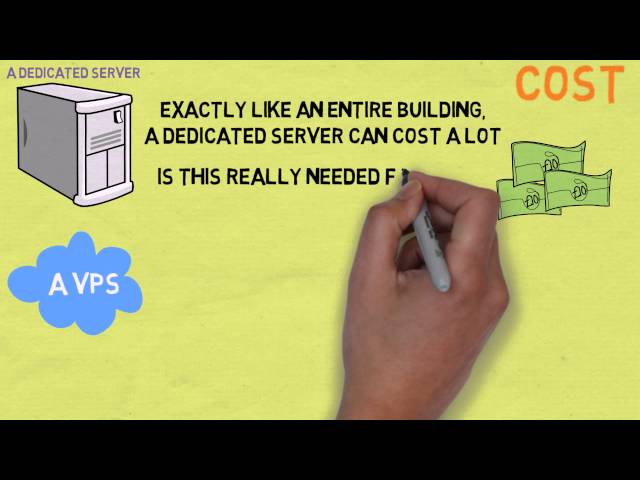 In virtual private server hosting, a single big physical server is divided into several virtual ones.
And each website gets its virtual dedicated server.
While users do get better server level control, they're still sharing a single server with other websites.
And that's the reason why VPS hosting is much more affordable than dedicated hosting.
Cloud Hosting
In cloud hosting, a team of servers (forming a cloud) band together to host some websites.
Since multiple servers are working together, they can easily handle high traffic levels, for any site getting accommodated in any one of the cloud-based servers.
Cloud hosting does not provide root access, and it's expensive too, but it is still one of the most robust and reliable hosting options out there.
---
#Tip 3: Web Hosting Isn't The Same as Domain Name Registration
Before you can run a website, it will need a domain name.
Now, a domain name is not a physical entity; it's a string of words, numbers, and characters.
It's important to pick a unique domain name for your website, to help establish its brand identity.
A domain registrar helps register new domains.
There are many domain registrars present online, some of the most popular choices are GoDaddy and Namecheap.
Now, it's common to get confused between web hosting and domain name.
To put it in layman terms – taking the previous example, if web hosting is a house, then the domain name is the house's street address.
---
#Tip 4: Strict Regulations on Certain TLDs
When you buy a domain name, it will come with several extensions, and each one has a different price tag, even if the actual domain name is the same.
For instance: Alexa.com and Cloudwards.net
The extensions here are ".com" and ".net", and these are called Top Level Domains or TLDs.
Other examples of TLDs include:
.edu
.org
.uk
.in
Though most of these TLDs are available for public registration, some of them come with strict regulations.
For instance, the ".co.uk" is a TLD for the United Kingdom strictly, and it can only be bought by the citizens of the UK.
All other country code TLDs are governed by that particular country and its cyber laws.
But not all country TLDs are restricted to citizens of that very country.  For instance, ".in" is India's TLD and it has no registration restrictions.
Apart from country level TLDs, other ones can describe a website's characteristics.
For instance:
".biz" is used by businesses
".org" is used by public organizations
 ".edu" is used by educational institutions
Now, let's discuss domains and sub-domains.
While domains need to be unique and registered, sub-domains don't have to be unique.
Users can quickly add sub-domains to an existing domain unless their web host doesn't provide the option to do so.
---
#Tip 5: Anybody Can Access Personal Info via Domain Records
Many new website owners might not know this fact, but there is a publicly accessible record of every domain name on the internet.
These records are called WhoIs data and contain personal details like:
Website owner's name
Address
Domain expiry date
As per rules set by Internet Corporation for Assigned Names and Numbers (ICANN), all domain owners need to make their WhoIs data available online.
These records are available for anyone to see.
So, if you entered a home address and personal phone number while buying a website domain, chances are those details are publicly available online.
Most people looking at WhoIs data are identity thieves, hackers or spammers.
Many spammers check domain expiration dates and then send very 'real' looking renewal notices, to get credit card details or transfer domains.
Since mail addresses also get shown on WhoIs, spammers use snail mail as well.
A way out of this privacy problem is to adopt domain privacy.
Most domain registrars provide a domain privacy option, and this option provides a forwarding address to WhoIs, instead of a user's real personal information.
Most domain registrars charge extra for domain privacy.
---
#Tip 6: Data Transfer Limits and Bandwidth Are Different
It's common to confuse bandwidth with data transfer limits, but they are two very different things.
While bandwidth refers to the maximum amount of data which gets transferred at a given time, data transfer is the consumption of that bandwidth.
The amount of data getting transferred is called a "data transfer", and the speed at which that data is getting transferred is known as bandwidth.
There was a time when bandwidth and data transfer limits used to be a primary criterion when it came to choosing a web hosting partner.
As the average cost of data transfers declined, hosting companies became more and more generous with it and bandwidth too.
So, in 2016, there's no need to worry about these two when it comes to choosing a web host.
---
#Tip 7: Check The Web Hosting Service's Uptime Guarantee
Uptime is the total amount of time a website is up and running while being available to visitors.
Anything that is not uptime is downtime. And in case you haven't guessed yet, downtime is a bad thing for your website.
[Because downtime leads to a website becoming inaccessible for visitors, which isn't just frustrating for them, it will also result in little traffic and revenue.
If people try visiting your site for the first time and fail, chances are, they are never coming back.
Every hosting provider gives its customers an uptime guarantee, that's the percentage of total hours in a day, during which they will keep a website up and running.
Ideally, web hosting providers who offer anything less than 99.99% uptime guarantee, should be ignored.
There are many tools available online that can monitor a website's uptime.
With a multitude of options, it's easy to find a tool which will fit your needs and budget.
For instance, if you're poor or thrifty, go for free tools like:
---
#Tip 8: Leave The Service If There Are Too Many Outages

The moment a web host starts facing frequent outages, it's time to dump it, and find a new web hosting provider — one that doesn't suck.
Also, just to be on the safe side, always keep a full and updated backup of your website.
Now, searching for a new web hosting provider doesn't mean there's a need to switch over immediately, but at least you will know where to go if the outages keep continuing.
Also, if your website is down for several days, there is no way to trust your hosting provider's integrity.
There is also no point sitting and waiting for the problem to get sorted out.
To put it simply, if a web hosting provider does not have any contingency plan in place to protect its customers against extended outages, it's an unprofessional setup, and should be abandoned.
Before choosing a web host, check its historical data and how exactly it handles scheduled outages.
Also, see if the host plans downtimes in advance, and ensure they do so during non-peak hours of the day.
---
#Tip 9: Always Create a Backup of Your Website

Web hosts might or might not make backups of websites regularly, that is why it is essential that site owners make backups frequently, on their PC or another location — separate from the site's primary server.
There are web hosts out there, who make it clear in their terms and conditions that users are responsible for backing up their data.
If a web host goes down, or worse, goes out of business, then depending on them to get back your website's data is borderline impossible.
And if a web host is indeed going out of business, their priority will be letting go of employees and dealing with accounts, instead of turning on their servers one last time.
So that customers can retrieve their data.
Which is why it is essential to backup your website's data remotely, to a reliable and independent location, or preferably do a backup every 24-48 hours.
---
#Tip 10: Don't Register Your Domain Name With a Web Host
Most web hosts provide discounts if users buy hosting and a domain name together.
Many new users who don't know better, or are lazy,  end up registering their domain name with a web host.
Now, here's the problem.
If a web host holds all your domain registration details and goes offline or out of business, then there is no way for you to switch web hosts.
Why?
Well, to change a web host, domain name server information is needed so that the same domain can get pointed to a different IP address.
If a domain belongs to the same web hosting provider, and something happens, then you won't be able to change hosts.
Easily at least.
---
#Tip 11: Don't Pay in Advance Even if it Means Large Discounts
We've all seen the extra discounts provided with annual subscription plans, as opposed to monthly ones. And they apply to web hosting providers too, alongside other services as well.
As mentioned before, crappy web hosting providers can go offline for extended periods, or go out of business.
In both cases, the chances of them refunding your money are very slim.
Since doing so, for every paying customer would mean losing all their funds.
That's why it's wise to make payments month-by-month, and not all at once.
Also, make all your payments through either credit card or PayPal.
So that even if there's a need for refunds, and the web host isn't willing to do so, credit card services or PayPal's protection policy can be used to recover your fee.
---
#Tip 12: Check if The Web Host's Pricing Covers Everything

A website host might claim to charge 50% less than its competitors, but before dropping any cash, make sure that 50% discount includes everything you need to run a website adequately.
Some web hosts are brilliant when it comes to charging for extra features, which should be standard.
It's important to be extra careful if elements like cPanel, MySQL or Fantastico, don't come standard.
I recommend reading through the terms and conditions thoroughly, before making any payment.
cPanel is popular among website owners because it helps control essential parts of a hosting service, like email addresses and FTP logins.
Some of cPanel's advantages include:
Easy data transfers when moving from one host to another
WHM and cPanel work well together
Technical tasks are handled with a smooth graphical user interface
Fantastico is a script library which offers hundreds of applications to users, which can get installed with one simple click.
The main advantage of using Fantastico, is that setting up applications like Joomla and WordPress, become completely hassle free.
First, decide whether you want to stick with cPanel, or choose an alternative.
And then check if the web hosting provider charges extra for cPanel or its alternative, or are the costs included in the final price.
---
#Tip 13: Website Security
The good news is, most web hosts already know that customers are looking for robust website security, and listen to their demands.
But at the same time, many new website owners forget to take website security into consideration, while buying a web host.
And that's something which should never be done, because, without active site security, a website can be stolen, hacked or completely shut down.
Here are aspects of website security to consider seriously:
SFTP: You might already know that File Transfer Protocol (FTP) is used to upload files and publish them on a website.
Secure File Transfer Protocol (SFTP ) is functionally the same as FTP, except it adds an extra layer of security.
With FTP, it's easy for attackers to intercept files and modify them with little to no warning. SFTP helps close this vulnerability while securing your website.
Server Maintenance: a safe web host will run routine server maintenance from time to time.
Look for a published security protocol on the web host's official website, and check if they specify all types of patches and upgrades getting done.
---
#Tip 14: SSL Certificates For E-commerce Websites
Secure Socket Layer (SSL) provides users with an encrypted path between a web server and browser.
When the URL of a website has an "Https://" in front of it, that means it's using an SSL connection.
A fact that's sometimes denoted by a green colored padlock in particular web browsers, like Firefox.
SSL is necessary for e-commerce websites, which provide payment gateways to customers.
Through SSL, a client's personal credit card information and bank account numbers remain secure.
If your website asks for sensitive or personal information from its users, then an SSL certificate is mandatory.
Not to mention, Google now uses HTTPS as a lightweight ranking signal.
---
Some web hosts have cancellation fees associated with their services, and chances are, you won't know about them until it's too late.
The best way to find out about hidden cancellation charges is to search for them on the web host's Terms and Conditions page.
Look for the words 'refund' or 'cancellation, by pressing CTRL-F to open a quick search bar.
If there is a cancellation fee, which wasn't specified on any other page, check the exact charges and contact support for an explanation.
Anything above $10 is not worth the time.
Choosing a cheap web host with an expensive cancellation fee is out of the question.
---
#Tip 16: Technical Support Shouldn't Be Bad or Non-existent
Weak or non-existent support is where the dark side of cheap web hosting services lurks.
If there's downtime or a part of your website becomes unresponsive, users should be able to connect quickly with support for help.
For new website owners, with little or no technical knowledge, support can be an extremely crucial part of their experience.
Apart from email support, there should at least be live chat or phone support options for fast resolutions.
If there is only email support available, contact the web host and ask relatively technical questions.
For instance, you could ask questions like:
Is there support for scripts installed via cPanel?
How is the security monitoring handled?
How many customers are present on each server?
If the response time is more than 48 business hours, then it's time to look at  other options.
---
#Tip 17: More Room to Grow
Just because I'm opting for a cheap web hosting plan now, doesn't mean I will stick with it for years to come.
If my website starts getting a lot of traffic, I might want to grow my site's capacity accordingly.
That is why, before buying, it is important to check if a web host allows upgrading to a dedicated server or a VPS.
And find out how easy or complicated the upgrade process is.
---
#Tip 18: Check if Your IP Address is Blacklisted

After buying a package from your preferred web host, check if the IP address provided isn't blacklisted.
While getting a blocked IP address is very rare, it's always better to be overcautious.
Check IP addresses on SpamHaus Block List, and if possible, ask your web hosting provider for a list of IPs — before signing up.
In the rare case your server IP is indeed blacklisted, then you have two options:
Contact the web host and ask to get the IP address white listed
Get the server IP relocated
It's important to take action quickly, because, a blacklisted IP domain will make web browsers flag your website.
Even before visiting the site, users will get a message saying it isn't safe or contains viruses, and we all know that's the death of any web traffic.
---
#Tip 19: Learn the Difference Between "Cheap"&"Affordable" Web Hosting
While considering cheap web hosting options, let's stop and ask –- how cheap is too cheap?
Finding a cheap web host is easy, but finding a good and cheap web host, can be difficult.
There are web hosts that charge $10 per month, and then, there are web hosts that charge $1.99 per month.
But, which ones qualifies as a "cheap web hosting" service?
Here's a quick answer: 
A web hosting service that costs $5 per month, and provides current market standard features, qualifies as a cheap service.
The number of features offered by web hosts is huge, and many of them were brought up in this very article.
If your budget allows it, while deciding on a web host, choose an affordable service — instead of a cheaper one.
Because let's face it –- a cheaper one might look great right now, but if it doesn't guarantee good uptime or customer service, you'll end up between a rock and a hard place pretty soon.
Remember, getting stuck with a cheap, but bad web hosting service is worse than paying a few extra dollars per month.
---
In Summary…
Begin the web host hunting process by listing down your requirements, and then start comparing web hosts.
Of course, in the meanwhile, decide on a budget, and more importantly, plan an exit strategy.
An exit strategy will come in handy if your website goes down for more than a few hours, or worse; the web host goes out of business.
Most of the new web hosting services provide substantial discounts, to gain customers initially, but there is no guarantee on how well they will handle new clients.
That's why it's better to go with businesses that have been around for a while, and know what they are doing.
In the end, it comes down to the budget and a vision for your website.
Do you have any additional tips to add or experiences to share? Feel free to engage in a conversation below.