Best Cloud Storage for Australia 2023: Faster Than a Tasmanian Devil
Proximity to data centers impacts how fast you can get your files in the cloud. Australia, a remote part of the world, has several options nearby. We'll take a look at them (as well as some bonus choices), helping you choose the right one for you.
Discussing the best cloud storage for Australia may seem like a very niche topic — that's because it is. However, for those living Down Under, in a rather remote part of the world, there are benefits that come with using certain cloud storage services.
Key Takeaways:
Behind the curtain of online cloud storage are a large number of physical servers where our files are stored. A person's proximity to those servers impacts how fast their cloud storage provider performs. In short, the closer you are to the physical servers, the faster you can access your files from the cloud.
With Australia being a remote nation, cloud storage services with data centers located in the Asia-Pacific region, like MEGA, will likely be a better option for Australians than a service with servers in further away areas.
Of course, speed isn't the only driving factor for what makes a provider one of the best cloud storage services in the space. There are some providers that perform better overall, and those in Australia should certainly take note of them. In this article we'll help you decide the best route to go, sharing our top options for the best cloud storage for Australia.
12/14/2021 Facts checked

We have updated our list and included new options for those in Australia looking for the best cloud service.

06/24/2022

Updated to include Sync.com's month-by-month option.
Yes, IDrive is available in Australia. It acts more as an online backup, but does have some traditional features like sync and share that make it a viable option for those who need cloud storage.

If you're a light user, we would recommend using MEGA because of its 20GB of free storage space. If you need a little more, 100GB and 200GB plans are available with Google and OneDrive at affordable prices.

That depends on which provider you use. We should note that most services offer 2TB plans rather than 1TB. For 2TB you can expect to pay between $4 and $6 per terabyte per month.

You can pick up 100GB of storage at fairly affordable prices. Google Drive costs $1.99 per month, as does OneDrive.
Top VPNs for Australia
What Makes the Best Cloud Storage for Australia?
It's simplistic to suggest that proximity to servers and data centers is the only feature that makes a provider one of the best. To be one of the best cloud storage options, companies need to excel at security and privacy, provide a flexible range of storage plans, and be user-friendly. So while most options below tick the box in terms of server locations, they also have more to offer.
MEGA, Google Drive and Dropbox have data centers located in or near Australia. They also offer excellent features including plenty of online storage space, productivity tools to help you work with others and — with MEGA at least — zero-knowledge encryption to help keep your data private and secure.
While Sync.com and pCloud don't have servers located near Australia, it was impossible to leave them out of this article. Sync.com, with its excellent security and other premium features, regularly ranks as our number one service in the cloud storage space. pCloud's data centers are based in the U.S. and Europe, but with its fast sync speeds and integrated media player, it remains a popular choice with a range of users.
Stay with us as we break down each service and get into the nitty-gritty of what they do.
More details about MEGA:
Pricing: 20GB free; 2TB for $9.72 per month for the annual plan
Provider website: mega.io
Pros:
20GB of free space
Zero-knowledge encryption
Extra security for shared links
Cons:
No block-level sync
Minimal customer support
No integrated document creator
A section of MEGA's servers are located in Auckland, New Zealand. That means users in Australia are likely to see faster upload and down speeds than, say, someone in Denmark.
In the past, MEGA performed poorly in the speed department, regardless of where you were located. However, our recent tests showed a significant improvement in the amount of time it took to upload and download our files.
MEGA is also a good choice for those looking for a robust service provider with regard to security and privacy (despite a report finding flaws with its cryptographic architecture).
Zero-knowledge encryption ensures that only you can access your files and data. You can add password protection anytime you share files and set expiration dates if you no longer wish to share them.
There's not much available in terms of collaboration, so those focused on productivity should check out the other cloud storage services below. You can learn more about MEGA by reading our full MEGA review.
Get a Lot of Free Storage With MEGA
MEGA's attention-grabbing feature is the amount of storage it offers for free. While most cloud providers offer between 5GB to 10GB of free space, MEGA comes in with a whopping 20GB free plan. If you only need a space to save your cellphone snaps and some documents, the 20GB from MEGA will be more than enough.
MEGA's paid plans lean more toward the expensive side. For $11.71 per month, you get 2TB of storage, so it's more expensive than Google Drive and pCloud. Features remain the same throughout all plans, meaning that there's no real incentive to invest in a more expensive plan unless you need more storage space.
More details about Google Drive:
Pricing: 15GB free; $9.99 per month for 2TB of storage
Provider website: google.com/drive
Pros:
Excellent for collaboration
Google Workspace integration
Attractive free plan
Cons:
Poor privacy policy
No zero-knowledge encryption
Google Drive is a popular choice for those looking to back up their files. It's a household name and plays well with Google's other software tools like Docs, Slides and Gmail. Its data centers are dotted all around the world, and those in Australia can take advantage of servers located in Singapore and Taiwan.
The downside is that Google is no stranger to collecting and using your data — par for the course if you choose to use one of the most popular services on the market.
Server-side encryption also means Google can access your files and information, marking it down when it comes to privacy. You can get zero-knowledge encryption through third-party services, but it's not the most convenient workaround and it bumps up the cost of what you'll pay overall.
Google does have excellent security, though, and users can enjoy their files being protected by AES 256-bit encryption, both in transit and at rest. It's also easy to use, offering a well-designed web interface and a clean looking mobile app. Privacy issues aside, Google's take on cloud storage will serve you well (read our Google Drive review).
Fluid Collaboration With Google Drive
Professionals and businesses who rely heavily on document creation and collaboration should see Google Drive as a viable option. You can create documents, share them with authorized users and enjoy real-time editing, all inside Drive's platform.
The integration of Google Workspace also allows you to communicate through Google Meet, as well as instant message other users through Google Chat.
Google is one of the more generous cloud providers when it comes to free storage space; it offers a 15GB free plan. Paid plans begin at $1.99 per month for 100GB of storage. That's fine for light users, but won't be anywhere near enough for anyone handling large files. Luckily, the 2TB plan is also reasonably priced at $9.99 per month.
More details about Dropbox:
Pricing: 2GB free; $9.99 per month for 2TB
Provider website: dropbox.com
Pros:
Very fast upload & download speeds
Office & Google integration
Smart Sync feature
Cons:
Pricey
Poor privacy
No user-side encryption
Like Google, Dropbox's data centers are located in different parts of the world. Fortunately, for those living in Australia, one data center is in your home nation. What's especially good news is that Dropbox is incredibly quick when it comes to upload and download speeds. Having a portion of its servers located close to home instantly makes it one of the best cloud storage for Australia.
Dropbox also offers block-level sync, for even speedier performance when editing already synced files (read more about block-level sync). Smart Sync also allows you access files from your desktop, without taking up space on your hard drive.
The company lets itself down in terms of privacy, though. There's no zero-knowledge encryption, and like Google, Dropbox has no shame in sharing your data. It's a price you pay for using a feature-rich service that also allows you to integrate Microsoft Office and Google Docs.
Access Deleted Files With Dropbox Rewind
Dropbox Rewind allows you to restore accidentally deleted files or previous versions of edited files. Basic, Plus and Family plan users can use this feature to access files for up to 30 days. Users on the Professional and Business plans have up to six months to recover their files, giving you an incentive to upgrade your plan.
Dropbox doesn't hide the fact it wants you to get a paid subscription, as its free plan offers only 2GB of storage. Paid plans begin at $9.99 per month for 2TB of online storage. That's on par with what Google offers, but Dropbox doesn't have anything in between for those who don't need that much storage.
The Professional plan comes with 3TB of online storage for $16.58 per month, but doesn't have any more features than what comes with the personal options. Overall, Dropbox ranks low in terms of value.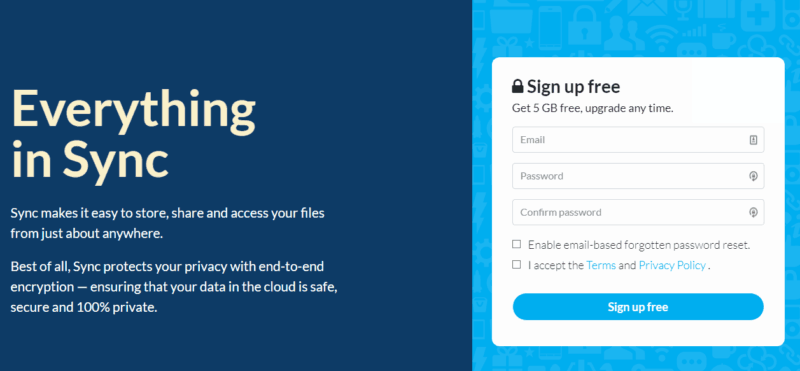 More details about Sync.com:
Pricing: 5GB free (expandable to 25GB); $8 per month for 2TB
Provider website: Sync.com
Pros:
Best-in-class security features
Good value
Unlimited file sizes
Sync.com is located in Toronto, Canada. OK, so there's over 8,000 miles between Australia and its servers, likely making you question why it's on a roundup of the best cloud storage for Australia. Hear us out.
In addition to AES 256-bit encryption for your files, you can also enjoy zero-knowledge encryption across all plans at no extra cost. If you're a video editor or photographer, you can transfer your photos and videos to Sync.com and not worry about file size, due to its unlimited file size upload feature. You may have to wait a little while for them to arrive in the cloud, though, as Sync.com isn't the quickest, especially compared to other cloud storage services.
Is Sync.com the best cloud storage for Australia? No. However, if you prioritize security over performance, then you'll be pleased with what it has to offer (read our full Sync.com review).
Use Microsoft 365 With Sync.com
Despite being hot on security, Sync.com integrates with Microsoft 365, which allows you to open and edit documents through Sync.com's web interface. It's not as feature-stacked as using OneDrive (read our full OneDrive review), but it's better than manually uploading Office docs. This feature is the saving grace for an otherwise poor performance in terms of productivity and collaboration.
Price wise, Sync.com boasts good value for money across the board. Just $8 gets you 2TB of storage, making it cheaper than Dropbox and Google's storage plans. The Teams plans are attractive: the Teams Unlimited plan gives you unlimited storage for $15 per user per month.
You get 5GB for free when you sign up, and you can get an extra 1GB when sharing a file and downloading the mobile app. If you successfully refer friends, your free storage can be bumped up by 1GB per friend to a maximum of 25GB.
More details about pCloud:
Pricing: 10GB free; 2TB of lifetime storage for a one-time $350 payment
Provider website: pcloud.com
Pros:
Integrated media player
Zero-knowledge encryption
Lifetime plans
Cons:
Client-side encryption costs extra
No document integration
pCoud's data centers are located in the U.S. and Europe — though to use the European servers, you'll need to select that as your location when signing up for an account. Before you run away, take some time to read the benefits of using this cloud storage service.
Other than offering solid features like fast sync speeds and zero-knowledge encryption, pCloud has some cool outside-the-box features. You can use pCloud Save to save images from your web browser directly to the cloud.
Additionally, if you're moving from OneDrive, Dropbox or Google Drive, you can transfer your files directly from each cloud storage service and back them up to pCloud through the pCloud platform.
The mobile app is available for Android and iOS. It's pleasant to use and gives plenty of functionality like the web version. It also makes it to our list of the best cloud storage for Android.
There's no document integration, limiting the amount of productivity that can be done through the platform, but that's not really what pCloud is trying to sell. Instead, you're getting fast performing cloud storage with robust security for your files (read our full pCloud review).
Listen to Audio Files Through pCloud
The standout feature of pCloud is its integrated music player. If you upload your back catalogue to the cloud, you can listen to your favorite hits either through the mobile app or the web browser version. You can loop songs, create playlists and manage all your tracks. It's fun to use and eliminates the need to install a third-party audio player.
pCloud offers some pretty sweet deals on its lifetime plans. At the time of writing, you can access up to 2TB of storage for $350. The plans are pretty slim in terms of options; there's no option for unlimited storage, and those who need more than 2TB will have to look elsewhere. However, you can also take advantage of the 10GB free storage space.
Cloud Storage Services for Australia: Honorable Mention
While the above selection is more than enough for you to choose from, there's one honorable mention we want to share.
IDrive serves more as an online backup, rather than traditional cloud storage (it's one of the best online backups for Australia). If you need more control over your files, data and system settings, IDrive is the way to go.
Image-based backup, incremental backup and server backup are all possible with IDrive. In the event of a disaster, like a damaged or stolen computer, you can recover all your information and reinstall it on your new system.
IDrive is a zero-knowledge provider, which is especially important with this level of information being handled. Industry standard AES 256-bit encryption is present as expected, and in the event you lose your local information, it gives you the option to recover your data through a hard drive that it will send by courier to your address.
Because it's an online backup first and cloud storage second, traditional cloud features are limited. However, you can sync files, access them through a mobile app and share them with other users. If you're looking for the best of both worlds, we highly recommend using IDrive (read our full IDrive review).
Final Thoughts: Cloud Storage for Australians
Because of its location, performance and generous free storage, MEGA takes top spot from the above roundup. But it was close, and all the other providers that followed certainly state their case for being the best.
If speed is of the essence in your decision making, then it's wise to go for either MEGA, Google Drive or Dropbox. However, if you want something that's secure and has some productivity tools, Sync.com and pCloud are the way to go. Whichever you opt for, we're certain you will not be disappointed.
Do you live in Australia? Which service are you currently using? Which option would you choose from the selection above? Let us know in the comments below. Thanks for reading.