CrashPlan vs Acronis Backup: Two Business Providers Fight It Out in 2023
It may not be easy to choose a service from our best online backup for small business selection. That's why we're going to pit Acronis vs. CrashPlan — which rank overall as number one and four, respectively, in that list — and see which one comes out on top. That way, it's going to be easier for you to decide which service is better for your business.
CrashPlan used to support private users, but now it works only with businesses. It's a great choice because it provides unlimited backup, great value and one of the best versioning capabilities we've seen.
On the other hand, Acronis Backup is a cutting-edge software that's one of the most feature-rich services on the market. On top of that, it provides a functional cloud console, strong security, fast speed and constant support.
If these don't sound like your cup of tea, read our business online backup reviews for alternatives. That said, if you want to know more about these competitors, read our CrashPlan review and Acronis Backup review. If you're reading this but are looking for home backup, read our best online backup roundup for home services.
Otherwise, you're in the right place. It's smart to invest in protecting your business computers because your hard drive might crash, someone could steal your laptop or an act of nature might cause you to lose your data.
You could use free data recovery software to try to restore your files, but there's no guarantee it will work. Solid-state drives won't save your skin, either, because they experience more data errors than hard-disk drives, even though their failure rate is less than one percent.
Setting up a Battle: Acronis vs. CrashPlan
We're going to compare these services in five rounds, and at the end of each, we'll name a winner. Then we'll do a recap at the conclusion and declare the overall winner.
www.acronis.com

www.crashplan.com
1. Backup and Other Features
Features that you get with a chosen backup service dictate how you can use it and what you can accomplish with it. Because of that, we're going to see what kind of backup and restore features each service offers, in addition to which systems they support.
CrashPlan
CrashPlan's most prominent feature is its true, unlimited backup. There's no file-size or data limits, even if you get to 10TB of data. The only restrictions are a few files in certain system folders that CrashPlan won't protect.
On the plus side, CrashPlan lets you backup as many external drives as you want, and that includes NAS backup, at least if you're using macOS or Linux. If you're a Windows user, you won't be able to backup your NAS devices. You can learn more about NAS in our what is NAS article.
CrashPlan can also backup your servers, including Windows, Microsoft Exchange, Mac and Linux servers. Besides servers, CrashPlan can backup SQL, PostgreSQL, Act!, Access and MySQL databases. Note that you need to first dump them into a file, and CrashPlan does not have database-aware support.
CrashPlan includes all the basic online backup features we'd expect to see when we evaluate a service. This includes scheduled backup, continuous backup, incremental backup, backup to local drives, deduplication, file compression, speed throttling, email notifications and block-level file copying.
Backing up to local drives means CrashPlan supports hybrid backup. In other words, you can backup to both the cloud and your local drives, such as external drives. That makes it easier to implement the 3-2-1 backup rule.
CrashPlan also provides file versioning, which lets you restore previous versions of files to avoid unwanted changes or file corruptions.
CrashPlan's versioning isn't unlimited, but because you can set it to indefinitely keep file versions based on 15-minute increments, it might as well be. CrashPlan also gives you the option to indefinitely keep deleted files. Additionally, CrashPlan provides administrative access to monitor employee backups and even access their files.
However, besides its lackluster NAS support, CrashPlan doesn't let you run multi-threaded backups to speed things up. There's no way to create image-based backups of your computers, and there's no courier-recovery service, either.
Acronis
Moving on to Acronis Backup, this service boasts the ability to backup more than 20 platforms, including Windows, Mac and Linux desktop. That's a great addition, considering that many services lack Linux support. For more options, read our best online backup for Linux piece.
Acronis Backup also supports both physical and virtual servers. That includes Windows Server, Microsoft Exchange Server, VMware ESXi, Hyper-V and Citrix XenServer. On top of that, Acronis can backup Microsoft SQL and SharePoint databases.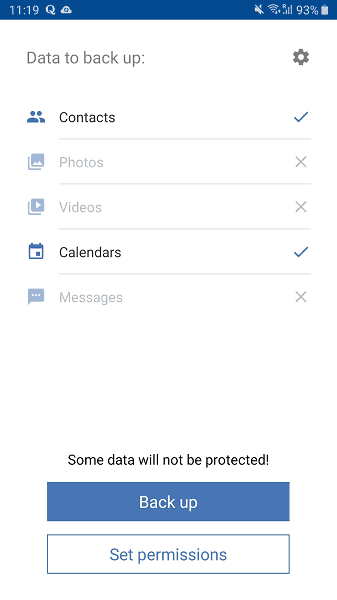 Plus, Acronis Backup provides tools to backup Android and iOS smartphones. If you want a different solution, though, read our best online backup for mobile roundup.
Acronis Backup works with NAS devices and external drives. You need one license per computer, but Acronis lets you backup multiple external drives if they're attached during the backup process. You can also backup from a storage area network.
Besides backing up your local devices, you can use NAS devices and external drives to store your backup. You can do that in addition to the cloud, which means that Acronis supports hybrid backup. Like with CrashPlan, there's no courier recovery.
Acronis can also backup your data stored in cloud services, such as Amazon EC2, Azure, OneDrive Personal, OneDrive for Business and more. If that's the only feature you need, though, you should consult our best cloud-to-cloud management services list for ideas.
Plus, Acronis lets you restore to machines with different hardware, which is something that basic online backup services don't provide. This is known as image-based backup. Read our best disk-imaging software guide for some other backup services that provide it.
Acronis lets you remotely initiate bare-metal recovery and use it with VMware ESXi and Hyper-V hosts. Plus, Acronis Instant Restore enables you to start your Windows or Linux backup directly from storage as a VMware virtual machine without moving the data anywhere.
If you need to manage users, administrators or groups of users, you can do that from Acronis' administrator web client. Other special features include Acronis Active Protection, which helps protect against ransomware, and Acronis Notary, which helps you verify the integrity of your backups.
Acronis Backup's standard features include incremental backup, versioning, backup scheduler, indefinite deleted-file retention, role-based administration and reports. However, continuous backup isn't available.
If you want to find out more about backup features, consult our online backup library for additional reading.
Round One Thoughts
Continuous backup is one of the most important features in this category, but Acronis doesn't provide it. That said, CrashPlan has more drawbacks here because it lacks mobile backup, can't backup NAS devices on Windows and can't perform image-based backup. Plus, Acronis provides more backup and restore settings. In light of that, Acronis Backup wins the first round.
2. Value
This category is all about which service provides more backup space for less money. It's best if there's a wide selection of plans so you can find one that fits your needs. Having a free plan or trial is great, too, so you can test the service. Unlimited backup gets bonus points.
CrashPlan
As we said, CrashPlan provides unlimited backup. It's only $10 per month per computer, and if you need more computers, it's easy to add them. Because of this pricing model, CrashPlan charges per month, so there's no annual subscription option. The upside is that you can cancel at any time. Be sure to use the 30-day free trial to test the service before you subscribe.
Note that, with this unlimited data subscription, you pay for the number of computers that CrashPlan sees as active in your administration console, regardless if they have backed up any data or not.
Acronis Backup
Acronis, on the other hand, doesn't have unlimited backup and requires you to pay for at least a year in advance. Therefore, it's probably wise to use the 30-day free trial first to make sure Acronis Backup is the solution you need. If it is, you can sign up for two or three years in advance, which gives you a discount.
All Acronis plans let you backup an unlimited number of devices. That said, Acronis requires you to pay for the space you use in its cloud storage, in addition to purchasing a license. You can purchase an Acronis Backup "standard" or "advanced" license, with the difference being that the "advanced" license has more features.
There are many options to choose from, but we'll pick the cheapest one to illustrate. A one-year, 250GB subscription with a "standard" Acronis workstation license comes out to $368 per year.
Round Two Thoughts
The service that is better for you depends on whether you need to protect a lot of data on a few computers or some data on many computers. If it's the former, CrashPlan is by far the better option. The latter, of course, is best suited for Acronis Backup. Nevertheless, CrashPlan is the better choice overall and for small business needs, so it wins this round.
3. Security
In this round, we're going to see what kind of encryption, in-transit protection, ransomware and other security features the services offer.
CrashPlan
CrashPlan uses AES 256-bit encryption to protect your data at rest on its servers. This encryption is end-to-end, but CrashPlan will manage your encryption key for you by default.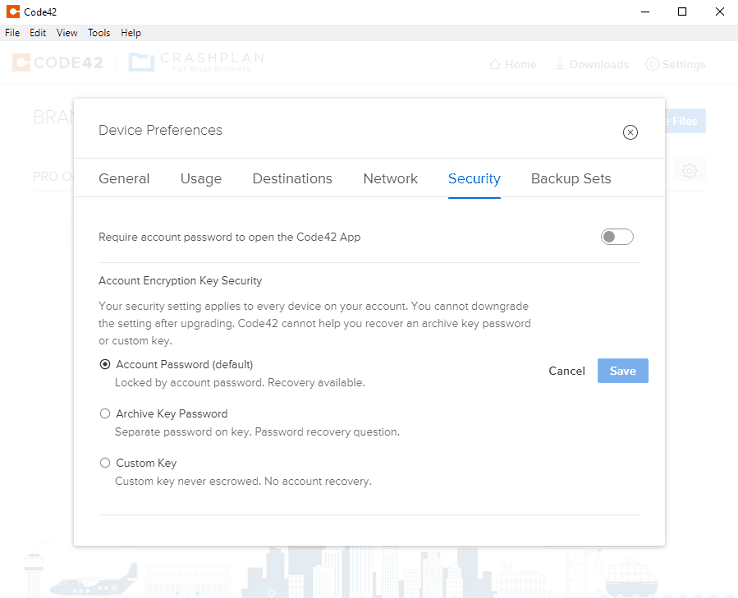 AES is the commonly used encryption method, and there have been no known hacks of it. In fact, it's estimated that it would take a supercomputer billions of years to brute-force crack an AES key.
However, it won't help you if someone manages to steal your password. That's why you should make sure you set up a strong password and enable two-factor authentication, which helps protect your credentials.
If you get hit by ransomware, you can use the versioning feature to roll back your files to their previous versions and avoid paying a ransom for their decryption.
CrashPlan uses the TLS protocol to protect your files during transfer to its data centers. You can learn more about it in our SSL vs. TLS comparison.
CrashPlan's data centers have 24/7 surveillance and are equipped to resist failure, whether from device malfunction, fire, power outage, earthquake or another disaster. You can read more about these measures in our article about data center security.
Plus, Code42, CrashPlan's parent company, is an ISO 27001-certified organization, and its data centers undergo annual SOC 2 Type 2 authentication.
Acronis Backup
Acronis' encryption isn't implemented by default, but you can enable it and choose between AES 128-, 192- and 256-bit. In addition to picking a level of encryption, you'll also be asked to set a password. That means that Acronis Backup's encryption works from end to end and is private.
During the transfer of that data, Acronis Backup uses HTTPS, which embeds the SSL protocol to protect files from third parties who'd like to tamper with them.
When your files reach Acronis' data centers, they are copied to multiple servers for redundancy in case of a server failure. The data centers themselves are designed to withstand disasters, with power backup, fire suppression measures and temperature monitoring.
Data centers are also secured against infiltration with 24/7 patrols, video surveillance, high fences, biometric scanners and access cards.
As we mentioned, Acronis Backup protects you against ransomware with Acronis Active Protection, which continually checks your files for evidence of ransomware infection.
Acronis has strong security to protect your backup, but it doesn't take as strong of an approach with your credentials, as there's no two-factor authentication.
Round Three Thoughts
Both services are good at securing your files, but Acronis Backup doesn't provide two-factor authentication, and that's where we split the difference. CrashPlan wins this round.
4. Speed
Backing up your computer may take a long time, but the less it takes, the better. How fast you backup your computers will depend on several factors, including your ISP, the distance from the service's data centers and how well the service manages file transfers.
It's best if the backup service lets you set preferred transfer settings, increase the number of threads to boost speeds and throttle them if necessary. A block-level transfer algorithm is useful because it speeds up the transfers after the initial backup.
CrashPlan
CrashPlan keeps its servers in Australia, and the U.S. CrashPlan was fast when restoring backup, but it had average results when backing up.
That said, the block-level algorithm is available to speed up subsequent uploads, and you can throttle CrashPlan's speeds if the service takes too much of your system's resources. You can also set it to increase the speed when you're away from your computer.
Acronis Backup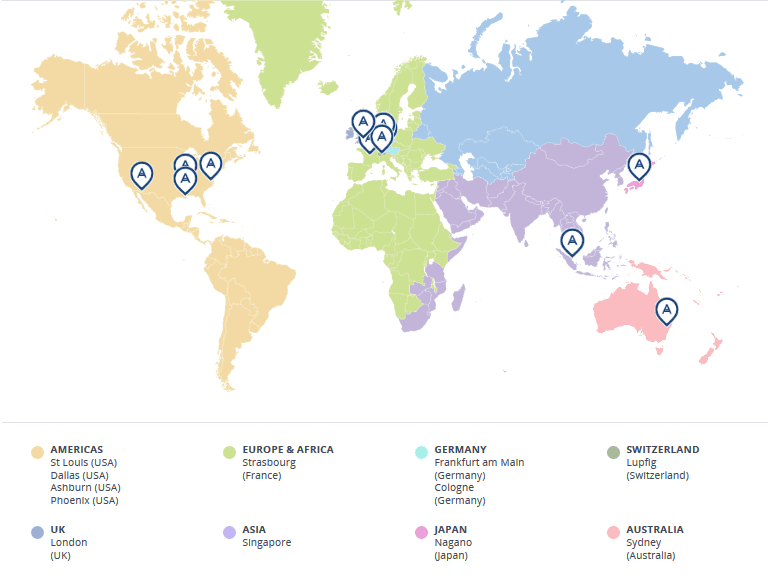 Acronis is among the fastest online backup services thanks to its global network of servers. It managed to quickly upload and restore our files, and it didn't take much more time than we would expect it to without any overhead.
The block-level file copying algorithm will increase the speed of future uploads, and you can also lower the file-compression rate if you want to make your backups run even faster.
Round Four Thoughts
Considering that Acronis Backup is much faster than CrashPlan when downloading and uploading, it clearly wins this round.
5. Ease of Use
Backup services should be easy and enjoyable to use, allowing you to focus on your work and not worry whether your backup plan is correct. To make that a reality, the desktop client should work on most operating systems. It's interface, along with those of web client and mobile apps, should be intuitive and attractive.
CrashPlan
CrashPlan's desktop client works on Windows, Mac and Linux. It takes only a couple of minutes to install, after which you'll be asked to sign in.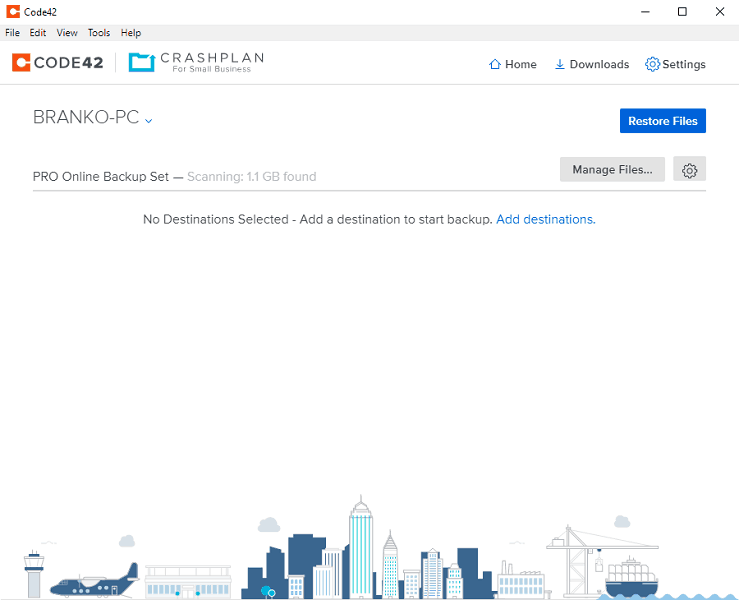 It's not difficult to use, but backup operations with CrashPlan could be simpler. That's because CrashPlan backs up based on file location, which means you need to manually tag folders and files for backup. If it backed up by file type, you wouldn't have to worry about whether you've added all your documents, images, videos and other files to your backup.
Plus, CrashPlan requires you to browse through folders, which isn't convenient. We'd prefer a file-tree structure, which would make it faster to tag files and folders.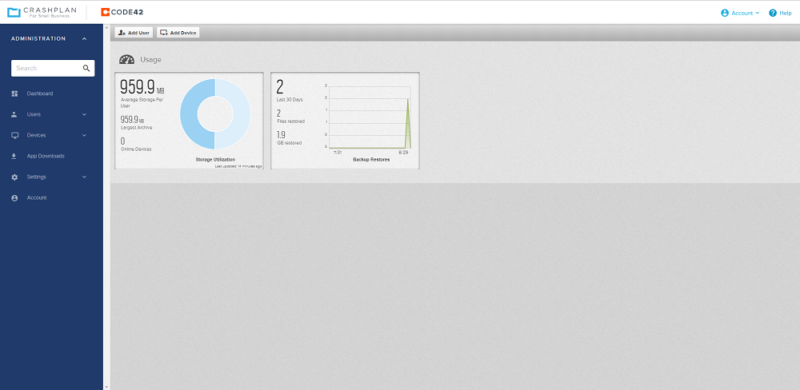 CrashPlan's web client lets you check up on user statistics and monitor file restoration from a dashboard view. It also enables you to monitor and deactivate devices being backed up, add and deactivate users, download client apps and create reports to keep you on top of backup failures. The only quibble we have is that the design doesn't feel attractive and modern.
You'll have to rely solely on the web client to access your backup while you're away from your computer because CrashPlan has discontinued its smartphone apps.
Acronis Backup
Acronis Backup doesn't have CrashPlan's lack of mobility because it has apps for Android and iOS, which you can use to access your backups while you're on the go.
While you're at your computer, though, you can use Acronis' web client to create your backup plan. There is a desktop agent you need to install, but you manage everything else using the web clients.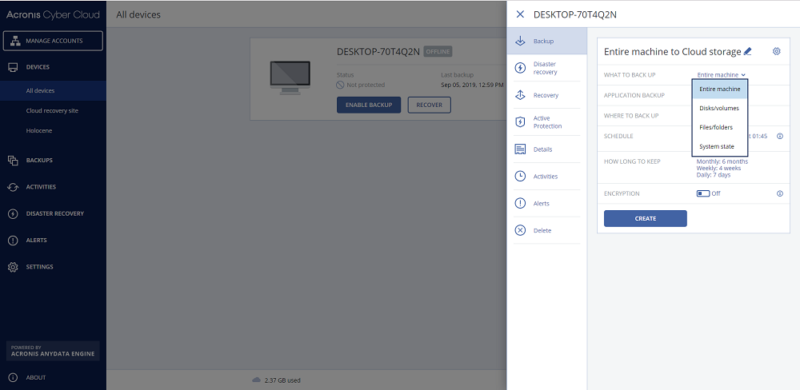 We say "clients" because there's one for a single workstation and one for the administrator. However, they're basically the same client with slightly different options. Overall, that web client is attractive and easy to use.
That said, like CrashPlan, Acronis also requires you to select your files and folders for backup. Acronis makes it easier to backup your entire machine, though, because you can do it with a single click. You can also choose to backup your entire system state.
Round Five Thoughts
CrashPlan doesn't support mobile apps, and the options you have for selecting backup are slightly more cumbersome than Acronis'. That's why Acronis Backup wins this round.
6. The Verdict
Acronis Backup won in three rounds while CrashPlan won in two, which means Acronis Backup is our overall winner. Beyond what we've talked about in these categories, Acronis also has a solid privacy policy and 24/7 support, including telephone and chat.
This outcome doesn't mean that CrashPlan is a bad service, though. Thanks to its great value, it's a much better choice than Acronis if you need to backup only a few computers. Read our CrashPlan vs Backblaze to learn how it compares to another top-tier online backup solution.
What do you think about this comparison? Do you side with Acronis Backup, which won more rounds, or do you prefer CrashPlan? Let us know in the comments below. Thank you for reading.