IDrive and Backblaze. Could there be two more different approaches to online backup? IDrive gives you a terabyte to backup unlimited devices. Backblaze lets you backup unlimited data for one device. One is packed full of user options, the other absolves you of having to think much at all.

In what's sure to be a riveting head-to-head, in this review I'll take you through the basics of both services as I examine how each handles the 21st-century task of protecting your data. Under consideration: backup features, pricing, speed, security and customer support.

Just can't wait to find out who comes out on top? I admire your lack of patience, so here's the short version:

It's Backblaze. Probably; well, it depends, really.
1

Backblaze




★★★ Best Unlimited Cloud Backup ★★★


www.backblaze.com

/month

Continuous Backup

Incremental Backup

External Drive Backup

NAS Backup

Unlimited Backup

Versioning

Private Encryption
2

IDrive




★★★ Best Cloud Backup ★★★


www.idrive.com

/month

Continuous Backup

Incremental Backup

External Drive Backup

NAS Backup

Unlimited Backup

Versioning

Private Encryption
Know Thy … Data
Okay, so here's the thing. Finding the right online backup solution isn't as simple as picking the one with the most five-star ratings. It's about finding a solution that best fits your own specific data needs.
Most backup services don't lock you into a long-term commitment. But they don't really have to. The initial backup process is such a painstakingly slow affair, that nobody really wants to go through it more than once if they don't have to.
So, it makes sense to get it right the first time and to do that, you need to take a look at how much data you're packing now and consider how much you're going to need over the next few years.
For my part, I don't need a ton of space. I mostly keep files of various projects I've worked on, a few movies and a collection of photos from my travels. We're talking about 100GB, tops.
Other users, however, particularly those of you that are into HD video, or running a small business, will want to think bigger. Maybe much bigger.
Here's a brief overview of how four of the best online backup solutions compare.
One of these things is not like the other. But, as we'll discover, storage allotment and multi-device support aren't the only considerations.
The Battle Rounds
IDrive or Backblaze. Backblaze or IDrive. Which online service is the right fit for you?
Over the four rounds of point and counterpoint, I'll discuss various aspects and elements tied to some of the context laid out above to help you make a choice that you can not only live with, but live happily with. Below you can also find video reviews of both services.
Backblaze Review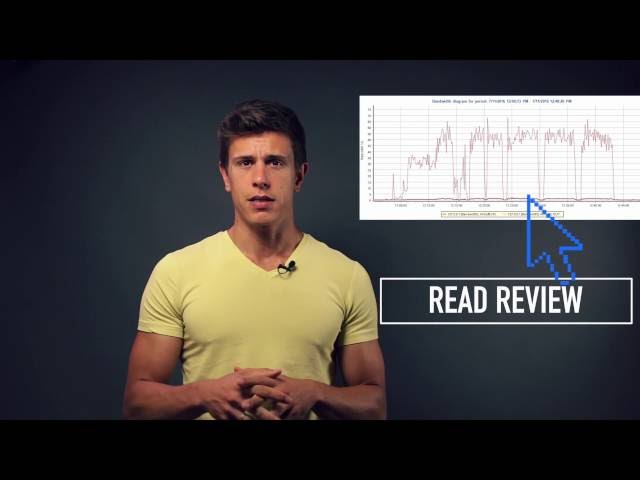 IDrive Review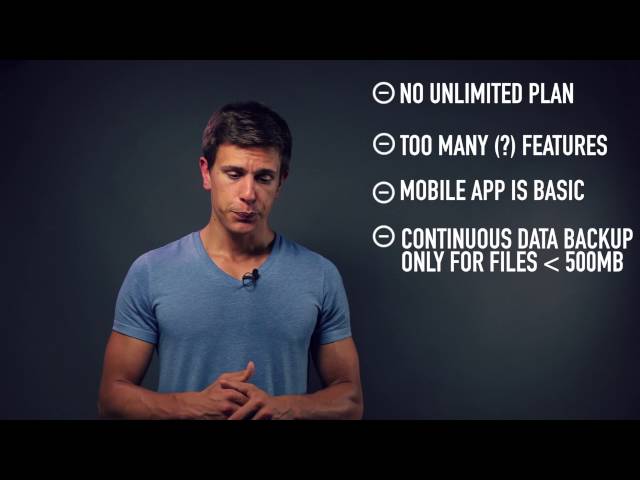 Plans, Pricing and Platforms
Let's start with the obvious: which one gives you that elusive bang for your buck?
IDrive
Probably the most compelling aspect of IDrive's price plan structure is that one account can be used on unlimited devices, which is rare for an online backup service.
That's especially great when you consider that IDrive works with PC and Mac, but iPhones, iPads and Android devices, too. IDrive can also be setup to backup your social media accounts, including Facebook, Twitter and Instagram.
Business users get even more platforms supported, which I'll get to in a moment.
Potential IDrive subscribers can get to know the service by checking out their free version. The free version really isn't great for backup, however, as it's capped at 5GB and most users need much more space than that to image their hard drive.
You do, however, get an additional 5GB of separate sync storage; this is true of all IDrive's plans in fact (i.e., a 1TB backup plan also gives you 1TB of of sync storage). This is something that really helps it stand out from the competition.
For those that decide to go ahead with a subscription, IDrive offers two personal plans, as well as few ones aimed at businesses.
You can extend the first year discount by signing up for two years in advance.
Backblaze
Backblaze does not have a free version, but does offer a 15-day free trial.
In terms of subscribing, Backblaze offers user plans designed for both personal and business use, but are generally aimed at backing up a single device.
A separate B2 Cloud Storage plan can also be set up. This service is priced per gigabyte (currently $.005/GB/Month) in order to be scalable. While anybody can use it to store cloud data, it seems to be more geared to developers looking for a cheap cloud platform upon which to build applications. API tutorials are included.
Final note: while Backblaze doesn't currently support mobile backup, you can access (and share) the content you have saved on the Backblaze cloud from your iOS or Android phone using their mobile app.
Round One Thoughts
Suggesting that IDrive's pricing structure if better than Backblaze's, or vice versa, is difficult. One the one hand, Backblaze gives you unlimited backup space for only $5 per month, while IDrive gives you 1TB or $5.79 per month.
But it isn't that simple, because a Backblaze account is limited to one device, whereas IDrive can be used with unlimited devices and supports more platforms, including mobile devices and social media accounts.
For my part, 1TB suits me fine and I like being able to backup multiple devices without having to pay for additional licences, so I choose IDrive. However, if I were a photojournalist or YouTube sensation, I'd probably want Backblaze and its unlimited storage.
Meanwhile, if you're a business user looking to backup your servers or databases, you're probably going to want to choose an IDrive business plan, pricey as they may be. If you're a developer looking to build an application integrated with the cloud, then Backblaze is the better option.
What options are available for users of the two services, and how do they stack up?
IDrive
Upon initially installing IDrive, the desktop application will make some recommendations as to what to backup. But, for the most part, you need to go through and select the folders and files you want stored.
Once you have the backup process running, IDrive supports both continuous backup and scheduled backups.
Continuous backup is not defaulted to, so you'll need to turn it on by navigating to settings on the desktop interface. From there, you can set continuous backup to:
Real-time
10 minutes
30 minutes
60 minutes
IDrive will only automatically backup files up to 500MB in size, so if you're working on a large, important file (such as a video), you'll want to handle that manually.
Meanwhile, a full scan and backup is run during your scheduled backup period. You can set start and end times for when this is by visiting the "scheduler" tab.
One of the best aspects of the IDrive tool is that you can use it to simultaneously manage backups to your external drive. This helps, since by using the same tool for both your online and local storage, you don't have to spend time cross referencing what folders and files are tagged for back up.
Along with your regular backup space, IDrive includes a separate bucket for "sync." Sync is always real-time (or as close as real time as you can get) and lets you ensure that the same content is available across all of your device (for example, a research paper or business presentation).
Any files stored in backup or sync can also be shared, either on social media or by email.
As far as versioning, IDrive retains the 10 most recent versions of any file stored in backup or sync. Deleted items, meanwhile, are kept for 30 days.
Backblaze
Backup with Backblaze is about as simple as it gets — in fact, the service takes most of the work out of it for you by automatically finding and backing up those files it thinks you'll want. This includes photos, videos, music, documents and data.
This is a boon because generally with backup services you have to manage that process yourself by picking the files and folders you want to keep. This can get out of hand pretty quickly, making it easy to miss important content.
Even though you get unlimited storage with Backblaze, in order to restrict bandwidth crunch, some file types are not automatically backed up. This includes OS files, temporary Internet files and the like.
However, if you'd like, you can alter what types of files are excluded from the backup process by clicking the Settings button and going to the "exclusions" tab of the window that opens.
As far as when data is backed up, you can either elect for continuous backup, set a daily schedule, or back up only when you to tell the service to (by clicking "backup now").
In this regard, Backblaze is something of an oddity, since most online backup services let you turn on continuous backup and set a scheduled backup at the same time. Most services, however, also cap the size of the files that can be updated continuously (IDrive is capped at 500MB, for example).
The backup scheduler is about as simple to use as it gets. Just click the "settings" button and go to the "schedule" tab of the window that pops up.
In addition to backing up your computer drive, you can also backup external drives connected by USB or firewire. Important to note here is that if you don't connect these drives at least once every 30 days, stored data gets automatically deleted.
Many other services also let you use the interface to manage your external storage; Backblaze does not.
Backblaze does support file versioning, but only up to 30 days (other unlimited backup services, like CrashPlan, let you keep unlimited versions indefinitely). Deleted files are also recoverable for 30 days.
Round Two Thoughts
Overall, the Backblaze backup process is much simpler to manage than with IDrive and it's mostly thanks to unlimited storage. Since you don't have to worry about running out of space with Backblaze, you can backup whatever you want and that means you can leave the application to run wild, automatically backing up files based on type.
With IDrive's more restrictive 1TB of space, on the other hand, it makes much more sense to have the user pick and select which folders they want stored.
That said, I do like that IDrive lets you manage your external, local backup drive from the same application. However, when you think about it, the fact that you can't do that with Backblaze kind of makes sense. Local drives are limited in space and so applying the same "grab it all" philosophy that Backblaze uses would cause problems pretty quickly.
IDrive may have sync, but I think overall Backblaze does a pretty amazing job of taking advantage of its unlimited allotment to create a gratifyingly simple backup experience.
Which of our two contenders is the fastest when backing up data?
IDrive
Within the backup community, IDrive is well-respected for its fast upload and download times and my own experiences confirm its reputation.
However, because initial backups and full-system restores are a pain regardless of how fast your upload and download speeds are, IDrive does something unique: they offer a service called IDrive Express.
Using this service, IDrive mails you a hard drive of up to 3TB in space. You upload your data and mail it back. IDrive then transfers into their storage servers under your account. They'll also mail you a drive with your data on it for restores. This saves tons of time (potentially weeks). As a bonus, IDrive Express is totally free.
IDrive also implements incremental file uploads, only upload portions of files that have been changed, to help speed things up.
Plus, through the IDrive interface, you can easily throttle your upload and download speeds if you find your system resources are being tied up, or if you want to speed the backup process along.
The throttle works as a slider and lets you set your data transfer speeds from anywhere between one and 100 percent.
Backblaze
Like any backup process, the initial process with Backblaze will take some time. In fact, because Backblaze picks up all files based on type, as opposed to user-select files, it'll probably take longer than average (because you're storing more).
Backblaze doesn't provide a backup-by-mail service to help speed up the process, but they do let you restore by mail. The way it works is you purchase a USB flash drive ($99) or USB hard drive (up to 4TB for $189) from them and they'll mail it to you with your data on it. Then, if you mail it back within 30 days, they refund the cost.
Following initial backup, subsequent backups will run pretty smoothly, thanks to an incremental backup process. Backblaze breaks files over 30MB into 10MB chunks to be uploaded. It the file change was made in the middle, then the chunk containing that chunk and every chunk after it are re-uploaded.
To help manage system resources, Backblaze does let you throttle upload and download speeds.
After selecting "manual" you can use the slider to adjust towards "faster networks" or "faster backups." By moving all the way to the right, I was able to increase my backup speed to 40GB per day on my home wifi network (this will vary according to your Internet speed, of course).
Round Three Thoughts
Both services do a pretty nice job with speed, which is big component of why both are so popular.
The biggest difference in day-to-day backup processes are incremental backup and the ability to throttle. Both services have those covered. I actually think Backblaze is a little bit faster, although I wonder if that isn't because it uses 128-bit encryption, whereas IDrive uses 256-bit (see Round Four, next).
Either way, it isn't enough to put Backblaze a huge edge, because it just isn't that noticeable of an impact.
More impactful, I think, is that IDrive helps speed along both the initial backup and the full recovery with its free IDrive Express service. IDrive Express can literally save you weeks of data processing time and that's a huge win.
Round: Backup Speed
Point for
IDrive
Last but not least, how secure are these two services?
IDrive
IDrive uses 256-bit AES data encryption to protect your data while at rest on their RAID-protected servers. All transferred data, including login credentials, are further with SSL encryption while in transit.
When you setup your account, IDrive provides an 2048-bit RSA encryption key for you, which they retain. However, if you prefer local/zero-knowledge encryption, you can set your own key that only you will know.
Word of warning, the only way to change a zero-knowledge encryption key is to reset your account, which permanently deletes all of your files and folders, meaning you'll need to go through the initial backup process again.
Also, only users who use default encryption can use IDrive's share features.
Whether you go with a default key or set your own, all encryption takes place on your computer prior to transfer.
I couldn't find any information on whether or not content being restored is decrypted prior to being sent back. I would assume that is for users who use the default key and probably not for users who set up their own key.
IDrive occasionally requires two-factor authentication from their users, but there is no way to force this service on, which is a miss.
Backblaze
Generally speaking, data is encrypted using a 2048-bit RSA key that Backblaze retains for you. All you need to do is provide your email address and password.
But since passwords can be guessed or stolen, for those who prefer two-factor authentication, Backblaze does offer two-factor identification as well, in the form of a six-digit code sent to your phone during sign in.
One of the best attributes of Backblaze, however, is that it lets you add an extra layer of security by making your encryption key truly private. Only you know the key in this case, which means that nobody, not even a Backblaze employee, can read your data other than you.
In all cases, data being sent to Backblaze is first scrambled on your computer using 128-bit AES encryption, before being sent over an SSL connection to the Backblaze datacenter, where it remains encrypted.
For restores, data is decrypted on Backblaze's secure servers, zipped and then sent to your computer over SSL. By performing the decryption on the Backblaze servers, you're able to access your content over a browser without having to install an application.
In the event of a restore using a zero-knowledge key, data is still restored on the cloud before being sent to you. You'll need to enter your passphrase on Backblaze's secure site so that it can be used to decrypt your private key, which is then used to decrypt your data. Backblaze says that this passphrase isn't stored, but it is something to be aware of.
Side bonus, Backblaze helps users safeguard their personal computer with a "locate my computer" option. Features include:
a check for content uploaded last 24 hours
a check which ISP is being used
the ability to map computer location
The location mapping was pretty spot on.
Round Four Review
Both services do a nice job of protecting user data and its mostly owing to the fact that both offer the choice of setting your own encryption key. Most online backup services don't offer this choice.
Probably the most immediately noticeable difference between the two is that IDrive encrypts its data with 256-bit AES, while Backblaze uses 128-bit AES. However, it's worth noting that it would take several billion years for the world's fastest supercomputer to crack a 128-bit encryption, so … your data is probably going to be fine in either case.
For me, the real tie-breaker is that Backblaze users can opt into two-factor authentication, whereas IDrive only requires it in certain cases.
I use IDrive as my backup service. That's mostly because I was immediately attracted to the fact that it offers backup for as many devices as I want. Also, I use an external backup drive in addition to online backup and the ability manage both in tandem from the IDrive interface is a nice feature. But, if life offered versioning, I very well might revert back and choose Backblaze.
The simplicity that Backblaze brings to the process is practically a work of art. To not have to worry about which folders and files are marked for backup — or ever think about managing space. For me, that's worth having to pay for two or three $5 dollar monthly subscriptions.
You can certainly see the conundrum. But after thinking about it a lot , I feel that most users will find Backblaze better suited to their peace of mind. Which do you prefer? Let us know in the comments below, thank you for reading.