Best External Hard Drive of 2023: Our Top Hardware Storage
In the last few years, hard drives have gotten a lot cheaper. Mechanical hard drives have reached their performance peak and flash storage has gotten less expensive to manufacture, meaning you can now get fast, inexpensive, multi-terabyte external storage for cheap. In this guide to the best external hard drives, we're going to showcase our favorites.
That's a challenge, though, because the external hard disk that's best for you is largely based on what you're using it for. Throughout this guide, we're going to give our top three picks in four categories: features, pricing, speed and performance and warranty and support. At the end, we'll give our top pick overall, as well as our favorites for Xbox One and PlayStation 4. If you like you can jump ahead to our comparison chart.
You can backup your computer to an external hard drive manually or by using software. If doing it manually, drag and drop the files and folders you want to backup to the drive. If you want to use software, there are tools available, such as Google Backup, Paragon Backup and EaseUS Todo Backup.

On Windows, you can format by right-clicking the drive in File Explorer and selecting "format." On macOS, you can format using Disk Utility, which you can find by searching in Spotlight.

For Windows and macOS, the drive will need to be formatted first. On Windows, you can partition an external hard drive by clicking Windows Key + X and selecting "disk management." There, right-click your external hard drive and select "new simple volume." On macOS, open Disk Utility by searching on Spotlight and select the "partition" tab.

Plug in the drive using a USB port on your PS4 and power it on. Go to the settings menu and select "devices," then "USB storage device." There, find your external hard drive and select "format as extended storage." Note, though, that doing so will erase everything on the drive.
Types of External Hard Drives
Before getting into our picks, it's important to talk about the different kinds of external drives. Factors such as the size, speed and interface are not isolated variables. They're often determined by the drive itself. Just as floppy disks and hard drives perform the same function in different ways, hard disk drives and solid-state drives do the same thing.
HDD
The most common hard drive you'll come across is an HDD. In our external hard drive rankings, we refer to this type of disk as "spinning." That's because the data you're storing is written to and read from a series of disk-like platters that are nestled inside the enclosure.
Those disks spin around and a needle head reads data from different points on the disk. Though not the same tech, a good way to think about a spinning hard disk is like a vinyl record. The read and write heads can jump to different points on the disk to read the data that's on stored there or write new data to it.
That approach to storage has one major upside: it's cheap. Spinning drives have been around for decades, moving from under four megabytes in 1957 to 16 terabytes in 2019. That innovation has allowed drives with increased capacity to get cheaper and smaller, which is ideal for external disks.
That said, the dated tech has rough edges. Speed is a major concern with spinning disks, as it takes time for the heads of the drive to find the data on the disk. Longevity is another concern. The spinning disks inside are sensitive, and the fact that they're spinning creates vibrations. Over time, those vibrations will make the drive slower and, eventually, cause it to fail.
That's ignoring the possible issues with damaging the drive, too. Though external hard drives usually come in a hefty enclosure, a few drops at the right angle can render them unusable. That said, to get a lot of storage space for little money, external HDDs are your best bet.
SSD
Much more modern are external SSDs. Instead of using a spinning disk, these devices use memory modules, where the data is flashed to be stored. The data you're writing to the drive is implanted on the memory module without moving parts, which is why it's called a "solid-state drive."
There are many improvements over a traditional spinning disk because of the non-mechanical nature of an SSD. Most importantly, transfers rates are improved. Though writing large files to an SSD compared to an HDD can produce similar results, solid-storage has the advantage of being able to write in multiple places on the memory modules quickly.
That's because there isn't a physical head that needs to move. If an HDD needs to read information from platter one and platter four, it'll take time for the head to move to both locations. With an SSD, those locations can be found quickly because the electrical current is the only thing that needs to travel.
Speed is improved because of the lack of moving parts, as is rigidity, but longevity has issues. Because the data is written directly to the memory module, writing and removing data in a particular area over and over again will cause it to wear out. Thankfully, that's mostly been resolved with modern options by a process called wear leveling.
The biggest issue with this option, though, is price. Because the tech is newer, the price of one is higher than a HDD in almost every scenario. Furthermore, access to large hard drives is limited in consumer applications because high-capacity SSDs are largely focused on enterprise applications.
Reasons to Use an External Hard Drive
In almost all cases, an external hard drive is going to be more expensive than an internal one. Though that makes sense for those who don't want to go digging in their computer, there are other reasons exterior options are advantageous to interior ones.
Portability
The most obvious advantage of is portability. Internal hard drives are locked into your machine, meaning the data you store there can't be accessed unless you're using a cloud storage service, such as Sync.com, which even offers more than 5TB cloud storage space.
External hard drives give you the freedom to take the work on your desktop on the go with a single cable. Most picks don't require external power, meaning your data is only a USB or Thunderbolt connection away.
Photography and Videography
Outside of taking files on the go, USB and Thunderbolt disks have uses for photographers and videographers. When an on-location shoot is happening, it's difficult to establish a base of operations, and relying solely on your camera's storage method can lead to disastrous results.
An external hard drive solves that issue. It allows you to set up a laptop and dump your files to the drive throughout the day, ensuring that your files are backed up. Plus, dumping to an outside source instead of your laptop's built-in storage means you can start editing on a desktop immediately.
Backup
Lastly, it's a good idea to use portable storage for backup. There are a few reasons for that. First, if something goes awry with your computer and causes you to lose access to your data, external drives can be plugged into another machine. More importantly, though, it's a critical tool in a 3-2-1 backup plan.
To be clear, that means an external setup isn't a suitable substitute for online backup services, such as Backblaze (read our Backblaze review). Instead, it's one step in that process.
Having a local backup on an external hard drive and a cloud-based backup with an online backup service will protect you from any disaster that may strike, no matter if it's at home or at the data center where your online backup service operates.
Choosing Portable Storage for PC and Mac
Now that we have some basics out of the way, we're going to go over how we made our selections. The key concern is balancing the factors that make a great external hard drive. One may have excellent transfers and a high price tag, for example, or another could offer a great value but poor build quality.
Above all else, we considered value. Though an ambiguous term, value, to us, is how well performance, features and price are balanced. That means the Toshiba Canvio Basics, which performs much worse than the T5 from Samsung, has a fighting chance because of its excellent price-to-performance ratio and decent build quality.
Price and performance are straightforward, but features get messy. When looking at features, we're happy with almost anything. That includes something as small as including multiple cables for different connections in the box or as big as bundling a backup utility and password protection with the drive.
Outside of that, we also considered support and warranty periods. Almost all external hard drives come with a limited warranty, but they differ from option to option. We considered the warranty length, how easy it was to take advantage of and the stipulations applied because of the "limited" clause.
How We Tested
We tested each drive using the same process to ensure they were on a level playing field. That started with ordering it on Amazon, so we didn't test a cherry-picked sample, unpacking it and plugging it into a computer.
After that, we ran the disk through benchmarks, sifted through the packaging and warranty information and got to writing the review. By bypassing reviewer samples, we're able to test drives that come from the same place you'll get yours, ensuring that our results align with yours as closely as possible.
Best External Hard Drive Comparison
Features
As mentioned, features are broad for external hard drives. Sometimes, a drive may include nothing else. You plug it in and get to using it. Though an approach like that is acceptable, there are things we look for when it comes to features.
Most importantly, we look for utilities that come with the drive, such as a backup tool, password protection and encryption, to name a few. Outside of that, we consider the overall build quality and what's included in the box in this section.
Samsung leaves no stone unturned when it comes to the T5. Out of the box, you get the drive, which is smaller than a business card, a USB Type-C to USB Type-C cable and a USB-C to USB-A cable. Both cables are wrapped with a Velcro strap that's attached to the drive, making the whole package easy to transport.
The drive is built and packaged wonderfully, but what stands out most is its password protection. When you set up the drive, you'll be asked to install a utility where you can manage it. There, you can set a password, which will be required each time the drive is plugged in.
Additionally, it supports Android out of the box, which few drives do. You can learn more in our Samsung T5 review.
The Western Digital My Book is the opposite of the T5. It's big and bulky, focusing on a desktop backup solution. That said, it comes with access to Western Digital's full range of features, which means it can turn into something greater than just an oversized external hard drive.
By default, you can set a password, but the My Book comes into its own when you dig in to the other utilities. They include a backup tool, a security tool and a general utility that covers many categories. With the lot, you can encrypt your device, configure advanced storage setups with RAID (read our what is RAID guide) and backup your drive.
Learn more in our Western Digital My Book review.
Seagate is unique in that it comes with a lot of features no matter which tier of the drive you're purchasing. Outside of the casing, which is worth the extra cost, the Backup Plus Portable has access to the same utilities as the normal Seagate Portable.
Those utilities come in the form of Seagate Toolkit, which can be used to backup your computer or mirror an existing hard drive. Plus, you're prompted to do so while setting up the drive, meaning you don't have to go searching for the utility after you've copied data to it.
Though it lacks some of the features of the My Book and T5, the Backup Plus Portable is an inexpensive, portable and feature-rich package. Read more about it in our Seagate Backup Plus Portable review.
Price
Price is difficult for external hard drives, not because there's anything deceptive going on — read our web hosting services to see an example that — but because capacity needs to be considered. For this section, we not only have the overall price of each drive, but also the price per gigabyte so you can more accurately compare drives.
Plus, the transfer rates and style of the drive need to be taken into consideration. Flash-based storage, for example, will always be more expensive than mechanical drives, but we didn't want to take them out of rotation. We're considering the overall value you get per gigabyte, not just the price.
Per gigabyte, the standard Seagate Portable drive is the cheapest we've tested. When added up, though, the difference between it and other blackbox external drives, such as the Toshiba Canvio Basics and WD Elements, is minimal. What makes the difference is the features.
As with the Backup Plus Portable, you can use Seagate Toolkit, meaning backups and drive mirrors are fair game. The Canvio Basics and Elements drives don't come with features, so though the Seagate Portable is similar to those drives in almost every regard, its features place it a step above them. Read more in our Seagate Portable review.
As mentioned, the My Book is a desktop-focused backup solution, meaning it comes in high capacities. As the storage space goes up, the price per gigabyte goes down, making My Books an insane value for the money. If all you're concerned with storage space, nothing is cheaper than a My Book.
That's largely because of the form factor. Unlike our other picks, a My Book can't be transported easily, especially considering it needs external power. Essentially, it's just a 3.5-inch HD in a USB 3.0 enclosure, which brings down the cost considerably.
Though more expensive than every blackbox option on the market, the SanDisk Extreme Portable stands out as one of the cheaper portable SSDs. That's even more impressive considering it performs almost as well as the T5 and G-Technology G-Drive Mobile SSD, while being smaller and water resistant.
What it makes up for in build quality, though, it lacks in features. The drive ships with a program that encrypts your data called SecureAccess. That said, it's a "lite" version of paid software. It's a neat tool, but password protection or a backup utility would be nice. Despite that, it's an excellent value that you can learn more about in our review.
Speed and Performance
We test our hard drives using four benchmarks. Two are used for transfer speeds and the other two are used to check for errors. Between the four, we hope to get as holistic a view of how the disk performs as possible.
It's important to note that we're not taking price into consideration. As expected, the SSDs wiped the floor with the HDDs because of how they store data. That doesn't mean a traditional spinning disk is a bad choice, though, especially if you're trying to save money.
The T5 was faster than most drives we've tested in almost every category. It was beaten by G-Drive and SanDisk in sequential reads and by the Mobile SSD in random reads. That said, it was faster than both in sequential and random writes and during our 2.3GB folder transfer.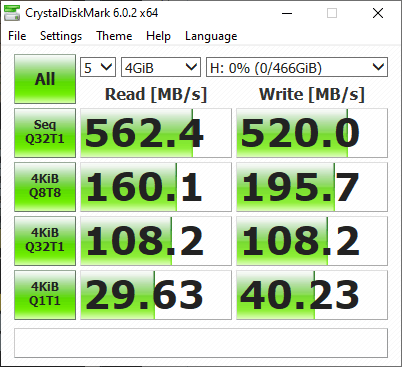 As for errors, there weren't any. During the testing, we had CrystalDiskInfo open to monitor the status of the drive, including the temperature and error rate. Even during an intense error scan, the drive stayed cool and consistent, no matter how hard it worked.
Performance gets spotty when there are so many metrics to consider. Though our first pick, the T5, performed better than the G-Drive Mobile SSD in some categories, it didn't beat it in all of them. The Mobile SSD was faster on random and sequential reads and lagged behind when it came to our 2.3GB transfer.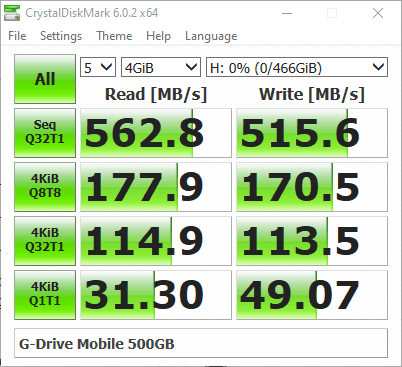 Though we didn't calculate the margin of error — we're writers, not statisticians — we're talking about fractions of a second. Everything else was copacetic, meaning there were no errors after our deep scan. That said, we noticed something interesting about the drive when it was in CrystalDiskInfo.
It showed up as a SanDisk X600 M.2 SSD. Considering both are owned by Western Digital, there's a high probability that the Mobile SSD is just an M.2 X600 in a rugged chassis. Read more about that in our G-Drive Mobile SSD review.
The SanDisk disk beat the T5 and G-Drive Mobile SSD in sequential reads, but it fell behind in all other categories. That said, it only fell behind by a little. For example, the T5 clocked in at 160.1 megabytes per second on random reads and SanDisk clocked in at 159 MBps.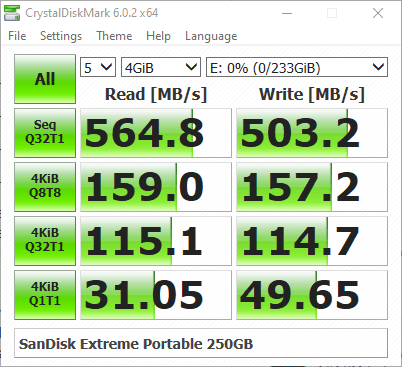 What's interesting is that it performed much differently than the G-Drive Mobile SSD, despite the fact that the G-Drive Mobile SSD has a SanDisk SSD inside. The difference isn't huge, but it was closer to the T5 overall. That said, SanDisk's offering is around $50 cheaper than the G-Drive Mobile SSD at 2TB, so the small difference in performance isn't a big deal.
Warranty and Support
Our last round focuses on warranty and support. Unlike our best VPN providers, which often offer exceptional support, hardware manufacturers give you little to no support. That doesn't get them off the hook, though. We're looking for disks that have companies that go above and beyond, providing support through self-help and direct contact.
We're also looking at the warranty period in this section. In addition to how long it lasts, we'll consider the stipulations and how easy it is to take advantage of.
The G-Drive Mobile SSD is the only drive we've tested that offers a five-year limited warranty. That, in part, justifies the high price tag because most external SSDs only offer three years. Plus, there aren't as many stipulations. If there are problems caused by G-Technology, you'll get it repaired or replaced for free.
Support-wise, G-Technology provides a proper knowledgebase for its products, which is seldom seen with external hard drive manufacturers. There, you'll find downloads, product specs, an FAQ and start-up guides. If you need more help, you can reach out over email, but the self-help resources should be enough.
Samsung offers a three-year limited warranty on T5 drives. Like most limited warranties, it only covers issues with the manufacturing of the drive. Damage resulting from you, the shipping process or the distributor isn't honored.
That said, Samsung, with its wide range of products, has some of the support we've seen. Though there's little support documentation beyond what you get in the box, there are three methods of contact, which is a first for any hardware manufacturer we've seen. You can schedule an in-home repair, send an email to the sales team or call a support rep.
The Seagate Backup Plus Portable, and all Seagate disk for that matter, comes with excellent support. You only get a two-year limited warranty, which makes sense because it's a cheaper, spinning drive, but there are many support options. In addition to knowledgebase articles, there are automatic troubleshooting tools, as well as phone and email support.
Furthermore, Seagate offers Rescue subscriptions for next to nothing. That service is like an insurance policy for your data, meaning Seagate will attempt to restore it in the event your data is corrupted. At $14.99 for three years, we can't complain.
The Best External Hard Drive
All things considered, the Samsung T5 is the best portable SSD. It's expensive, but it patches all the flaws seen in its external SSD competitors. It's available in usable capacities. Unlike the ADATA SD600, which is only available up to 512GB, the T5 comes in 1TB and 2TB capacities (read our ADATA SD600 review).
That, combined with the uncompromising transfer rates, makes the T5 look a lot more attractive. Starting at over $150, the drive is expensive, but you're not going to find such great performance in such a small package for anything less.
Plus, the features are great. It's the only drive we've reviewed that supports Android out of the box, it offers password protection and it comes with cables for USB Type-C and USB-A connections. It's portable, too, weighing only 51 grams and measuring smaller than a business card.
It's the complete package, protected by a rugged metal enclosure and backed by a generous three year warranty. If you're looking for speed, portability and capacity, the T5 delivers.
The Best PS4 External Hard Drive
There are no exclusive options for PS4, outside of a branded option by Seagate. Unlike Xbox One, which we'll touch on next, PS4 games aren't that large, putting the emphasis on portability. Though there are a lot of options, we're going to give a shout out to the WD Elements.
It didn't make the main guide, but you can see in our Western Digital Elements review that it's a solid drive, especially if you want a lot of storage for cheap. The 4TB variant will run you shy of $100, and though it's a little slow, the price puts any external SSD on the market to shame.
If you're looking to improve speed and don't mind decreased capacity, a portable SSD such as the G-Drive Mobile SSD or T5 will load your games faster. For capacity and price, though, we have to give it to the Elements drive for PS4.
The Best Xbox One External Hard Drive
Any drive can be used with the Xbox One by plugging it into one of the USB ports. Unlike with the PS4, though, storage capacity is a major concern. Microsoft enjoys using uncompressed textures, leading first-party titles to take 100GB or even 200GB of space. Because of that, a high-capacity, low-cost option, such as the Western Digital My Book, is ideal.
The Xbox One and Xbox One X are smaller than the PS4 Pro, too, so you can afford extra space next to the console. That said, My Books come with a lot of features that'll be irrelevant when plugged in to a console, namely encryption and backup.
Plus, it needs additional power. If you only need a little extra space, a portable SSD will allow you to load games faster. The Xbox One X, in particular, is fast enough on its own, though, so it's less of a concern here than it is with the PS4 Pro.
Final Thoughts
The Samsung T5 stands out as the best option, not only for its speed and build quality, but also for its compact size, excellent support and many features. That said, its price is high, especially for those who don't need insane transfer speeds. If that's you, a simple blackbox drive, such as the Seagate Portable or Western Digital Elements, will work wonders.
In the end, it comes down to your needs. If you're interested in backing up your machine, the WD My Book will be an ideal fit. If you're looking to, say, use an external drive as an Adobe Premiere Pro cache, though, the Samsung T5 will work better.
Which external hard drive are you using? Why'd you pick it? Let us know in the comments below and, as always, thanks for reading.