Visit

Malwarebytes
Fast scanning
Easy to install & use
14-day free trial of Premium version
Malwarebytes Antivirus Review
Malwarebytes Antivirus is a very fast service that, as one of the few of its kind, offers a 14-day trial. However, its lab results disappoint and we're not too sure about its interface, either. Read our full Malwarebytes review for the details.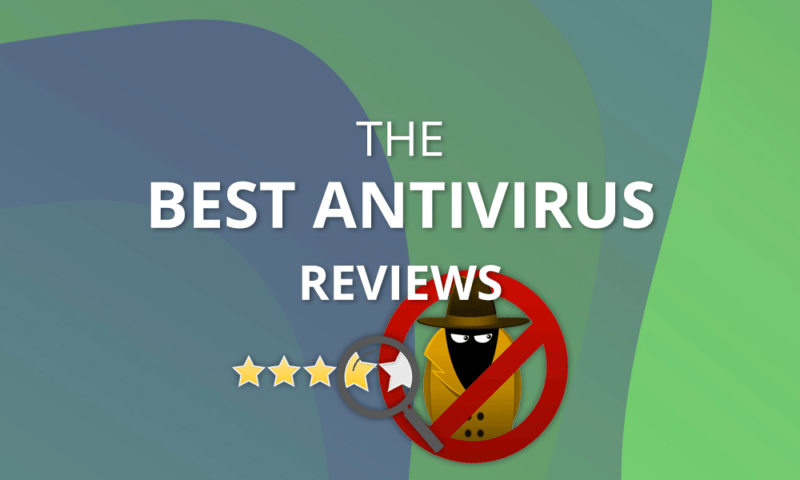 Malwarebytes was formally founded Jan. 21, 2008, by Marcin Kleczynski and Bruce Harrison. Kleczynski informally started the company while he was living at home with his parents in Chicago in 2004 after the family computer got a virus. Since then, it has grown to over 600 employees in five locations around the world.
Unlike most companies, Malwarebytes lets you download and install the premium, paid version with all the functionality intact for a 14-day free trial. After that, it can only be used to clean infected devices until you purchase the product, but that 14-day trial will give you a taste for what it can do.
In this Malwarebytes review, we'll look at the installation and use of the package, the available settings, its fast scanning, different levels of protection and the reports it generates for your use. We'll also cover its pros and a couple of unfortunate cons that keep it from making the list of the best antivirus software.
Alternatives for Malwarebytes Antivirus
Strengths & Weaknesses
Pros:
Fast scanning
Easy to install & use
Intuitive dashboard & controls
14-day free trial of Premium version
Cons:
No parental controls
Browser extensions are separate
Latest laboratory review was 2015
Failed all but one industry standard test
Premium one-device package is expensive
Features
Malwarebytes has a well-designed and intuitive dashboard. We give it high marks for layout and ease of use. A column down the left side of the screen has "scan," "quarantine," "reports" and "settings" categories. In each category, there are tabs across the top for different subdivisions.
The Premium features displayed on the right side of the dashboard show four main protection settings, including ransomware protection, which are set to "on" by default.
Settings are comprised of six tabs: "application," "protection," "scan schedule," "exclusions," "account details" and "about." The first two include a button in the upper right corner to restore the default settings. That is a handy tool that some antiviruses hide or tuck into a hard-to-find spot. We like that it is so readily available.
The application tab refers to Malwarebytes, with sections on how it is updated, notification settings, scan priority, language selection, proxy server selection (the default is off), usage and transmission of threat statistics back to the service (the default is on).
"Protection" has settings for web protection, a button for managing the protected applications list and options to add applications to it. There's also an advanced settings button that brings up a sub-menu for anti-exploit settings for many applications, such as memory protection, application behavior and Java protection.
Malwarebytes doesn't offer webcam protection like Kaspersky Anti-Virus does, as you can read in our Kaspersky Anti-Virus review. It didn't even quiz us about the built-in camera on our laptop. Given the burgeoning privacy concerns in the news, that is concerning. The lack of a password manager bothered us, too, as did the lack of online backup services and a file shredder.
It does have real-time protection and ransomware protection.
Malwarebytes Features Overview
| | |
| --- | --- |
| Password manager | |
| File shredder | |
| Multi-OS support | |
| Parental control | |
| Disk cleanup | |
| VPN | |
| Profiles | |
| Ransomware protection | |
| Webcam protection | |
| Real-time monitoring | |
| Secure browser | |
| Download protection | |
| Phishing protection | |
| Firewall | |
| Windows | |
| macOS | |
| Linux | |
| Android | |
| iOS | |
| Desktop UI | |
| Mobile application | |
| Browser extension | |
| Help Center | |
| Forum | |
| Live Chat | |
| Phone | |
| Email | |
| 24/7 Support | |
| Video Tutorial | |
| Free Plan | |
Pricing
Malwarebytes Premium 5 Devices
Malwarebytes Premium + Privacy VPN
Full package + VPN protection (5 devices)
Malwarebytes does something rather unusual among antivirus companies. It gives you a free 14-day trial period of its single-device Premium package with all its features. That gives you a chance to explore and test its functionality without spending anything upfront. After the trial, the Premium features stop working and it functions only as a remedy to clean one infected device.
It is available for Windows, macOS, Chromebook, Android and iOS. Browser extensions aren't included in the package. Instead, they can be downloaded separately for free on Chrome and Firefox. We would have preferred to see them integrated with the antivirus software, though.
The Premium and Premium For Home packages differ only in the number of devices they protect and the price. For example, Home charges you $20 for each additional device over three. Other than that they're identical.
With the Premium For Home option, you're able to mix and match Windows, macOS, Android, iOS, which is only available on the App Store, and Chrome OS. That is a nice touch for those who aren't burdened by brand name loyalty.
The business versions have advanced features, including application hardening, exploit mitigation, payload analysis, anomaly detection, machine learning, asset management and more. Pricing starts at $119.97 for the basic business package, then it's customized after that based on your requirements and number of devices to be protected.
User-Friendliness
The initial download and installation are quick and easy. Malwarebytes' website includes simple instructions that give you a head's up on what to do without insulting your intelligence. The process is intuitive enough that you won't need the instructions, though.
Once installed, the initial scan only took three minutes and 46 seconds to check 173,193 objects on our machine. Other antivirus packages we tested on the same test machine took over an hour. That said, its speed came at the expense of 100 percent CPU utilization during the scan. It dipped once to around 75 percent then went right back up.
As a test, we launched another application during the scan and Malwarebytes gave up the CPU time to let it run normally, demonstrating that it is not a resource hog. It is willing to share. This gives you the best of both worlds: a fast scan when it is running alone, plus the security of knowing it won't slow down other applications if they are running simultaneously.
The report generated after each scan is simple and easy to read. It has all the information you need on two tabs. The first is a one-page summary. The advanced tab shows you how many objects were scanned, whether it was manual or scheduled, elapsed time and scan options. An export button lets you copy the report to the clipboard or a text file for future reference.
Quarantined files, such as potentially unwanted programs, are held harmless, waiting for you to restore them or deleted them if they are, in fact, unwanted. The settings let you configure what to do with quarantined files.
A two-step exclusion process gives you the options to exclude particular websites, applications, files or previously-detected exploits from being detected in future scans. Again, the interface is quick and intuitive.
Protection
Malwarebytes fell down in this area. Since 2015, it hasn't been tested in any of the three labs we use. That's an eternity in the computer world.
Malwarebytes has combined its remediation software with its antivirus package since then. The closest thing left to it is if you let the free Premium package lapse after the 14-day trial. Every feature except the remediation feature is disabled after that.
We also use the Anti-Malware Testing Standards Organization to check feature settings and the Wicar website to gauge protection performance.
Amtso runs antivirus software through a thorough check of its ability to handle the download of malware, compressed malware, potentially unwanted applications, phishing, and cloud protection. Malwarebytes failed on all of them. We tested it with several types of infected zip files and it didn't catch any of them.
Windows Defender, which we'd disabled, pulled a Dracula on us and came back to life to catch two of the infected files that Malwarebytes said were okay.
Wicar conducts most the same tests, with the addition of a trojan website that Malwarebytes caught and blocked us from accessing. That was the only test it passed.
Amtso and Wicar use an industry standard EICAR antivirus test file that is universally agreed upon to be used in testing. The file is harmless. It is only used to help users verify that their antivirus software is correctly configured and working. We let Malwarebytes install with its default settings and it missed everything but one trojan. That kind of performance is unacceptable.
That said, Malwarebytes is intended for cleanup more than anything else. On that front, it's an excellent program. However, for real-time scanning, we recommend you stick with our top-rated provider, Bitdefender (read our Bitdefender Antivirus review).
Support
Malwarebytes doesn't have good support on its website. We found videos, along with options for chat and telephone support, but the results weren't impressive. We clicked the chat button and received a mostly blank screen telling us the representatives weren't available.
Clicking the "contact support" button wasn't much better.
It led us to a screen where we were prompted to create a help desk ticket with no indication of how long it would take to receive a response. We opted not to waste our time because help desk turnaround generally averages one to two days with most companies.
There is a community forum, but navigating forums can be a daunting task when you're looking for an answer to a specific question. The videos we found are basic and don't go into much detail. They're mainly there for installation and using the software. Given the intuitive nature of the interface, they are mostly redundant.
The Verdict
Malwarebytes has a wonderful interface, a lot of features, a good price structure and an innovative setup allowing you to test the entire working package for free for 14 days. What drags it down is the poor test performance and substandard customer support. Lab testing is almost nil and it failed our performance testing except for finding one trojan on a test website.
In all fairness, the company may have chosen to opt out of using the EICAR antivirus test file for its software. Since the file is harmless, that doesn't hurt anything. We weren't able to contact the company to ask about it, though, so in the absence of contrary information, we have to take the test results at face value.
What do you think of Malwarebytes? Does it work for you? Let us know in the comments below. Thanks for reading.
Visit

Malwarebytes