Bitdefender vs Avast: Which Should You Pick in 2023?
Bitdefender is one of the best antivirus products available. It has excellent protection scores, a wide range of features and a reasonable price tag to boot. Avast, while lacking in some of these areas, has such a generous free plan that may make you think twice about upgrading.
In this comparison of Bitdefender and Avast, we'll help you decide if an upgrade is worth it. While you can get a lot of free protection mileage with Avast, the extra features and protection may push you towards a subscription with Bitdefender.
We're going to provide an overview of these products in five rounds. If you want more details about either service, make sure to read our Bitdefender Antivirus review or our Avast Pro review.
Setting Up a Fight: Bitdefender vs. Avast
Editor's Note 1/28/2020: A report has surfaced showing that Avast and its subsidiaries collect user browsing data from more than 100 million devices. We cannot, in good faith, recommend Avast or AVG products until we look further into the issue.
Bitdefender and Avast appeal to different markets. Bitdefender has a modest range of plans that, while more expensive initially, top out at a lower rate. Avast, on the other hand, draws users in with a generous free plan in order to advertise a feature packed, but more expensive, security package.
However, the different business models don't explain which is right for you. Price is a consideration but only a single part of our comparison. We're going to compare Bitdefender and Avast, using the same criteria we used in our best antivirus software guide.
They'll compete in features, pricing, user-friendliness, protection and support. We'll go over what the providers offer in each section, give some thoughts on how they compare and declare a winner. Whichever provider claims at least three of the five rounds will win the comparison.
Unlike out comparison of Bitdefender vs. Kaspersky, this one is polarizing. While there is some flexibility in our assessment, there are enough significant differences between these two providers to make the win concrete.
Even so, we recommend reading through each section instead of just skimming the winners. The things we like or don't like about a particular provider aren't relevant to everyone, so small differences, such as the lack of a particular feature, may not be a deal breaker for you.
1. Features
Features are important for a modern antivirus. Even Avast's free offering comes with features that reach beyond malware detection and removal. We're going to look at the security suites Bitdefender and Avast have built, and evaluate the overall quality of the included extras.
Bitdefender
Bitdefender has an excellent range of features that build up as the plans increase in price. The most expensive plan, Total Security, is a showcase for these features. Inexpensive plans, such as Antivirus Plus, have a nice range of features, too, but lack core security features like parental control and web attack prevention.
Total Security is impressive. You have access to a password manager and limited VPN. The password manager is basic. It has the ability to store passwords, credit cards and identities and auto-fill them in your browser. A dedicated password manager, such as Dashlane, has better features, though (read our Dashlane review).
The VPN is more of a trial than anything else. You can use up to 200MB per day before you need to upgrade. It's similar to Kaspersky's included VPN (read our Kaspersky Anti-Virus review) which is powered by Hotspot Shield (read our Hotspot Shield review).
This small amount of data can bypass the dangers of public WiFi and, for non-techies, we think it's a nice inclusion. However, you can get more data and better security for free. Windscribe, for example, has one of the most generous free VPN plans we've seen (read our Windscribe review).
The core security suite is nice, too. Bitdefender includes multi-layer ransomware protection, which includes a data protection layer and constant monitoring of your sensitive documents. Make sure to read our guide, what is ransomware, if you're unfamiliar with this nasty piece of malware.
Our favorite secure feature is Rescue Mode. Rescue Mode saves your machine from even the most sophisticated malware, such as rootkits. This form of malware gains deep user permissions, making it near impossible to remove. Rescue Mode allows you to boot into your machine safely and remove it.
There are many other features, too, including social network protection, WiFi security advisor and webcam protection (our first recommendation in our guide on how to secure your webcam). Bitdefender has a robust feature set and, while the distribution is strange, there's still a lot to like.
Avast
Avast has a longer, and more expensive, list of plans. Features that Bitdefender offers as a trial, though, such as the VPN, are included as full services in Avast's top-tier plan. What impresses us most is Avast's free offering.
The free version of Avast provides core protection against malware in real-time, along with a WiFi security advisor and password manager. The features earned it a spot in our guide to the best free antivirus software. However, it's missing advanced protection measures to keep you safe from things like phishing attempts.
Once you start paying, the features get more robust. Internet Security includes an extra layer of ransomware protection, phishing production, an advanced firewall, malicious website protection and, our favorite feature, Sandbox Mode.
Avast Sandbox allows you to run suspicious applications in a secure environment and see how they behave. If you're downloading a questionable torrent (read our best VPN for torrenting), for example, you could open the file in Sandbox without risk of affecting your local machine.
At the the top of the line is Avast Ultimate which includes $130 in extras. You can use Avast SecureLine VPN, Avast Cleanup Premium and Avast Passwords Premium. The VPN isn't great on its own, but it's decent as a free inclusion. You can read about it in our Avast SecureLine VPN review.
Passwords Premium doesn't offer much when compared to the best password managers. It's main features are one-touch login on mobile devices and Password Guardian, a monitoring service that will alert you if an account has been breached. As an inclusion in Ultimate, it's fine, but not worth the $19.99 per year a la carte asking price.
Cleanup Premium, alone, is worth the upgrade. This feature will scan your machine for any extraneous files and remove them, including broken or redundant registry entries, old cache files and more. It will also analyze background applications and services so you can speed up your machine.
Avast has a longer list of features with a higher the price tag to match. The extra services included in Ultimate set it apart from Bitdefender. However, ignoring this top-tier plan, the features are similar, just distributed differently.
Round One Thoughts
There's a lot to like about Avast, especially on the top-end. Sandbox, Cleanup and SecureLine are all attractive features. However, simple additions such as Bitdefender Photon, which analyzes your hardware and software configuration to optimize scans, are missing.
Even as inclusions, the VPN and password manager from Avast are subpar at best, and it seems those features were pushed to the forefront in sacrifice of simple, but powerful, features. Bitdefender has a better range of protection features at a cheaper price, and you can shop for cleanup services, a password manager and VPN a la carte.
2. Pricing
With many free and inexpensive antiviruses running around, it's hard to justify a high price tag. We're going to look at the lineup of plans Avast and Bitdefender offer, and compare the features in context with the cost.
Bitdefender
Bitdefender has a simple, three plan lineup that include extra features as the price increases. While the two inexpensive plans, Antivirus Plus and Internet Security, are Windows only, the top of the line Total Security can protect up to 10 devices on Windows, macOS, iOS and Android (winning it the winning spot in our best antivirus for Android selection; Avast scored fifth).
Antivirus Plus, which can cover one to 10 PCs, is inexpensive on the initial term. Strangely, Bitdefender only offers promotion pricing on plans with three PCs. If you want to purchase it for one, five or 10 machines, you'll have to pay the full rate.
That's offset by long-term plans. You can purchase up to three years upfront at the promotional rate. While the price annually is the same, it gives you more time before the renewal rate kicks in.
Internet Security works the same way. You can purchase protection from one to 10 Windows computers for up to three years. Like Antivirus Plus, the promotional rate only applies when purchasing protection for three devices.
It's only $5 more, though, and easily earns that bread. Internet Security adds features such as parental control, webcam protection and the WiFi security advisor. It also includes Safe Files which adds another layer of ransomware protection.
The most attractive plan is Total Security, not only for its ability to protect multiple operating systems, but also for its excellent promotional pricing. It can protect five or 10 devices for up to three years at a time. No matter how many devices you're using or for how many years, you'll get a discounted initial price.
Features like parental control look more attractive in the context of a multi-device plan. If you're protecting 10 devices, it's likely those devices span at least two different operating systems, and Total Security gives you the power to protect and monitor everything.
The promotional rates are excellent across the board. The renewal rates aren't bad, either, about on par with other antiviruses on the market. Bitdefender's support for multiple devices and long list of features make it an excellent value, even upon renewal.
Avast
Avast can protect the same OSes as Bitdefender but not on a single plan. There's a segregation between features and supported operating systems that mean you'll be spending more for features that Bitdefender includes for free.
All Avast plans, with the exception of Ultimate, can protect one to 10 PCs, but there's no multi-device plan available. You'll need to purchase protection for Android separately if you want to protect your mobile device. While you can install the VPN and password manager on iOS devices, there's no iOS antivirus (which is why it hasn't made our list for the best antivirus for Mac).
Avast offers free plans for macOS and Android, which can simulate a multi-device plan. However, like Avast Free on Windows, there's constant solicitation to upgrade. It's also hard justifying a simulation when Bitdefender offers true multi-device protection.
Our favorite plan, Ultimate, can only secure a single device, too. While all other plans can support one, three, five or 10 machines, Ultimate can only support one. Ultimate is just Avast Premier with extras, so its inability to protect multiple machines doesn't make sense.
All prices are for a single device, too. Internet Security, for example, requires over $100 in addition to the base price to protect 10 devices. Unlike other multi-device plans, the price per device actually increases as you add more to your plan.
If you're a Windows-only user, then the rates aren't horrible. The pricing is modest for a single device, and there's an impressive list of features. Any other scenario makes Avast's business model look silly when compared to Bitdefender.
Round Two Thoughts
Avast's limited range and a la carte business model may work for you. However, the need for protection on mobile devices under a single plan cannot be ignored. Bitdefender has a more logical antivirus lineup that will appeal to a wider range of users.
3. User-Friendliness
Antiviruses are more complex than they used to be, so making sense of all the features is important. We're going to look at the interfaces Bitdefender and Avast offer, as well as security settings, such as scan modes.
Bitdefender
Bitdefender is very easy to use, largely because of its "quick actions" feature and performance profiles. It has a good amount of power, too, which, thankfully, doesn't get in the way of usability.
Installation takes a while, though. Bitdefender's executable is half a gigabyte in size, and it took us over 10 minutes to install during testing. It is the antithesis of Webroot's efficient installation (read our Webroot SecureAnywhere review).
Once the install is finished, things look up. Bitdefender's best feature is "quick actions." The main screen of the UI has five tiles that you customize with different features for easy access. If you're using the free trial, one of the tiles is allocated for an advertisement to upgrade.
Our configuration used the other four tiles for quick scan, the VPN, full system scan and SafePay, a secure banking mode.
Quick actions work so well because they allow you to carry out actions from the main screen of the UI. You don't need to go into settings to run a scan, for example. Everything you want is there when you open the application.
Above your actions, you'll find Bitdefender Autopilot. Autopilot is a security recommendation system that will use what's on your machine to recognize potential vulnerabilities. It will also give you the correct action to take to patch these vulnerabilities.
Bitdefender includes performance profiles that can optimize the system impact of using an antivirus. Profiles focus resources in some areas while suppressing them in others, depending on what you're doing. For example, the "work" profile will increase email protection and the "movie" profile will suppress notifications.
If your plan supports more than one device, then Bitdefender Central will be useful. It's a web-based interface for monitoring all of the devices that you can access on any machine. Central will show you the overall protection, as well as any notifications, for each of your devices.
Bitdefender's interface is easy to use out of the box, but the experience is made better with quick actions and profiles. There's a lot of power to unpack, too. We couldn't think of a better way to use an antivirus.
Avast
Unlike previous rounds, Avast puts up a good fight here. While it's missing quick actions and profiles, it still has one of the best antivirus interfaces available. However, if you're using an inexpensive or free plan, the client has far too many upgrade solicitations.
Avast will gray out some features in the UI and display a lock next to them. These are locked features that aren't included with your plan. Similar to Bitdefender's solicitation to upgrade, we don't mind the locked features showing up in the UI as a subtle nudge to upgrade.
Not all features are like that. Some, such as the VPN, show up as any other feature would. After clicking on it, though, you're brought to a checkout page to purchase it. This backhanded advertising turns us off Avast's interface.
Acting as if a feature is included when it isn't is not only disingenuous, but confusing.
As long as you learn what is and isn't included, the interface isn't bad. Avast includes four scans modes. You have targeted, full and boot scans, as well as Smart Scans, which are our favorite. Smart Scans run a normal antivirus sweep, but also check for network threats, suspicious browser extensions, vulnerable software and performance issues.
If you have Avast Ultimate, you can resolve all of these issues. If not, there's yet more solicitation to upgrade. You can resolve some, but things like performance issues will continue to nag at you.
All plans comes with Avast Secure Browser, though, which is also available for free separately. Secure Browser is a Chromium-based browser that has extensions such as adblock and real-time monitoring built-in. It's a familiar layout but lacks the Google integration of Chrome.
It's a shame that Avast bombards users with advertisements. The interface is excellent, with a logical layout and plenty of power. However, the constant use of backhanded advertising practices cause it to lose its luster.
Round Three Thoughts
Avast has a great interface, and if you can deal with the advertisements, it's a worthy contender to Bitdefender. However, Bitdefender not only has fewer advertisements but also features like quick actions and performance profiles that make it a more attractive option, overall.
4. Protection
The most important aspect of an antivirus is how safe it keeps you. We're going to compare the most recent results from AV-Test, AV-Comparatives and MRG-Effitas to see if Bitdefender or Avast is more secure. We'll also look at performance numbers to gauge how system hungry both are.
Bitdefender
Bitdefender has some of the most impressive results we've seen from any antivirus. It was our first choice for the most secure antivirus. It has a light touch on system resources, too, though it is heavier than some other providers. Even so, the addition of performance profiles and hardware optimization circumvent this issue.
AV-Test awarded it a perfect score in its August 2018 testing. Bitdefender was 100 percent effective against widespread and zero-day malware. AV-Test used just shy of 20,000 samples, in total. The industry average for this timeframe was 100 percent, so, in light of that Bitdefender looks less impressive.
Bitdefender's flawless protection results are the rule, not the exception, though. In April, when the industry average was 99.5 percent, AV-Test still found it 100 percent effective against widespread and zero-day malware.
The performance results aren't great. While AV-Test awarded Bitdefender a perfect score in performance, it eats more system resources than the average antivirus. Bitdefender slowed the machine by 25 percent while launching popular websites, a test where the industry average was only 15 percent.
Bitdefender is on par or better in all other performance categories, though.
AV-Comparatives found similar results. During the August 2018 testing, Bitdefender blocked 100 percent of threats with no false positives. Out of the 17 other providers tested, Kaspersky was the only other antivirus to boast these results.
The most recent performance data from AV-Comparatives is from April 2018. Bitdefender was awarded an advanced+ rating, the highest possible tier, for performance. It has maintained this rating since October 2012 when it received the advanced rating.
MRG-Effitas awarded it a Level 2 certification in its Q2 2018 full spectrum analysis. This certification means that it blocked at 98 percent of malware across all tests. Looking through the results, Bitdefender had perfect scores is all categories except blocking of adware, where it missed five of the 20 samples used.
In the Q1 2018 testing, MRG-Effitas awarded it a Level 1 certification, though, meaning it blocked all threats immediately or via behavior monitoring.
Avast
Unsurprisingly, AV-Test also found Avast 100 percent effective against zero-day and widespread malware in August 2018, as the industry average was 100 percent during that time. Going back a month to July, AV-Test found it only 99.2 percent effective against zero-day malware and 99.9 percent against widespread malware.
The April results are worse. Avast maintained 99.9 percent protection against known malware but dropped to 98.9 percent against zero-day attacks.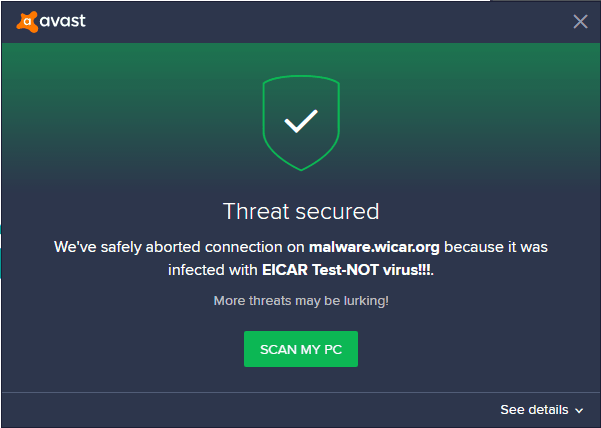 It has less than ideal performance results, too. While Bitdefender also struggled when launching popular websites, AV-Test found Avast four percent slower while performing this same task. It was also slower when copying files but by a smaller margin.
AV-Comparatives found good results but not on the level of Bitdefender. During the testing of 193 pieces of live malware in August 2018, Avast was 99.5 percent effective. It had three false positives–the same as AVG (which uses the same security infrastructure as you can read about in our AVG review).
Performance results from AV-Comparatives are excellent, though. The most recent test in April 2018 awarded it three out of three stars and an advanced+ rating. It has maintained this rating since AV-Comparatives has tested the product, minus a small blip in October 2014 where it dropped to an advanced rating.
MRG-Effitas gave it a Level 1 certification in its Q2 2018 full spectrum analysis, meaning Avast blocked all threats immediately or via behavior protection. During this same test, ESET Internet Security was awarded a Level 1 certification, too (read our ESET NOD32 review).
Bitdefender and Avast switch positions in the Q1 testing, though, Bitdefender jumping from Level 2 to Level 1, and Avast dropping in the opposite direction. It joined Panda Internet Security in the second tier (read our Panda Security review).
Round Four Thoughts
Depending on the lab you reference, Bitdefender and Avast are close in protection results. The scores from AV-Test show a softness towards zero-day malware on Avast's end, which is an important factor to consider.
It should be noted that AV-Test evaluated Avast Free while it tested a paid version of Bitdefender. Theoretically, the free version of Avast should provide you with the same protection, at least against malware. While we have our reservations on the legitimacy of that, we'll have to abide by that logic for this round and award it to Bitdefender.
5. Support
Support isn't as big of a concern as protection, as an antivirus is meant to live on your machine as a silent defender. Even so, as the security packages become more complex, there's a need for solid support system.
Bitdefender
Bitdefender has some of the best support we've seen from an antivirus. There are contact options over live chat, email and phone, as well as a deep knowledgebase, how-to videos and community forum.
The knowledgebase broken up between home and business products and then further by the individual products in those ranges. Bitdefender maintains articles as far as back as 2015, so you can find support on dated pieces of software.
Most articles have detailed instruction and screenshots, but some come with an accompanying video tutorial. The topics are basic, such as installing Bitdefender or getting around Central, but they're still a nice addition.
Direct support is excellent, too. Bitdefender responded to our email inquiry in less than six hours. If you need more immediate support, you can call Bitdefender around the clock. 24/7 phone support is offered in 16 countries and, if you fall outside those locations, you can use the worldwide English support line.
Live chat is AI controlled, meaning it will attempt to answer your question by pointing to articles in the knowledgebase. It's optional, though. At any time during the chat, you can request to be transferred to a live agent.
Avast
Avast has mediocre support. The focus is on DIY options with a confusing and restrictive contact system. The knowledgebase is strong, though, and the forums are active, even though dated.
The knowledgebase is broken up by product, each offering around 20 entries. There are so few because Avast covers a lot of ground in each article. A single topic will get into the specifics on different operating systems, for example, each section including step-by-step instruction and screenshots.
Forums are active, but dated. The design is familiar and covers every product Avast offers. There's over one million active users, which makes this an ugly but invaluable support resource.
Contact options are severely lacking. Phone support is available for any pre-sales questions, but billing and technical support are reserved for email. Avast Free users don't have access to either form of contact.
The contact restrictions look like a money grab for Avast Total Care, a support service that will run you $199 annually. An Avast agent will remotely access your machine, sweep it for problems and attempt to implement any solutions. At nearly four times the cost of a basic plan, it doesn't seem worth it.
Round Five Thoughts
Bitdefender's support system is excellent while Avast's is decent at best. The biggest draw to Avast is its excellent knowledgebase, but Bitdefender isn't lacking that department. Pile on top of that an abundance of contact options and a modern forum, the winner for this round is clear.
6. Final Thoughts
Bitdefender made easy work of Avast, claiming a victory in every round. It's our first choice in antivirus software, not against just Avast, but against the rest of the antivirus field, too. It covers all of the bases an antivirus should while maintaining a reasonable price point.
Winner: Bitdefender
That doesn't mean Avast lacks merit. While the distribution of products seems money hungry, the free plan is very generous. If you're looking for a free antivirus, Avast is one of the best choices available.
Do you like Avast or Bitdefender more? Let us know in the comments and, as always, thanks for reading.