Visit

Sophos Home
Robust parental control
Remote management of devices
Banking & webcam protection
Sophos Home Review
Sophos Home looks like a good deal, but it's missing some of the more advanced features we've come to expect when testing so many competitors. Still, though, the price is right, so it may be worth checking out, as you'll see in this Sophos Home review.
Sophos Home is an antivirus solution for those who need to manage multiple computers. It has built-in monitoring and web filtering software, as well as a basic scan, for a very affordable price. However, it's lacking many luxury features that you may find in our best antivirus software roundup.
In this Sophos Home review, we dive deep into Sophos and discover where it succeeds and where it fails. We'll outline the features offered, run it through hands-on testing and investigate its security lab results. Once we've tested every aspect, we'll give you our verdict.
If you need an antivirus that allows you to watch and control its software on many devices at once, Sophos Home Premium is well worth the low price tag. Plus, with a free 30-day trial, it's worth checking out for yourself.
Strengths & Weaknesses
Pros:
Robust parental control
Remote management of devices
Banking & webcam protection
Affordable price
Cons:
Shaky lab test results
Mediocre customer support
Alternatives for Sophos Home
Features
Sophos Home is a very feature-light program, but this can be a good thing in some cases. Sophos' design and components are aimed at two core markets: small organizations and families. Because of this, its feature set is limited but robust. For the users who can take advantage of these options, Sophos is a top-tier choice.
The biggest feature that Sophos offers is its remote management. Every setting on the desktop application is actually a link to their management website, where you can manage multiple devices in one place. This is ideal for, as an example, lab networks where you may need to monitor every computer at once.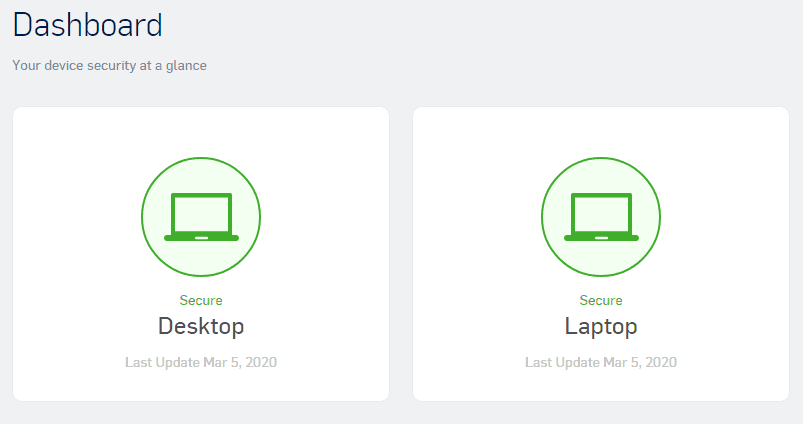 This is a great feature even for an individual with just a few devices. Rather than having to remember to scan your phone, desktop and laptop on a regular schedule, you can set it all from one dashboard. You can also review any results without having to physically access that device.
Although many programs, such as AVG (see our AVG review), allow you to use multiple devices, they don't have a one-stop management solution. Sophos is unique in this regard.
In addition to the management features, Sophos offers a few quality-of-life perks, as well. This includes webcam protection, which is an uncommon but highly sought-after detail in antivirus protection.
Part of its protection is based on a "reputation score." This means that other computers running Sophos will identify if a program is malicious or safe, and then report back to Sophos. Then it will warn you if you start downloading that software and ask you if you would like to proceed.
There are a number of features that the modern user expects from an antivirus, such as a password manager or virtual private network. Sophos Home is limited in that respect, unlike some of its competitors. Check out our Avira review for an example of a tool that went in the complete opposite direction with features.
However, this is due to the groups that Sophos is targeting. As a business management solution, users are not expected to log in to their desktop application and shred files. This program is meant for managers to remotely scan a computer and change settings to keep employees secure.
Even with this information, it's still strange that this antivirus is lacking a built-in firewall. This seems like a logical feature for a remotely managed business and family solution to ensure maximum security. For a tool that includes this feature, check out our Kaspersky Anti-Virus review.
Sophos would also have more value as a consumer product with a few more features. Some identity theft protection would go well with its banking protection and would put it ahead of the pack.
Parental Controls
Another standout feature of Sophos Home is its parental (or business) controls. These allow the owner of the account to block anything online, from inappropriate content to sports-related websites. These blocked sites are then logged on the web dashboard.
The web filtering settings are logical and straightforward, but we found it didn't work well in every browser. Firefox and Internet Explorer worked well, but Google Chrome got past almost every parental block with no issue.
In addition, the websites filtered weren't always what we expected. The "shopping" filter, for example, did not block Amazon or eBay, but it did block Etsy.
This feature is not very common, but it's a great perk for a family or a team manager when installing an antivirus on many different devices. For another piece of software that offers these controls, read our review of McAfee Total Protection.
Sophos Features Overview
| | |
| --- | --- |
| Password manager | |
| File shredder | |
| Multi-OS support | |
| Parental control | |
| Disk cleanup | |
| VPN | |
| Profiles | |
| Ransomware protection | |
| Webcam protection | |
| Real-time monitoring | |
| Secure browser | |
| Download protection | |
| Phishing protection | |
| Firewall | |
| Windows | |
| macOS | |
| Linux | |
| Android | |
| iOS | |
| Desktop UI | |
| Mobile application | |
| Browser extension | |
| Help Center | |
| Forum | |
| Live Chat | |
| Phone | |
| Email | |
| 24/7 Support | |
| Video Tutorial | |
| Free Plan | |
Pricing
Sophos Home Free
Three devices, Parental control, web protection
Sophos Home Premium
10 devices, Real-time protection, ransomware protection, banking protection
It's not common for a free tier of an antivirus to have a device limit. However, for Sophos Home this makes sense. Every device is managed from one dashboard, so managing more devices at once is a major perk. With the affordable cost of Sophos Home Premium, though, it makes the most sense to shell out for the paid version.
As a remote management tool and protection for businesses and families, Sophos Home Premium is a great deal. Some competitors, such as Avast, will run you far more on the high end (check out our Avast Pro review to see if it's worth the money).
Sophos Home Free is also lacking most of the features that are offered with the Home Premium tier. Protection against malware — such as PUAs, or potentially unwanted applications — is limited to the paid version. This malware protection is necessary for a solid antivirus.
The bottom line is that Sophos Home Free is lacking too many features to be worth it. If you need protection on the cheap, a selection from our best free antivirus list is a better idea. However, if you require parental controls or the ability to manage scans remotely, Sophos Home Premium is very affordable and has what you need.
User Friendliness
Although the Sophos Home desktop application isn't really meant to be used for any real management, installing and operating Sophos isn't an issue at all. The simplicity of the settings can be pleasant for maintenance but disastrous in the case of a serious malware infection.
Installing Sophos Home was a breeze. There were no accounts required, and the links to download both Sophos Home Premium and Free were prominent on its website. However, the application insisted on running a scan immediately upon installation, with no way to reject the scan except to cancel it once it has already started.
This isn't a very big issue, but it was a bit annoying. We'd prefer to choose for ourselves when to run a scan.
Once Sophos Home is installed, you immediately realize that the desktop application is almost completely pointless. Every menu item except "help" is actually a link to that setting on the website.
As we mentioned above, this is because Sophos expects these programs to be controlled remotely. However, as an end user, it's disconcerting and slow. Sophos should be able to link a web interface with its desktop applications in real time.
That being said, the interface on the website is very intuitive and straightforward to navigate. The main status page for each device includes an overview of the current level of antivirus protection and the most recent activities Sophos picked up on the device.
This can include scans started, scans cancelled, parental warnings bypassed and even attempted access to blocked sites. This is a great source of information when you don't have access to the computer in question.
None of the settings are overly complicated either. The majority of them are switches that can be toggled on and off, with no further options. Even the advanced settings under some of the options were simply a few more switches.
There is a small explanation of each setting, but they don't go into much detail. As an example, on our test computer, we were startled to discover that the keyboard was outputting random letters and numbers instead of what we typed.
However, we discovered that this is part of the keylogger protection under "safe online banking." The setting does not explain at all how it protects you from keyloggers, so it was difficult to determine that Sophos was causing it at all.
Scan Options
Sophos really hammers home the simple, one-size-fits-all attitude with its scan options. There is only "scan," which scans some parts of your computer, most likely the portions that other antivirus programs would cover in a "quick scan."
There is also a hidden option to scan an individual disk, but it is not covered in the documentation of the program at all. Right-clicking an individual folder will give you the option to scan it with Sophos Home. It doesn't make much sense that this feature is hidden away in a context menu.
Fortunately, the single scan option doesn't take long to complete and isn't too heavy on a computer. The scan only bumped our test computer up from 10-percent CPU usage to 35 to 40 percent. This was noticeable, but not unusable at all.
It also took only a few minutes, which is an acceptable speed for a quick scan, and it noted tracking cookies on top of any malware it found.
Protection
Sophos Home has hardly any rigorous testing to speak of. We ran it through its paces ourselves, and it did fairly well on our own tests, as long as we were using the right testing browser. However, lab tests are the true gold standard, so it's concerning that they're so outdated. .
The most recent test we could find was AV-Test's December 2017 report. To Sophos Home's credit, it easily passed every test. It blocked 100 percent of widespread malware and had no false positives at all.
In addition, downloading frequently used applications was significantly faster with Sophos than the industry average. While the most common malware protection programs slowed down the test computer by 14 percent when downloading applications, Sophos slowed it down by one percent. When it came to copying files, its eight percent slowdown was on par with the industry average.
However, Sophos didn't fare so well on its November 2016 real-world protection test with AV-Comparatives. Although it blocked 96.2 percent of threats, it actually performed in the bottom third of the antivirus programs tested. It was far behind popular juggernauts, such as Bitdefender (read our Bitdefender review).
Sophos mainly fell behind on its compromise rate. Although its false positives were acceptably low, it fell victim to a much higher number of malware than most of the other programs tested at the same time. It especially paled in comparison to F-Secure (check out our F-Secure review to learn more).
MRG Certification
In Sophos Home's settings, you can see that it touts its banking protection as "certified by MRG Effitas." This is a fairly big deal among antivirus programs; about a third of programs fail this certification, and it's a feat worth bragging about.
Unfortunately, after contacting Sophos, we discovered that they are not actually certified through MRG Effitas' Online Banking Certification. Instead, MRG Effitas assessed the Sophos Intercept X service in February 2018. Sophos Home uses this service, so a positive result on this endpoint protection assessment indicates good things for the antivirus.
When we asked Sophos about the certification, they told us that they will remove it from their website as it is "not the most up to date." However, according to our research, there was no certification at any point, so we're glad to see they'll be updating their site to remove that assurance.
To be fair, in the MRG Effitas assessment Sophos blocked nearly 100 percent of malware and had very few false positives, but it was outperformed in that category by strong contenders such as Trend Micro (read our Trend Micro Antivirus+ review). It's an impressive result, but not exactly a banking certification.
Hands-On Testing
Our hands-on testing went a bit better for Sophos Home. To start with, we ran it through the Anti-Malware Testing Standards Organization (AMTSO) testing suite. The only test it failed was the phishing test, which makes sense because it does not offer phishing protection (learn what phishing is and why you need protection from it).
Interestingly, it did not block all of the malware in the same way. Sophos works partially on a "reputation score," which means that a file or URL with a lower reputation score will show a warning that recommends the user does not download it.
Although most of the files were blocked outright, a few simply recommended we do not continue, due to its low reputation score.
We also ran Sophos through WICAR's web exploit tests. These tests are designed to run a few common web exploits on your browser and test to see if your malware protection is robust enough to block them.
The results here depended entirely on which browser we used. In Google Chrome, Sophos only blocked two of the 13 malicious URLs. On Internet Explorer, it blocked 10. However, it's fairly common not to block every web exploit. For an example of an antivirus that passed all 13, check out our ESET NOD32 review.
Although Sophos Home had solid results in the lab tests it participated in, they're just a bit too old to be trustworthy. Our hands-on tests were solid though, which indicated that Sophos is fairly reliable protection. If you're looking for an antivirus that will protect you from the most malware, check out our roundup of the most secure antivirus.
Support
The difference between paid users and free users is stark when it comes to Sophos Home's customer service. Although the free users only have access to a prewritten knowledgebase, paid users can enjoy email and live chat services. However, even those services are not 24/7.
As a user of Sophos Home Free, you will have access only to the knowledgebase. This is a problem compounded by the fact that the articles don't cover much of the user experience at all. Instead, they mostly focus on installation and configuration, and they answer very few questions about the program, how it works and what features it offers.
Once you're a paid member, you get access to ticket-based email support and live chat support from 8 a.m. to 8 p.m. EST. Although the customer service isn't 24/7, it was relatively fast and accurate when answering our questions. We did send in a ticket outside of business hours to test how long it took for a response. A ticket sent in at 9 p.m. was responded to at noon the next day.
In addition to the traditional support channels, Sophos also actively maintains a Twitter account. This takes a bit of the burden off the knowledgebase for free users. However, it doesn't stand up to support kings, like Panda Security (read our Panda Security review).
The Verdict
Sophos Home is really the kind of antivirus that you either need or you don't. If you have a single computer to protect and have no need for its remote management feature, there are countless other antivirus programs with a more robust feature set, offering you the ability to securely delete a file forever or manage all your passwords at once.
However, if you need a feature that allows you to manage a number of devices, Sophos Home is one of the few consumer-grade antivirus programs that offer it. With a very low price tag compared to its competitors, it's a great choice if you can take advantage of those aspects of the software.
When it comes to pure security, Sophos Home's protection is lacking compared to competitors such as Webroot (read our Webroot SecureAnywhere review for more). The fact that it hasn't participated in any recent lab tests is worrying, and its choice to claim MRG Effitas banking certification when it doesn't actually have it is very concerning.
Its customer support also leaves a lot to be desired for a consumer product that will be used around the clock and not just during business hours. This is especially true if you're a free user, as you are relegated almost entirely to social media support.
What do you think of Sophos Home? Is it the solution for your antivirus needs? Let us know in the comments. As always, thanks for reading.
Sophos Home FAQ
Sophos, especially Sophos Home Premium, is a great solution for monitoring and managing multiple devices at once. Its protection is solid, if not quite top of the line. It's a good antivirus, but not among the best.

Sophos does offer a free version of its software. It supports up to three devices and includes all parental controls, but it is missing some important protections, such as ransomware and banking. There is also a 30-day free trial of Sophos Home Premium available.

Norton is a contender for one of the best antivirus solutions around. Its feature-rich desktop application beats out Sophos Home, as well as its lab results. However, Sophos is far less expensive, and Norton does not offer a web dashboard to manage multiple devices. Check out our Norton Security review for an in-depth look.

It's definitely worth it to upgrade to Sophos Home Premium if you plan to use Sophos at all. The premium tier is very affordable, adds necessary features, such as advanced real-time protection, and allows for management of up to 10 devices.
Visit

Sophos Home