Visit

F-Secure Antivirus
Good lab results
A variety of support options
Good user interface
F-Secure Antivirus Review
F-Secure is an excellent antivirus solution that could take the market by storm if it weren't for its high pricing and lack of alluring features. If, however, you have money to burn and care more for security than bells and whistles, check out our F-Secure Antivirus review.
F-Secure provides some of the most powerful and well-tested products for protecting computers. With a price decrease or an increase in features, F-Secure's antivirus protection could be a solid contender for the top spot in the market. However, as it stands, it won't quite hit the top spot, as you can read in this full F-Secure antivirus review.
When it comes to protecting a device, F-Secure Anti-Virus provides basic virus protection for Windows 7 and later. Meanwhile, F-Secure Safe and F-Secure Total, the more advanced antivirus product options, will keep any desktop Windows or macOS system free of malware. Android and iOS apps are also available to provide security for any mobile device.
A lack of features is F-Secure' biggest downfall and the main thing that keeps it from the top of our best antivirus software roundup. Even F-Secure Safe, which adds decent banking protection and full parental controls to its antivirus protection, is far from being a well-rounded security suite, such as Norton Security.
If this lack of bells and whistles isn't a problem for you, F-Secure provides a free 30-day trial. This gives you the full experience of F-Secure so you can try it out yourself. However, read this full F-Secure antivirus review to learn more about what it has to offer.
Strengths & Weaknesses
Pros:
Good lab results
A variety of support options
Good user interface
30-day trial for all products
Cons:
Lacking features
Cheaper plan is Windows-only
Expensive
Alternatives for F-Secure Antivirus
Features
F-Secure Anti-Virus is very light on features, when compared to other antivirus solutions. All of the advanced antivirus protection comes with the more expensive F-Secure Safe and Total products. Even with these additional features, though, it is far from software like Kaspersky Anti-Virus.
The desktop UI has a small collection of useful tools that are easily accessible. This includes access to the quarantine, the list of blocked websites and an option for turning the antivirus off. Most of these require administrator privileges so other users can't accidentally remove the security systems that are in place.
Another tool available within the desktop UI is the ability to submit malware samples to F-Secure. The tool opens a webpage where you can attach a file or enter a URL. Undetected malware or false positives can be sent this way, with other options available for files larger than 30MB.
F-Secure Anti-Virus will keep you protected from most types of malware, although if you want ransomware protection or any form of browser security, you will need to get the more expensive Safe or Total products.
Using an antivirus to protect your device from ransomware isn't new, but keeping yourself safe from this kind of attack is much easier than recovering your data after it occurs. Read our article to find out more about what ransomware does to your computer.
F-Secure Browsing Protection
Having a browser extension feature is near-universal across antivirus software, and F-Secure is no exception to this. This "browsing protection" feature with the Safe and Total products is a simple solution to keep you protected without it getting in your way.
Even if you don't install the browser extension, all of F-Secure's products still provide its basic "virus protection" feature, which stops you from accidentally downloading malware.
However, without the browser extension, you are still vulnerable to more advanced threats, such as phishing attacks, and you won't receive the symbol that indicates if a website is safe before you enter it.
Because the browser extension adds this security, you won't have to use a dedicated browser for online protection. You can find similar features with some other antivirus products, too, as you can read in our Avast Pro review.
My F-Secure
Both F-Secure Safe and Total include access to the My F-Secure account feature. It provides a place to control any device on your account through the "finder" and "family rules" sections. These give you a way to block some content or manage a child's device.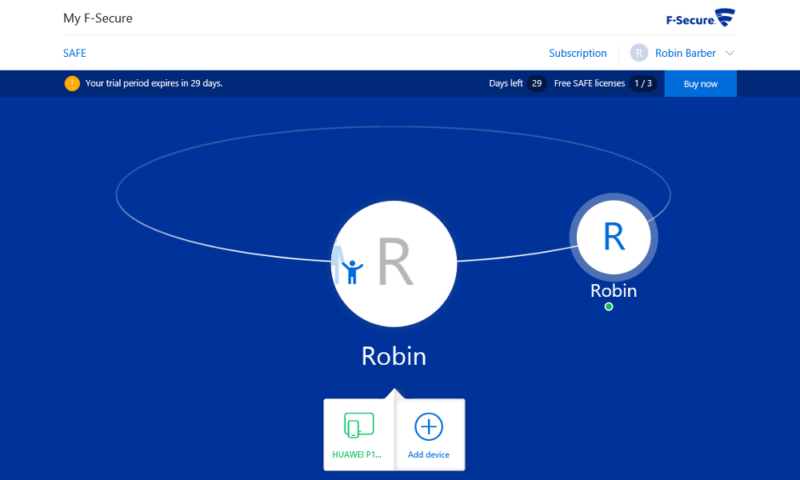 With My F-Secure, there are four tool options within the "finder" section, but these are available only for mobile devices. The first tool is a locator, telling you the location of the mobile device. If there isn't a good enough connection to find the device, it can show the last known location.
The next two tools are the "alarm" and "lock" features. The alarm simply plays a loud noise — set to the maximum volume — even if the volume is technically off. Locking the phone from here doesn't stop it from being unlocked, but it does act quickly. Finally, there is a tool to wipe all the data from the mobile system. This is turned on by default.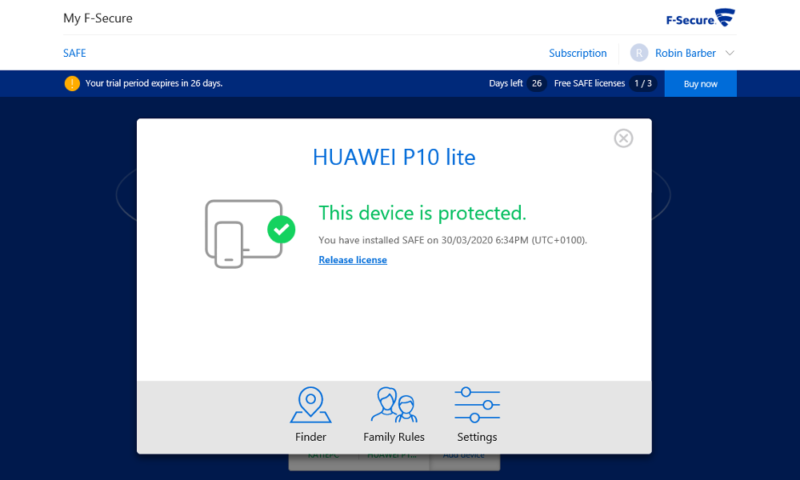 The "family rules" section of My F-Secure has two separate time limiters and a content filter. You can set the "bedtime" limit to allow apps to work only during certain hours. You can set the time limit to any 15-minute interval and give separate times to weekdays and weekends. You can also use the time limit to stop the device being used for more than a set amount of time.
All apps count toward the same time limits. So, for example, a two-hour usage time limit would be shared between any app that you haven't set as an exception. There are options to set an app to not count toward the time limit, but this enables the use of the app outside of the "bedtime" limits.
The content filters only block web browsers from finding certain content, but you can filter most things from being shown within a search engine. Some filter categories — like "illegal downloads" and "disturbing" — aren't clear in what they block. These filters work within a browser, but without checking all content on the device, many apps can still display the banned material.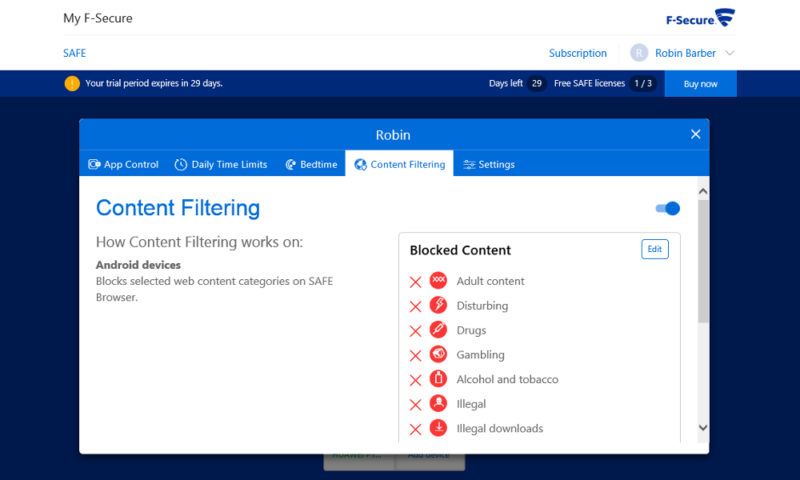 F-Secure Total Features
F-Secure Total, the most expensive product option, now includes F-Secure Key. This is a reasonably lightweight password manager that's easy to use and has good security. For a password manager bundled with an antivirus, this is a solid solution.
However, F-Secure Key is far from one of the best password managers out there. It lacks two-factor authentication options and doesn't have any unique features, but it will keep your passwords safe with modern encryption and locally stored passwords. You can read more about it in our F-Secure Key review.
Another piece of software bundled with this plan is the F-Secure Freedome VPN. This will protect you online, although it's no ExpressVPN. The main problem with the F-Secure VPN is its number of servers and locations: there are only 18 available countries on 27 servers, making it far from one of the best VPNs.
F-Secure Features Overview
| | |
| --- | --- |
| Password manager | |
| File shredder | |
| Multi-OS support | |
| Parental control | |
| Disk cleanup | |
| VPN | |
| Profiles | |
| Ransomware protection | |
| Webcam protection | |
| Real-time monitoring | |
| Secure browser | |
| Download protection | |
| Phishing protection | |
| Firewall | |
| Windows | |
| macOS | |
| Linux | |
| Android | |
| iOS | |
| Desktop UI | |
| Mobile application | |
| Browser extension | |
| Help Center | |
| Forum | |
| Live Chat | |
| Phone | |
| Email | |
| 24/7 Support | |
| Video Tutorial | |
| Free Plan | |
Pricing
F-Secure's pricing structure is complicated. It lacks the low price of basic antivirus software, with IObit Malware Fighter being a cheaper alternative. However, it also lacks the features you'd expect of more fleshed-out software, such as Malwarebytes Antivirus. The high-end protection that F-Secure offers is the only section where it can beat its competitors.
The basic Anti-Virus package is a poor value, as it only contains malware protection. Without access to any other features — even the browser extension or ransomware protection — this won't keep you safe from anything more than a basic threat. The Anti-Virus option is also limited to three devices and is unable to protect macOS, iOS or Android systems.
When it comes to F-Secure Safe, the value starts to increase a bit. It's a similar price to other antiviruses and performs well enough to be worth considering. We feel that the robust protection and parental controls in this plan makes up for the lack of other features, although the password manager would be nice at this price point.
F-Secure Internet Security is similar to the Safe product. The only differences is that it's Windows only and can be bought for only three computers. As this is no longer available to new users, its webpage advises that you should get F-Secure Safe instead.
As an option closer to a full security suite, F-Secure Total does give access to more forms of security, but it's also significantly more expensive. However, at a price point similar to Bitdefender antivirus' more costly plans, this product is hard to recommend, especially considering that the VPN isn't stellar. Read our Bitdefender antivirus review to learn more about the most secure antivirus software.
Both the Safe and Total products allow you to add more devices. Each extra license will cost you about $10 per year. This quickly adds up when protecting a household, whereas a competitor's unlimited plan, like the one AVG AntiVirus provides, would give protection for many devices.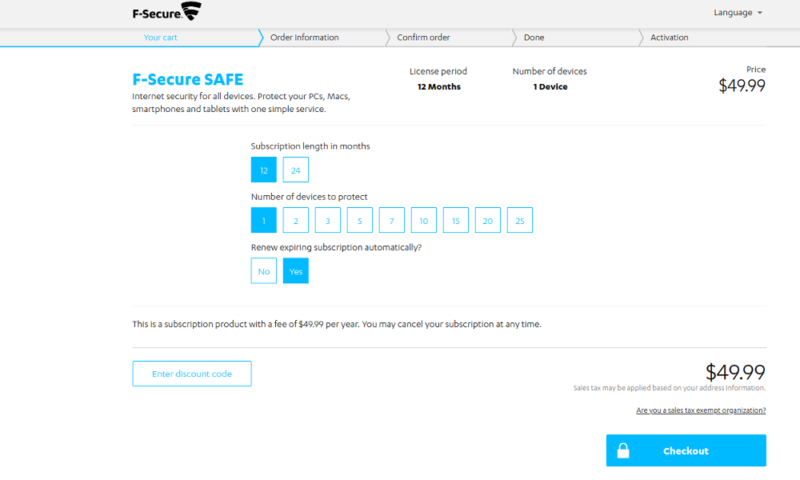 F-Secure doesn't provide any free antivirus protection, even though most free alternatives beat the F-Secure Anti-Virus plan in available features. However, there is a 30-day trial and a 30-day refund period.
User-Friendliness
F-Secure's website opens up with "for business" and "for home" software options. Selecting the "for home" section brings you to a product page with tabs at the top. The "product" tab produces a dropdown menu with all the available antivirus products and add-ons, including its password manager.
Heading up the pages for both F-Secure Safe and Total is a free trial button. This prompts you to create an account and then takes you to your My F-Secure page. Here, it guides you through the installation for either you or a family member. Although the install was quick, it did require two restarts.
F-Secure Anti-Virus also has a free trial. This doesn't require an account, just an email address to begin the software download. This process is different because you don't receive a My F-Secure account with the basic product.
When using F-Secure's desktop UI, most of the options are readily available through a series of tabs on the side. Everything is easy to run from this window, and a single separate window holds any settings you can change.
F-Secure is light on the features, so it's straightforward to navigate and understand each section. There are also links to take you to support pages or renew your subscription.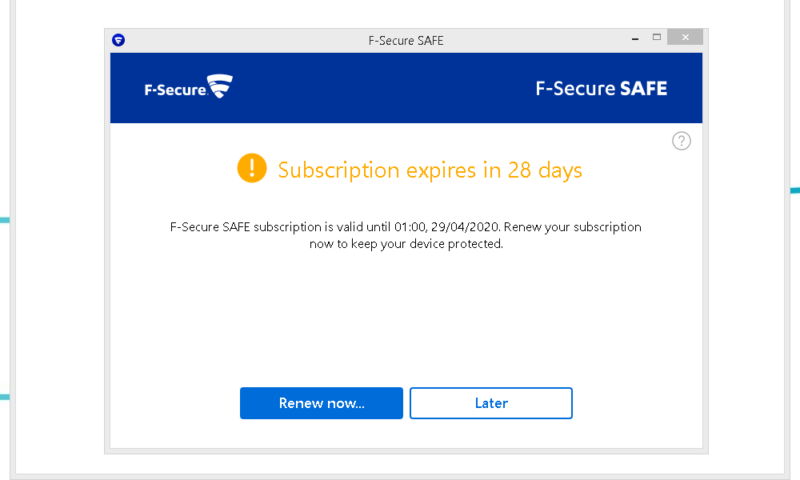 Scanning Options
Some of F-Secure's scanning choices are restrictive. Scheduled scans are limited to only one recurring scan and doesn't include a full scan option. The available manual scans are fine, but we would prefer more than two choices here. One antivirus that has great scanning options is ESET NOD32.
F-Secure does have a way to scan individual files and folders, but you can't do it within the desktop UI. This can be done by right-clicking a file in the file explorer and selecting "scan for viruses." This should be integrated into the main UI, preferably with functionality to regularly scan a specific folder.
The primary scan type that F-Secure antivirus runs is what it calls a "virus scan." This quickly looks through any files that are likely to be harmful. On the first run-through, this took just over five minutes and scanned 9,240 items. After this, the scans took just over a minute to complete, as the program knew which files were important to check.
You can also run a full scan. After four hours and 20 minutes, it had scanned 1,621,251 items. This scan looked through all file types for any threats, but we had to manually remove any compressed files.
When scanning, F-Secure used all CPU resources available. If other programs tried to run, about 20 percent of CPU usage remained dedicated to the scan. We found that the virus scan still ran at a reasonable speed with other active programs, so you shouldn't have problems with the scans slowing your computer too much for long.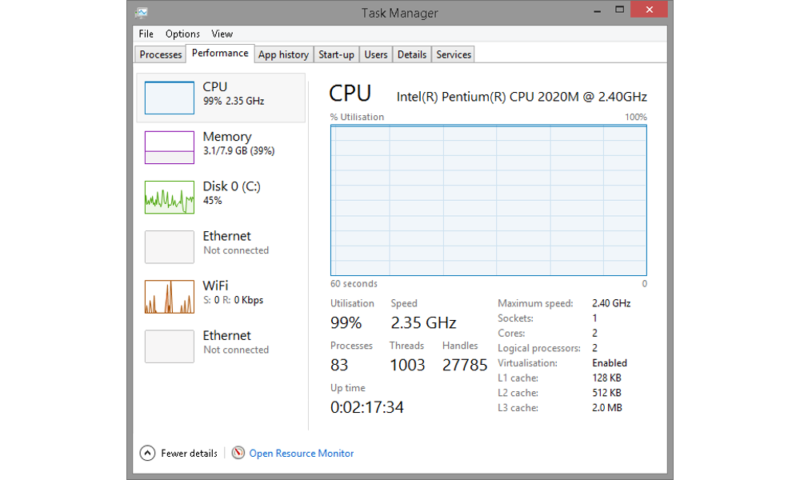 Protection
As an antivirus, F-Secure needs to keep your computer safe from any threat. To test this, we used a combination of hands-on tools and lab results from trusted testers to find out how well the antivirus can protect you from real-world malware.
AV-Test gives F-Secure the highest results of the three labs we use. All three categories — protection, performance and usability — got the maximum score of six marks. With F-Secure earning consistently high ratings, getting full marks in protection for more than six years, you can be confident that it can keep your device safe.
AV-Comparatives obtained a slightly weaker result, with F-Secure earning only one star out of three for real-world performance. Although the malware protection was worthy of a two-star rating, F-Secure had 25 false positives. This could become an issue for some users, and programs like Avira have far fewer false positives without giving up security.
The final lab we use is MRG Effitas, where F-Secure gained a level-two pass, losing its level-one pass mark from early 2019. This is because it didn't recognize a couple of pieces of malware before they attacked.
Hands-On Testing
We run hands-on tests with the tools provided by Wicar and AMTSO (Anti-Malware Testing Standards Organisation). These tests include files and web pages that act like malware but don't contain any harmful content. An example of this would be the EICAR (European Institute for Computer Antivirus Research) test file. Because these are online tools, we used F-Secure Safe in these tests.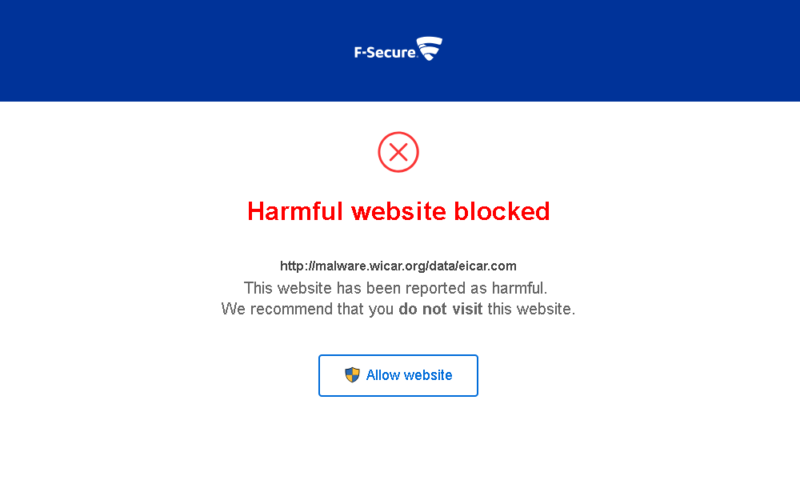 F-Secure Safe blocked all 13 of the test pages available on Wicar, even when the browser extension was disabled. These tests give a well-rounded view of the antivirus' protection, showing it can protect against different exploits and styles of attack.
AMTSO gives a better view of download protection. F-Secure could block different threats, such as potentially unwanted downloads and even the phishing page. The only test it failed was when downloading compressed files.
Of the 10 compressed files available for download, it stopped three. We had to manually scan the other seven for F-Secure to recognize them as malware. Even when F-Secure found these compressed files, it just warned us that we had to delete them manually.
Overall, F-Secure isn't currently providing the protection you might get from the best antiviruses, so our other reviews are worth a read to find top software to secure your devices. However, F-Secure still has a strong history and good current results, so the average user shouldn't see any problems with what it provides.
Support
F-Secure relies heavily on its knowledgebase and forums to provide support. Luckily, they both work well, so this isn't a huge issue. The limitations of its customer service are the lack of 24/7 support and email options.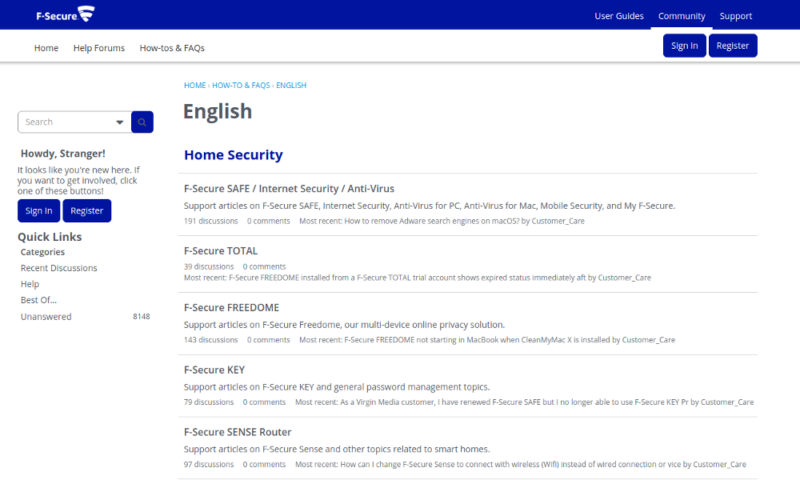 The knowledgebase is likely the first place you'll go when looking for help. You'll find many how-to guides and solutions to frequent problems here. Some articles come with short videos that allow you to follow along with them more easily.
If the articles here can't solve your problem, the forums are also available. Each product has its own page and a "common problems" post pinned to the top. The community can solve most questions within a day, but more complex issues may take longer.
Sometimes you might want to speak with a person, and F-Secure provides options for either a phone call or a live chat. Both are available during the day, and there are phone lines for different languages. It's unclear when its live chat is open, but it doesn't seem to be 24/7, which would be a great help to F-Secure's support.
Despite having a robust knowledgebase and forum, F-Secure doesn't have 24/7 live chat or emailing options, so it can't always help with tougher issues. For many users, this may not be a problem, but others who are concerned about this should look at our Trend Micro Antivirus+ review for a well-supported product.
The Verdict
For a lightweight and simple antivirus, F-Secure is a great way to keep your devices safe. The strong protection and top-quality support system means you won't have any problems securing your system from a wide array of threats.
Overall, F-Secure's main downside is its lack of features. However, it is a great option as long as you are just looking for a basic antivirus and don't mind needing to manually run the occasional full scan. If you can make use of the strong parental controls with its more expensive product options, this might be the antivirus for you.
Although it isn't our favorite antivirus out there, it is one of the better products available. If you want to look at some more reviews before you make a decision, our other antivirus articles can provide some great alternatives.
What do you think of F-Secure antivirus? Let us know your thoughts in the comments below. Thanks for reading.
F-Secure Antivirus FAQ
F-Secure antivirus is an effective way to keep a computer safe from malware and other threats. Unlike other antiviruses, the focus isn't on extras and value but keeping up a high level of protection inside simple products.

The Finnish company F-Secure Corporation -- known as Data Fellows before 1999 -- develops F-Secure antivirus products. One of the founders, Risto Siilasmaa, is still the chairman, but with more than 20 offices across five continents, there is a large team working to improve F-Secure.

Any software running on a computer will slow it down. Compared to other antiviruses, F-Secure's products won't slow down a system much. Lab tests find that, at most, you can expect a load-time increase of 10 percent, compared to up to 30 percent for the industry average.
Visit

F-Secure Antivirus