Visit

Avast Pro
Inexpensive
Lots of features
Easy to use
Network protection
Avast Pro Review
Though far from perfect, Avast Pro is an antivirus solution that will suit well those who don't mind paying to keep themselves safe, but don't want to break the bank either just because of a malware threat. Overall this service scores well, as you can read in our Avast Pro review.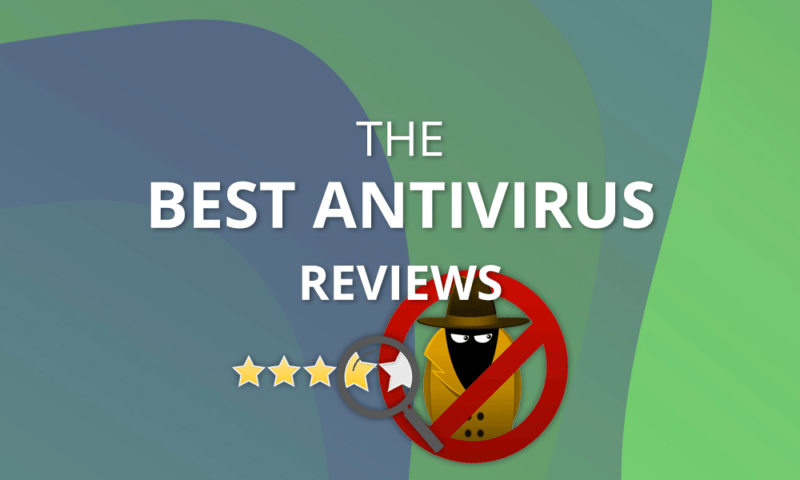 Editor's Note 1/28/2019: A report has surfaced showing that Avast and its subsidiaries collect user browsing data from more than 100 million devices. We cannot, in good faith, recommend Avast or AVG products until we look further into the issue.
While Avast free tier didn't make it to our list of free antivirus software, it's feature-rich, system light and pretty secure, to boot. The paid Pro version comes with some extra features, at least enough to justify its low price tag. It takes a backseat to the best antivirus software in terms of protection, but by a small enough margin to make it a serious contender.
In this Avast Pro review, we'll run over the features and protection this antivirus offers. We'll talk features, pricing, user friendliness, protection and support before giving our verdict. We'll also compare lab results to our hands-on testing to see how well it has you protected.
Overall, it fits a lesser served part of the market, those who want to pay for a robust antivirus without going off the deep end. Avast Pro fills that gap well with a nice list of features but there are some compromises that had to be made to get there.
Alternatives for Avast Pro
www.avast.com

us.norton.com

www.webroot.com
Strengths & Weaknesses
Pros:
Inexpensive
Lots of features
Easy to use
Network protection
PC performance enhancer
Active community
Cons:
PC only
Disappointing test results
Weak support system
Features
Avast Pro has a slew of features that makes the competition look embarrassing, at least for the price. You have protection against basic malware along with secure browsing, network protection and behavior monitoring. Outside of that, you have a sandbox mode for testing files, a password manager and more.
The password manager isn't much in the context of our password manager reviews. It'll store logins, credit cards and notes and automatically fill them in your browser. It's on the basic end of things, though. We recommend using one of our best password managers such as Dashlane for more flexibility (read our Dashlane review).
An included password manager is something we've seen before, such as from Kaspersky (read our Kaspersky Antivirus review). Something unique to Avast is Sandbox mode where you can test suspicious files in a safe environment. This is particularly useful for pirates that hoard data from around the web (check out our best VPN for torrenting if you fit that description).
Avast includes its Secure Browser as well. It looks and function identical to Google Chrome but without the Google integration. You won't have quick links to your Gmail or Drive account here.
From what we can tell, it's a version of Chrome without Google integration and filled up with Avast extensions. Of the list, you'll have tracker blocking, extension protection, adblock and anti-phishing. The extensions aren't available in the Chrome store, so Secure Browser is the only way you can access them.
One of the unique extensions is a video downloader. Avast allows you to download video from platform like YouTube and Vimeo in native resolution. It can't grab files from streaming platforms like Netflix, though.
We like Secure Browser a lot. It's not the typical browser bundled with antivirus in that it gives you an extra layer of protection without forcing search engines or slowing speeds. If anything, speeds are improved from the ad and flash blocks that Avast implements.
You can access Bank Mode inside Secure Browser or the Avast UI. It's similar to Bitdefender Safepay (read our Bitdefender Antivirus review). It's a separate desktop for any online transactions, shielding you from exploits that could be carried out with a normal browser window.
If you opt for your normal browser, there's still protection. Avast uses real-time monitoring along with a feature called Real Site for spoof webpages. It's protection against DNS redirection which directs you from an authentic URL to a fake one where a hacker can steal usernames, passwords and credit card information.
The last and most unique feature Avast Pro offers is Wi-Fi Inspector. It will scan all devices on home or public wi-fi for vulnerabilities, a quick way to know if your router or another device is infected. In a public setting, it gives you an overview of all devices connected to the network so you know if there's a hacker lurking among you.
Avast will warn you of a privacy vulnerability when using most features. It's just a solicitation for Avast SecureLine VPN. It's a competent, albeit expensive, VPN that doesn't quite make it onto our best VPN list. You can read our Avast SecureLine review for our full thoughts, and our article on how to use Avast SecureLine VPN's free trial if you'd like to give it a go.
Considering its price, Avast is generous with features. You have tools for quick, secure and convenient browsing between Secure Browser and the password manager. Sandbox is a unique feature that we'd like to see more antiviruses implement and is alone worthy of an upgrade to Pro.
Avast Pro Features Overview
| | |
| --- | --- |
| Password manager | |
| File shredder | |
| Multi-OS support | |
| Parental control | |
| Disk cleanup | |
| VPN | |
| Profiles | |
| Ransomware protection | |
| Webcam protection | |
| Real-time monitoring | |
| Secure browser | |
| Download protection | |
| Phishing protection | |
| Firewall | |
| Windows | |
| macOS | |
| Linux | |
| Android | |
| iOS | |
| Desktop UI | |
| Mobile application | |
| Browser extension | |
| Help Center | |
| Forum | |
| Live Chat | |
| Phone | |
| Email | |
| 24/7 Support | |
| Video Tutorial | |
| Free Plan | |
Pricing
---
The "Pro" moniker insinuates a feature buff but that's not the case here. There aren't many differences between this version of Avast and the free one, at least for basic protection. You're paying mainly for Avast Sandbox.
Avast's biggest competition is itself, but clearly the business model is working. Avast Pro is far and beyond the cheapest antivirus we've run across, at least for the initial term. Norton Antivirus Basic, for example, is $10 more for the first term but prices are the same upon renewal (read our Norton Antivirus review for our thoughts on this).
Just because there's little difference between free and Pro doesn't mean this is a lesser antivirus when put against the rest of the market. It's surprising how many features Avast packs in to its free edition, so many, in fact, that we'd be willing to pay the Pro price tag for it.
As generous as Avast is with this offering, it's missing a few features that more costly antiviruses include. Among the list are a file shredder, webcam shield, firewall and ransomware protection. For those features, we recommend upgrading to the still very cheap Avast Internet Security.
The differences between Avast Free and Avast Pro are few, but we still think an upgrade is worth it. Sandbox is a nice inclusion and it'll give you a taste of what the more feature rich Internet Security has to offer. Rates are inexpensive across the board, too, putting this antivirus in a price bracket all its own.
User Friendliness
Avast Pro uses a clean interface that mirrors the free offering. The slate grey background is complemented by streaks of green with four tabs on the side for managing your protection. It's on par with Bitdefender who has our favorite antivirus interface.
There are four tabs, but you'll only use three to get around. Clicking on any of them will bring up a menu with icons for the different features laid out like tiles. Some features that Avast Pro doesn't offer, such as the ransomware shield, will show with a orange lock next to the icon.
It gets tricky after that. Only some of the features will show the lock, but not all of them. If you click on SecureLine VPN, for example, you'll be brought to a checkout page to purchase it.
Avast Sweetening the Deal
We don't mind Avast advertising its other products, especially with how cheap Pro is. We don't like the backhanded way in which it's handled, though. Acting as if a feature is included when it's not is disingenuous, and we would've liked if Avast had some indicator that those features weren't part of the package.
It does, however, free up space in the UI where advertisements would normally be.
The majority of your use will come with the protection tab. Here, you can set scans, use Wi-Fi Inspector, access Sandbox and more. Avast includes four different scan modes with an additional option for custom configurations.
You have targeted, full and boot scans, but our favorite is Smart Scan. It runs the normal antivirus sweep, but also checks your machine for network threats, sketchy browser extensions, vulnerable software and performance issues.
There was minimal impact on performance during a scan as well. Our CPU utilization sat around 15 percent while idling, bumping to 25 percent during the scan. There were a few spikes that reached up to 40 percent but no sustained load.
As mentioned in the features section above, Avast includes its Secure Browser, but you don't need to use it for protection. There's real-time monitoring of your browser that doesn't require any additional extensions. It's a far cry from the barrage of popups that McAfee imposes when browsing (read our McAfee Total Protection review for more on this).
We like the light touch Avast has on your system resources and screen real estate. It's a non-intrusive antivirus with a well-thought interface, but comes with the caveat of sneaking solicitations.
Protection
Editor's Note 1/28/2020: A report has surfaced showing that Avast and its subsidiaries collect user browsing data from more than 100 million devices. We cannot, in good faith, recommend Avast or AVG products until we look further into the issue.
We use hands-on testing in combination with lab results to get an overview of how an antivirus performs. More weight should be put on lab results because there's a greater sample size and level of control, but we like taking each antivirus out for a test spin ourselves.
We started with Amtso's feature settings check for desktop antivirus. Avast blocked five of the six tests, failing the download of a potentially unwanted application. Webroot, on the other hand, scored perfectly when we tested it with this lineup (read our Webroot Antivirus review).
Moving on, we tested more browser exploits using Wicar's samples. Avast blocked all 13 of the URLs, terminating the connection before any file could download. Overall, it did well with our hands-on testing.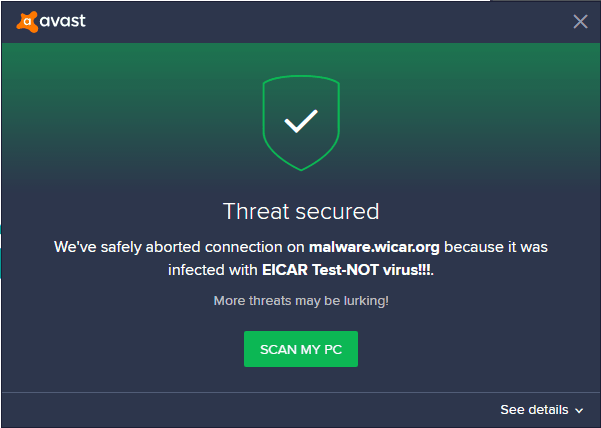 Every time we tried loading a malicious file, instead of a small popup, Avast cried three loud beeps, saying "virus detected." We're not saying that's a bad thing, but it made us jump out of the chair on more than one occasion.
Avast Testing Results
Avast shows good, but not great, results from most labs. AV-Test found it 98.9 percent effective against 0-day malware attacks using live malware, down over the 99.5 percent industry average. It was 99.9 percent effective against the AV-Test reference set, though.
Performance tests were much better than the industry average. AV-Test noted only a seven to nine percent slow down when launching popular websites over the industry average 12 percent. This trend carried through its other tests, the exception being installation of frequently used applications which was six percent slower than the industry average.
AV-Comparatives real world assessment of the antivirus between February and June saw 99.4 percent blockage, awarding Avast a perfect, three star score. It scored the highest possible rating, advanced+, in performance but a tier below for file detection and malware removal.
Avast performed surprisingly well in MRG-Effitas's harsh banking simulation. It was 100 percent effective against a live botnet, but failed the malware simulator. Two thirds of the test group failed this simulation, however. MRG-Effitas found that Avast Internet Security while using Secure Browser passed the simulation.
Support
Avast has more focus on DIY support then direct contact. There are contact routes, but those are restricted by what product you're using. Still, we like the organized knowledgebase and the active, albeit dated, forums.
The knowledgebase is split up by product, each offering between 15 to 20 articles. There are limited entries because Avast covers so much ground in each. Each article covers major operating systems and vendors, with step-by-step instruction and screenshots.
We're impressed by the detail, but more impressed by the efficiency.
Forums aren't as efficient. It's a dated but familiar forum design that covers every product Avast offers. The community is massive, though, making this an invaluable support resource. There are over a million members registered and, at the time of writing, over 400 were active.
Things get messy when trying to contact Avast, though. Phone support is available for any pre-sales question, with billing and technical questions reserved for email. Any free Avast product doesn't have support.
The only exception to this model is Avast Total Care where an agent will remotely connect to your machine to sweep it for problems. The initial consultation is free, but complete coverage will run you $199 annually.
We like the knowledgebase for its organization and the community for its size, but support is lacking. Even paying customers have limited contact options, filling out a simple form that should be available to everyone.
The Verdict
Avast is a good, inexpensive antivirus that protects PCs well. It doesn't reach as high as other antiviruses, scoring slightly lower than the best antivirus in our hands-on and lab testing. An upgrade to Internet Security should solve most of these problems, though.
We recommend Avast Pro for anyone who needs a lot of antivirus features for a low price. Those looking for superior performance will be better suited with Internet Security that has enough distinguishing features to warrant an upgrade.
Thankfully, you can get most of the Avast experience by downloading the free antivirus and trying it out yourself.
Let us know your thoughts on Avast in the comments below and, as always, thanks for reading.

Visit

Avast Pro