Best Kuwait VPN in 2023: Bypass Kuwaiti Censorship With These Providers
The Kuwaiti government has introduced several laws that curb internet freedom and invade the privacy of Kuwaiti citizens. A VPN can protect you against these invasive policies and help access geoblocked websites. Below, we help you select the best Kuwait VPN so you can protect yourself and enjoy free internet.
Kuwait's internet censorship laws keep citizens from accessing various websites, including websites with anti-religion, anti-tradition and pornographic content. To access geoblocked websites and protect yourself from invasive government agencies and internet service providers, you'll need to use the best Kuwait VPN on the market.
Key Takeaways: Best Kuwait VPN
Using a virtual private network (VPN) encrypts your internet connection, making any data it transmits unreadable for anyone who accesses it. We recommend ExpressVPN, since it offers the best combination of security and speed — or you can choose one of the other top VPN providers on the list.
04/05/2023 Facts checked

Article rewritten to reflect recent changes in VPN service providers.

10/25/2023

Updated the article to reflect ExpressVPN's expansion of server presence from 94 to 105 countries.
Sign up on a VPN service's website, install the VPN app on your device and launch the app and connect to a desired server location.

Yes, ExpressVPN works in Kuwait. You can use ExpressVPN to secure your connection or access blocked websites. However, it doesn't have a server in Kuwait, so you can't use it to get a Kuwait IP address.

You can open blocked websites in Kuwait for free using a VPN. A VPN can help you spoof your location. When you connect to a VPN server in another country and access a blocked website, the website thinks you're in this other country and grants you access to the content.
The Top VPNs for Kuwait
What Makes the Best Kuwait VPN?
The best VPN services are ones with great speeds, the latest security and the ability to bypass geoblocks. We tested the top VPN providers on the market and found the following to be the best:
You don't need Kuwait servers to be able to use a VPN in Kuwait. Kuwait VPN servers are necessary if you want to be able to acquire a Kuwaiti IP address, but a Kuwait IP is useful in only a handful of cases when you're physically in Kuwait — such as when you need to use online banking and the website is only available in Kuwait. Of course, having servers closer to your physical location might also offer slightly better speeds.
Security and privacy are the most critical of all factors. A VPN that doesn't offer the best encryption protocols (like OpenVPN and WireGuard) and ciphers (like AES and ChaCha20) can't encrypt your connection well enough to protect you online. It's also important to have a strict no-logs policy, which ensures the VPN won't share your data with third parties.
If you plan on using the VPN to stream content, you'll need a VPN that can effectively bypass geoblocks. Streaming services like Netflix are becoming better by the day at blocking VPN users, so you'll need one of the best VPN services on the market to bypass Netflix's VPN ban.
The 5 Best VPNs for Kuwait
Below, we discuss the best Kuwait VPNs and their feature sets. If you want to save some time, we recommend ExpressVPN.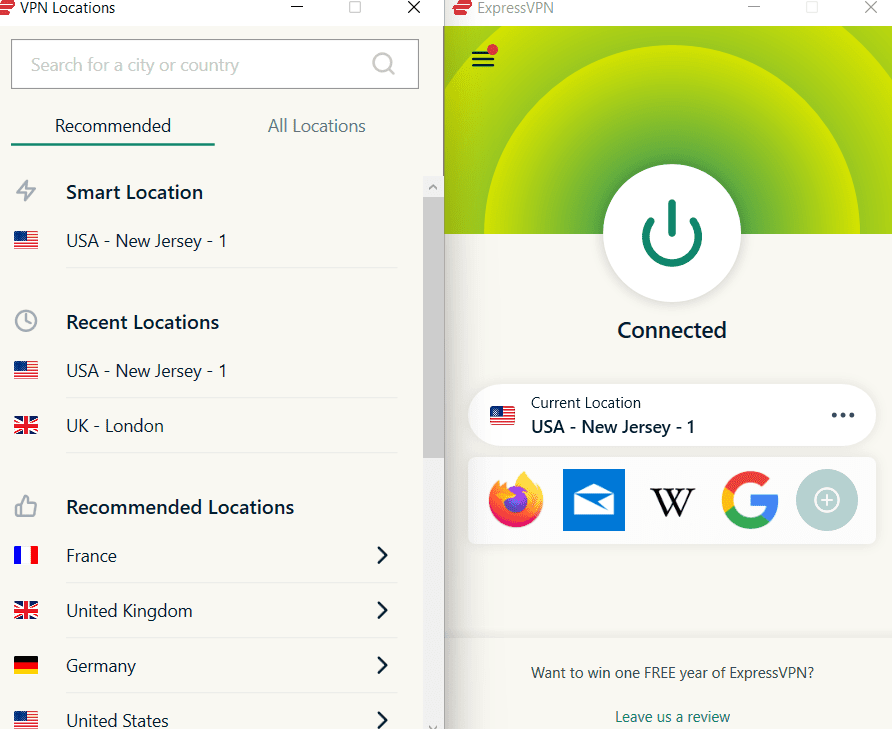 More details about ExpressVPN:
Pricing:

$6.66 per month (15-months plan)

Free plan: None, 30-day money-back guarantee
Provider website: expressvpn.com
Pros:
Lightning-fast speeds
Exceptional security
Great streaming experience
ExpressVPN is the best VPN provider for Kuwait. It offers fast connection speeds and the level of encryption needed to protect yourself against the Kuwaiti government. The VPN includes multiple encryption protocols, including OpenVPN and Lightway (ExpressVPN's proprietary VPN protocol). Moreover, the VPN has a strict no-logs policy.
You can connect to one of the ExpressVPN servers spread across 105 countries. However, Kuwait isn't one of these countries, so you can't acquire a Kuwait IP address using ExpressVPN. Learn more about ExpressVPN in our comprehensive ExpressVPN review.
Best VPN for Streaming
ExpressVPN is the best VPN for streaming, thanks to its unmatched ability to bypass geoblocks and fast connection speed. The VPN also has a feature called MediaStrearmer, which helps bypass geoblocks without encrypting your connection and improves streaming experience. The lack of encryption helps improve streaming performance, since you don't need top security just to watch TV.
ExpressVPN is a premium VPN and is priced as such. The best deal (the annual plan) costs $6.66 per month. You can also get a shorter-term plan. The six-month plan costs $9.99 per month, while the monthly plan costs $12.95 per month. You can try the service risk-free using ExpressVPN's 30-day money-back guarantee if you're not feeling confident just yet.
More details about NordVPN:
Pricing:

$3.19 per month (two-year plan + three months)

Free plan: None, 30-day money-back guarantee
Provider website: nordvpn.com
Pros:
Fastest VPN
Great security features
Unlocks big streaming apps
Cons:
No specialty servers on NordLynx
Our speed tests reveal that NordVPN is the fastest VPN service. If you're looking for a VPN with a ton of security features, fast connection speeds, low cost and the ability to unblock most streaming apps, NordVPN is your best bet. NordVPN is often compared to ExpressVPN, but costs slightly less.
NordVPN has a massive server network with over 5,000 servers spread across 60 countries. It doesn't have a VPN server in Kuwait, though, so you can't use it to get a Kuwaiti IP address.
If you're happy without a Kuwait IP address, NordVPN offers excellent security and bypasses geoblocks on all major streaming websites. NordVPN also includes NordLynx (NordVPN's version of WireGuard), which has faster speeds and better security. Read more about NordVPN's capabilities in our NordVPN review.
Specialty Servers
You get four types of specialty servers with NordVPN: double VPN, Onion over VPN, P2P and obfuscated. These servers are especially valuable for someone who wants to gamble online when in Kuwait.
For example, using double VPN servers increases security by routing your internet traffic via two VPN servers. When you want to torrent, you can switch to NordVPN's P2P servers for improved torrenting performance — NordVPN does exceptionally well when torrenting.
NordVPN's best value plan (the two-year plan) costs $3.19 per month. The one-year plan costs $4.99 per month, while the monthly plan costs $12.99 per month. Like most VPNs, NordVPN offers a 30-day money-back guarantee. If you don't like the service, you can claim a full refund.
More details about Surfshark:
Pricing:

$2.49 per month (two-year plan)

Free plan: None, 30-day money-back guarantee
Provider website: surfshark.com
Pros:
Extensive feature set
Fast servers
Pocket-friendly
Surfshark is one of the new kids on the block, but don't be fooled; it's anything but basic. Surfshark has become one of the best VPNs on the market with one of the most widely spread server networks, including servers in 100 countries. However, Kuwait isn't on the server list, so you can't acquire a Kuwait IP address using Surfshark.
While Surfshark is already a low cost service, the unlimited simultaneous connections can help you bring down the cost further. For example, you can share the account with two friends and reduce your cost to one-third of the price. Since Surfshark offers unlimited bandwidth, sharing your account won't have any impact on performance.
Surfshark is just as secure as other VPNs on the list. It includes protocols like OpenVPN (UDP and TCP), IKEv2 and WireGuard. Our tests for DNS leaks and IPv6 vulnerabilities came out clean too. Moreover, Surfshark commits to zero logs. Read more about Surfshark in our Surfshark review.
Additional Features
Surfshark packs in a broad range of features you don't often see with other VPNs. For example, it includes a malware and ad blocker called CleanWeb. What makes CleanWeb unique is that in addition to blocking ads in the browser, it blocks ads on all apps you're using on the device.
You also get a NoBorders mode that automatically selects servers configured to get past restrictions it detects on your network. For example, NoBorders might help you access pornographic websites that are blocked in Kuwait. There are also double VPN (called MultiHop) servers.
Surfshark is a low-cost VPN. The best value plan (the two-year plan) costs $2.49 per month. You can also opt for one of the shorter term plans. The annual plan costs $3.99 per month, while the monthly plan costs $15.45 per month. If you're not sure if Surfshark is worth your money, try it risk-free using its 30-day money-back guarantee.
Surfshark Starter
Unlimited GB bandwidth, Unlimited devices, Secure VPN, Ad blocker, Cookie pop-up blocker.
Unlimited GB
Unlimited
Yes
Surfshark One
Everything in Starter, plus Antivirus protection, Identity protection, Email Breach and Credit Card Alerts, Online Alias
Unlimited GB
Unlimited
Surfshark One+
Everything in One, plus Data removal
Unlimited GB
Unlimited
More details about CyberGhost:
Pricing:

$2.37 per month (two-year plan)

Free plan: None, 45-day money-back guarantee
Provider website: cyberghostvpn.com
Pros:
Desktop UI is great
VPN automation features
45-day money-back return
CyberGhost is a secure VPN service with great security and a massive server network. The desktop app offers three VPN protocols (IKEv2, LSTP, OpenVPN and WireGuard), while mobile users can switch between OpenVPN and WireGuard.
With CyberGhost, you'll have access to one of the largest server networks available. CyberGhost has over 7,000 servers spread across 91 countries. However, CyberGhost doesn't have any servers in Kuwait, which means it can't help you acquire a Kuwait IP. Read more about CyberGhost's capabilities in our CyberGhost review.
The VPN provider claims to have streaming-optimized servers, but we couldn't access Netflix and Amazon Prime Video using CyberGhost. Moreover, CyberGhost isn't the fastest VPN around. On the bright side, CyberGhost has an attractive and intuitive desktop app — we think it's one of the best VPN app interfaces in the VPN industry.
VPN Automation Features
CyberGhost has the "smart rules" feature, which lets you automate common VPN actions. For example, you can create a rule to automatically enable the VPN connection as soon as you turn on your device.
CyberGhost is the cheapest VPN on the list, with its best deal (the two-year plan) costing $2.37 per month. Alternatively, you can select the six-month plan, costing $6.99 per month, or the monthly plan, at $12.99 per month. CyberGhost offers a longer-than-average 45-day money-back guarantee.
More details about Proton VPN:
Pricing:

$4.99 per month (two-year plan)

Free plan: Unlimited data on 3 servers
Provider website: www.protonvpn.com
Pros:
Free unlimited data
Fast servers
Intuitive user interface
Cons:
Split tunneling available only on Windows and Android
Proton VPN is one of the best free VPNs on the market. We generally don't recommend free VPNs because they can be slow and insecure — see our list of the worst VPNs for more information. However, Proton VPN is an exception.
The service offers a great free plan that can help you bypass online censorship and protect your data from your internet service provider and the government. Proton VPN comes with three VPN protocols, including OpenVPN, IKEv2 and WireGuard, and AES-256 and ChaCha20 ciphers. The VPN also has a clear and strict no-logs policy.
While most free VPNs can't access blocked sites like Netflix, Proton VPN manages to unblock them without any problems. You can use servers across 67 countries on the paid plan, but the free plan only includes servers in three countries — the U.S., Netherlands and Japan. Learn more about this great free service in our Proton VPN review.
Unlimited Data
If you need a VPN to access online content on geoblocked websites like Netflix for free, Proton VPN may be just what you're looking for. It's one of the few services with a free plan that offers unlimited data and bandwidth. With Proton VPN, you can stream as many episodes of your favorite sitcoms as you like without worrying about data usage.
If you want to access servers in more countries, you can switch to one of Proton VPN's paid plans. The best value plan (the two-year plan) costs $4.99 per month. Shorter term plans cost even more per month, with the annual plan costing $5.99 per month and the monthly plan costing $9.99 per month. You do get a 30-day money-back guarantee to try it risk-free.
Why You Should Use a Kuwait VPN
Kuwait's government censors internet access and has laws that can put you at risk. For example, online gambling can get you locked up. Moreover, cybercrime is on the rise in Kuwait. In the past, the government has tried to limit the freedom of the press and imprisoned a citizen for criticizing the Bahraini and Saudi royal families.
This is why you should use a VPN in Kuwait. A VPN helps ensure online anonymity. It encrypts your connection so no one can track your online activities back to you. Not even your ISP will be able to trace any activity back to you since the encrypted data won't be readable even if someone manages to access it.
Encryption also protects you against cybercrime. For example, if you're using public WiFi, a hacker won't be able to read any of your data as long as you're using a VPN. A VPN also helps you access geoblocked websites like Netflix.
Can You Use a Free VPN for Kuwait?
Yes, you can use a free VPN in Kuwait. Proton VPN is the best free VPN. It offers unlimited data on the free plan, so you can stream as much content as you'd like. It's a secure VPN with almost all the essential VPN features, like a kill switch and DNS leak protection.
Final Thoughts
Using a reliable VPN service protects your personal data and helps you regain internet freedom by accessing geoblocked websites and ensuring complete anonymity.
Not all VPNs are great, though. Most can't bypass geoblocks on major streaming platforms or adequately secure your connection. The VPNs mentioned in this guide were tested for security, privacy, speed and the ability to unblock websites. ExpressVPN is the best Kuwait VPN, but if you're on a budget, you can opt for one of the other services.
Have you used a Kuwait VPN before? Which one, and were you able to unblock websites like Netflix and Amazon Prime Video with it? Let us know in the comments below, and as always, thank you for reading.