Best VPNs That Beat The Netflix VPN Ban in 2021
Watching all that Netflix has to offer is one of the most popular use cases for a VPN, but which services can crack the Netflix VPN ban? Keep reading for our top picks.
By now, you probably know that Netflix has a different selection of TV shows and movies in each country it's active — which is pretty much everywhere. However, a little knowledge is a dangerous thing. So in this article, we'll make sure you're wise to all the facts surrounding the Netflix VPN ban, which is the biggest obstacle to watching any country's Netflix from anywhere.
If the system behind Netflix's VPN block is old news to you, and you just want to know how to beat error code m7111-1331-5059, click the link and find out (hint: it involves signing up to ExpressVPN). In short, if Netflix detects that you're using a VPN IP address, it will throw up the streaming error message and temporarily block you from the Netflix servers.
Key Takeaways:
ExpressVPN is the best VPN for Netflix, though NordVPN and CyberGhost are more budget-friendly options.
A good VPN for Netflix needs to stay ahead of the streaming service's VPN ban and offer servers in a lot of countries.
Windscribe is the best VPN to watch Netflix for free, though you'll need more bandwidth than the free plan if you watch more than occasionally.
If you'd like to know more VPN options besides that stalwart, we also have an article on the best VPN for Netflix, though for convenience's sake, we'll also recap our picks just below.
However, if you're more interested in spelunking into the depths of the Netflix service agreement, copyright law and other weird lawyerly tricks, stick around as we talk about why you can't access Netflix content from other geographic locations.
No, it will not. We've been messing around with many VPN providers to get around the Netflix VPN block for years now and never received a single warning or demand to cease. If you get some kind of email threatening to ban your account, chances are it's a scammer trying to get something out of you and has nothing to do with Netflix.

Yes. Though it's officially against the Netflix service agreement (you know, that thing you didn't read when you set up your Netflix account), nobody seems too intent on catching perpetrators. This may change in the future, but we doubt it, so you can keep using your VPN for watching Netflix content from anywhere there's a server.

By using a VPN that Netflix doesn't detect. The best VPNs to pick from are ExpressVPN, NordVPN and CyberGhost, though there are plenty of others that do the trick, as well. Even then, though, the whole process can be kind of hit and miss.

Yes, and with a vengeance. Except for maybe Hulu and Amazon Prime Video, the Netflix VPN detection system is the best in the business. In fact, only a handful of the best VPNs can get past the infamous streaming error, though we've done our homework and have some excellent VPN recommendations for you.

Very few free VPNs can unblock Netflix, and we've tried out pretty much all of them. One exception is the Windscribe VPN, which has a good free plan and a paid plan that usually crack the Netflix block.
Best Netflix VPN: Which VPN Providers Work in 2021?
When looking for the best VPN to get around the Netflix ban, there are a few things to consider. The most obvious is that it needs to be capable of spoofing your geographic location and hide the fact that its IP address comes from a VPN. Since streaming videos means transferring a lot of data, it should also have unlimited bandwidth.
Using a VPN with the Netflix service primarily revolves around access to content from other countries, so any suitable VPN should have a large server list. Besides Netflix, it's a nice bonus if the service is immune to VPN bans, in general, as well as preventing leaks during DNS requests.
Since you probably don't want to break the bank just to use a VPN with Netflix, cheaper is better. A 30-day money-back guarantee is also good for testing purposes. Also, if you need to use a VPN to access Netflix libraries in a specific geographic location, such as watching UK Netflix, you should always look at the actual server lists for any specific countries. Now let's take a look at each of the providers that can unblock Netflix.
More Details About ExpressVPN:
Pros:
Accesses Netflix easily & consistently
Large server network
Fast
ExpressVPN is our favorite VPN out there, period. It's secure and easy to use, has a great server network and friendly live chat and is the fastest VPN, as well. In fact, the only real downside to ExpressVPN is its price, which is quite a bit steeper than the competition. It costs a little more than double its closest competitor, NordVPN, which claims the second position in this ranking, too.
In fact, NordVPN inches closer to the top when it comes to several criteria, so check out our ExpressVPN vs NordVPN comparison for more on that.
Servers With IP Addresses That Get Around the Netflix VPN Ban
The reason we like ExpressVPN so much for Netflix is that no other VPN has quite as many servers around the globe that can get into the streaming service while also maintaining fantastic speeds (read our how to watch Netflix with ExpressVPN piece).
We've been testing ExpressVPN on a weekly basis for years now, and no other VPN service has this many servers able to beat the Netflix VPN ban and gets "discovered" VPN servers back up so quickly.
As a whole package, ExpressVPN is pretty much impossible to beat — that is, if you have a hundred bucks per year to spend on a VPN. If you want to give ExpressVPN a spin before deciding, it has a 30-day money-back guarantee, and if you sign up using this link, you even get three months for free on top of your first year.
More Details About NordVPN:
Pricing: $99 for two years, $69 for one year, $11.95 per month
Website: www.nordvpn.com
Pros:
Consistently accesses Netflix
Large server network
Fast on certain servers
Cons:
Inconsistent speeds
Broken server recommendation
The only reason NordVPN consistently ranks second to ExpressVPN (except in our best VPN for torrenting roundup) is its speed. This VPN offers a massive, reliable server network, gets into most streaming services (like BBC iPlayer, Hulu and Amazon Prime Video) and has great multiyear deals that will save you heaps of money.
However, its inconsistent speeds hold it back, though the rollout of WireGuard may remedy that.
When it comes to Netflix, NordVPN is reliable (it's no slouch even if it does come in second), though not quite as much as ExpressVPN.
Messing around with the VPN, we've found that you can get into most countries' versions of Netflix, despite having to switch servers quite often. However, the switch times are lightning fast, so it's not too much of a burden. Read our guide on how to watch Netflix with NordVPN.
Cheaper for VPN Users Than ExpressVPN
However, all these minor niggles are very easy to live with, considering NordVPN's pricing. You get two years of service for $99 — the same price as one year with ExpressVPN — which is just dirt cheap. (Only our next entry, CyberGhost, is cheaper.)
Even if you subscribe for a single year, NordVPN's price is very reasonable at just $59 for the full 12 months. As is usual with VPNs, though, the monthly price is pretty hefty at $11.95 per month, more than double the other plans.
If you think that's too much of an investment, though, you get a 30-day refund window to consider your purchase.
More Details About CyberGhost:
Pros:
Optimized streaming servers
Massive server network
7 simultaneous VPN connections
Cons:
Can't control the kill switch
Speeds can be slow
If NordVPN's biggest draw for you is its discounted two-year plan, then CyberGhost may be an even better option. It is by far the most affordable VPN out there if you're willing to sign up for the long term. Offering three years for just $100, CyberGhost boils down to one-third the cost of ExpressVPN, which we go into detail about in this comparison between the two VPNs.
Being a cheap VPN isn't CyberGhost's only strength, either, as you can read in our full review. The VPN offers decent speeds and a very comfortable interface, as well as getting into Netflix most of the time.
Cheap But More Hit-and-Miss Servers
Unlike ExpressVPN, though, only a minority of CyberGhost's servers will work. It also doesn't have the volume of NordVPN, either, so it's a teensy bit more hit and miss than with those VPNs. We have a guide for how to watch Netflix with CyberGhost, though.
However, at that price, we figure it's worth putting up with the very occasional annoyance. Plus, if paying a Benjamin for three years of service isn't enough of a draw, CyberGhost is also one of the very few top-listed VPN providers that have a free trial.
This means you're running exactly zero risks (find out how to use the CyberGhost free trial). On top of that, there's also a money-back guarantee, so it's easy to get a CyberGhost refund.
More Details About Windscribe:
Pros:
Dedicated streaming servers
Unlimited simultaneous connections
Cheap build-a-plan option
Cons:
Expensive full plan
No Netflix access on free servers
Windscribe is a great VPN for Netflix, though you wouldn't think it at first because it's usually touted as the best free VPN. However, if you go a little further than the free plan, you'll find a powerhouse VPN that will get you into Netflix U.S. without too many problems, and for a decent price, to boot. You can get the details of that in our Windscribe review.
Windflix Servers Worth It to Bypass the Netflix VPN Ban
When it comes to Netflix, Windscribe offers dedicated, paid servers called Windflix that do a damn good job of getting past any VPN blocks and at a decent speed, too. So, no stuttering or any other nonsense, either. Add to that some top-grade security, and you're good to go.
Unfortunately, the Windflix servers are only available in four countries (the U.S., the UK, Canada and Japan), so you won't be able to use them for every country in the world.
Build a Plan
Per "Pro" server location

Bandwidth

: 10 GB

Included Devices

: Unlimited

Bitcoin
Pro Plan
Bandwidth

: Unlimited GB

Included Devices

: Unlimited

Bitcoin
Windscribe doesn't offer a refund like most other VPNs; instead, relying on its generous free plan to help people get acquainted with the service before they decide on a purchase. Free is always nice, so we recommend you give it a spin. However, it may have more issues getting past the Netflix VPN ban without the Windflix servers.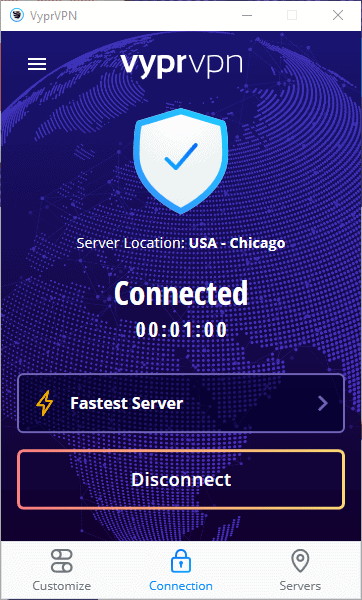 More Details About VyprVPN:
Pricing: $60 for three years, $45 for two years, $12.95 per month
Website: www.vyprvpn.com
Pros:
Good streaming performance
Gets into Netflix easily
Chameleon protocol
Cons:
Speeds can be slow
Small server spread
Last but very much not least on this list is VyprVPN, a veritable old-timer among the best VPNs for Netflix. We've recommended the VPN on and off for years now, as it has had a bumpy journey. Currently, though, VyprVPN is going strong with a revamped interface and friendly customer support (it used to be pretty bad). Read all about these changes in our full review of VyprVPN.
When it comes to Netflix, it's a solid choice that scores about as well as CyberGhost and Windscribe but doesn't attain the rarefied air of ExpressVPN and NordVPN.
Chameleon Protocol
However, VyprVPN is a great pick to watch Netflix from countries with bad censorship, thanks to its hyper-secure Chameleon protocol. This protocol not only secures your connection but does so without letting on that it is. It's seriously cool.
This protocol should also keep you safe from potential government surveillance, though it's hard to say with 100 percent certainty what capabilities the authorities have in this regard.
VyprVPN used to offer a free trial, but the VPN has recently replaced it with the industry-standard 30-day money-back guarantee. If heightened security while streaming sounds good to you, check out VyprVPN.
How to Watch Netflix With a VPN on a Smart TV
Smart TVs and media devices, such as Apple TV and Roku, can access most streaming platforms. Unfortunately, since there are so many different models and manufacturers out there, direct VPN support for these kinds of devices is rare.
If you want reliable access to HD streaming from around the world, you'll need to set up a VPN directly on your router. Because the router is the access point for all of your devices, and it now has its own VPN, you're essentially using a VPN with Netflix constantly and accessing titles from any country where your provider has a server.
Why Does Netflix Block VPNs?
Until about five years ago, Netflix didn't block people who accessed the service through a VPN. It turns out that there were far too many people unhappy with their country's Netflix library, who were using a VPN to access American Netflix for its far superior selection of TV shows and movies.
Why the U.S. version of Netflix was so much better had to do with a maze of legal agreements, as well as the usual bugbear of the digital age: licensing deals. If you look at the homepage of Netflix, you'll quickly see it offers hundreds — if not thousands — of titles no matter where you are, but Netflix itself only makes a few of them.
The vast majority of Netflix's content is made by networks the world over, and it has made deals with content distributors to offer it for streaming to subscribers.
However, different companies distribute Netflix's movies and shows and may want the content in one country but not another. Making matters worse, sometimes multiple companies own the rights to the same movie or TV show, just in different parts of the world.
As a result, each country in the world — except for China, Syria, Crimea and North Korea, which don't allow access to Netflix — has its own Netflix library, which makes for wildly differing offerings depending on where you are.
Netflix and Distributors
When a network produces a show, or a studio makes a movie, it makes deals about what distributor can show the content and where — and that's not always necessarily the same company. For example, Showtime produced the hit show Homeland and, as such, it's available in the U.S. on its very own streaming site, which you can't access from anywhere else.
However, Showtime has also made a deal with Netflix to make Homeland available for international users in countries other than the U.S. In Germany, you can watch it just fine on Netflix, while in the States, Netflix users need to hook up to Showtime.
However, it could very well be that in another European country, Homeland is not available because Showtime has made a separate deal with a local network to air it. It really depends.
Let's use another example: take The Americans, a taut, spy thriller series set in the '80s. It originally aired in the States on FX. However, FX doesn't have its own streaming service (yet), so if you want to watch it online from the U.S., you have to go with iTunes or Amazon Prime Video (read our best VPN for Amazon Prime Video piece).
The picture changes, though, in Europe, where several countries have all six seasons of the Jennings' trials and tribulations on Netflix, no problem. If you're an American who wants to watch the show and you already have a Netflix subscription, but you don't want to shell out for another streaming subscription to Amazon Prime Video, you're just out of luck.
Best Netflix VPN to Stream Despite the Block
This is where virtual private networks (VPNs) come in. The linked article has all the details, but in short, a VPN allows you to access the internet from a third-party server. This has two main benefits. First, a VPN makes your browsing more secure. More important to streaming, though, is that it can make you appear as if you're somewhere else geographically by spoofing IP addresses.
Using the last example, a Netflix subscriber from New York City who wants to watch The Americans without signing up to Amazon Prime Video can do so by connecting to a VPN server in Germany, which has all six seasons in its Netflix library. It's really as simple as that: open up your VPN, select a server in another country and say, "bye-bye geoblock."
That's how it should work, at least. The distributors we mentioned earlier most likely don't like people undermining the distribution agreements and allegedly began forcing Netflix to start blocking VPNs — nobody seems to know exactly why the ban came into effect. Ever since then, VPN users have gotten the now-infamous Netflix error message.
That said, if a distributor makes a deal with two different streaming services to show a film in different countries, it doesn't want people to cross over willy-nilly. It's just bad for business, especially in the age of the streaming wars.
Right now, there are dozens of major streaming sites competing with each other, and all of them seem intent on making sure you only watch certain shows on certain sites.
What VPNs Are Blocked by Netflix?
Truth be told, Netflix blocks most VPNs. The number of VPNs that do get past the block dwarf the massive majority of VPNs that get hit with a proxy error when connecting from abroad. VPNs that usually do the trick are ExpressVPN, NordVPN and CyberGhost.
How Does Netflix Know I Am Using a VPN?
Although Netflix doesn't employ many resources tracking down individuals using a VPN for streaming Netflix, it does try to keep track of VPN IPs. That means that while you won't be a target if you view Netflix content primarily with a VPN's IP address, Netflix will try to block that specific virtual private network.
How exactly Netflix goes about figuring out when an IP address belongs to a VPN being used to watch a movie or TV show outside of the correct geographic locations, it starts throwing out VPN bans on said IP address. VPN access to Netflix, then, is reliant on staying one step ahead of this process and avoiding the VPN ban by renewing the servers and IP addresses.
How to Watch Netflix With a VPN
As many companies have found out before, though, you can't keep geeks down, and plenty of VPNs started quickly developing block-busting techniques. Right now, this whole thing has become a bit of a cat-and-mouse game, where VPNs figure out new ways to cycle IP addresses, and Netflix finds new ways to detect them.
How exactly VPNs circumvent these blocks is a little unclear — it likely has to do with regularly cycling new IP addresses — but what is very obvious is that some VPN services are better at it than others.
Finding out which VPNs belong in that category is a simple but labor-intensive process: try watching content with different VPN servers until the Netflix proxy error goes away. This is where we come in: we've reviewed over 60 VPN services to put together our best VPN rankings and tested each of them for Netflix access and streaming speed.
Using a VPN
We go over our criteria and process in the related articles, but to cut that story short, the best VPNs for Netflix are ExpressVPN and NordVPN, with CyberGhost hot on both VPNs' heels.
Any of these three VPNs will work with Netflix, eventually (the next section will go into the details of that). Each also offers a user-friendly interface, efficient customer support through live chat and a money-back guarantee of 30 days in case you don't like the VPN service.
There are some VPNs you should avoid, though. For one, any VPN provider that advertises itself as free and able to get into Netflix is trying to sell your data (though it's not only free services that do that, as you can read in this review of Avast SecureLine VPN).
Also, be careful of any new services; they generally lack the expertise necessary to become one of the better VPNs for Netflix.
How to Use Netflix With a VPN
First things first: you can't change your Netflix region without a VPN; proxies won't work, and neither will any other method of switching out IP addresses. Your only option is a VPN, and for this example, we'll use ExpressVPN simply because it's very easy to use. Note that this is a quick recap. If you want the full details on how this works, check out our guide on how to enjoy Netflix with ExpressVPN.
The first thing you want to do is sign up for a VPN. We like ExpressVPN, so we use that service for our examples. Once you do that, open the VPN app, pick a geographic location you'd like to access Netflix from and click it to connect.
Issue: VPN Not Working on Netflix
When you're connected, go to Netflix, click the show or movie you want to watch, and you should be good. If Netflix is not working right, that means you have a bad VPN server. So, you need to switch server locations by going through the above steps again. It's that simple and will stand you in good stead no matter from where you want to stream Netflix.
What Do You Mean by "Switch Servers"?
It means going from one server (or IP address) to another within your VPN service. So, say you're in the UK and want to watch Netflix U.S. through a server in New York, but it's blocked. You can switch instead to a server location in Washington, D.C., or LA and see if either of those works with Netflix.
Final Thoughts
There you have it: the skinny on the Netflix VPN ban as well as the way to get around it and access titles. ExpressVPN is the ticket for anybody looking to thumb their nose at copyright restrictions, though plenty of other VPNs will do the deed, as well.
Do you have any tips on how to watch Netflix in other countries? Or maybe some questions we haven't answered? Let us know in the comments below and, as always, thank you for reading.