Visit

SOS Online Backup
Fast download speeds
Strong security
Hybrid backup
Mobile backup
SOS Online Backup Review
Though SOS Online Backup does a good job overall, its pricing scheme should give buyers pause. Other problems are weak security, lack of a browser interface and other things you can read all about in this full SOS Online Backup review.
SOS Online Backup was launched in 2001. In 2012, the company changed its name to Infrascale, but its main cloud backup product retained the old name. SOS Online Backup's prices can't compete with some of the services we talk about, but that doesn't mean it doesn't get positive marks.
That includes features such as NAS and mobile backup support, private encryption, true archiving and unlimited versioning. That said, it lacks important features such as browser access to files, continuous backup and two-factor authentication, which gives us mixed feelings.
If you need to backup your business devices, you can use the office version of SOS Online Backup, but note that it also suffers from a price that will only appeal to those who don't mind bleeding extra cash.
In this SOS Online Backup review, we're going to give you the details about the good and the bad, so stick with us if you want to find out more about the service. That said, if you think its cons outweigh its pros, you should consult our best online backup comparison for alternatives.
Strengths & Weaknesses
Pros:
Fast download speeds
Strong security
Hybrid backup
Mobile backup
Network-attached storage backup
Private encryption
Cons:
Expensive
No continuous backup
No browser access to files
No two-factor authentication
Alternatives for SOS Online Backup
Features
SOS Online Backup provides backup for your devices and smartphones. Being able to backup smartphones is nice because many competing backup services are only designed for computer backup. With a backup in play, you can be sure your files are safe from losses caused by hard drive crashes or other software glitches.
You can backup unlimited mobile devices, but a single subscription limits you to just five computers. That's enough for most home users, but IDrive gives you the option to backup unlimited phones and computers at a better price. You can read more about it in our IDrive review.
SOS Online Backup can also backup unlimited external drives and even NAS devices. If you need other options for the latter, check out our best online backup for NAS overview.
SOS Online Backup doesn't restrict your backups based on size, type or number of files, which is standard for most online backups.
Continuous backup is a staple, too, but surprisingly, it isn't provided by SOS Online Backup.
The only thing you can do is schedule backups to run hourly, daily or weekly. We'll talk more about that when we talk about the backup and recovery process in a later section.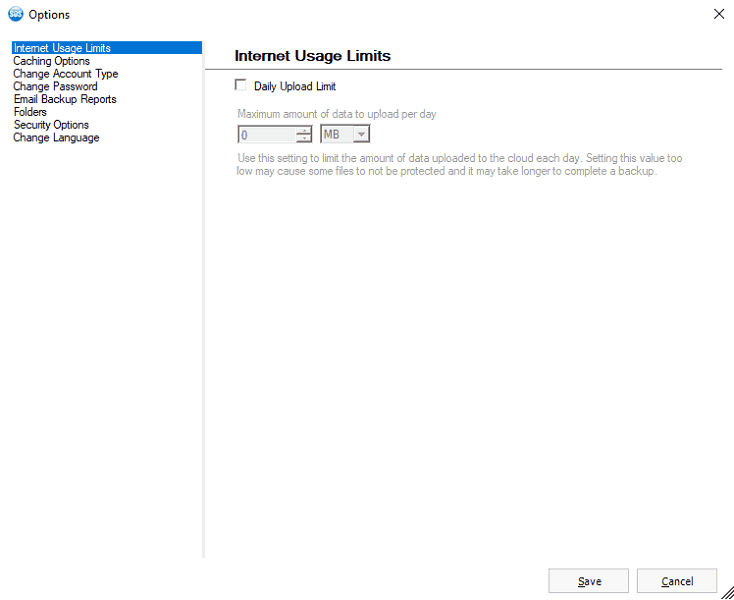 Another miss is that you can't throttle upload or download speeds, which is an option commonly provided by modern backup tools, too. There's an option to set a daily upload limit, but that's not as useful considering backup operations can hog your internet connection and prevent you from doing other work.
SOS Online Backup Archiving and Versioning
SOS Online Backup lets you use true archiving, which means when you delete files from your computer, they won't automatically be deleted from the cloud. There's also an option for private encryption, meaning you can keep your encryption key so nobody but you can read your files.
SOS Online Backup provides unlimited file versioning, as well, but that can take more backup space. That said, because the backups operate at the block level, meaning only changed parts of the files are backed up, versioning shouldn't use too much of your backup space.
There's no option to use mirror-image backup with SOS Online Backup for Home. You have to use the business version of the tool for that. If you need imaging and cloning features, read our best image-based backup and cloning software article for alternatives.
A major miss is the fact that SOS Online Backup doesn't let you use the web interface to access files you've backed up, which is just odd, to say the least.
SOS Online Backup is a mixture of good and bad feature-wise.
SOS Online Backup Features Overview
| | |
| --- | --- |
| Backup Scheduler | |
| Continuous Backup | |
| Incremental Backup | |
| Image-Based Backup | |
| External Drive Backup | |
| NAS Backup | |
| Server Backup | |
| Hybrid Backup | |
| Mobile Device Backup | |
| Unlimited Backup | |
| Unlimited Devices | |
| Speed Throttling | |
| Block-Level File Copying | |
| Multithreaded Backup | |
| Courier Recovery Service | |
| Browser Access | |
| Mobile App Access | |
| Versioning | |
| Deleted File Retention | |
| Private Encryption | |
| At-Rest Encryption | |
| In-Transit Encryption | SSL |
| Encryption Protocol | AES 256-bit |
| Two-Factor Authentication | |
| Hardened Data Centers | |
| Proxy Server Settings | |
| HIPPA Compliant | |
| 24/7 Support | |
| Live Chat Support | |
| Telephone Support | |
| Email Support | |
| User Forum | |
| Knowledgebase | |
| File Sharing | |
| Device Sync | |
| Free Trial | 15 |
Pricing
SOS Online Backup For Home has several tiers, starting with the 50GB tier for $4.99 per month. It's nice that you get to choose from many subscription levels, unlike with most backup services.
Apart from that, SOS Online Backup's pricing scheme isn't winning any prizes. It's much more expensive than those offered by competitors. You won't be able to do much with just 50GB, and other solutions give you far more backup space for similar cost. For example, Backblaze offers unlimited backup for $6 per month. If that seems like a good deal, read our Backblaze review.
The other plans don't help much, either, because their prices aren't better. The 100GB plan is $7.99 per month, but it only offers 100GB of backup space. For $7 per month, BigMIND Home lets you enjoy 500GB, which you can use to backup multiple computers and mobile devices, as well as unlimited external drives. Read more about it in our BigMIND Home review.
In a similar vein, Acronis Cyber Protect Home Office's Premium 1TB plan is $8.33 per month while the 150GB from SOS Online Backup is $9.99 per month. If Acronis Cyber Protect Home Office sounds appealing, read more about it in our Acronis Cyber Protect Home Office review.
Pricing isn't the only important category, but it's relevant. With its high price tag, SOS Online Backup doesn't provide enough value to justify purchasing it over many solutions that have more competitive prices.
That said, if you find SOS Online Backup interesting, you can try the free 30-day trial to satisfy your curiosity.
Ease of Use
To start using SOS Online Backup on your home computer, you need to download and install the desktop client for your operating system. It works on Windows and macOS, but not Linux. Read our best online backup for Linux article for ideas in that department.
The installation takes about a minute. Once it's finished, you need to log in by providing the credentials you created when you registered your account.
After you log in, the client will ask you to choose between continuing as a regular account or switching to managed encryption, called "standard ultrasafe," or personal encryption, called "ultrasafe max." We'll talk about those in more detail in the security section.
After that, your account will be ready and you can start to backup your files. The desktop interface is minimal, clear and easy to use. It's on the attractive side, too. Right off the bat, it'll scan your hard drive to make recommendations for creating a backup plan. The main window has a link that takes you to the web portal.
Once you log in, the web client will show your dashboard, which displays your backup statistics, such as total used space and notifications. The client is simple and easy to use. You'll use the navigation bar at the top to move between pages. To access your account menu, you need to click the box with your registered email, which is above the main menu.
The client also has views for monitoring processes and generating reports. They'll let you review your logs and backup history. You can export them to Excel, which is a nice touch. Most home users won't need those features, but they're an interesting edge to hold over the competition.
Another useful feature of the web client is the ability to clean your backup space by setting retention and versioning policies. You can also access the SOS Online Backup support portal and locate your device.
The web client has many features, but it lacks the ability to access the files you stored in the cloud. That omission is surprising because most backup solutions allow you to do so. With SOS Online Backup, the only way to do it is from the desktop app or a mobile device.
The SOS Online Backup mobile app provides the features we've come to expect from backup solutions' mobile clients. The mobile app home screen menu lets you access your cloud storage, see what you've downloaded, browse your favorite files and create a mobile backup plan.
As many solutions do, the SOS Online Backup mobile client asks you to select the types of files you want to backup. Once you do, you can run your backup immediately or schedule it. Scheduling lets you choose on which days of the week and at what time the backup will run.
The app has a 3.8-star rating and just over 10,000 downloads for Android. There are many reviews in which users complain about bugs. We attribute the number of downloads to the service being expensive. It's available for Android and iOS.
SOS Online Backup offers an okay user experience, but it's missing convenient features, such as accessing files from your browser. That makes the user experience somewhat limiting, but it's still decent and easy to use.
File Backup & Restoration
You need to tell SOS Online Backup which files you want to backup to be able to start the backup process. The desktop client helps you do that by automatically scanning for files it can backup. You can launch the scan by clicking the wrench icon to configure your backup.
After the scan finishes, you'll see the files it found and how much backup space you'll need to back them up. The "advanced" button lets you edit the scan to exclude files based on size or type or you can select specific files. You can only exclude folders by choosing them. There's also an option to include custom file types.
You can skip the scan process if you already know which files you want to backup, but it only took around 30 seconds to complete for us. Your time might be different depending on the amount of data you have. Regardless, hit "next" to continue setting up your backup plan.
The next step requires you to manually tag content for backup. You can do so at the folder or file level. The scan results are in red and they're preselected.
It's possible you have far more files to backup than you have backup space for, so you have to increase your storage or exclude some of the files automatically included. That's similar to competing services, such as Carbonite.
The difference, though, is that Carbonite is an unlimited service and selects the most common file types by default. It's also cheaper than SOS Online Backup, so if that strikes you as a good deal, read our Carbonite review to learn more about it.
Once you're done, click "next." That'll bring up the next window, which lets you configure settings, but most can be configured later.
SOS Online Backup Scheduling
You have to decide the schedule on which the backups will run. You must do that because you can't rely on continuous backup, which would protect your files as they're edited.
Instead, SOS Online Backup defaults to a daily schedule. You can set it to run every hour if you want, but the smallest interval is only one hour, which means continuous backup just isn't an option. That's one of the most important features and one that most solutions have, so SOS Online Backup not having it is a major flaw. It's a good reason to consider other options.
If you like, you can enable manual backups by unchecking the "back up even without user intervention" option.
Before the backup process starts, you can also choose to backup to both the cloud and a local folder, which can be an external drive. That's a hybrid backup solution, which lets you reap the advantages of cloud and local storage. It also helps you implement the 3-2-1 backup rule.
You can also tweak your retention policy for files that have been deleted from your computer. The option is off by default, which means SOS Online Backup offers true archiving. It's useful if you want to clear space on your computer, but you don't get unlimited backup space, so you'll probably want to set the client to remove deleted files from the cloud after 30 days or so.
Once you've set it up, click "next" to begin the backup. A new window will appear and show you the progress of your backup, but if you close it, SOS Online Backup will keep running in the background.
The client informs you of your file upload speed, but it doesn't show any other useful information, such as how long your backup might take. See the next category, "speed," to find out how much time it took for our backup process to finish.
SOS Online Backup File Restoration
You need to click the "view/restore" button to restore files. The client lets you browse files stored in the cloud or use a search bar to find them quickly if you know their names. It also lets you filter files by size and the date of the backup.
You can restore files to their original location or a new one. If you enabled personal encryption, you need to enter your password to complete the restoration.
As we said, you can only restore files from the desktop and mobile apps. That's a serious drawback for SOS Online Backup because browser access to files is a major feature of most online backup tools.
Speed
Initial backups can take quite a while if you've got hundreds of gigabytes to backup. The time it takes will also depend on how good your connection is and how close you are to a server. The closer you are the better your speed will be.
Chances are you're not going to be too far from a data center because SOS Online Backup has 16 spread across the world. The countries that hold them are the U.S., Canada, Australia, the UK, Australia and South Africa.
To see how SOS Online Backup compares to other backup solutions, we performed several backup and recovery tests using a 1GB zipped folder. We ran our tests using a WiFi connection out of Belgrade, Serbia, with an upload speed of 10 megabits per second and a download speed of 31 Mbps.
With those speeds, our file should take about 14 minutes to upload and just over four minutes to download with no overhead processes, such as deduplication, encryption or decryption. Our test results weren't close to those, even though we disabled the encryption process.
| | First attempt: | Second attempt: | Average: |
| --- | --- | --- | --- |
| Upload time | 00:34:16 | 00:34:32 | 00:34:24 |
| Upload time | 00:08:01 | 00:08:30 | 00:08:16 |
SOS Online Backup took 34 minutes and 24 seconds on average to upload our file. Online backup services often take almost an hour to upload a gigabyte, so anything less is better than average.
The download results are comparable. It took SOS Online Backup eight minutes and 16 seconds to download our file. That's twice the time it should take. If you need a service that has fast and consistent speeds you should try Acronis Cyber Protect Home Office.
Those download speeds are strange considering that SOS Online Backup was quick to backup our test folder and it has servers around the world. At least it uses a block-level file-copying algorithm, which helps with the transfer of files that have already been uploaded by only transferring the changed portions.
SOS Online Backup doesn't let you throttle speeds which is a useful feature if backup or restore processes strain your computer. It also doesn't offer a courier recovery or backup service for home users like IDrive does. Courier services help when you need to restore huge amounts of data.
Security
By default, SOS Online Backup doesn't encrypt your files. That said, you can add AES 256-bit encryption, which we recommend doing.
You can let SOS Online Backup generate and keep your encryption key for you or handle it yourself. If you do the latter, you'll have private, end-to-end encryption, also known as zero-knowledge encryption. It ensures that only you can read your files.
If you want to control your encryption key, you need to enable that before you start backing up your files. You can't change it later, which is is normal for services that offer private encryption.
Private encryption is more secure, but SOS Online Backup won't be able to reset your password if you forget it. Make sure to write it down somewhere or use one of the best password managers to store it.
The SSL/TLS protocol protects files in transit against man-in-the-middle attacks, which is common among online backup services.
In data centers, files are stored on servers. SOS Online Backup uses advanced RAID configurations for redundancy and real-time network monitoring. Data center security includes 24-hour staff and video surveillance, badge access, temperature-controlled environment systems, seismically-braced construction and redundant backup power systems.
The biggest security flaw is the lack of two-factor authentication, which would help secure your credentials.
Privacy
From the start, the privacy policy informs us that SOS Online Backup complies with the EU-U.S. and Swiss-U.S. privacy shield frameworks. The frameworks help manage the collection, use and storage of personal information you transfer from the EU and Switzerland to the U.S.
Infrascale owns SOS Online Backup, so its privacy policy is hosted on the Infrascale website. Though SOS Online Backup lets you enable private encryption, the privacy policy is still important regarding personal user information.
What SOS Online Backup Collects
Infrascale collects the standard information that most online backup services collect. It comes down to two categories of user information. First, the data processed by its hardware and applications for backup, archival or failover purposes.
Second, Infrascale collects user data relating to customer accounts and their management such as information about representatives and contacts at its customer organizations, including their names, addresses, phone numbers, email addresses, job titles and the name of their employer.
Infrascale also collects payment card information for processing payments for its products and services. The company generates metadata and system data in connection with the delivery of its services, too.
Infrascale collects the personal information that you provide when you use SOS Online Backup's website to communicate with representatives, submit a support ticket or use the chat function, too.
Use of Personal Information
Infrascale processes user information collected by its services to deliver backup, archiving and failover services and functionality to users. Plus, it uses account-related information to market services, establish relationships, obtain payment for the services, provide support and otherwise communicate with customers.
Infrascale also uses metadata and other systems data to run its services and deliver them to customers. It only keeps your personal information as long as permitted by law.
That said, Infrascale may disclose user information and uploaded data to employees, agents, representatives, advisors, affiliates and independent contractors. The privacy policy says that's in connection with their services for or on behalf of Infrascale's customers, but that means someone could access your data unless you enable private encryption.
It may also share data with service providers that help it with business operations, sales and marketing, information technology or professional services. It may also share data with law enforcement agencies if it's requested.
Infrascale may use Amazon Web Services, Google Cloud or other cloud platform providers to host its cloud solutions and collect and maintain user data uploaded to the services.
Because of that, Infrascale enters into agreements with third parties hosting that data. Those agreements require third parties to respect the privacy of the data, only use it for the purposes of delivering services to Infrascale, not to disclose it without authorization and to adhere to the privacy practices summarized in the privacy policy.
Your Rights
Infrascale's services allow you to access and update the data you uploaded. You can view, update, append and correct the data you uploaded to Infrascale's services or your own public or private cloud solutions.
You may review the information about you stored in Infrascale's databases and correct, erase or block data that's incorrect, as permitted by applicable law and Infrascale's policies. In such cases, you may edit your information by logging into your account profile or by contacting Infrascale.
You need to submit a written request to Infrascale to get it to erase your information.
If a law enforcement agency or third party requests access to your information, Infrascale will notify you. It'll also deny all requests if they aren't valid under the law or a contract.
Most clauses in the privacy policy are there to protect you, but the fact that agents and others can access your data is a plain breach of privacy. As mentioned, it's best to enable private encryption and manage your key.
Support
If you need help you can access the SOS Online Backup support center via the web interface. You can search for the articles you need by using the search bar or use the guide, which helps you select your device, operating system, category of problem and then lists support articles.
At the time of writing, there were 90 articles for home users. They're thin but easy to follow and feature videos to help you along.
If you can't find an answer to your question, you can also contact the SOS Online Backup customer support team. To do that, you can use live chat or support ticketing. Phone support is reserved for business users.
We tried to enter live chat a couple of times, but on both occasions, the chat agents were busy. Because of that, we submitted a support ticket. We got an answer the next day, which is how long most services take to respond.
The Verdict
SOS Online Backup has upsides, including private encryption, NAS and mobile backup, fast download speeds and the ability to perform hybrid backups. That said, it's downsides packed more of a punch.
The lack of continuous backup, no access to your backup from the browser and a steep price prevent it from competing against the services on our best online backup list. If you can swallow the price, the deal isn't that bad, but we recommend making use of the free 30-day trial first.
Let us know what your thoughts on SOS Online Backup in the comments below. Thank you for reading.
Visit

SOS Online Backup