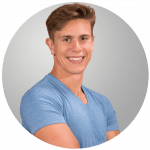 Mauricio Prinzlau
CEO & Co-Founder
Snap Shot
Mauricio Prinzlau is the CEO and co-founder of Cloudwards. He is at the helm of the company and steers a team of editors, writers and designers from around the world.
Background & Education
Mauricio began his career in online community management in 2007 before obtaining his bachelor's degree in business communication management in 2013.
Since then, Mauricio has worked relentlessly on making Cloudwards the best resource for individuals and businesses interested in cloud-based technology. Integrity and honesty are at the core of his business principles, and he is passionate about providing the public with balanced and fair reviews of cloud-based services. Mauricio's goal is to help people find solid solutions and make informed decisions through Cloudwards' content.
While Cloudwards is largely made up of VPN and cloud-based storage reviews, Mauricio has worked to expand the website to accommodate a range of technologies. Some of these include streaming devices, online security and project management software. Under Mauricio's leadership, the Cloudwards team continues to grow and develop at a rapid pace.
Media Inquiries
You can contact Mauricio at mauricio[at]cloudwards.net.
Recent Video
Last articles
Last Reviews