Best VPN for Hackers: The Ethical Hacker's Guide
Ethical hacking pros often go about their business in anonymity and bring their activity to light only when they find a vulnerability. As a student of the game, it might be difficult to remain completely anonymous, but the best VPN for hackers can help. Read on to find the best hacker VPN.
Key Takeaways:
ExpressVPN is the best VPN service for hackers, thanks to its fast speed, solid security and privacy.
NordVPN offers specialty servers for extra security and privacy, but the VPN's law-enforcement compliance policy is less privacy-friendly.
Surfshark is a secure, cheap VPN for hackers on a budget, with specialty multi-hop servers and "camouflage" mode.
Ethical hackers mimic malicious hackers to test the security of an organization's system or application. However, doing this without approval can get you into trouble; you could even end up in jail. It's better to stay anonymous until you achieve your goal, and the best VPN for hackers can help you in that regard.
Even if you have hacking approval, you're not immune from online dangers. Malicious hackers could penetrate your device if you access the internet directly. A VPN provides the security and privacy you need to keep online threats at bay. This guide will reveal the five top VPN services for hackers.
11/02/2023

Updated the article to reflect ExpressVPN's expansion of server presence from 94 to 105 countries.
Top Hacking VPNs
What Makes the Best VPN for Hackers?
If you're doing ethical hacking without proper approval, the organization you're looking to help could misinterpret your intentions if they catch you in the act. A good virtual private network should hide your real identity and prevent the organization from tracing any activity back to you.
Here are the top five VPNs that can keep you anonymous during ethical hacking:
You need one of the most secure VPNs with solid VPN protocol and encryption standards to send your traffic via an encrypted tunnel for a more anonymous experience. Learn more in our guide, does a VPN protect you from hackers?
The VPN provider should also come with a robust network of servers — ideally including multi-hop servers — to help you mask your real IP address and make it difficult for the organization to know your true location.
In addition, the VPN should offer a kill switch and complete protection against WebRTC, IP and DNS leaks. This prevents accidental leaks that could reveal your identity and location.
Privacy tools such as RAM-only servers also come in handy, as they ensure your browsing history is wiped from the servers to obscure your digital footprints.
A strict no-logs policy is important too, as that means the VPN provider would have no data or user logs to share even when coerced by government agencies.
The 5 Best VPNs for Hackers
We selected the best VPNs for penetration testers and vulnerability assessors. The VPN providers have the features you need to enhance your anonymity online but offer different bells and whistles to sweeten the deal. We'll discuss these details and pricing, starting with our best hacking VPN, ExpressVPN.
More details about ExpressVPN:
Pros:
Lightning-fast speeds
3,200+ RAM servers
Solid security & privacy
ExpressVPN is the best VPN for ethical hackers, and for good reason. With over 3,200 high-speed servers in 160 locations across 105 countries, it's easy to find a nearby server to mask your IP address that still offers fast speeds. All the servers are obfuscated, which means it looks like you're not even using a VPN.
In addition to having a strict no-logs policy, the VPN's servers are RAM-based, meaning they wipe your browsing history after every reboot, leaving no trace of your online activities.
ExpressVPN boasts secure protocols: the industry-standard OpenVPN and its proprietary Lightway protocol. The protocols work in unison with AES 256-bit encryption to ensure your traffic passes through an impregnable encrypted tunnel.
What's more, ExpressVPN offers WebRTC, IP and DNS leak protection to prevent catastrophic leaks that could blow your cover. The kill switch stops internet traffic when the VPN connection drops to keep your veil intact.
The Security Benefits of Perfect Forward Secrecy
If an organization notices a hacking infiltration and decides to read your internet traffic to trace the intruder, perfect forward secrecy (PFS) will be your first line of defense.
With PFS, your data encryption keys change regularly, meaning that even if the organization gets one key, they can't decrypt the entirety of the web traffic to reveal your IP address or identity.
The only downside with this VPN is that ExpressVPN is quite expensive, though you can buy the one-year plan to get a discount, and you can test it out with its 30-day money-back guarantee. ExpressVPN even lets you pay with Bitcoin for additional online anonymity. Read our full ExpressVPN review to learn more.
More details about NordVPN:
Pros:
Robust security & privacy
Obfuscated & double VPN servers
5,200+ RAM-based servers
Cons:
Law-enforcement compliance policy
NordVPN is a great VPN for hackers, with a large server network comprising more than 5,000 RAM-only servers in 60 countries. Its fleet of servers includes obfuscated servers, which hide the fact that you're using a VPN, allowing you to use the VPN service in restrictive countries.
Moreover, its double VPN servers send your traffic through two servers, making it even more difficult for anyone to track you — and if one of the servers fails or becomes compromised, your anonymity will still be protected by the other one.
NordVPN uses a custom implementation of the WireGuard VPN protocol (called NordLynx) with ChaCha20 encryption, plus a more typical combination of OpenVPN with AES-256.
This VPN has an array of security features, from solid encryption and VPN protocols to kill switch and DNS leak protection. NordVPN might have claimed the first spot except that the VPN updated its privacy policy in early 2022 to comply with legal requests from foreign law enforcement agencies.
Stop Malware Attacks With Threat Protection
As we mentioned earlier, being an ethical hacker doesn't make you immune to other online dangers. NordVPN's threat protection feature blocks malicious sites and web trackers, which could thwart schemes hackers could unleash on your network or device — from social engineering to DDoS attacks.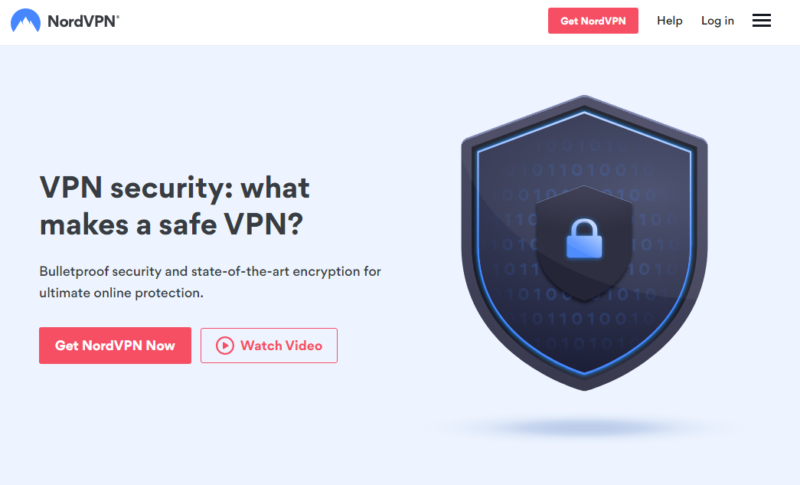 NordVPN's monthly plan is a bit expensive, but the two-year plan is the best deal. In fact, we think that NordVPN is the best cheap VPN. Like ExpressVPN, it supports anonymous payment via cryptocurrencies, as well as a 30-day money-back guarantee. You can read more about it in our NordVPN review.
More details about Surfshark:
Pros:
IP rotator
3,200+ RAM-only servers
MultiHop servers
Like our first two picks, Surfshark boasts a collection of robust security features — from VPN protocols and encryption to a kill switch and DNS leak protection. You also get more than 3,200 RAM-based servers in 95 countries, including specialty MultiHop servers (a version of double VPN).
In addition, Surfshark uses obfuscation technology (camouflage mode), though that only works with the OpenVPN protocol.
What's more, Surfshark offers a malware and ad blocker called CleanWeb to keep you protected from other hackers. Surfshark encrypts your traffic using the industry standard AES-256 cipher and it uses only the most secure protocols available: OpenVPN, WireGuard and IKEv2.
Hack Anonymously From Anywhere
If you're in a restrictive country, you might be interested in Surfshark's NoBorders mode. The feature, which is enabled by default, detects network restrictions and gives you a list of servers configured to bypass them. This way, not even China's Great Firewall will be able to stop you.
Surfshark is affordable on extended plans, with the two-year plan offering the best value for the money. Each plan offers a 30-day money-back guarantee and supports unlimited simultaneous connections. Read our comprehensive Surfshark review to learn more.
Surfshark Starter
Unlimited GB bandwidth, Unlimited devices, Secure VPN, Ad blocker, Cookie pop-up blocker.
Unlimited GB
Unlimited
Yes
Surfshark One
Everything in Starter, plus Antivirus protection, Identity protection, Email Breach and Credit Card Alerts, Online Alias
Unlimited GB
Unlimited
Surfshark One+
Everything in One, plus Data removal
Unlimited GB
Unlimited
More details about CyberGhost:
Pros:
8,000+ VPN servers
NoSpy servers
Smart Rules protection
CyberGhost is an easy-to-use privacy juggernaut that's up there with the best VPNs for hackers. It has the biggest VPN server network on this list, with over 8,000 servers in 91 countries.
The fleet includes NoSpy servers, which are privacy-centric VPN servers based in Romania (CyberGhost's headquarters) that prevent government seizure or access by unauthorized individuals.
CyberGhost blocks DNS domains that are known to be malicious or used for advertising to protect you from falling prey to other hackers. Beyond that, CyberGhost uses safe VPN protocols, including WireGuard and OpenVPN in tandem with AES-256 encryption for the highest level of security.
Always-On Protection With Smart Rules
The "smart rules" feature allows you to configure the VPN to establish a connection every time you open the apps you use during ethical hacking. Doing so ensures you always enjoy the best possible anonymity, and it comes in handy should you forget to switch on the VPN.
CyberGhost is affordable. Although the monthly plan is more pricey, it allows a 14-day money-back guarantee. You can get the best deals with its longer plans, which offer a 45-day money-back guarantee. Read our full CyberGhost review to learn more.
More details about Private Internet Access:
Pros:
All servers are RAM-based
Budget-friendly VPN
MACE blocks ads & malware
Cons:
Inconsistent upload speeds
Private Internet Access is a great VPN for hackers, and we recommend it if you use a Linux device. This is because the Linux app comes with a graphical user interface, which makes it easy to set up and use PIA on all Linux distros.
Beyond that, the PIA virtual private network has the usual basic security features, including a kill switch that will cut off your internet connection if the VPN isn't running.
PIA uses OpenVPN and WireGuard with AES-128 encryption, though you can increase the key size to 256 bits.
Additionally, it offers more than 30,000 VPN servers across 84 countries, which dwarfs the other VPNs on this list. There are no specialty servers, but all servers are RAM-based, meaning they expunge your browsing history to leave no trace of your online activity.
Block Malicious Websites With PIA MACE
PIA MACE blocks malicious websites and cross-site trackers, which could foil hackers' attempts to infiltrate your device or network. MACE works in a way that's faster than a normal ad blocker and it consumes less battery power on mobile.
Private Internet Access VPN is affordable — especially the three-year plan. Each plan supports 10 simultaneous connections and offers a 30-day money-back guarantee. Read our Private Internet Access review to learn more.
Final Thoughts
The best VPNs for hackers mask your IP address, making it difficult for organizations to track your activity. Doing so helps you stay anonymous so you can go about your business with minimal chances of getting caught in the act.
However, there's a major caveat: No VPN can make you 100% anonymous online. VPN services only bring you closer to total anonymity. If you intend to do ethical hacking without approval, we recommend using a VPN with Tor (see our best VPN for Tor guide).
Have you used a VPN when performing a vulnerability assessment or penetration testing? Which VPN service did you use? What are the principal benefits of using a VPN during ethical hacking? As always, thanks for reading.
FAQ
Yes, ethical hackers use ExpressVPN for extra anonymity and protection online.

We don't vouch for free VPN providers for hacking purposes, particularly when it comes to safeguarding user privacy and anonymity online. However, there are exceptions, such as Windscribe, which is a great option for hackers on a tight budget.