Best Free Proxy of 2023: Rerouting Your Traffic, the Easy Way
The easiest way to hide your IP address when you want to, for example, circumvent geoblocks, is to use a proxy. A proxy masks your IP address, the digits that tell the internet where you're from, with its own and fools the receiving server into thinking you're somewhere else. In this article, we'll help you spoof your location using the best free proxies we could find.
Note, though, that we said the easiest way to hide your IP, not the best. As we explain in our VPN vs. proxy vs. Tor article, proxies are inherently insecure and shouldn't be used for anything except spoofing your location, which you might want to do when, for instance, you're trying to unblock YouTube while at school or unblocking Youku from outside of China.
If you're trying to do something more substantial, such as, say, breaking out of the Great Firewall or dodging surveillance, using a proxy to hide what you're doing is like building body armor out of paper. It'll be wasted effort, and the results will be painful.
VPN vs. Proxy
As we show in our best VPN for Russia and best VPN for Iran articles, to name but two, some countries don't believe their citizens have the right to do whatever they want on the internet and have developed proxy-busting tech that'll reveal you in a millisecond. In those cases, you should use a virtual private network rather than a proxy.
As we explain in our VPN security piece, a VPN doesn't just fake an IP address, it actually reroutes your traffic through a secure tunnel — an encrypted connection — and onto a proprietary server owned by the provider. That's a much safer way of doing things that'll actually hide you from prying eyes.
An additional upside is that VPNs can do another thing proxies can't: get you into streaming websites such as Netflix. As we explain in our piece on the Netflix VPN ban, the service has made it hard to spoof your location to get into another country's version of it. Few VPNs can get in, let alone proxies, which will almost always result in a Netflix proxy error.
Choosing the Best Free Proxy
That's not to say proxies are useless, though. They're perfect for accessing websites such as YouTube while you're at school or work, and they'll usually unblock Instagram, too (though you can read our dedicated guide on how to unblock Instagram at school). It's best to think of them as the smaller, weaker siblings of VPNs. They're no good for the heavy lifting, but they do fine for smaller stuff.
You could use one of our best free VPN services instead, but proxies have the upside of never having bandwidth caps or reducing your speed too much. Plus, most free VPNs advertised in the Google and Apple stores are just glorified proxies anyway. That said, if you decide to go with a free VPN over a free proxy, read our list or you may end up with a scam service such as Hola VPN that'll enslave your devices for a botnet.
Dire warnings aside, the Cloudwards.net team dove into the world of proxies and chose the following services for your enjoyment. We based our selection on ease of use and connection speed because claims of security and the like are no more than hot air. Without further ado, let's get started.
The Best Free Proxies
We tested 15 proxies, based on recommendations from readers and some judicious Google searches. We were able to discard five proxies straight away because of broken websites or unintelligible instructions, leaving us with 10 contenders. Proxies are hit and miss, so we only recommend the first five entries.
Many of the proxies we were able to test are owned by VPN services, most likely piggybacking on the existing network. The best of the lot is HideMyAss's proxy, which is fast and straightforward to use. It offers several servers and security options, all of which can be accessed easily and pleasantly. It also runs at the speed of lightning, a rarity among proxies.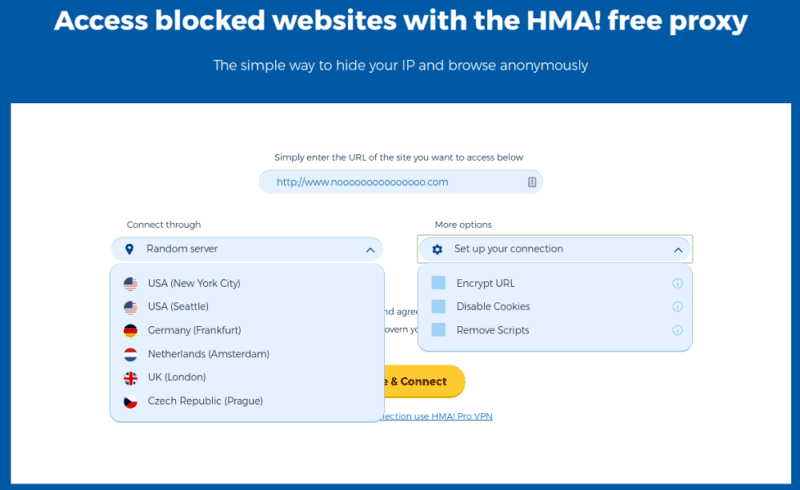 Once connected, the "try free VPN" button on the address bar is rather prominent, but that's the price of free. Another minor niggle is having to agree to HideMyAss's privacy policy, which isn't too hot. Read our full HideMyAss review for the details on that.
Hide.me's proxy is also an extension of the company's VPN service, which we weren't too impressed with when we were writing our Hide.me review. That said, its free plan ranked third among our best free VPNs, so there's some dedication to providing a decent free service to consumers without disposable income.
That dedication shows in the proxy, too. It's one of the better ones we encountered during our search, with a lot of handy security options and even a choice of servers. It's only three countries, but at least you know where you're connecting to. It's also fast and easy to use, but the fact that you need to enter a complete URL takes away from the experience.
4everproxy has the slickest presentation of the list. The website loads fast and lets you choose the server and IP address locations, meaning it probably routes your connection twice. Though we have our doubts about how well that works, it worked on some locations. We got a Spanish Google page and a U.S. YouTube offering when using corresponding servers.
It's also fast, occasionally even loading quicker than Hide.me's or HideMyAss's proxies. That said, its speed wasn't consistent, and we didn't always get to the version of the website we selected. Overall, though, you could do a lot worse than 4everproxy.
Zend2's website is basic, offering just an address bar and a quick explanation below it. We're not too thrilled that it puts VPNs and proxies on equal footing, but it's a decent summary.
When we tested Zend2, not all websites worked and we built up a small collection of apologetic messages. That said, when it did work, it was the fastest proxy on the list by far, so it may be worth looking into it in some cases.
ProxFree is a nice proxy because it gives you a lot more choices than its competition. For example, you can pick from 11 server locations and the same number of IP addresses. Below the address bar on the website, you also get several toggles that'll help speed up your web browsing experience or otherwise optimize it.

Messing with it, we could load YouTube without hassle, but we were annoyed that we had to return to the homepage each time we wanted to surf to a new website. One thing we didn't like, though, was that we got a 404 when we tried to access ProxFree's terms and conditions page.
Whoer is a new VPN service that seems to be offering its proxy as a bonus, but the free version only gives you access to one server, and it's in the Netherlands. Paying for a proxy is silly because you can get a VPN for the same money, so we rank Whoer low here, unless you need a Dutch IP address.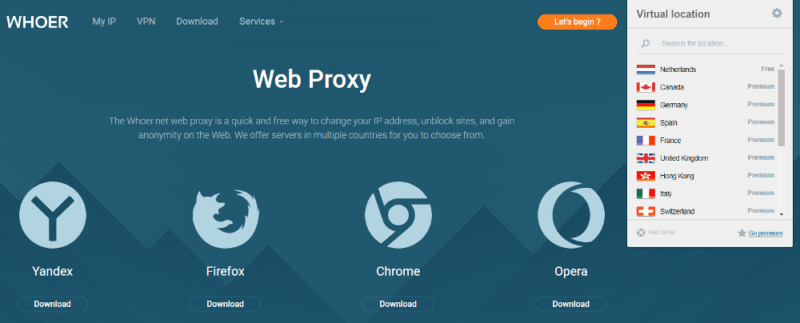 As with most services in this ranking, using Whoer is an exercise in patience. Websites take forever to load, so using YouTube is out. Another way in which Whoer raises our doubts is by only working as a browser extension, which makes it easy for the company to act in bad faith and hoover up your data. We found no evidence of that, but it's something to keep in mind.
ProxySite.com looks good when you first access it. It goes with the same address bar most proxies do, but in a larger format and it has a clear server switch button. It boasts 25 servers scattered throughout the U.S. and the EU, which is nice, but it'd be improved if we knew where in those massive areas the servers are located.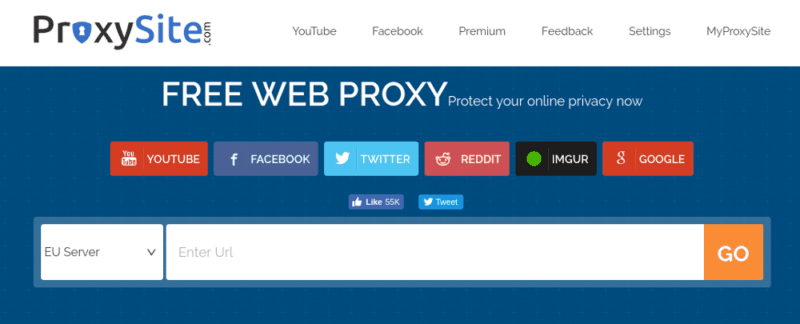 That said, when you use ProxySite.com, you're in for a really long wait. We tried several of the quick links over the address bar, but none loaded. We just got the bar at the top, which has a few security options and an ad for NordVPN (read our NordVPN review), showing the faith ProxySite.com puts in its own service, and a gray screen that didn't go anywhere.
Hidester offers VPN and proxy services, but after spending a few minutes with it, we gave up in disgust. Any website entered in the search bar took forever to load, with YouTube not loading at all, even after giving it a few minutes.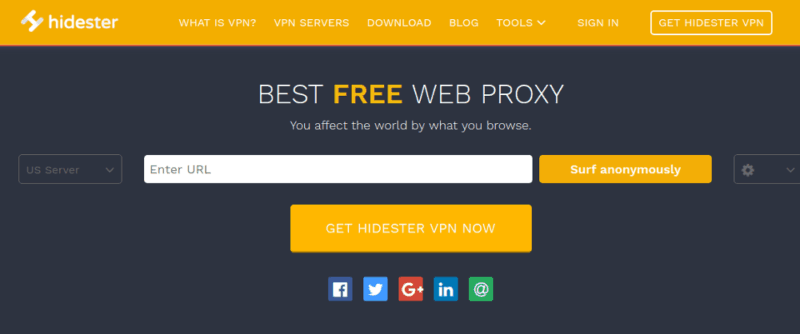 This experience made us dread reviewing Hidester's VPN because life is hard enough without testing subpar software. That said, it'll eventually show up in our best VPNs — we're completionists here at Cloudwards.net — just not any time soon.
KProxy seems nice at first. The website's layout is clear and it loads websites quickly. That said, a second glance shows there are problems. Though there are 10 servers available, it doesn't mention their locations. That means you have no idea where you're surfing from, which is annoying at best and dangerous at worst.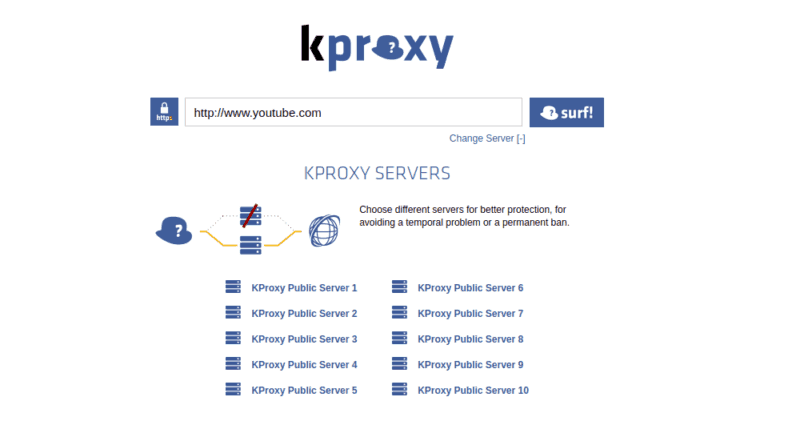 Those might be forgivable sins for some, but we take exception to KProxy's claim that its service is better than that of a VPN because those protocols are "easy to block and slow." That's not true and a sleazy way to herd people toward buying KProxy's paid plans.
Anonymouse is an interesting service in that it explains what it does and why you should use it in a, let's call it unique, manner. We'll let the webpage speak for itself in the below screenshot.
Though that's a reductionist way of explaining how it works, we guess it'll do. What won't do is that the service doesn't support HTTPS, which is vital in this age of cybercrime. When you finally get a website to work without it, it's slow as hell, so we don't recommend using it. We guess using "yahoo.com" as an example was a giveaway that Anonymouse isn't with the times.
Final Thoughts
While proxies shouldn't be the go-to to keep yourself secure online, they're a handy way to circumvent simple blocks, such as those put in place by school administrators and the like. That said, as you can see above, most proxies are just terrible. If they even work, they're slow as molasses and there's no guarantee your connection will be spoofed.
What do you think of proxies? Did we miss any during our tests? Do you agree with us that VPNs are a far better option? Let us know in the comments below and, as always, thank you for reading.