In this article, I'll compare Evernote vs OneNote, and explain in detail, why OneNote proved to be the better note-taking tool than Evernote.
I like to take notes while working and traveling, by using digital note-taking apps, such as Evernote and Microsoft's OneNote.
I started using Evernote almost four years ago for personal notes, and OneNote to write down work  related ones.
I moved to OneNote at work because it has an incredibly intuitive user interface and better organizational options (for text) than Evernote.
Also, its seamless integration with Microsoft Office makes OneNote a right collaboration choice in team environments.
Also, OneNote offers many of Evernote's paid features for free, including offline access to notes on mobile devices, and the ability to search within attachments.
Such features made a good case for the switch to OneNote, even for taking personal notes.
Evernote is still a good app, despite the company downsizing its operations and staff last year, but the former has recently shown tremendous improvements at a fast rate.
Table of Contents:
Topics covered:
Things to Look for When Selecting a Digital Note-Taking App:
Benefits Offered by Digital-Note Taking Apps:
The Showdown:
The Evernote vs OneNote Showdown:
Advantages of Evernote and OneNote:
Things to Look for When Selecting a Digital Note-Taking App
`1. User Interface
A user interface is one of the most important features to scrutinize in any digital note-taking app.
If the interface is user-friendly and responsive, it will result in the ability to take quick notes in the form of:
Text snippets
Audio recordings
Video clips
Also, with a straightforward interface, you can explore the app's various features quickly.
Hence, always look for a note-taking app with an intuitive interface, which supports quick navigation.
2. Cloud Synchronization
Digital note-taking apps offer me the ability to access notes from any device, irrespective of the app type in use.
However, if you use a note-taking tool that does not synchronize with a desktop computer via the cloud, it won't always offer anytime and anywhere access.
So, it is important to identify apps that provide easy cloud-synchronization.
And, the synchronization feature should be consistent for all versions of the tool, whether it is the desktop, the web or mobile versions.
3. Offline Access
Cloud access to notes requires an internet connection.
But at times, you may need to take a quick glance at notes stored on a mobile device, even in places where there's no internet connection (like airplanes)
In such a scenario, it's vital to look for a note tool that offers offline access to your notes on a mobile device.
4. Version History
People often take notes when they are in a hurry or when they want to save time.
And, such records often need to be edited before getting included in emails, documents, articles and so on.
If you accidentally delete notes or need to make significant modifications, being able to revert to a previous version without losing content is important.
So, I suggest going for a note-taking tool that maintains a version history of notes, and provides you with older or non-edited versions of notes, when required.
---
Benefits Offered by Digital-Note Taking Apps
1. Single Place Organization
Note-taking apps can write down notes in text form, or store an image, take a screenshot and even save an entire web page.
Such tools can maintain all your:
Ideas
Checklists
Reminders
Saved web pages
Documents
All in a single place, and make that data available wherever the Internet exists.
2. Collaboration
Since note-taking apps synchronize with the cloud, they offer an excellent scope for collaboration.
Some apps even allow different people to modify the same notes.
Cloud collaboration via notes is a useful feature, especially when working in a team environment.
You can also use the collaborative feature to share and modify trip itineraries, or expenses incurred by a party, or a trip with friends.
3. Alternative for Text Editing
Some people add web pages or videos to their notes, but I primarily use them to write text.
But, textual notes are prone to spelling errors, bad formatting, and other issues.
So, the fact that some of the note-taking tools can serve as a text editor allows you to format and organize them in a better way.
They even offer the ability to check the spelling of content, improving the quality of your notes.
You can also use some note apps to prepare a rough draft of articles or posts.
4. Clipping Web Pages
I often find useful information on the internet, that I store for future reference.
Hence, my bookmarks list keeps growing longer, which makes it difficult to search for saved information.
And that's where note-taking apps come in handy.
They possess the ability to clip entire web pages from the internet and store them as notes.
It is even possible to clip custom-sized screenshots, of a particular web page, and preserve them for later access.
5. Brainstorming
In this age of startups and innovations, many entrepreneurs and innovators get involved in brainstorming sessions, to discuss various ideas.
And that's why note-taking apps can be the ideal companion, as they can capture key points quickly and even take photos of content.
Similarly, you can quickly take screenshots, while browsing through different websites to research ideas.
You can also instantly share notes with an entire team or group.
Clearly, note-taking apps help save time during brainstorming sessions, as they provide the ability to share work  between members of a group.
Also, once the brainstorming session gets done, you can use the same note-taking tool to write down all your ideas, and a plan of action.
---
The Evernote vs. OneNote Showdown

Evernote and OneNote are two of the most useful and popular note-taking apps on the market today.
They may seem similar in nature when it comes to:
Organizing notes
Immediate multi-device syncing
Integration with third-party devices
But there are quite a few differences between them.
Which is why we're comparing Evernote vs OneNote, based on the main parameters relevant to note-taking tools.
Welcome to the Evernote vs OneNote showdown!
1. User Interfaces
Evernote
The first thing I noticed about Evernote's app interface is the lack of colors, which isn't a criticism, just an observation.
The second notable thing is the cluttered interface design, with its three-column view, where the columns denote:
The sidebar to navigate between notes and notebooks (left-most column)
A notebook containing various notes (middle column)
Notes (right-most column)
If you get bothered by many tiny details on-screen, consider removing the left sidebar, to make the interface easier on the eyes.
To do so, just reduce the window's width to less than 840 pixels.
Evernote also offers many options, to be flexible for different user requirements.
But, note taking should be a quick process, which is only possible if you understand the interface efficiently while managing it productively.
According to me, the amount of options offered by Evernote can sometimes cause confusion while taking notes.
Also, Evernote should use tabs, to give the interface a more organized feel.  
OneNote
The OneNote app interface resembles an actual notebook, which gives the impression of working with a digital notebook, feel all the more real.
When using OneNote for the first time, you will find the interface to be quite different to any other app, but still easy to understand.
Once I started using it regularly, I couldn't keep my hands off it.
In this app, you deal with a single notebook at a time, and each one has different sections, in the form of tabs, at the top.
Also, every section, of each notebook, has different pages identified by tabs visible in the sidebar on the left.
You can view the name of a notebook at the top-left corner, just below the "File" menu option.
The same drop-down selector can also help move around notebooks.
Moreover, OneNote's interface offers customizable formatting options, similar to the ones found in Microsoft Word, in the form of a Quick Access Bar that's visible at the extreme top.
Use this bar to insert or remove any action you want to perform in OneNote.
Thus, the user interface works well with quick navigation.
I further found the OneNote interface to be intuitive, clutter-free and user-friendly.
And, for me, a note-taking tool needs to offer such an interface, even if it means the app must compromise on certain features.
Winner: For me, OneNote emerges as the clear winner in this category because of it's easy to navigate, highly standardized and notebook-friendly interface.
---
2. Note Taking
Evernote
With Evernote's simple note-taking capabilities, you can create a note in standard paragraph style, tag and share it, and then set a quick time reminder for it.
However, it doesn't offer users the flexibility of inserting text boxes or content boxes, anywhere in a note.
But it does let users add checklists, highlighting, and more text in a note, along with decent formatting options.
However,  Evernote lacks enhanced options like templates and styles for content in a note.
Evernote is more suitable for writing simple notes, rather than highly stylized ones.
OneNote
OneNote uses organized structure to maintain my notes, in different sections of notebooks, via tabs.
If that wasn't enough, OneNote also gives me the freedom to write anywhere on a page, without any particular alignment restrictions.
It's thus similar to using a real, paper notebook.
You can insert:
And other content, anywhere on the page, and even paste different kinds of content on the same page in the form of boxes (which remain visible all the time and don't need to be clicked on).
Furthermore, OneNote offers formatting options similar to the ones available in Microsoft Word, ensuring familiarity.
So, apart from the basic fonts and color formatting, OneNote uses quick styles (for headers, footers, and more) that enable the rapid application of different fonts. 
It is also possible to customize every page and make it look great, by using gridlines, page sizes, and background color options
In fact, I like using readily available templates for notes or pages.
Winner: With its free-form canvas, flexible formatting options, and selection of styles and templates, OneNote holds a clear edge over Evernote.
---
3. Handwriting and Drawing
Evernote
Evernote does not support free-form drawings and treats any hand-made sketch as a photo.
Hence, including handwritten texts or drawings in a note becomes difficult.
However, you can make better drawings using a drawing tablet, rather than a desktop computer's mouse.
OneNote
OneNote's handwriting features are enhanced, as the app itself is a part of Microsoft's Surface product line.
Of course, it does import handwritten notes as images.
At the same time, OneNote enables you to write notes or draw, by hand, directly in the app.
And, with free-form canvas support, OneNote can add handwritten text to a page, along with images, web page clippings, and other text.
However, while writing or drawing by hand, the chances of errors increase, as there is no delete or backspace option.
But, OneNote takes care of this problem by offering an eraser to erase smudges or mistakes.
Also, OneNote provides various tools, such as highlighters, pens, graphs, and shapes, to assist you in writing and drawing by hand.
Winner: OneNote not only offers more tools for writing notes by hand than Evernote, but it also makes it convenient to embed handwritten texts in your notes. It is thus the clear winner here!
---
4. Working Together
Evernote
I have never been a fan of the limited collaboration features offered by Evernote, one of the main reasons I switched to OneNote at work.
Evernote only allows one user to edit a note at a time.
This restriction takes up a lot of time and reduces group functionality, as every member has to wait till another one completes his or her edits, before they can do the same.
OneNote
OneNote integrates well with OneDrive's cloud system, which enables it to provide excellent collaboration features.   
Also, if you're working in a group, many members can make changes to a note simultaneously.
And, you can activate the "edit highlighting" feature, to see the initials of a user who made changes in a note.
I also enjoyed viewing comments written by authors in a note.
Such a level of collaboration is quite similar to the fantastic Google Docs service.
Winner: OneNote is notches above Evernote in this category,  thanks to its advanced collaboration features, including tracking revisions by an author, and displaying author comments.
---
5. Web Page Clipping
Evernote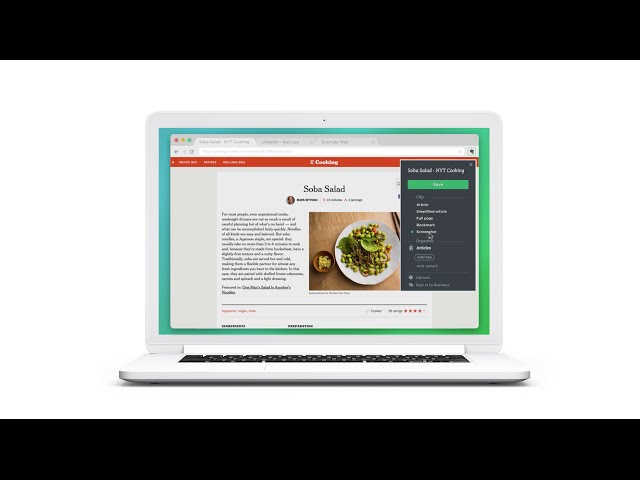 Evernote's web clipper is flexible and can clip web pages more precisely than OneNote.
It also enables you to highlight specific portions of a web page, before clipping it, and assists when clipping a full web page too.
Complete with full articles, all its content, alongside a simplified version of the article, bookmarks, and custom-size screenshots.
It also gives you the ability to annotate results.
Unlike OneNote, Evernote users can pick a location to save clipped articles or screenshots.
OneNote
OneNote's web clipper enables users to clip web pages from the internet, and always stores them in Quick Notes.
Thus, it denies users the ability to select a storage location.
You will have to manually move the clipped web page to a preferred storage location.
However, you can now select the section in which store a note, without having to leave the browser for a different window
Winner: With the more flexible and robust web clipper, Evernote wins here!
---
6. Plans and Pricing
Evernote
The Evernote app offers the following packages:
Basic – Free of cost, 60MB of storage, and sync across two devices
Plus –  $25.00 per year, 1GB of storage, sync across all devices, customer support via email
Premium – $50.00 per year, 10GB of storage, sync across all devices, customer support via email or live chat
Business – $12.00 per user per month, all Premium package functionalities, new admin and team features
OneNote
This digital note-taking solution is free of cost.
Hence, all the features discussed above, as well as 5GB of storage, are available for free with OneNote.
Winner: OneNote emerges as the winner here as it offers more with its free package. In fact, OneNote offers many of Evernote's paid features, such as PDF annotations and search in attachments, for free.
---
Advantages of Evernote and OneNote
Pros of Evernote over OneNote
Evernote's search function can use Google search to trace notes written in it
It is possible to add reminders to Evernote via the alarm clock icon quickly
OneNote users need to create a task in Outlook and add a reminder to that task
Evernote can select any text in a note to encrypt (password protect) it
OneNote can only encrypt entire notebooks if one has Microsoft Office
Pros of OneNote over Evernote
  OneNote offers offline access to its notebooks for free
  You need a paid Evernote subscription for offline access
OneNote can help solve advanced math equations (including calculus)
OneNote integrates extremely well with Microsoft Office applications
OneNote exports entire pages into PDF, HTML or Word formats
Evernote can only export notes proprietary Evernote, HTML or XML formats
OneNote offers around 5GB of storage space for free
Evernote only offers 60MB (per month) of free storage
---
The Verdict
Having compared the Evernote vs OneNote apps, it's pretty clear that OneNote emerges as the overall winner.
OneNote offers:
An infinite (free-form) canvas
A more organized layout
An intuitive user interface
Flexible formatting options
The app also offers excellent collaboration features, which are reminiscent of the highly acclaimed Google Docs.
Moreover, even though Evernote offers better encryption and a more functional web clipping feature, OneNote still proves to be the better note-taking tool.
With enhanced support for handwriting and hand-made drawings, OneNote also serves as the ideal digital notebook.
Have you used Evernote or OneNote yet, or are you planning on using them soon?
Please feel free to write your queries, views or experiences in the comments section below.