Most Secure Browser in 2023: Which Web Browser Has the Best Security?
Nearly everyone today uses the internet for something, but only a fraction of users are fully aware of the security risks that exist online. The internet requires a web browser to use, so it's not surprising that cybercriminals work tirelessly to exploit vulnerable web browsers for their illicit activities.
If you don't think you're "important" enough for cybercriminals to take notice of you, think again. Everyone could wind up being a victim of malware, data theft or worse. In this article, we'll take a look at five secure web browsers and see which one is the most secure browser.
Key Takeaways:
Good security may come at the cost of other important qualities, such as privacy or performance.
Security and privacy are similar but distinct concepts. Security refers to defenses against external threats such as malware or phishing, while privacy refers to the exposure of a user's personal data to third parties.
Most secure browsers use Google Safe Browsing to check web addresses against a database of known malicious URLs.
To make a long story short, we think Puffin is the most secure browser. Puffin takes an unusual approach to browser security by "streaming" mirrored copies of web pages from the developer's cloud servers to the browser rather than loading code on the user's device. Any malware that might try to infect your device won't go beyond Puffin's servers.
That's our number one choice, but it might not be the right browser for everyone. Let's take our time exploring the many qualities that make a secure browser.
01/31/2022

Updated list by adding Tor and removing Tenta.
Puffin is the most secure browser we know of. Unlike other browsers, its cloud-based security model keeps malware from loading on the user's device.

Brave is among the most private browsers because it's designed with several built-in privacy features. Chrome is the least private browser on this list.
Top Secure Web Browsers
What Makes the Most Secure Browser?
There's more than just one factor that goes into making a browser secure from external threats. The criteria we'll be making our choices with fall into the categories of detecting and blocking malicious content, creating secure connections and producing clear notifications.
Sometimes one security criterion can conflict with another. For example, privacy and security are not the same thing, and they often compete with each other. Security refers to a browser's defenses against external cyber threats such as malware and phishing, while privacy refers to the exposure of your personal data to third parties, including the browser developer itself.
Good security often requires more data collection from the browser developer in order to provide a strong defense against malicious websites. Better privacy, on the other hand, might require a sacrifice in security.
Another major trade-off takes place between security and performance. The resources required to maintain a strong set of security defenses often results in a reduction in speed. Puffin is a good example of this.
There are a lot of secure browsers to choose from, but here are our top five secure browsers.
Since Google maintains the most comprehensive database of known malicious websites, Google Safe Browsing has become the standard for reliable browser security. You'll notice most of the above browsers use Google Safe Browsing to defend against malware and phishing sites, but each offers different features.
Knowing which browser is right for you will depend on what kind of security features you need. You may value some features over others, which could include things like secure password storage; ad, tracker and cookie blockers; HTTPS Everywhere or other things.
The 5 Most Secure Browsers
Now that we've made our selections, let's take a look into the fine details of these five secure browsers.
Pros:
Excellent cloud-based security
Efficient RAM usage
Cons:
Slow
Requires subscription
Few features on desktop
No other browser we've seen relies on cloud technology for security. Puffin — the best browser for Android — loads websites server-side and sends a compressed copy to the user so that none of the website's code actually runs on the user's device.
Cloud-Based Security
If any malware lurking on a website attempts to infect the user's device, the malware will travel no further than Puffin's servers, thus protecting the end user. It's an unorthodox security model that makes all of our usual criteria irrelevant, as there's simply no need for malware databases or sandboxing if the websites are loading on the company's servers.
Browsing the web through a remote intermediary server makes Puffin somewhat like a VPN, although a VPN is a much more robust security tool overall. Check out our article on the 10 best VPN providers for more information on taking your internet security and privacy to the next level.
Puffin's major disadvantage is its slow speed, which is a direct consequence of its solid security model. Puffin is one of the slowest browsers we've reviewed, at least on desktop. The mobile version is a lot faster and includes more features too. This is a nice upgrade from the rather bare-bones desktop version of Puffin.
What Puffin lacks in speed is made up for in efficient RAM usage. It makes sense that the end user's device wouldn't be overburdened with excessive resource consumption if the websites are being loaded on a remote server. Puffin (at least for desktop) is the opposite of Chrome in this regard, as Chrome has acquired a reputation for being fast but resource-hungry.
Puffin also requires a subscription to use on desktop. Its Android and iOS app are free, but the ad blocker can only be unlocked by paying full price. Even though its $2 per month or $12 per year price tag isn't that expensive, the majority of internet users probably won't pay for something that's usually free.
On the whole, Puffin is an excellent browser if security is your number one priority. Read our complete Puffin review here for a comprehensive look.
Pros:
Built-in privacy & security
Fast & memory-efficient
In-browser crypto wallet
Privacy-based advertising model
Brave — our best browser for Mac — was created to be a private and secure browser by design. While it excels in security and privacy, it also has far more built-in features than Puffin. It's a Chromium-based browser that uses Google Safe Browsing as its security base and builds additional defenses up from there.
Built-in Privacy and Security
Brave features built-in ad blocking by default, so there's no need to download a third-party extension. Ads are a major vector for malware infection, so the threat they pose is more than just an annoyance.
This browser will also block cookies, scripts and browser fingerprinting at varying levels of intensity. You can select what to block and how strict the defenses are. The more strictly Brave blocks malicious content, the more likely it is that some websites will malfunction. All of these features can be found in the "shields" menu in the Brave icon beside the address bar.
Brave takes care of insecure HTTP connections as well. It has HTTPS Everywhere enabled by default, which will automatically connect to a website over HTTPS if both HTTP and HTTPS are available. The browser will issue a warning in the address bar if a website is only available over an unencrypted connection.
Brave is full of novel features not found in most other browsers, one of which is the option to browse the web through Tor. The only other browser to offer in-browser Tor access is the Tor Browser itself, and we'll cover the Tor Network in more depth later in the article.
One of Brave's major cons is its infrequent updates. It only issues security updates once every three weeks, which gives cybercriminals plenty of time to exploit unattended vulnerabilities.
Brave is compatible with the extensions in the Chrome web store since it's based on Chromium (read our Chromium vs Chrome guide to learn more). We think Brave is a secure enough browser on its own, but you can add as many extensions as you see fit if you find Brave is lacking something.
Brave is a unique browser that's not just concerned with private and secure web browsing, but also with integrating its browser with emerging crypto and Web 3.0 technologies. Check out our full Brave review here for more info.
Pros:
Easy to use
Fast
Largest library of extensions
Syncs across multiple devices & Google services
Chrome is without a doubt the most popular web browser in the world. It set the standard for modern web design with its easy-to-use interface and massive library of extensions, including the best browser security extensions and privacy extensions.
Many of its successors such as Firefox have outpaced Chrome in terms of privacy (read our Firefox vs Chrome guide to learn more). However, the world's favorite browser still does a good job of keeping its users protected from malware, phishing and other threats.
Industry-Standard Safe Browsing Database
Google maintains a vast database of known malicious URLs. Google Safe Browsing effectively protects the whole internet, since it's used by the majority of contemporary web browsers. It checks web addresses against the database and will alert you if you try connecting to one.
No one is faster than Google at discovering and patching vulnerabilities. Google consistently issues patches for security flaws within days or even hours of discovery. Paired with Chrome's automatic updates, even the least cautious internet user is well protected against cyber threats.
Chrome lets you block JavaScript code on individual web pages and clearly alerts you if you visit a website over an unencrypted HTTP connection. You can configure the permissions of individual websites by clicking on the padlock icon on the left side of the address bar and opening "site settings."
Even though Chrome is good at protecting users against external threats, Google itself is a major threat to your privacy. Google makes its money by collecting its users' personal data and using it to create targeted ads and personalized services. All of Google's products, including Chrome, collect information on your browsing habits for this purpose, although it's possible to opt out of some of it.
Chrome is rather plain without any extensions, and it doesn't contain a built-in ad blocker like many other browsers on this list. It's not a major downside, since you can easily download the best free ad-blocking extension in the Chrome web store, although adding too many extensions to your browser can slow it down and consume a lot of RAM.
Chrome has acquired a reputation for devouring large amounts of RAM despite delivering fast speeds (read our Opera vs Chrome guide to see how the two compare). Thankfully, it redeemed itself when the developers alleviated its appetite for RAM with a March 2021 update. You can read a detailed analysis in our full Chrome review.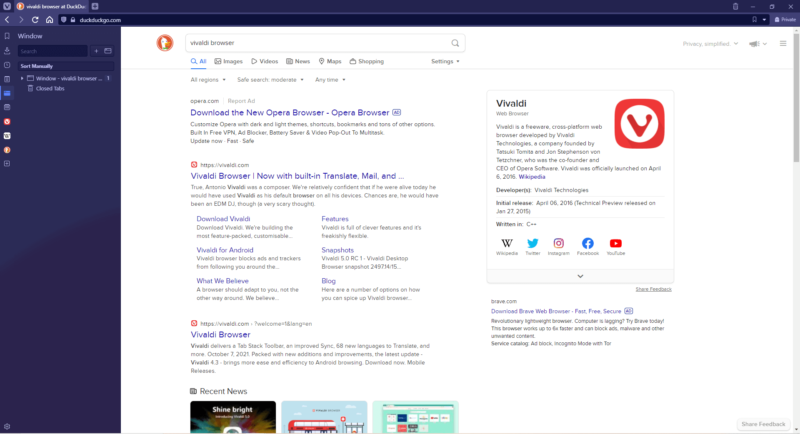 Pros:
Fast update cycle
Lots of features
Very customizable
Great for power users
Cons:
No iOS version
Android app is less user-friendly
Vivaldi covers the basics with Google Safe Browsing and compatibility with Chrome extensions. Users are well protected against phishing and malware as a given. Its major security benefit is its update frequency. Vivaldi issues security patches every one to two weeks on average, so that narrows the window of opportunity for cybercriminals to target outdated web browsers.
Vivaldi Browser Security
You also have the option of allowing or blocking JavaScript on a site-by-site basis. If you click on the padlock icon in the address bar and open "site settings," you will see an extensive menu of permission controls for functions such as your location, camera, microphone, payment handlers and much more.
Aside from these security advantages, Vivaldi is a noteworthy browser for being the most customizable browser we've ever seen. It comes with enough features to make extensions almost unnecessary and can be configured to your precise needs. If Vivaldi isn't enough on its own, you still have the option of adding Chrome extensions.
To round it out, Vivaldi is one of the fastest browsers and it's efficient when it comes to RAM usage. Take a look at our full Vivaldi review for more information on this standout browser if you're a power user.
Pros:
Accesses the Tor network directly
Anonymizes your IP address
Cons:
Slow & inconsistent speeds
Inherent security risks
High RAM usage
Some websites block Tor
This browser is a special case. Its whole purpose is to access the Tor network without the help of external software. Tor is a network of volunteer-run proxies that can hide your identity and access .onion websites hidden on the deep web. Tor is a more complex piece of technology than a browser or a virtual private network, and so the Tor Browser is not ideal for everyday use.
Access the Deep Web
The nature of Tor is both a blessing and a curse. When you connect to the network, your connection travels through an encrypted chain of proxies before it reaches your destination website. Your IP address is hidden by the last node in the chain (the exit node), thus keeping your identity concealed from the website.
You can hide your tracks while accessing sites on the deep web that only Tor and similar technology can give you access to. However, this same network structure exposes the content of your communications to whoever is operating the exit node, and there's no way to vet the countless volunteer-run nodes on the Tor network.
Many cybercriminals operate Tor nodes for spreading malware and stealing personal information, and some law enforcement agencies also run nodes of their own to catch these criminals.
Tor can be a useful tool if you know what you're doing, but it's important that you first understand what Tor is and what it isn't. We have an in-depth article on the differences between Tor, proxies and VPNs here, and one on the deep/dark web here.
The Tor Browser is based on Firefox's Quantum browser engine and defends against malware with Google Safe Browsing. Since it's built on Firefox, it can be customized with extensions from Mozilla's library of Firefox add-ons. Two are already installed by default: HTTPS-Only mode and NoScript.
Tor Browser Security Features
All connections are encrypted when HTTPS-Only mode is enabled, unless you visit a website only available in HTTP. The browser will notify you if you access a website in HTTP by showing an icon of a padlock with a red stroke through it. NoScript automatically blocks JavaScript code except on websites you designate as trustworthy.
Its security configuration comes in three levels: standard, safer, and safest. All website features are enabled in the standard mode, and the two subsequent modes disable various website features to mitigate the possibility of a malware infection.
Some functionality may be lost in "safer" mode, and everything but basic features for static sites is disabled in "safest." Functionality will definitely be impacted in this mode. There's a lot more to say about the Tor Browser and Tor in general, so take a look at our Tor Browser review for the complete picture.
Final Thoughts
There will always be trade-offs no matter which browser you use. Puffin is the pinnacle of browser security, and for that reason alone we give it high praise, even if it's lacking in features and speed. Some users will need the strongest security available, while others will need a more balanced browser for their work, school or personal activities.
What do you think is the most secure web browser? Does Puffin provide the best possible protection, or do you think there's another browser with better security? Do you need the strongest security possible, or do you think the trade-offs are worth it? Let us know what you think in the comments below, and as always, thanks for reading.