Visit

Vivaldi
Lots of features
Customizable
Low RAM consumption
Vivaldi Review
As a spin-off of Opera, Vivaldi takes the best of its parent browser and pushes customizability to the limit. It's loaded with features you'd normally download an extension for and it doesn't collect much user data, so this is a great browser if you're a power user. Check out more details in this full Vivaldi review.
The co-founder and former CEO of Opera, Jón Stephenson von Tetzchner, left the company to develop his own browser in 2016. The result is Vivaldi, a versatile and feature-rich web browser made to be as customizable as possible. It's flexible, customizable and better about privacy than most major browsers, so there's a lot to cover in our Vivaldi review.
Key Takeaways:
The Vivaldi web browser is intended to be a customizable and fully featured browser that doesn't need extensions. It's a great browser for power users.
Vivaldi collects little data on its users and doesn't sell the data it does collect to third parties.
Vivaldi is a Chromium-based browser and will therefore work with most extensions in the Chrome web store.
The Vivaldi browser not only has abundant features right out of the box, but its customizable nature makes it flexible enough for almost any user's needs, whether for personal or professional use. In fact, the underlying philosophy of Vivaldi is based on already having enough tools that you shouldn't need to download any extensions at all.
Nevertheless, most Chrome extensions will work with the browser if you still need additional capabilities. Vivaldi is based on Google's open-source framework Chromium, as most web browsers are in this day and age, but Vivaldi departs substantially from Chrome in several ways, as we'll see throughout this review.
12/12/2021

Cloudwards completed a fresh review of Vivaldi, with new performance results as well as new features and security measures.
There's a lot to appreciate about Firefox, but you may find yourself downloading plenty of extensions because it doesn't come with as many features as Vivaldi. Vivaldi is also faster and uses memory more efficiently than Firefox.

Yes, it is safe to download and use Vivaldi on your devices. It's also a better browser for privacy than many of its rivals, especially Chrome.

Vivaldi includes more features and customization options than Brave, but Brave outperforms Vivaldi in terms of privacy.

Opera turned out to be the faster browser in our tests, but Vivaldi respects its users' privacy more than Opera, and comes with more features.
Vivaldi Review: Alternatives
Vivaldi: Strengths & Weaknesses
Pros:
Lots of features
Customizable
Low RAM consumption
Great for power users
Cons:
No iOS version
Mobile version is less user-friendly than on desktop
Features
While most Chromium-based browsers are relatively bare on their own and rely on the Chrome web store for additional functionality, Vivaldi includes plenty of features you would otherwise download an extension for.
Extensions
Vivaldi's basis in Chromium means you won't have to miss out on the thousands of extensions available in the Chrome web store. Vivaldi is already overflowing with features and customizability options, but access to the Chrome web store means Vivaldi can be further augmented to do almost anything.
Once you've installed an extension, an icon for that feature will appear in the address bar. You can rearrange the order of the icons or conceal them entirely under the extension toggle button to keep the browser interface simple.
Almost all Chrome extensions work with Vivaldi, but some extensions intended for Chrome might encounter errors when installed on Vivaldi. You may also slow down the browser's performance if you have too many extensions installed at once.
Device Sync
Logging in to your browser is even more important in Vivaldi than in other browsers due to its customizability. By creating a Vivaldi account, you can synchronize your settings and browser data across your other devices for a seamless browser experience.
On a browser as customizable and feature-rich as Vivaldi, it can be inconvenient to configure your browser to your needs on desktop and lose the same configuration settings and saved data when browsing on your smartphone or tablet.
Multiple Users
This is also why it's especially useful to separate users into their own Vivaldi profiles. A single account can encompass multiple users and keep each user's configuration settings and Vivaldi browser data separate.
Aside from the privacy benefits of separating user profiles on a shared device, all users can customize their browser to their needs without disrupting someone else's configuration or having someone else interfere with theirs.
PDF Reader
Vivaldi's PDF reader is identical to Chrome's in almost every respect. The PDF reader consists of a single black bar running across the top of the document with basic tools, while the document takes up the rest of the page. The only major difference we noticed was the "add page to web panel" option in the context menu when right-clicking over a PDF document.
Themes
Context Menu
The context menu is mainly limited to basic features despite being an otherwise feature-loaded browser. Aside from the usual navigation and text controls, Vivaldi's context menu has both a "bookmark page" option as well as an "add page to web panel" option.
When selecting text, Vivaldi has two copy options: the standard "copy" function common to all browsers and operating systems, and the "copy to note" action. The latter will automatically transfer your selected text to a note in the web panel alongside a link and screenshot of the page with your selected text.
If you've selected a passage of text in another language, the "translate" option will open a browser window containing both the original text and a translation from Lingvanex into the browser's default language.
The context menu contains a submenu of three tools under "developer tools" called "validate," "view page source" and "inspect." While Chrome and other Chromium browsers include the latter two actions in their context menus, Vivaldi includes a "validate" function used by web developers for checking HTML code for errors.
Highlighted text can be searched directly from the context menu through Bing, Vivaldi's default search engine. Beneath the Bing search option is an option entitled "search with," which opens a submenu of eight other search engines.
These include Yahoo, Neeva, Ecosia, Startpage.com, Wikipedia, Google and DuckDuckGo (the default search engine in private mode). Users can change the default search engine to any search engine they like by going into "settings," then "search."
Ease of Use
Vivaldi manages to keep a clean interface despite the large number of tools and features stowed away under the hood. It's available for Windows, macOS, Linux and Android, but not iOS (it's one of the best browsers for Mac). Vivaldi is based on Chromium and works somewhat like Chrome, but much of its functionality and appearance departs from Chrome itself.
The browser can be used with or without signing in to your account, but staying signed in will let you keep your unique setup separate from other users if you're using a shared device.
The start page on both desktop and mobile contains a set of popular websites under the heading "speed dial." Each speed dial website leads to some of the most-visited sites on the internet including YouTube, Amazon, Disney+ and many others so you can quickly reach your destination. Speed dial also lets you add your own websites for easy access.
Web Pages on Desktop
Vivaldi contains a lot of in-browser features without overwhelming the user with an excess of graphic elements. Most of the browser's menus and gadgets are filed away in the side panel on the left side of the screen, which you can keep out of view entirely. You can also change its position or widen it enough to see the details of its several menus.
The side panel features several buttons, starting with bookmarks, followed by your browsing history, notes, window info, Vivaldi help resources, a Wikipedia button and the option to add another website to the panel for quick access.
This is where you can integrate your calendar, feeds, contacts and mail client into your browser. The Vivaldi mail client supports IMAP and POP3 so you can integrate almost any email provider in the browser and manage mail from multiple accounts at once.
The side panel acts as a window within a window when you use it to access another website. Having Wikipedia or a search engine available in the side panel is a useful tool to have on hand to quickly reference something without navigating away from your active tab.
Bookmark Management
The side panel contains an interface for writing notes. It's similar to bookmarking web pages, but you can write notes for any web page and navigate to the web page through the note itself. When you write a note, Vivaldi will automatically capture a screenshot of the page you're on and store it alongside the note.
You can organize your notes with folders and separators, and even view deleted notes in the trash bin. The trash bin can be emptied at any time, just as you would empty your recycle bin on a Windows desktop.
The bookmark feature is pretty straightforward. Vivaldi includes helpful labeling features in this feature, where you can bookmark a page and assign to it a title, nickname and a description. If there are any images on the web page, the first one will be displayed beside the bookmark.
The windows tab on the side panel displays information on all tabs inside the window, both open and closed. If your tab bar gets too crowded, this side panel is perfect for clearly viewing each tab in a vertical list. Just like with the notes trash bin, the closed tabs heading contains a history of all closed tabs that can be permanently deleted at any time.
Browser Window & Tab Management
Vivaldi's tab bar is made to handle a lot of tabs. Even with more than 300 tabs open at once, the browser still displays every tab in the tab bar without going off-screen, albeit in an inconveniently narrow resolution. Navigating through your tabs is made easy by viewing them in a vertical list in the side panel.
Even then, managing a large number of tabs at once can be a major hassle. Stacking your tabs is a great way to keep each of your tabs sorted by relevance. This filing system is just like creating folders and subfolders on your operating system, and it's displayed in the side panel as such.
When two or more tabs of the same website are open at once, the "stack tabs by host" option will appear in the context menu and collapse several tabs into one. When the tab host is open, a second tab bar will appear underneath the main tab bar where all of the secondary tabs will be displayed.
From here you can open new tabs to add to your tab stack. Navigating away from the stack will make the second tab bar disappear until you click on the host tab again.
If your tabs are taking up too much of your system's resources, right-click on the tab and click "hibernate tab." The tab will still be open, but none of the content will be loaded until you click on it again. This feature comes in handy if your browser is slowing down under the weight of all of your active tabs. You can hibernate individual tabs as well as entire stacks.
Alternatively, Vivaldi gives you the option of periodically reloading tabs after a preset interval of time. Tabs can be reloaded after one, two, five, 10 and 30 minutes.
Mobile
The mobile app is mostly the same as its desktop counterpart, and it's pretty easy to use. However, some of its features can be a little more laborious than other Android browsers.
Vivaldi's mobile version retains most of the desktop browser's features, but some of them need to be manually enabled first. This is the case with tab stacking and the start page Vivaldi icon in the address bar (which can only be enabled if the address bar is displayed at the bottom of the screen).
The Android version of Vivaldi is one of the few mobile browsers that displays tabs at the top (or bottom) of the page just like a desktop browser; one of the reasons it's a great browser for Android. However, the vertical resolution doesn't leave room for more than two tabs.
Tab stacking is possible, but it's not as elegant as it is on the desktop version. You can assign multiple tabs to a group within the browser when at least two ungrouped tabs are open at once. Mobile tab stacking involves tapping through multiple menus and submenus before you arrive at your desired tab, and can get confusing if you have several open tabs.
Performance
We sent Vivaldi through three speed tests alongside Chrome, Mozilla Firefox, Microsoft Edge, Brave and Opera. Vivaldi was one of the slower browsers among these, but not the slowest.
Even though it received a lower score than most of these browsers, in practice Vivaldi is still one of the fastest browsers. We were able to browse the internet with several tabs open at once, send emails and watch HD videos without any noticeable latency at all.
Vivaldi was overall slower than Brave and Chrome, but it uses less RAM than Brave and Firefox at low and high loads. Fortunately, Vivaldi users have the option to hibernate inactive tabs in order to consume fewer resources without actually closing the tabs.
Some users need to have several services and websites available at once even if they aren't being used at that exact moment, which is especially the case for those who work remotely. The hibernating website will reload from scratch as soon as you click on it.
| Benchmark Test: | Speedometer |
| --- | --- |
| Browser | Runs per Minute |
| Chrome | 121 |
| Brave | 102 |
| Firefox | 95.5 |
| OpBraveera | 116.6 |
| Vivaldi | 97.3 |
| Microsoft Edge | 131 |
| Benchmark Test: | Jetstream |
| --- | --- |
| Browser | Score |
| Chrome | 125.917 |
| Brave | 116.936 |
| Firefox | 80.131 |
| Opera | 121.802 |
| Vivaldi | 116.540 |
| Microsoft Edge | 134 |
| Benchmark Test: | Motion Mark |
| --- | --- |
| Browser | Score |
| Chrome | 496.32 |
| Brave | 444.67 |
| Firefox | 145.93 |
| Opera | 373.27 |
| Vivaldi | 285.25 |
| Microsoft Edge | 517 |
Security
Vivaldi outsources its security capabilities from Google Safe Browsing, the standard security database for Chromium browsers. It protects users from online threats like malware, malicious files and phishing websites by checking the websites against a database of known malicious URLs.
Vivaldi will notify you with a warning sign if you connect to a website over an unsecure HTTP connection. Like in Chrome, the text "not secure" will appear to the left of the URL where the padlock would be if the connection was in HTTPS.
Privacy
Unlike browsers from major tech corporations like Google and Microsoft, Vivaldi does not make its users trade their privacy for features. Vivaldi's terse privacy policy affirms that the browser won't collect your personal data and send it to the company or any third parties, at least not without your explicit consent.
According to Vivaldi's privacy policy, only usage information is sent to Vivaldi's servers. This includes your unique user ID, the browser version, CPU architecture, screen resolution and the time since the last set of data was sent.
The last eight digits of your IP address are concealed when the browser delivers this data. Information that could reveal your identity more directly — browsing history, full IPs and searched keywords to name a few — are stored in the browser and are never transmitted anywhere else. Vivaldi does not sell your information to third parties.
Vivaldi Privacy Settings
Cookies are among the worst threats to your privacy, especially if you let several of them track you at once. Vivaldi includes basic protections against blocking cookies but lacks advanced controls for certain types of cookies.
The extent of Vivaldi's cookie-blocking capabilities consists of either accepting or blocking all cookies without much choice in the middle. There is a separate menu for disabling or allowing all third-party cookies, or blocking them in incognito mode only. However, Vivaldi does not distinguish between trackers, cryptominers, cross-site cookies and other kinds.
As explained above, Vivaldi borrows some of Google's APIs for purposes like cybersecurity, autofill and searching the web. This means that data the browser itself doesn't collect may still be collected by Google. All Google-based features can be manually disabled if you want to tighten up your privacy.
The level of your security and privacy ultimately depends on how you choose to use technology, so there is no substitute for practicing secure cybersecurity habits. Check out our anonymous browsing guide to learn the fundamentals of protecting your privacy online.
Private Window
Browsing the web without saving your search history, cookies or download history can be accomplished by launching Vivaldi in a private window. Much of your browser data will disappear without a trace as soon as you close the private window.
It must be noted that this mode does not conceal your activities from the websites you visit or from your ISP, as some are tempted to think. Private windows do not create safe browsing. Its main purpose is to keep your activities hidden from others using the same device, such as when you need to log in to an account from a public or shared computer.
Because all open private windows share the same session, you will have to close each of them to erase your data. Until then, some session data will be stored within the browser. Downloads are not affected by the private window; if you download a malicious file, the private mode will not protect you.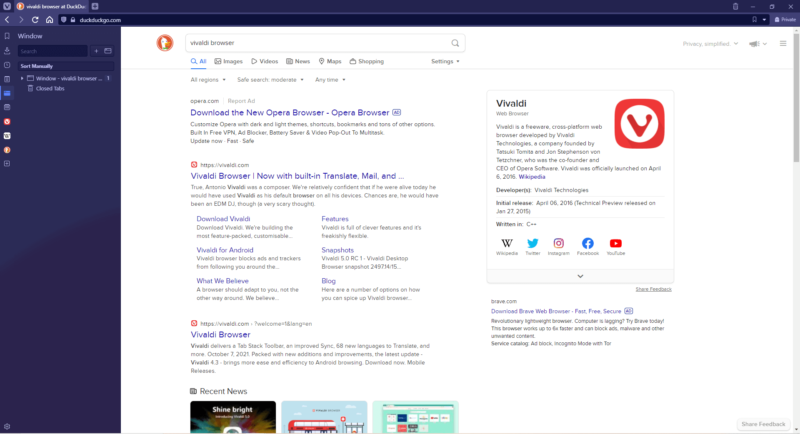 Private browsing modes have their uses, but the privacy they offer is limited. We recommend using a high-quality VPN service to encrypt your internet connection and keep your online activities hidden from prying eyes, which you can read more about in our list of the best VPN providers.
There are many great VPNs on this list, but ExpressVPN comes out on top. ExpressVPN offers the ideal combination of online privacy, speed and features with almost no drawbacks. Read our full review of ExpressVPN for more info.
The Verdict
Vivaldi's underlying philosophy is to create a fully featured and customizable enough browser to make extensions unnecessary, and it largely succeeds. There are more than enough tools in the browser to surprise even long-term Vivaldi users with something new, and compatibility with Chrome's extensions fills in the remaining gaps for users who need very niche capabilities.
Vivaldi doesn't make its users choose between privacy or functionality — you can have the best browser without worrying about the company collecting your personal data in the process.
Sadly, iOS users won't be able to make use of Vivaldi's great offering, but since Vivaldi is a relatively new browser, we're hoping it will expand to other platforms in the future. If you love a browser for iOS with a clean design, try Safari browser.
What do you think about Vivaldi? Do you like its customization and wide range of features, or do you find it excessive? Do you trust Vivaldi with your privacy, or are there more private browsers worth using? Let us know your thoughts in the comments below, and as always, thanks for reading.