Best Browser for Android in 2023: The Best Mobile Browsing Experience
Most browsers today have variants for desktop and mobile devices alike. A single browser can perform well on one platform and not so well on another, so we'll see which one is the best browser for Android.
Since the advent of smartphones, web browsers are no longer just for desktop computers. Browsers usually come in multiple forms, with apps for Windows, macOS, Android, iOS and sometimes Linux. In this article, we'll take a look at five browsers and see which is the best browser for Android.
Key Takeaways:
The best web browsers can differ in features and quality in various formats.
Good Android web browsers should have device sync to keep browsing data between your desktop computer and Android phone consistent.
Puffin is both the most secure and the fastest browser for Android.
We'll evaluate each browser with our usual set of criteria — features, ease of use, speed, privacy and security — but we'll focus on just the Android version of each. Not all browsers are created equal, as the same browser can excel on one platform and fall short on another.
Out of these five Android browsers, we believe Puffin is the best Android browser. Its innovative "streaming" security model puts its security far ahead of all other browsers, and it's the fastest Android browser as well. Vivaldi is our all-time favorite browser and earned a spot on this list, but it's not as well adapted to Android as it is for desktop computers.
02/25/2022 Facts checked

Fresh rewrite; removed Tenta, added Vivaldi, added Microsoft Edge to honorable mentions, and updated new features in Puffin.
There are many good browsers for Android, but we think the best Android browser is Puffin.

Puffin is the fastest Android browser we've come across.

Not only is Puffin the fastest Android browser, but it has the best security protection too.
Top Browsers for Android
What Makes the Best Browser for Android Phones & Tablets?
Naturally, good Android browsers need to be available for Android, which means Safari and Internet Explorer are already disqualified.
Next, we need to evaluate the browser's suite of features. Device sync is one of the most important features for Android browsers so that users can transfer bookmarks, browsing history, settings and other browser data between devices.
Performance is another major consideration, and so are privacy and security. Strong privacy features keep your data from being collected by third parties or the browser developer itself. Security pertains to the browser's defenses against external threats like malware and phishing.
Puffin — The fastest and most secure Android browser
Brave — A fast and private browser with built-in ad blocking
Vivaldi — A feature-rich browser that's great for power users
Firefox — Easy to use, private and fast
Chrome — User-friendly; comes with Android devices by default
The 5 Best Android Browsers
We put Puffin at the top of the list for having the best security and speed. Brave and Firefox are good runners-up for privacy and security as well. Vivaldi was selected for its customizability and features, and Google Chrome is Android's default browser.
Pros:
Innovative security model
Fastest Android browser
Cons:
Desktop app requires subscription
Ads on free mobile version
Puffin's Android variant is a major advancement from its desktop browser. Puffin is the best all-around web browser for security, but its desktop version suffers from slow speeds and a lack of features. Fortunately, that's where the Android browser makes a major improvement.
Puffin for Android is significantly faster than its desktop counterpart, and the fastest web browser on this list. It's already a fast browser with its default settings, but it also includes a data saver mode that compresses web pages and frees up bandwidth for faster speed. There are sliders in the settings menu for adjusting exactly how much you want to compress images and streaming quality.
Puffin gained extra points from us by recently adding a sync feature. Its ranking suffered in past reviews for not having one, but now Puffin for Android is catching up to its feature-rich competitors.
Cloud-Based Security
Puffin's claim to fame is its innovative security model. All web pages are loaded on the company's servers and "streamed" to the user's device. That means malware will never make it to your device if you navigate to a malicious website. The usual criteria for browser security is irrelevant here, which would involve things like safe browsing databases and script blocking.
Puffin for Android is a major step up from Puffin for desktop. There's a lot to cover on this one-of-a-kind browser, so we suggest reading our full Puffin review.
Pros:
Built-in ad-blocker & tracking protection
Fast
Privacy-based ads
Brave is a Chromium-based browser with a focus on privacy that frequently makes our "best of" lists. Brave includes a built-in blocker for ads, trackers, device fingerprinting and other privacy-violating practices common on the web. It's uniformly fast in all of its versions too.
Brave's sync feature is noteworthy for relying on one-time QR codes instead of an account. That means none of your synced data is associated with your identity, and it's a simpler method of synchronization too. Brave used to only allow you to sync bookmarks, but now you can sync settings, history, open tabs, extensions and other kinds of browser data.
Built-In Privacy Controls
Brave was designed to be a privacy browser from the beginning. Brave's ad blocker and pop-up blocker are enabled by default, and it also blocks trackers, device fingerprinting, scripts and cross-site cookies. It offers varying levels of severity for blocking privacy-violating behavior, ranging from moderate blocking to aggressive blocking. The latter can cause some websites to malfunction.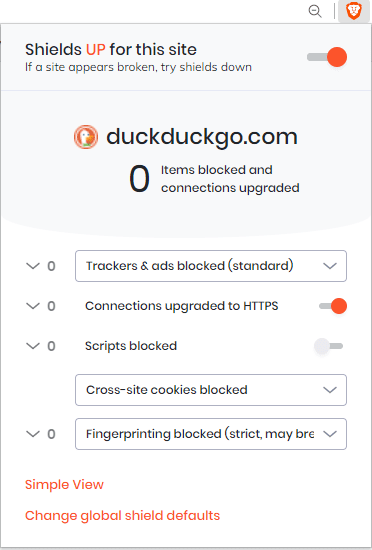 Privacy is Brave's specialty, but it ranks highly in all categories of our criteria. Check out our full Brave review for a closer look at this well-regarded privacy browser.
Pros:
Great for power users
Customizable
Fast
Cons:
User interface is somewhat awkward on mobile
Vivaldi was created with enough built-in features to reduce the need for installing extensions. Its Android variant is no exception to this rule, as it contains a variety of useful tools that can be mixed and matched to your exact preferences.
The Android version is lacking many of the advanced features of the desktop version, but it still includes a wide range of tools and settings.
The Web Browser for Power Users
Vivaldi for Android includes a tab bar at the top of the page — which is unusual for most mobile browsers — and allows you to stack tabs within a single window. There is also a separate panel for taking notes, which are included alongside your bookmarks and search history.
Device sync comes in handy for such a customizable browser. Logging in with your Vivaldi account enables the synchronization of data across devices, including tabs. It can take time to get your personal customization just right, so it's helpful to keep the same setup on both desktop and Android.
The abundance of customizable features is also its drawback for Android. The interface can get easily crowded with multiple tabs and windows and become awkward to use, whereas its interface is more manageable on a larger desktop monitor. It's not a deal-breaker, but it's less than ideal.
This is only a sliver of what Vivaldi can do. Check out our comprehensive Vivaldi review for more detail on its other features.
Pros:
Good privacy policy
Mobile extensions
Mozilla Firefox is the oldest browser on this list and yet it keeps up well with modern browser trends. In fact, Firefox excels as a mobile browser because it's one of the few that includes extensions.
Only 17 extensions are available for Firefox Android, but most browsers have zero. They include useful tools such as an ad blocker, a password manager, HTTPS Everywhere and more.
Mozilla Firefox includes cross-device synchronization for your settings, history, bookmarks, open tabs and more. Its performance is good enough for fast web browsing, sending emails and streaming HD videos with little to no latency.
Good Privacy Record
Mozilla's privacy policy makes it one of the best browsers for privacy. It's a nonprofit company that doesn't make its money from collecting and selling user data for targeted advertising, unlike Google. Mozilla states that the only data Firefox collects on its users is technical and interaction data that isn't associated with your name or email address.
Firefox has a long history behind it, and it's changed a lot over time. Take a look at our Firefox review for the full picture.
Pros:
Default Android browser
User-friendly
Fast
Cons:
Not private
No extension support
Most Android phones already have Chrome installed as the phone's default browser, so there's no need to download it from the Google Play Store. Chrome is a fast and simple browser that all Android users should have an easy time using.
It can do just about everything the desktop version can except install extensions. This is a shame since Google operates the largest collection of extensions in the world. Without extension support, Chrome is somewhat bare, so it falls behind the rest of the browsers on this list when it comes to features.
Sync All Google Account Data
Fortunately, Chrome for Android phones include good cross-device sync capability. On your Android device, sign in to your Google account to unify your bookmarks, history, settings and other data across your devices for a consistent web browsing experience.
Unlike Brave and Firefox, Chrome's biggest problem is privacy. Google is an advertising company that makes its money by collecting user data for the creation of targeted ads, and Chrome is one of its primary tools for gathering user data. There are ways to limit Google's data collection practices, as you can read about in our guide on how to erase your Google history.
If you don't use Chrome, there's a good chance you're using a browser based on its design. You can read our full Chrome review for more information on the world's most popular browser.
Best Android Browsers: Honorable Mentions
Although these aren't the best Android browsers ever, they fell just short of our top five. Here are some other Android browsers worth taking a quick look at.
The Opera browser is a useful Android browser even though it didn't make the cut. The Opera browser for Android includes a few extra features that would usually be downloaded as extensions for most other browsers, including a built-in VPN, an ad-blocker, a crypto wallet and night mode.
Night mode changes the theme to a dark mode and reduces the amount of blue light from the screen in order to reduce eye strain.
The Opera browser isn't very private. It collects user data and shares it with third parties, so its private browsing mode won't be of much help. Furthermore, it was acquired by the Chinese company Qihoo 360 in 2016, raising questions about the potential for surveillance from the Chinese government. Read our full Opera review, Opera vs Chrome and Opera vs Firefox for more information.
Microsoft Edge went through a major overhaul when it was redesigned with Chromium in 2020. That gave it a huge boost in speed and regularly put it in first or second place in most of our speed tests, so we thought it was worth mentioning. Read our Microsoft Edge vs Chrome review to see how the two compare.
Aside from that, Microsoft Edge doesn't differ too much from Chrome or other Chromium-based browsers. You can read more about it in our full Edge review.
Final Thoughts: Best Android Browsers
There are dozens of Android browsers on the market, but we believe these five are the best Android browsers. Chrome is pre-installed on all Android devices by default, and although it's a good browser, it's not the only one.
We think Puffin is the best Android browser because its security and speed are unmatched. Firefox and Brave are great browsers for privacy and security as well. Vivaldi is good for power users, and Chrome is a simple but effective browser for everyday internet use.
Ultimately, your personal needs will determine which of these Android browsers will be the best for you, but hopefully we've helped you make an informed decision.
What do you think is the best Android web browser? Do you like fast Android browsers like Puffin, or do you need something as customizable as Vivaldi? Let us know your thoughts in the comments below. As always, thank you for reading.