Best Browser Security Extensions: Surf Secure in 2023
Browsers nowadays come with massive libraries of extensions and plugins that you can install on top of the browser itself. They can do a variety of tasks, but one of the most important ones is adding security to your browsing. With that in mind, we'll go over some of the best browser security extensions.
Browsing the internet is simple, but modern browsers can do a lot more than just help you browse online. There are some excellent browsers extensions that can make sure you don't download malware, will save your passwords, and even block ads, to name a few. Keep reading for the best browser security extensions.
Key Takeaways:
Security extensions are a very broad topic, but there are various extensions that cover different aspects of security.
If you want to be completely covered, you'll need to combine the features of multiple extensions that protect you against malware, ads, pop-ups and trackers.
If you only want to use a single extension, an ad blocker is probably the one that will make the most noticeable difference in your browsing experience.
Chromium-based browsers like Google Chrome (read our Google Chrome review) come with a huge selection of extensions and plugins that let you do a variety of things, including improving your online security. To make things a bit easier for you, we reviewed 10 Chromium extensions that focus on security.
04/11/2022 Facts checked

Since our original article, we added some of the more popular extensions and we've updated the information on some of the ones we included initially.
Brave is the most secure web browser, and it has the added benefit of being built on Chromium. It's the same source code Chrome uses, which means you can install some of the same extensions available for Chrome.

The best security extensions depend on what you need from a security standpoint, but we suggest that you combine an antivirus, an ad blocker and a password manager so you're covered on all fronts. uBlock Origin, Avast Online Security and 1Password are a great trio, and you can even add HTTPS Everywhere to make sure you don't access websites that don't have an SSL certificate installed.

Most extensions made for Google Chrome work with Brave browser as well, so the best Chrome extensions will also be the best Brave extensions.

The best antivirus browser extensions are Avast Online Security and Microsoft Defender.
What Makes the Best Browser Online Security Extension?
The answer to this question is a bit tricky — security is a rather wide category and plenty of extensions fall into it. Arguably, the most important security extensions are the ones that work as an antivirus, the ones that block ads and pop-ups, and the ones that store and encrypt your passwords.
Using one of each of these types of security extensions means that you're safe from malware. You won't need to deal with ads and pop-ups, and won't need to remember any passwords (except for the master password for your password manager).
One thing worth noting is that most of the extensions we'll discuss will work on other Chromium-based browsers such as Chrome, Chromium, Brave, Vivaldi, Edge, Opera and many more.
Firefox isn't built around the Chromium engine, but most of the popular extensions are available for Firefox as well. With that in mind, here are 10 Chromium-based browser security extensions for your consideration.
10 Best Browser Security Extensions
Without further ado, here are the top ten browser security extensions for Chromium browsers.
Antivirus Extensions
Antivirus extensions act as an antivirus for your browser. They make sure you don't infect your system with malware and trojans by scanning the websites you visit for any malicious files.
1. Avast Online Security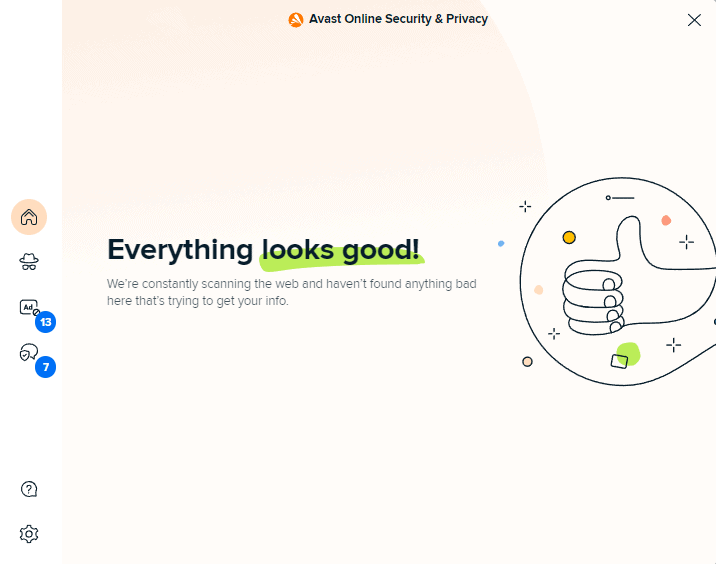 More information about Avast Online Security:
While we mentioned Avast as the best value-oriented antivirus in our best antivirus software roundup, there's also a free extension called Avast Online Security.
It scans your search results and the websites you visit for malware, and warns you if it deems something unsafe. If you click on a website that Avast thinks is unsafe, it will block your request (though you can override this and still visit the website).
Running a quick Google search while the Chrome extension is active will show you whether each of the results is safe to visit or not, with a green shield icon next to the link. Avast also has tracker blocking, though we'd suggest a dedicated ad-blocking extension for that.
2. Microsoft Defender
More information about Microsoft Defender:
Microsoft has an excellent antivirus solution in their Microsoft Defender, and the Chrome extension with the same name does a great job at keeping you away from malicious websites. It scans website URLs against a list of malicious URLs that's constantly updated, and if you're at risk, you'll get a red warning screen.
While the Chrome store page says that this extension is only available in the United States, we had no issues installing and using it in other countries. The only downside is that Microsoft Defender isn't particularly configurable — all you can do is enable or disable it.
Ad & Pop-Up Blocker Extensions
Nobody likes ads, which is why as many as 42.7% of all internet users worldwide use ad blockers. Ad blockers will prevent annoying ads and pop-ups from blocking the content on the websites you visit, making for a much better browsing experience.
3. Ghostery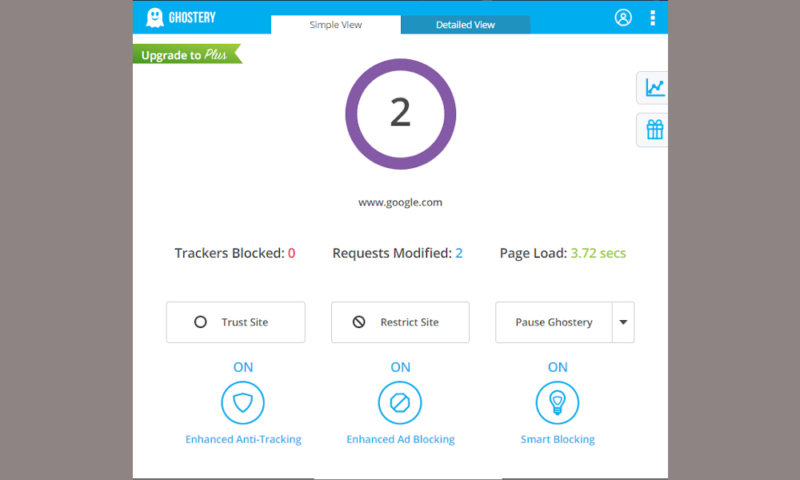 More information about Ghostery:
Ghostery is an ad-blocking extension that does a great job at blocking intrusive ads and trackers from websites you visit. To add to this, it comes with a "smart blocking" feature that automatically blocks trackers and unblocks them later to load pages faster.
The dashboard lets you see an overview of blocked ads and trackers, as well as how fast a certain page will load based on the trackers and ads it has. You can customize what you see with multiple dashboards — just pick the one that shows the info you need most.
While Ghostery doesn't do much more than this, it's still an excellent basic ad blocker. If you'd like more comprehensive analytics, you could look into the Ghostery Insights Beta extension.
4. uBlock Origin
More information about uBlock Origin:
uBlock Origin does a lot more than just blocking ads, though it does that really well. It also blocks any scripts or pop-ups, as well as large media elements such as videos and even remotely loaded fonts. It's worth noting that uBlock Origin has nothing to do with uBlock.org — that's a completely different product.
By default, uBlock Origin comes with a huge list of predefined rules and filters that you can customize extensively, making this one of the most configurable Chrome privacy extensions out there. If you're willing to spend some time looking at the filters and settings, you're looking at one of the best security extensions for Chrome.
5. Adblock Plus
More information about Adblock Plus:
Adblock Plus is the most popular Chrome extension when it comes to ad blockers, and it does a great job at blocking trackers and ads when you visit various web pages. It also has configurable filter lists, but not nearly as many as uBlock Origin.
There is one glaring downside to Adblock Plus, though — it doesn't block all ads. Adblock Plus accepts payment from companies to allow their ads, which defeats the purpose of an ad blocker.
Website Security Extensions
These extensions make sure you visit the most secure version of any website you're trying to browse and will help you keep your user data private, away from the website trackers' prying eyes.
6. HTTPS Everywhere
More information about HTTPS Everywhere:
While many websites nowadays default to an HTTPS connection, you would be surprised how many offer both, yet still default to HTTP. HTTPS Everywhere is an extension created by EFF and the Tor Project that checks if a website has an HTTPS connection available, and forces it to use it instead of the unprotected HTTP connection.
You can configure the extension to block any unencrypted requests to your browser. Unfortunately, HTTPS Everywhere can't do much if a website doesn't offer an SSL encrypted connection, though the number of such websites is decreasing rapidly.
7. Privacy Badger
More information about Privacy Badger:
Privacy Badger is a creative take on tracker blocking by the Electronic Frontier Foundation. Rather than keeping lists of trackers to block, the extension discovers trackers based on their behavior.
Then, it sends a "global privacy control" signal that opts you out of private data sharing, as well as a "do not track" signal that tells companies they shouldn't track you.
The extension goes a step further than just automatic tracker blocking, and removes trackers from outgoing links from Facebook and Google. If you value your online privacy, it's one you should definitely consider.
8. Click&Clean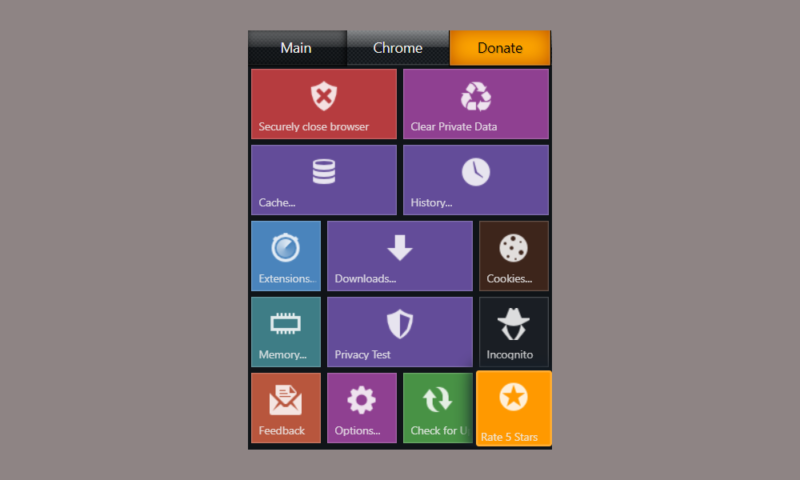 More information about Click&Clean:
Even though cleaning your browser cookies and browsing history is rather easy for Chrome users, Click&Clean simplifies it further by making it a one-click action. In addition, it will clear download history and erase any temporary files, as well as remove any Flash cookies.
Click&Clean also claims to be able to scan your PC for malware and clean up your hard drives if you want to by installing Click&Clean Host. However, we'd recommend a dedicated antivirus and disk cleanup tool for that.
If you just want to make the process of cleaning up traces of your internet history simpler, Click&Clean is an excellent extension.
Password Managers Extensions
Using the same password for all your logins is an incredibly bad idea, as we mentioned in our guide on how to set up a strong password. However, so is trying to remember hundreds of different passwords for all those logins.
Password manager extensions will save your passwords, but they can also create new, strong ones that you won't have to remember — they're all stored in the password manager itself.
9. Dashlane
More information about Dashlane:
Dashlane was featured on our list of best password managers as a software, but the Chrome security extension lacks some of the advanced features that the desktop software has. For example, if you have saved passwords in Chrome, you need to manually export them, and then import them to Dashlane.
If you don't mind this, though, it's an excellent password manager extension that lets you sort passwords by categories and even lets you save payment information, personal info and secure notes. It is a bit complex, unlike other password managers such as NordPass, but the added features make it worth getting used to.
10. 1Password
More information about 1Password:
1Password is another extension that'll have your passwords stored in a secure place, and it took the top spot in our best password managers roundup. Aside from password storage, it offers document storage, a one-year item history that lets you recover any deleted passwords and even more security by way of two-factor authentication.
The one downside is that there is no free plan with 1Password, and you'll need to pay even for the most bare-bones plan, something we covered in our 1Password review. That plan comes at the same monthly price as LastPass — another very popular password manager — but 1Password offers a bit more security for the price.
Final Thoughts
With that, we conclude our list of the best browser security extensions. There are certainly more than just 10 of them, especially since security is a very broad term, but these should give you a good starting point.
If you're only looking to install a single extension, we'd suggest uBlock Origin because of its extensive configurability and how well it works.
What's your favorite security extension from the Chrome web store? Do you only use one, or do you combine the features of multiple extensions? Let us know in the comments, and as usual, thank you for reading.