The Fastest Browser Options in 2023: What's the Best Web Browser for Speed?
Browser developers don't always advertise their web browser's speed up front, and it's not easy to calculate its exact speed. It isn't obvious which web browser is the fastest, so we tested 10 options to find the fastest browser.
The performance of your browser is difficult to separate from the speed of your internet connection, so you might find yourself a little lost when looking for the fastest browser on the web. Browser speed also often changes with each update, so there's a good chance any information you might find about a browser's speed will be outdated.
That's why we tested the desktop versions of all the major internet browsers and compiled their results in this browser speed overview. We tested a total of 10 web browsers and picked what we believe are the five fastest internet browsers on the web.
Key Takeaways:
Google Chrome and Microsoft Edge were nearly tied for first place, but we think Chrome is the faster web browser.
Speed can come at the cost of other important factors in a browser, such as security and features.
Some browsers are faster when dealing with certain kinds of web applications than others. For example, one that's fast with standard web applications might be slower when rendering visuals, or vice versa.
01/31/2022

Ran new speed tests and chose a new ranking to reflect up-to-date results. Removed Firefox and Chromium; added Microsoft Edge.
Chrome is the fastest internet browser we tested. Edge followed closely behind. Opera was a fast web browser as well, but slower than Edge.

On the whole, Chrome is the fastest web browser, but Edge marginally surpassed Chrome on one of the three benchmark tests.

Both are about the same, but Chrome wins in two of the three speed categories.
Fastest Web Browsers
What Makes the Fastest Browser & Which Browser Is the Fastest?
When we're assessing the speed of a browser, we look at its ability to execute web applications and render visuals. Handling standard web applications is the most important criterion because that's what the majority of web browsing activity consists of. However, we don't overlook the more advanced, resource-heavy applications, either.
We also take visual graphics rendering into account, as you'll see in our results below, but it's not the most significant factor. Each browser has its strengths and weaknesses, and you'll see how some browsers perform better in some areas than others.
How Did We Determine the Fastest Web Browsers?
Testing the speed of a browser is a delicate task because the browser's speed must be parsed out from your internet connection's speed. That's why we use the suite of benchmark tests provided by BrowserBench. These three tests — Speedometer 2.0, JetStream 2 and Motion Mark — each analyze different aspects of your web browser.
We performed these tasks on an HP EliteDesk 800 G5 Desktop Mini with 16GB of RAM and an Intel Core i5-9500T CPU running at 2.21 GHz. It runs on the Windows 10, 20H2 operating system and contains an Intel UHD Graphics 630 graphics card.
It's not always clear how much of your browser's speed is influenced by your internet connection or the browser itself. That's why we closed all other applications while we ran the tests over a stable connection. No other machines were connected to the network during the tests, so our speed results are as unadulterated as we could get them.
Speedometer 2.0
We place the greatest emphasis on Speedometer because its results illustrate the most comprehensive overview of your browser's performance. It runs 480 standard JavaScript web applications and monitors how quickly your browser can handle each of them. The app averages the results indicating the total number of runs per minute the browser is capable of.
JetStream 2
The next test, JetStream 2, calculates advanced and uncommon web applications. Like Speedometer, JetStream makes the browser perform a series of web applications and delivers an averaged result. There wasn't as wide a gap between the speed results of most browsers in this test as there was in Speedometer, so it made less of an impact on our browser ranking.
MotionMark
The third test, MotionMark, calculates your browser's ability to quickly render advanced visual graphics in heavy loads.
Web Browser Speed Comparison: What Is the Fastest Browser?
Chrome and Edge were so close in each of our tests that they hardly differed from one another. The one test where Edge bested Chrome was in JetStream 2, where it got the upper hand by just a hair. In practice, they are equally fast and responsive browsers.
Brave, Opera and Vivaldi make up the remainder of our top five. Once again, their performance was so close that they went up and down the rankings by very small margins. The biggest differences emerged in the MotionMark test, where Brave was clearly the faster browser when rendering complex visual graphics, but they are all acceptably fast browsers in practice.
Benchmark Test: Speedometer
In the first and most important test, Chrome took the number one spot. Chrome does reliably well when handling JavaScript web applications, and Edge isn't much worse. In third place came Opera, after a much wider gap, and Brave and Vivaldi were close enough to Opera to be indistinguishable.
Browser Runs Per Minute: Speedometer
Benchmark Test: JetStream 2
Edge was faster than Chrome for advanced JavaScript responsiveness in this test, but by a very slight margin. Meanwhile, Chromium raced ahead of Brave, Opera and Vivaldi while lagging behind in the other tests.
Browser Runs Per Minute, JetStream 2
Tor Browser returned an "infinity" score for this benchmark test, which we can't interpret. Opera Neon can't process WebAssembly or JavaScript code, so it wouldn't run on this JetStream2 test.
Benchmark Test: MotionMark
Chrome turned out to be the most graphics-capable browser in MotionMark, just slightly ahead of Edge once again.
Opera Neon unexpectedly seized third place, despite being one of the slowest browsers we've ever reviewed. It's an impressive turn of events for Opera Neon, but we excluded it from the top five for its overall sluggishness.
Browser Runs Per Minute: MotionMark
The 5 Fastest Web Browsers
Now with our overview out of the way, let's take a closer look at each individual browser's performance.
Pros:
Easy to use
Largest library of extensions
Wide range of in-browser features
Pretty fast
Cross-device synchronization
Chrome is the most popular internet browser (with an estimated global market share of around 60%) in the world and, currently, the fastest. It took first place in all but one of our tests, and was very close to Edge where it fell into second place.
Without any extensions installed, Chrome responded well to a range of JavaScript applications and complex visual graphics. Some of the browsers in this list were better at some tasks rather than others, but Chrome delivers uniform results across the board.
| Test: | Runs per Minute |
| --- | --- |
| Speedometer 2.0 | 144.9 |
| JetStream 2 | 130.294 |
| MotionMark | 553.38 |
Great Ease-of-Use
Simplicity is one of Chrome's biggest strengths. Its easy-to-use interface played a big role in its popularity and is now the template for most contemporary browsers. Chrome is rather plain by itself, but you can add more features through the Chrome web store — the world's largest library of extensions.
Chrome is a well-rounded browser in almost every way, especially in speed. We've never had a problem with Chrome running slowly except at the highest loads, so we can confidently recommend Chrome for its speed. Read our full Google Chrome review for more details.
Pros:
Fast
Lots of features
Compatible with most Chrome extensions
Cons:
Not the most private browser
In practice, Edge is every bit as fast as Chrome. It used to be much slower before it was redesigned with Chromium in 2020, but now it can process JavaScript web applications and render visuals with ease.
| Test: | Runs per Minute |
| --- | --- |
| Speedometer 2.0 | 131 |
| JetStream 2 | 131.755 |
| MotionMark | 547.97 |
Built-in Features
Like Chrome, Edge is a simple browser that's great for everyday web browsing. It has plenty of useful features built into the interface like device sync, an extensive context menu, and a handy "collections" tool. Compatibility with Chrome extensions is a nice plus as well.
Edge doesn't have a lot to offer that isn't already available in Chrome, but it's a lot faster than every other alternative. Read our full Microsoft Edge review and our Microsoft Edge vs Chrome for more information.
Pros:
Lots of built-in features
Multiple mobile versions
Anonymous & easy device sync
Cons:
Privacy & security concerns
Mini & Touch Android-only
Uses a lot of RAM
If Chrome and Edge were tied for first place, that would make Opera the runner-up. There's a bigger gap between the top two browsers and Opera than there are between Chrome and Edge, so it's not in the same league when it comes to speed — at least on paper. In reality, there's nothing noticeably slower about Opera, as it performs excellently with little to no latency.
It took third place in Speedometer and fourth in JetStream 2, losing to Chromium. Although Chromium did better in this test, it's an overall slower browser, so we think Opera deserves the third spot on this list. It fell much farther behind when rendering visual graphics, but because that's not the most important criterion for good web browsing, we don't place as much emphasis on that test.
| Test: | Runs per Minute |
| --- | --- |
| Speedometer 2.0 | 108.2 |
| JetStream 2 | 123.258 |
| MotionMark | 403.16 |
No Extensions Necessary
Many browsers today, such as Chrome, are very basic on their own and rely on extensions to increase the browser's functionality. Opera's basic philosophy is to include enough features to make extensions less important, if not unnecessary altogether. It offers features like built-in social media and communication apps, device sync, a crypto wallet and much more.
Adding too many extensions can slow down your browser's performance, so feature-rich browsers like Opera and its spin-off, Vivaldi, perform more efficiently than a browser with a large number of extensions.
We praise Opera and Vivaldi highly, but because Opera is the overall faster browser, we chose to place it higher up on this list. Read our full Opera review and Opera vs Chrome guides for more details.
Pros:
Advanced security & privacy
Fast & memory-efficient
Built-in ad-blocker & crypto wallet
Privacy-based advertising model & reward system
Brave — our best browser for Mac — came behind Opera by such a small margin in Speedometer that they were virtually identical. Brave and Opera reversed roles for the subsequent two tests, with Brave falling behind Opera when managing advanced and uncommon applications, but surpassing Opera in its ability to render complex visual graphics.
| Test: | Runs per Minute |
| --- | --- |
| Speedometer | 108 |
| JetStream 2 | 121.535 |
| MotionMark | 452.44 |
Excellent Browser for Privacy
We like Brave for being a private and secure browser. It was designed with privacy in mind from the beginning, featuring a built-in ad-blocker, HTTPS Everywhere and an innovative advertising model that protects your privacy rather than compromising it.
Good privacy and security often comes at the cost of speed, but Brave is still a fast, responsive and secure browser, even if it's not the fastest. Read our full Brave review for more information.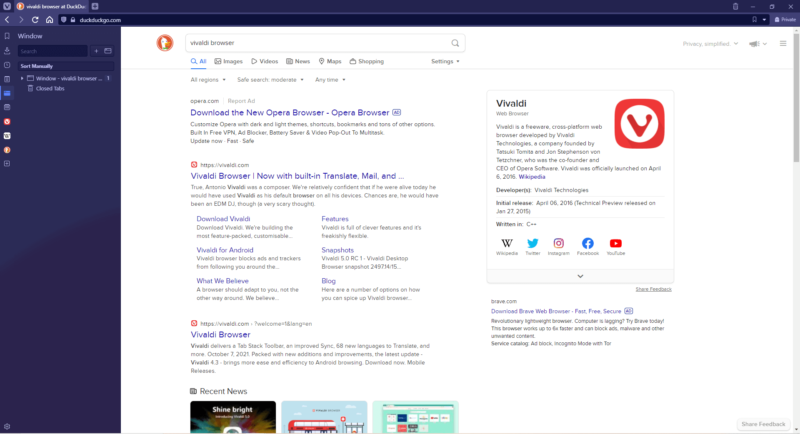 Pros:
Lots of features
Customizable
Low RAM consumption
Great for power users
Cons:
No iOS version
Mobile version is less user-friendly than on desktop
Vivaldi's performance was nearly equal to Brave and Opera in Speedometer, but came up noticeably short in speed when producing complex visuals in MotionMark. It was still a close race when it came to handling advanced web applications in JetStream.
| Test: | Runs per Minute |
| --- | --- |
| Speedometer | 107 |
| JetStream 2 | 122.896 |
| MotionMark | 382.22 |
A Browser for Power Users
Developed by the co-founder of Opera, Vivaldi was designed with Opera's philosophy of a fully featured browser in mind. Vivaldi takes features and customization options even further than Opera and even includes performance-enhancing features such as hibernating tabs.
It's not the fastest browser, and high RAM use is one of its major downsides. Fortunately, its hibernating tabs option evens out some of the flaws and can improve the browser's overall speed and resource usage. This option will keep the selected tabs open but not running, so your system's resources are freed up for the other open tabs. Read our full Vivaldi review for more details.
Honorable Mentions: Not-Quite-So-Fast Browser Options
We tested many more browsers than the five you see above. The remainder of the browsers were obviously not as fast, but there were a few with other noteworthy traits that make up for their slower speeds.
Firefox was one of the faster browsers that didn't make the cut. Its overall ability to process JavaScript-based web applications was acceptable in its speed, as measured by Speedometer.
However, it fell much farther behind when faced with advanced and uncommon applications, and with rendering complex visuals. It's an excellent browser for basic tasks like daily browsing and email, but fails at more advanced tasks.
There's still a lot to like about Firefox despite its moderate speeds. It's a far more private browser than Chrome because Mozilla's source of revenue isn't derived from collecting the data of its users for advertising purposes. Read our Firefox vs Chrome and Opera vs Firefox guides to learn how it compares to the fastest browsers.
It's also easy to use and has hundreds of useful add-ons in its extensions library, even though it's not as large as Chrome's collection. Read our full Firefox review for more information.
| Test: | Runs per Minute |
| --- | --- |
| Speedometer | 98.4 |
| JetStream 2 | 82.333 |
| MotionMark | 258.28 |
Chromium maintained sluggish speeds during two of our tests, but snagged third place in JetStream 2. Chromium and Chrome are almost exactly the same because Chromium is the open-source browser framework Chrome is based on.
Chromium is intended for use in browser development rather than for general consumer browsing, and is therefore very unstable. Be sure to read our Chromium vs Chrome to learn how the two browser foundations compare.
Its long load time sets it apart from Chrome, along with its incompatibility with Google accounts and device sync with other platforms, so there wouldn't be much point in using Chromium except for development purposes. Despite its typically inadequate speed, it can quickly handle advanced and uncommon web applications. Read the full Chromium review for more details.
| Test: | Runs per Minute |
| --- | --- |
| Speedometer | 95.8 |
| JetStream 2 | 124.504 |
| MotionMark | 366.19 |
Final Thoughts: Fastest Browsers
It was a close race in this round of browser speed tests. Chrome and Edge were just about tied for first, but the victory ultimately goes to Chrome by a small margin. Brave, Opera and Vivaldi fought hard to win the runner-up positions and are just about equal in overall performance, but some of these browsers found their strengths where others were weak.
This article focuses only on speed, but we have a library of articles that go into greater detail on every entry on this list. You can look through our browser reviews here.
We've mentioned that good privacy and security protections can come at the cost of speed. If you value a secure browser over a fast one, we recommend reading our overview of the five most secure browsers. Puffin — the best browser for Android — impressed us enough to take the number one spot, while its desktop version came in dead last in terms of speed.
What do you think of our five fastest selections? Do you think our criteria and ranking were fair? Was there an even faster browser than Chrome that we overlooked? Let us know your thoughts in the comments below, and as always, thanks for reading.