Visit

Brave
Advanced security & privacy features
Fast & memory-efficient
Built-in ad-blocker & crypto wallet
Brave Browser Review
The Brave browser appeared in 2016 as a privacy-focused alternative to Google Chrome. Brave is based on the Chromium source code but strips out all of the privacy-violating Google code. The result is a browser that looks and feels just like Chrome, but with greater online privacy features.
Brave is known for being a private web browser that doesn't make money by collecting your data, unlike most web browsers. Brave runs an advertising model based on user privacy and improves its browser by relying on aggregate user data when it needs to collect any data at all. In this Brave browser review, we'll see if it lives up to its reputation as a private web browser.
Beyond its reputation for privacy, Brave is also known for natively including features that would otherwise have to be added via an extension. This includes an ad blocker, an HTTPS Everywhere feature and even a cryptocurrency wallet. Aside from convenience, having more native features reduces the CPU drain caused by adding too many extensions to your browser.
Key Takeaways:
Brave blocks ads and trackers by default and is the first web browser to include a built-in cryptocurrency wallet
Brave ads analyze your behavior locally when enabled, so no other parties have access to your data.
By enabling Brave ads, you can earn tokens and support content creators you enjoy.
Brave is clearly thinking about the internet as a whole as technology races toward Web 3.0. It isn't solely focused on browser development, but on a wider spectrum of new technology that the Brave browser is natively equipped to use. It's a unique browser that's quickly rising in popularity, so let's get into the fine details.
12/26/2021 Facts checked

Added performance table and expanded privacy, security and BAT token sections.
Yes, Brave can be trusted to protect you from ads, trackers and other malicious content online. The ad blocker is enabled by default, and none of your data will leave your browser when opting in to Brave ads.

Yes, Brave is a fast, feature-rich and secure browser for personal and professional use. It's good for internet users who want a more private browser than Brave's big-name competitors, but it's also good for those who need a cryptocurrency wallet built directly into the browser.

No, Brave is not illegal. Even though the Tor network has accrued an unsavory reputation for being populated with malicious actors, Brave is not violating any laws by itself or with its Tor feature.
Brave Review: Alternatives
Brave Browser Review: Strengths & Weaknesses
Pros:
Advanced security & privacy
Fast & memory-efficient
Ad-blocker & crypto wallet
Privacy-based advertising model & reward system
Features
Brave's design somewhat parallels the philosophy of Opera and Vivaldi because its abundance of features minimizes the need for extensions. However, unlike those two browsers, Brave's features are focused on privacy, security, Web 3.0 technology and decentralized finance (DeFi).
Sync
Most modern browsers include a sync feature to unify a single user's browser data across multiple devices, and they usually involve creating an account associated with the browser. Instead of making you create a Brave account, Brave relies on QR codes and text codes to sync data — such as your bookmarks, history, extensions and more — across devices.
PDF Reader
Brave has the same PDF reader as Chrome without any additional controls or settings. The PDF reader's interface consists of a bar running across the top of the page with buttons for interacting with the document, and a vertical preview column on the left. Brave doesn't put the emphasis of its novel features on text and media interactions.
Context Menu
Brave's context menu is likewise standard, lacking many features beyond the usual navigation, text and download actions. However, the context menu contains an option to send a page or file to your synced devices. Your connected device will quickly receive the sent file without requiring you to log in to anything.
The context menu features a submenu simply titled "Brave" that contains options for blocking individual elements on a web page and adding ad block filters. The former option is useful if you want to remove a single element on the website, such as an annoying ad; the latter contains a long list of additional ad block filters in case Brave's filters aren't enough.
Search Engine
Brave Search is Brave's default search engine (read our search engine vs browser guide). Alternative search engine options are included in the browser including DuckDuckGo, Google, Bing, Ecosia and a few others, but you can manually add any search engine you like.
Brave Rewards & The Basic Attention Token
Not only is Brave a privacy-first web browser, but it's also playing a role in the company's effort to reform online advertising.
According to the white paper for the Basic Attention Token (BAT), Brave believes the current state of digital advertising is both damaging to user privacy and to the revenue of content creators and advertisers. Brave's offered solution is to create a "decentralized, transparent digital ad exchange based on blockchain" through BATs.
These Ethereum-based tokens are not a digital currency, but they are utility tokens representing your attention to the websites you visit. When you enable Brave ads, Brave measures how often and for how long you engage with your most-visited sites and generates personalized ads based on your browsing habits. The analysis of your data is entirely local, so no third parties — or even Brave itself — have access to your data.
The ads appear as system notifications and can be turned off at any time. Brave ads are disabled by default, so you won't have to worry about Brave spamming you with ad after ad. Viewing Brave ads generates and lets you earn BAT tokens which can then be used to "tip" your favorite content creators that are registered with Brave.
Through Brave's decentralized and privacy-focused advertising platform, user data remains completely private, while websites and advertisers are still allowed to make money. It's an interesting idea that Brave hopes to spread to other browsers and make it a standard browser feature in the future.
Chrome Web Store
Given its basis in Chromium, Brave is compatible with most of the extensions in the Chrome web store. While Brave isn't as feature-rich as Vivaldi or Opera, ad and tracker blocking is built right into the browser itself, so there's no need to compromise your browser's speed by adding resource-hungry extensions on top of the unmodified browser.
Brave Wallet
Brave wallet is an Ethereum-based crypto wallet built directly into the desktop browser itself. You can manage your crypto assets and interact with decentralized apps (dapps) within your browser without having to install an extension.
Most crypto wallets require a browser extension to use, which opens up the possibility for malicious extensions disguised as legitimate ones to steal your credentials, money or personal data. The browser-native nature of Brave wallet eliminates these security risks while providing convenient access to crypto management tools.
The Brave wallet is only available for desktop users running Windows, MacOS and Linux. At the moment, no mobile version of Brave supports the Brave wallet.
Ease of Use
Brave's basis in Chromium makes its interface both easy to use and familiar to Chrome users. Brave includes a wide range of features without becoming burdensome to new users, so if you're already familiar with Chromium vs Chrome, there shouldn't be much of a learning curve when using Brave.
Brave is available on desktop for Windows 64-bit, Windows 32-bit, MacOS Intel, MacOS ARM64 and Linux. Support for the mobile variant is available for Android and iOS users running Android version 6 or later, or iOS version 13 or later. Brave is one of the best browsers for Android and Mac devices.
Desktop Version
Brave's Chromium-based user interface is nothing new for most web users. Simplicity is the main principle behind Chromium browser design: most of the browser window is taken up by the website itself. It's topped with an address bar, and a bookmarks bar and navigation controls are off to the side.
Most of Brave's features are stored away within the settings menu, so the browser doesn't overwhelm the user with too many visual elements.
Mobile Version
Brave's mobile counterpart is a minimalist and easy-to-use browser that isn't very different from the desktop version. The navigation controls are arranged along the bottom of the web page and the address bar spans the top part of the screen. Users can request the desktop version of any website they visit.
The Brave shield icon and the Brave rewards icon are always displayed on the right side of the address bar. It's easy to quickly check your BAT balance as you browse the web and tip your favorite websites, so long as they're registered with the Brave rewards program.
We aren't sure how many Brave users would actually opt in to viewing ads and using the BAT tokens since it's such a new idea, but it's a unique feature nonetheless.
Performance
We ran Brave through three benchmark tests alongside Google Chrome, Firefox, Edge, Vivaldi, and Opera. Brave's speed came in fourth in the Speedometer and JetStream 2 tests and came in third in the Motion Mark speed test. Chrome, Edge and Opera sped ahead of Brave, while Brave outperformed Firefox, Vivaldi and Opera in the Motion Mark test.
| Benchmark Test: | Speedometer |
| --- | --- |
| Browser | Runs per Minute |
| Microsoft Edge | 131 |
| Chrome | 121 |
| Opera | 116.6 |
| Brave | 102 |
| Vivaldi | 97.3 |
| Firefox | 95.5 |
Speedometer tests the responsiveness of web applications by simulating user actions. Microsoft Edge came in first in every test we ran, while Brave wound up somewhere in the middle.
| Benchmark Test: | JetStream 2 |
| --- | --- |
| Browser | Score |
| Microsoft Edge | 134 |
| Chrome | 125.917 |
| Opera | 121.802 |
| Brave | 116.936 |
| Vivaldi | 116.540 |
| Firefox | 80.131 |
Jetstream 2 is a benchmark test measuring JavaScript and WebAssembly programming techniques and averages the scores with a geometric mean. Brave once again appeared in fourth place, just 17.064 points behind Edge, while Firefox was 36.805 points behind Brave.
| Benchmark Test: | Motion Mark |
| --- | --- |
| Browser | Score |
| Microsoft Edge | 517 |
| Chrome | 496.32 |
| Brave | 444.67 |
| Opera | 373.27 |
| Vivaldi | 285.25 |
| Firefox | 145.93 |
Motion Mark tests the browser's ability to render visual graphics. Brave performed better in this test than in the previous two.
While Brave isn't the fastest browser on this list, it's still a very fast browser that showed no signs of latency at high loads.
Brave was fairly efficient in its memory usage, while we noticed that Opera was slightly more RAM-hungry when performing the same tasks. Chrome used memory more efficiently than both Brave and Opera.
Security
The bulk of Brave's security is derived from Google Safe Browsing, the service Google developed to check URLs against a database of known malicious URLs.
The service is excellent at warning users of potentially malicious websites, but Google could theoretically piece together an individual user's browsing history from the URLs sent to the company through Google Safe Browsing.
Google supposedly anonymizes your browsing history before the data reaches its servers, but studies have found that though Google's efforts seem sincere, the system is far from perfect and open to abuse.
Brave issues major updates every three to four weeks. This relatively slow update cycle leaves more time for cybercriminals to exploit vulnerabilities in the browser when compared to Chrome's two to three-week update cycle. If you need something more secure we recommend Puffin (read our Puffin review).
Privacy
Several of Brave's privacy and security features are built into the browser and don't require an extension. You'll find the main privacy controls contained in the "shields" menu in the Brave logo located on the right side of the address bar.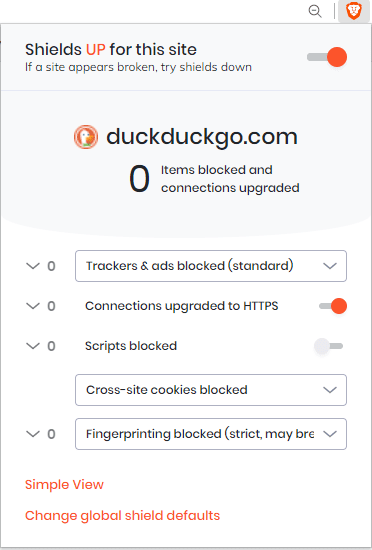 Users can configure the privacy and security settings for individual websites under this menu and choose how aggressively Brave should block ads, trackers and cookies. The standard "trackers and ads blocked" setting is enabled by default, but users have the option of turning up the blocking to "trackers and ads blocked (aggressive)" or allowing all trackers and ads.
Dropping the shields can come in handy when visiting websites that rely on features that usually get blocked in order to function (i.e. pop-up windows). The "shields" menu contains further controls for blocking cookies, cross-site cookies, and fingerprinting at varying levels of intensity.
The strict browser fingerprint-blocking setting comes with a warning that some websites may break.
Brave also comes with a built-in HTTPS Everywhere feature that will automatically establish a connection to all websites over HTTPS. Websites only available in HTTP will produce a "not secure" warning in the address bar by default.
Private Mode & Tor
Brave includes a private browsing mode that's pretty standard for all Chromium-based private modes — none of your browsing history, cookies or form data will be stored in the browser once you close the window. What sets Brave apart from most browsers is its "browse with Tor" mode.
The standard private mode won't hide your IP address from websites you visit or your internet service provider, but your IP address will be hidden with the Tor network. Your connection will travel through a chain of Tor nodes before it reaches the destination, so there will be no way for your destination website to know anything other than the exit node's IP address.
Limitations of Tor and Private Browsing
The biggest downside with this mode is that you can't see which individual Tor node you're using. The Tor Browser has a wider range of options for configuring your connections over the Tor network.
The Onion network attracts just as many scammers, bots and cybercriminals as it does legitimate users, so be careful when using Tor. For this reason, some websites will either require you to fill out CAPTCHA tests to prove that you're not a bot, or they will block Tor nodes entirely.
There's a lot more to know about Tor, so check out our VPN vs Proxy vs Tor guide for more information on how it works.
The Tor Project has a browser of its own, but Brave is an all-around better browser for its superior privacy, security and fuller range of features. If you're still curious about this browser, you can read our full Tor browser review.
It's important to note the purpose and limitations of browser private modes. It's commonly thought that your browser's private or incognito mode will protect your privacy while you use the internet, by masking your IP address, for example. This is not what private modes are meant to do — that's the domain of VPNs, or virtual private networks.
Take a look at our top 10 VPN providers for 2021 for more information on the best privacy-protecting services. ExpressVPN took first place as the best overall VPN, which you can read about in greater detail here.
The Verdict
Brave is one of the best browsers for privacy-conscious users. New users won't even have to think about adding privacy extensions, as the browser is already equipped with built-in ad and tracker blocking features right out of the box. Not only is this convenient, but having fewer extensions improves the browser's speed and efficiency.
We also applaud Brave for integrating the browser with the company's innovative project to reshape digital advertising, although the BAT system may be too esoteric for most users at the moment. Nevertheless, Brave is clearly thinking about the future of the internet as a whole and may very well set new standards that other browsers will follow.
What are your thoughts on Brave? Do you trust Brave with your privacy, or have you used a more private browser? Are Brave ads worth opting in to? And has the Brave wallet been helpful in your crypto investments? Let us know in the comments below, and thanks for reading.