Best Privacy Extensions for Chrome in 2022
Online privacy is a topic that is receiving ever increasing attention as giant tech corporations and national governments the world over collect and store more and more data on their consumers and citizens (read our State of the Cloud columns for more information).
To help protect you from all this, we've put together a list of the best privacy extensions for Chrome that will help shield your online activities from prying eyes.
Not only do these Google privacy extensions keep you safe from snooping, they can also significantly improve your browsing experience by removing intrusive ads and shielding you from malware and phishing, as well as help you manage your various user accounts and passwords.
All of the extensions below are pulled directly from the Chrome web store, so you shouldn't have any trouble installing them. Although the browser has some privacy issues in general, these Chrome privacy extensions should keep you safe.
What are the Best Chrome Extensions for Privacy?
Ghostery
Privacy Badger
LastPass
Telegram
Hotspot Shield
uBlock Origin
DuckDuckGo Privacy Essentials
HTTPS Everywhere
Unshorten.link
Google Password Checkup
Click&Clean
ScriptSafe
Panic Button
Privacy extensions in Chrome perform a wide variety of tasks and often have significant overlap with ones focused on security, which we covered in our article on the best browser security extensions. Although this list provides a ranking, the varying nature of these extensions means that it's not a strict apples-to-apples comparison.
Although this list focuses on Google Chrome (read our Google Chrome review), all our picks are also compatible with the various Chromium-based browsers, such as Brave (read our Brave review), Opera (read our Opera review) and Vivaldi (read our Vivaldi review). If you're particularly focused on privacy, the Tor project's browser (read our Tor review) is also something you should consider)
Ghostery is one of the top free Google Chrome extensions for privacy, and for good reason. Ghostery's primary task is to block ads and various trackers that gather information on you as you browse the internet. You can set up the Chrome extension with four different levels of blocking, depending on how strict you want it to be.
Although the Ghostery provides all its core functionality for free, you can also subscribe to the Pro plan for $2 per month. This gives you access to priority support, interface themes and detailed statistics. That said, the paid plan doesn't offer any additional protection.
Ghostery also has an "enhanced anti-tracking" feature, which is a separate algorithm that identifies trackers that can't be blocked and proceeds to strip out any personal or identifiable information. There's also "enhanced ad blocking," which acts much like a standard ad blocker by removing visual ads from websites you visit.
Finally, the "smart blocking" setting optimizes your browsing experience by allowing certain trackers that are required for websites to work and are known to be safe.
A nice little bonus of using Ghostery is the "rewards" program. This is an algorithm that presents you with offers and discounts on products and services that you might be interested in. On the surface, this sounds dodgy, but all of it is done locally on your machine, and none of the data that's used to "unlock" the offers is ever sent back to Ghostery's servers.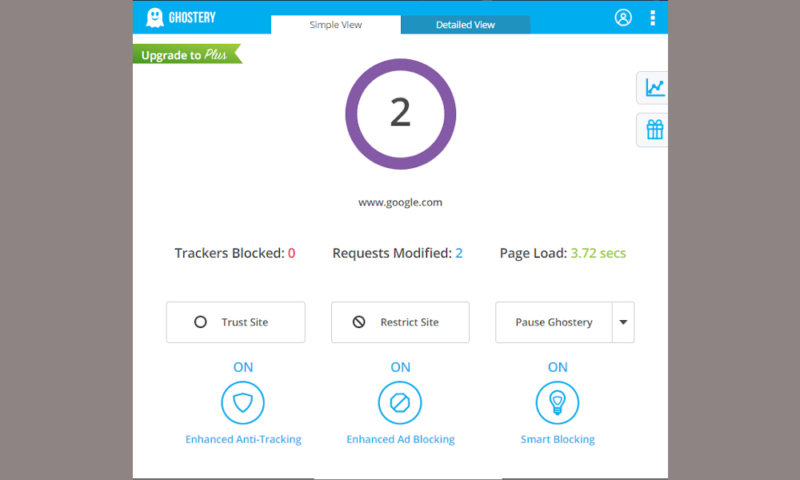 The extension icon in the toolbar provides both a simple view and a detailed view. These give you access to the settings mentioned above, as well as what trackers and requests are currently being blocked on the website you're visiting.
Like Ghostery, Privacy Badger specializes in blocking all sorts of trackers that monitor your browsing activity or collect your personal information. While most anti-tracking software will do this by consulting filter lists — meaning lists of known trackers — Privacy Badger takes a different approach.
As you first start using Privacy Badger, it won't be doing much. This is because the extension learns from your browsing, and once it detects the same tracker on three different websites, it starts blocking it.
This has the advantage of not relying on filter lists being updated, and it also results in lower resource consumption because the extension doesn't need to do as much cross-referencing.
Furthermore, you can set Privacy Badger to block WebRTC from leaking your IP address as well as have it tell you when you're on a website that doesn't appear to be tracking you at all, which is good to know. In the matchup between Privacy Badger vs. Ghostery, Ghostery wins, but Privacy Badger is still a good option.
Additionally, Privacy Badger is developed and maintained by the Electronic Frontier Foundation, so you're in good hands.
A dedicated password manager is absolutely essential if you want to improve your browsing experience as well as your online security and privacy.
Although Dashlane (read our Dashlane review) was our pick for the best password manager, it relies heavily on its desktop application, whereas LastPass operates entirely within your browser, making it the better choice if you're just looking at browser extensions.
Furthermore, LastPass has the best free plan of any password manager we've tested (see our best free password managers piece) and also includes some extra features geared more toward privacy. The main purpose of the extension is to keep track of your user accounts and associated passwords, but we would class this more in the "security" category of things rather than privacy per se.
What is great for privacy is that you can store autofill content, such as addresses, payment cards and bank accounts. This lets you circumvent the default autofill feature offered by Chrome itself, which, given the reputation of Google, is almost definitely used to collect personal information about you, such as where you live, what kind of banking you use and so on.
If you're interested in a full rundown of LastPass's features, including a more in-depth look at how it performs in terms of storing your passwords, then head over to our LastPass review to learn more.
Most major messaging applications are owned by large corporations that have few scruples when it comes to collecting data on their users.
It goes without saying that Facebook Messenger obviously isn't private, but even applications like WhatsApp — which was once lauded for its end-to-end encryption and great stance on user privacy — are hard to trust these days, as they have been gobbled up by companies like Facebook.
Telegram is the perfect solution to this problem. All messages sent within the app are secured with end-to-end encryption.
Although this is still also true for WhatsApp, the difference is that, since its acquisition by Facebook, the WhatsApp application can communicate with other Facebook apps, such as Messenger, which opens the door for the company to collect all the chats stored on your device whenever they want (check out our list of the best WhatsApp alternatives if you're thinking of jumping ship).
Telegram, on the other hand, is properly protected from this through sandboxing, which means that it can't send data back and forth between itself and other applications on your device.
Besides this, Telegram includes all the features you'd expect of a messaging app, such as group chats, notifications and contacts. All you need to set it up is a phone number (to receive the verification SMS) and you're good to go.
5. Hotspot Shield
Hotspot Shield is a free Chrome VPN that should keep you safe when browsing. Although it's not perfect — read our Hotspot Shield review to learn more about that — it'll protect your IP address from any sites interested in it.
A virtual private network functions similarly to the Tor browser, though with far fewer bounce points. Instead of connecting directly to the web server you're trying to access, a VPN will first connect to a remote server. At that remote server, your IP address is replaced, making you go incognito online.
Although Hotspot Shield offers a free plan, it's limited to 500MB per day. There's a discounted three-year plan for around $100, though, and it comes with a 45-day money-back guarantee, to boot.
Because blocking ads is one of the most effective ways of protecting yourself against malware, uBlock Origin featured prominently on our list of the best Google Chrome security extensions. Moreover, it was our number-two pick for the best ad blocker and is the best ad blocking software that doesn't carry a price tag.
In terms of privacy, uBlock Origin comes with several great features. You can have the extension block prefetch requests, which stops the browser from establishing connections to websites before you click the link to visit them.
There's also an option to block hyperlink auditing, which is essentially a "phone home" feature that informs the browser company of what links you click on and when. uBlock can also block IP-address leakage through the WebRTC framework, and finally disable the sending of CSP reports.
CSP is a security system that protects you against malicious behavior, such as cross-site scripting and code injection, which is great, but it also generates reports of this activity for the developers, which is less great. Disabling CSP reports won't remove the protection you get from the system, just the reports being sent back to the company in charge.
Finally, like any good ad blocker, uBlock Origin stops a huge number of trackers that collect information on you personally as well as your browsing activity.
DuckDuckGo Privacy Essentials is yet another anti-tracking extension for Chrome. Besides protecting you from tracking, the extension also defaults your connections to HTTPS whenever possible and provides a summary of a website's privacy practices when they are publicly available.
Every website you visit will also be given a privacy grade based on whether it offers HTTPS, how many trackers are present on the site and whether or not its privacy practices are known.
Two separate grades are then generated, one that relates to the website before the extension does anything, and the second one reflecting how much DuckDuckGo enhanced your privacy by blocking trackers.
By default, DuckDuckGo Privacy Essentials also blocks embedded tweets, but this can be turned off in the settings, where you can also set up a whitelist of sites that the extension will ignore entirely.
This is another pick that also featured on our list of the top security extensions. Not only does HTTPS improve your online security by protecting you against content injection, it also provides a significant degree of extra privacy.
This is because traffic handled over HTTPS (as opposed to the standard HTTP protocol) is all encrypted, which prevents anyone from intercepting your traffic en route, or more accurately, it makes whatever they pick up useless, as they won't be able to decrypt the content.
As the years go by, more and more companies are embracing HTTPS as the default, but there are still many websites, especially smaller ones, that haven't made the switch yet.
Bear in mind that a lot of other extensions — such as ad blockers, privacy suites or virtual private networks — also offer this feature, so if you already use something like NordVPN (read our NordVPN review) or DuckDuckGo Privacy Essentials, then installing HTTPS Everywhere becomes redundant.
Shortened links are one of the most common ways for cybercriminals to lure unsuspecting users onto their website. Although shortened links are usually fine, the problem is that there is no way for you to tell before clicking it.
Even those who exercise caution when browsing online can fall for one of these traps and suddenly find themselves on a domain that's riddled with trackers or, even worse, malware.
Unshorten.link is the perfect extension to get around this problem. Whenever you click on a shortened link, you're redirected to a page that lets you know whether the site you're trying to access is safe or not, at which point you can decide for yourself whether or not you want to proceed.
Although the extension is free, there is also a Pro version available for $7 per year. This gives you access to two additional features and a detailed history of what you've filtered.
First, the Pro version lets you enable preview screenshots, which will show a snapshot of the website you're trying to visit before you enter the website itself. You also get access to passive filtering, which will skip straight past the filter page if the link is determined to be safe.
Password Checkup is another very simple extension that performs a single task: protecting you from data leaks. Although we were hesitant to include an extension developed by Google (as you'd be hard pressed to find a company less dedicated to user privacy), the password checkup seems innocent enough.
Whenever you log in to a website, the extension checks it against a list of known data breaches where usernames and/or passwords were compromised. If the website in question shows up on the list, the extension warns you and encourages you to change your password to ensure that your account is still safe.
A simple extension that does exactly what it says, Click&Clean gives you a quick and easy way to clear all of your browsing data. Basically, the extension provides you with a button labelled "securely close browser" that, depending on your settings, will shut down Chrome, wipe your browsing history, empty your cache, delete indexed databases and more.
You can even set it up to clear your saved passwords, clear your download history and delete your saved form data. All of this adds up to essentially wiping your computer clean of your browsing activity, saving you a significant amount of time when compared to doing all of this manually.
If deleting all of this information at once seems a bit excessive, Click&Clean also contains separate delete buttons for each option so that you can pick and choose, depending on your current needs.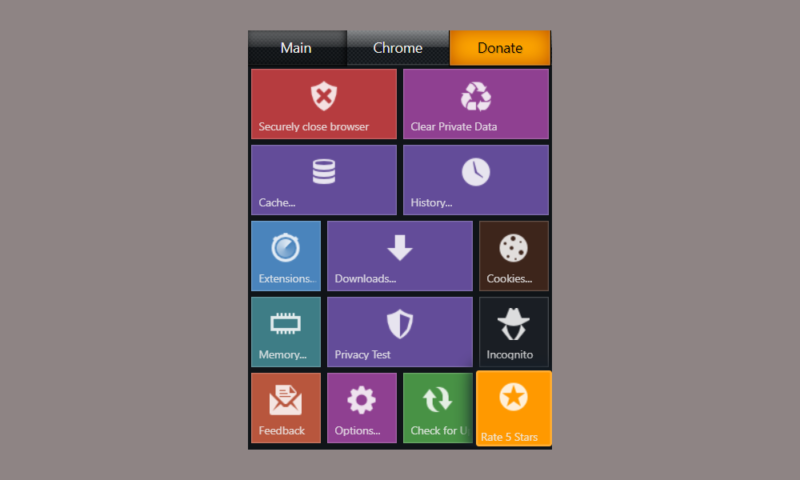 Besides blocking the trackers themselves, disabling various scripts that run on webpages is the most effective way of preventing tracking and other problems related to security and privacy when browsing.
Besides being able to block all sorts of scripts, ScriptSafe includes a safe browsing mode that blocks sites with malware, protection from fingerprinting, an "antisocial mode" that strips out social media elements from webpages and WebRTC protection.
You can also turn on spoofing for your timezone, user agent and referrer, which helps hide your identity from the websites you visit or from anyone who might be listening on their end.
The main panel that's accessible from your toolbar gives you an overview of everything blocked on the current webpage, as well as the option to allow or deny individual scripts or everything running on the current domain.
Although the other picks on this list are focused on protecting your privacy from someone spying on you virtually, Panic Button is instead aimed at keeping you safe from physical spying. If you've ever experienced someone looking over your shoulder and seeing something on your screen you'd rather keep private, then Panic Button is what you need.
In terms of features, it's exactly what it sounds like. The extension provides a literal panic button that, once pressed, hides all your currently open windows and tabs from whoever is watching you. You can map this to a keyboard shortcut, as well as set a "safe page" that opens in place of the tabs you want to keep hidden.
If you want additional protection, you can set up a password for reopening the hidden tabs as well as hide the panic button icon on your toolbar when activated.
Final Thoughts
With that, we have reached the end of our list of the best privacy extensions for the Chrome browser. Because there is a lot of overlap in functionality between the picks on this list (for example between the Ghostery Chrome extension and Privacy Badger), installing every single one of them would be overkill to say the least.
Rather, we recommend that you pick a few of these extensions that don't heavily overlap in order to strike a strong balance between privacy and performance. By combining some of our picks here with the ones from our security extension list, you'll have the best security and privacy extensions for Chrome to keep you safe.
What do you think of our list of the best Google Chrome extensions for privacy? Did we leave out a vital piece of software that you use to keep your browsing secure and private, or perhaps you've had a bad experience with one of our picks? Let us know in the comments below. Thank you for reading.