The 10 Best Chrome Privacy Extensions in 2023: Improve Google's Privacy
In a day and age where seemingly every website you visit has a tracker designed to grab as much user data as possible, keeping said data private is more important than ever. Browsers themselves can only protect so much, which is why we're looking at the best Chrome privacy extensions to keep your data private.
Online privacy is a hot topic nowadays, with huge corporations all over the world trying to collect and store as much data on their consumers as possible. You need to do your best to keep your data private and online privacy intact. When you're browsing, the best Chrome privacy extensions let you do just that.
Key Takeaways:
Keeping your user data private is incredibly important in a time when seemingly every website you visit has some kind of tracker to plant on you.
There are various extensions that cover different aspects of privacy, but if you want to be completely protected, it's best to combine multiple extensions instead of relying on one.
The best line of defense is to install an ad blocker, tracker blocker, VPN, antivirus and a script blocking extension — choose the ones you like best from our list.
If you're one of those people who think their privacy isn't too important, here's a suggestion: Make a mental list of all the personal things you're ready to share with absolute strangers. We'd be willing to bet it's a short list. How certain are you that the websites and services you use don't collect information on all those personal things?
Most of them do to some extent. If you want to prevent that data from falling into their hands, these are the extensions you should look into.
04/20/2022 Facts checked

Since our previous article, we've updated the list to include some new Chrome extensions, as well as ones that didn't make the list last time.
The best privacy extensions for Chrome depend on your specific needs, but generally, we would recommend combining a reputable ad blocker with a tracker blocker, antivirus, VPN and script blocking service.

Yes, Chrome is made to be used with extensions, and the ones you will find on the Chrome web store are generally safe. Still, it's worth looking into the extensions you're trying to install and their developers, especially if they require access to your browsing data.

No, Total Privacy is a browser hijacker that will change your search engine — avoid it at all costs.

Yes, you can hide and unhide extensions from Chrome.
What Are the Best Chrome Privacy Extensions?
When we were looking for the right Google Chrome extensions to add to the list, our main focus was keeping user data private. The list is a combination of virtual private networks, ad blockers, tracker blockers and other similar browser extensions that make sure your data doesn't fall into the wrong hands.
Virtual private networks keep your IP address private, making sure nobody can track your browsing activity — not even your internet service provider (ISP).
Ad and tracker blockers make sure you don't click on any intrusive ads and inadvertently give a tracker access to your online activity. Antivirus and malware extensions keep you safe from website-based malware and viruses.
These are the extensions that made the list.
The Best Chrome Extensions for Privacy
With so many privacy extensions to choose from, we've created a list of options that won't be a burden on Chrome's resource usage, yet will provide plenty of protection. Without further ado, here are the best Google Chrome privacy extensions, in no particular order.
1. Privacy Badger
More information about Privacy Badger:
Pros:
Uses AI to block trackers
Automatically sends Do Not Track signal
Free
Cons
Not the best at blocking ads
Privacy Badger is a creative take on tracker blocking by the Electronic Frontier Foundation. Rather than checking against filter lists, the extension looks for behaviors associated with trackers. This allows it to quickly detect trackers even if they aren't on most popular filter lists and stop them in their tracks.
Privacy Badger builds its own list of sites it needs to block as you browse the web, so you get an experience tailored to your browsing habits.
Automatic Signaling
Privacy Badger's hallmark feature is that it immediately sends a Global Privacy Control signal when it detects a tracker, which prevents the tracker from sharing or selling your data. In addition, it will send a Do Not Track signal to completely block trackers. These signals are enforceable, but even if a tracker fails to comply, Privacy Badger will block it.
2. ExpressVPN
More information about ExpressVPN:
Pros:
Negligible impact on speed & latency
Excellent server network
Proprietary Lightway protocol
Cons:
Expensive
Extension requires desktop app
ExpressVPN took our top spot in our best VPN roundup, and our ExpressVPN review revealed that if you're looking for a single go-to VPN, this is the one to choose. The extension controls the desktop app; installing it is unfortunately a prerequisite if you want to use the extension.
ExpressVPN comes with an extensive server network spread out across various parts of the world, as well as excellent performance that has a negligible impact on your speed and latency.
Proprietary Lightway Protocol
ExpressVPN uses its own proprietary protocol known as Lightway. It builds upon the wolfSSL library and is extremely lightweight, helping the VPN perform without causing lags or interference.
3. Click&Clean
More information about Click&Clean:
Pros:
Very simple to use
System cleanup tool
Backs up search history
Cons:
Requires separate app for system cleanup
Click&Clean lets you clear browsing data, cache, cookies or history with one click, or you can securely close Google Chrome and have the extension clear everything automatically. There's also the option to back up your browsing history, which comes in handy.
At first glance, Click&Clean reminds us of a Windows phone, with its tile design that puts all of its features up front. At second glance, we realized that's exactly what Click&Clean does — it gives you important functionality with a single click.
Clean Up Your System, Not Just Your Browser
Click&Clean also offers a tool that will clean temporary files that take up disk space, which goes further than most Chrome security extensions. That being said, this does require you to download their app, not just install the extension.
4. Malwarebytes Browser Guard
More information about Malwarebytes Browser Guard:
Pros:
Prevents browser locks & hijacks
Speeds up page load times
Built-in ad blocker
Cons:
May pester you to upgrade to a paid plan
Malwarebytes is an incredibly popular antivirus solution, and their Browser Guard does a great job at being an antivirus for your browser. It will block malicious websites so you don't accidentally download something you shouldn't, and it works remarkably well.
The Browser Guard Chrome extension can also block ads and trackers, though we wouldn't rely on it as your go-to ad blocker (see our best ad blockers guide), as it doesn't function as well as a dedicated blocker extension. One downside: Malwarebytes uses all of its free products to aggressively push users toward the paid plans, and Browser Guard is no exception.
Tech Support Scams Prevention
Another thing Malwarebytes detects is fake tech support scams. The extension will identify browser locks and hijacks like Total Privacy, which can lock your browser — or your entire system — behind a password. Then, the attackers will ask for ransom in exchange for access to your data, something that Malwarebytes aims to protect you from.
5. Ghostery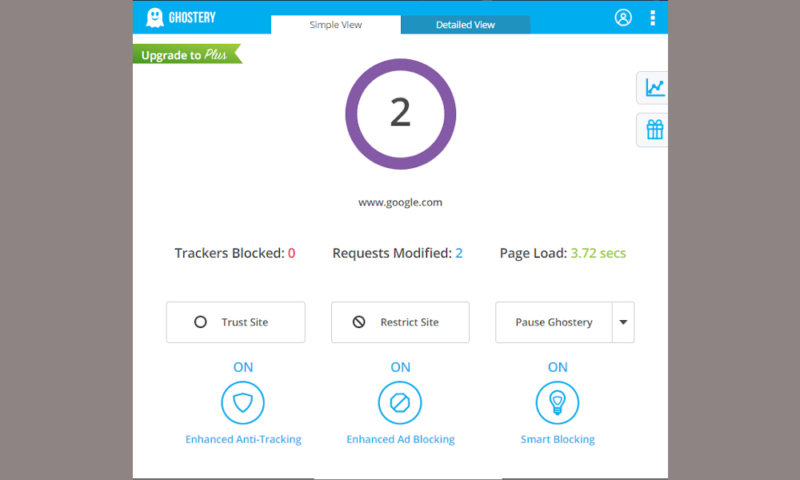 More information about Ghostery:
Pricing: Free; $4.99 per month or $3.99 per month on the yearly plan
Website: www.ghostery.com
Pros:
Provides detailed overview of trackers
Very configurable
Completely open source
Cons:
Detailed insights only available on paid plan
Although paid plans are completely optional for most of the extensions on our list, we would actually recommend paying for Ghostery. Not that the free version of this Chrome extension is bad — it gives you the ability to view trackers and block them, at four configurable levels.
You can also enable smart blocking, which will automatically block malicious trackers while permitting helpful ones for each website you visit.
A Worthy Paid Plan
The paid plan's analytics tool is where it really shines, which offers access to detailed insights. This allows you to audit any tracker that tries to intrude on your privacy and see exactly what it does. In addition, you get a private, ad-free search engine, as well as real time performance and statistics data for each page you visit.
6. uBlock Origin
More information about uBlock Origin:
Pros:
Uses few system resources
Easy to configure filter lists
Blocks both ads & trackers
uBlock Origin is an extremely effective ad and tracker blocker that makes very few demands on your system. With Chrome being a resource hog (something we brought up in our Chrome review), this is very welcome.
The UI is very simple, showing you at a glance how many ads and trackers it has blocked on the current page, as well as the number blocked since you installed the extension. This helps put into perspective just how effective it is — over the few days we spent testing it, the extension blocked over 45,000 trackers.
Configurable Filter Lists
uBlock Origin uses configurable filter lists. There are a few built in, but there is also the option to create your own if the predefined lists don't cover the websites you visit. You can even set up temporary or permanent filtering rules.
7. Blur
More information about Blur:
Pricing: Free; $39 per year for the Basic plan; $14.99 per month or $99 per year for the Unlimited plan
Website: www.abine.com
Pros:
Built-in secure password generator
Prevents spam by masking your email
Virtual credit card generator
Cons:
Most features require a paid plan
Very expensive
Blur is a multifunctional extension, covering several important fronts. One is the password manager and generator. Not only does Blur save your passwords and encrypt them, but it also has a generator that can suggest passwords that are near impossible to guess.
The downside is that if you want to get features such as virtual credit cards and phone numbers, as well as backup and sync, you'll need to pay for the Premium plan. For an extension, the price is incredibly steep, read our Blur review to learn more.
Masked Emails, Credit Cards and Phone Numbers
The other big feature is the private browsing that uses encrypted masks to conceal your email addresses, credit card numbers and phone numbers. When you need to give your email, credit card info or phone number to a website, Blur will generate virtual information keyed to the real data.
8. DuckDuckGo Privacy Essentials
More information about DuckDuckGo Privacy Essentials:
Pros:
Built-in private search engine
Enforces encrypted connections
Gives an overview of a website's privacy features
Cons:
Search engine isn't as good as Google
DuckDuckGo claims to have one purpose: protecting your privacy in Chrome. The Privacy Essentials extension offers a whole suite of features, including a search engine, tracker blocker, the ability to enforce encryption and automatic GPC (Global Privacy Control) signaling that tells websites not to sell or share your data.
A Google Replacement
The search engine claims to perform on par with Google. DuckDuckGo is good, but not good enough. When it comes to privacy and protecting user data, we definitely trust it more than Google, but it just doesn't have a search index as large as Google's, nor an algorithm as smart as Google's.
9. Unshorten.link
More information about Unshorten.link:
Pros:
Always up to date
Very easy to use
Built-in malware protection
Cons:
Preview screenshots require paid plan
Link shortening is not always a good thing. You never know where that shortened URL will take you, leaving plenty of opportunities for scammers to redirect you to unsavory locations or malware installs.
That's where Unshorten.link comes in. This extension will expand the URL and give you information about the website you're visiting.
Know Where You're Going
Unshorten.link can also redirect you to their link expansion page, which gives you information on whether or not the website is safe and how many trackers it has active. If you opt for the paid plan, you'll even get screenshots of the website, as well as filtering history.
10. NoScript
More information about NoScript:
Pros:
Allowlist for trusted sites
Works on Android
Helps protect from clickjacking attempts
Scripts are an easy way for people with malicious intent to add harmful code to seemingly safe websites.NoScript has one purpose: to protect you from said scripts and clickjacking attempts if you accidentally visit a malicious website disguised as another website.
Complete Control Over Scripts
You can let the extension do its thing, or you can manually prevent websites from running JavaScript, Java and Flash content without your approval. Paired with a very well made default allowlist, this is the only script blocking extension you'll need.
Privacy Extensions vs a Secure Browser
Make no mistake — privacy-oriented Google Chrome extensions go a long way toward preventing websites from collecting data through trackers. That being said, a secure browser (we've got a list you can check out) is always going to protect you better than even the best privacy extensions.
The reason: A secure browser, such as the Tor Browser (which we reviewed) or Puffin (which we also reviewed), is built around keeping things private. We're talking about protecting browsing activity and browsing data, blocking trackers, blocking ads and pop-ups — the whole nine yards.
If you want to keep your online activities private, without having to worry about how many trackers are trying to keep up with your browsing activity, a secure browser is the way to go. You can still pair it with some of the apps we mentioned above, like ExpressVPN's stand-alone VPN app, or DuckDuckGo's private search engine.
Final Thoughts
If you're conscious about your browsing activity and want to make sure your data doesn't fall into the wrong hands, aside from turning off Chrome's syncing feature, installing a browser extension (or a few of them) that aids online security is a step you should definitely consider.
In the list of privacy and security extensions, we included VPNs, ad and tracker blockers, and a few other handy extensions. If you want to keep using Chrome, installing a combination of multiple extensions for Chrome will cover you on every front, leaving no chance for trackers to grab any of your data. That being said, a secure browser is still a better option, in terms of both security and privacy.
Beyond these Chrome privacy tools, we have a comprehensive guide of other free privacy tools to help you enhance your digital privacy. We also made a guide on ad blockers for Chrome.
What's your preferred combination of privacy and security extensions? Do you go for multiple extensions that cover everything, or do you rely on a single extension to do it all? Let us know in the comments, and as always, thank you for reading.