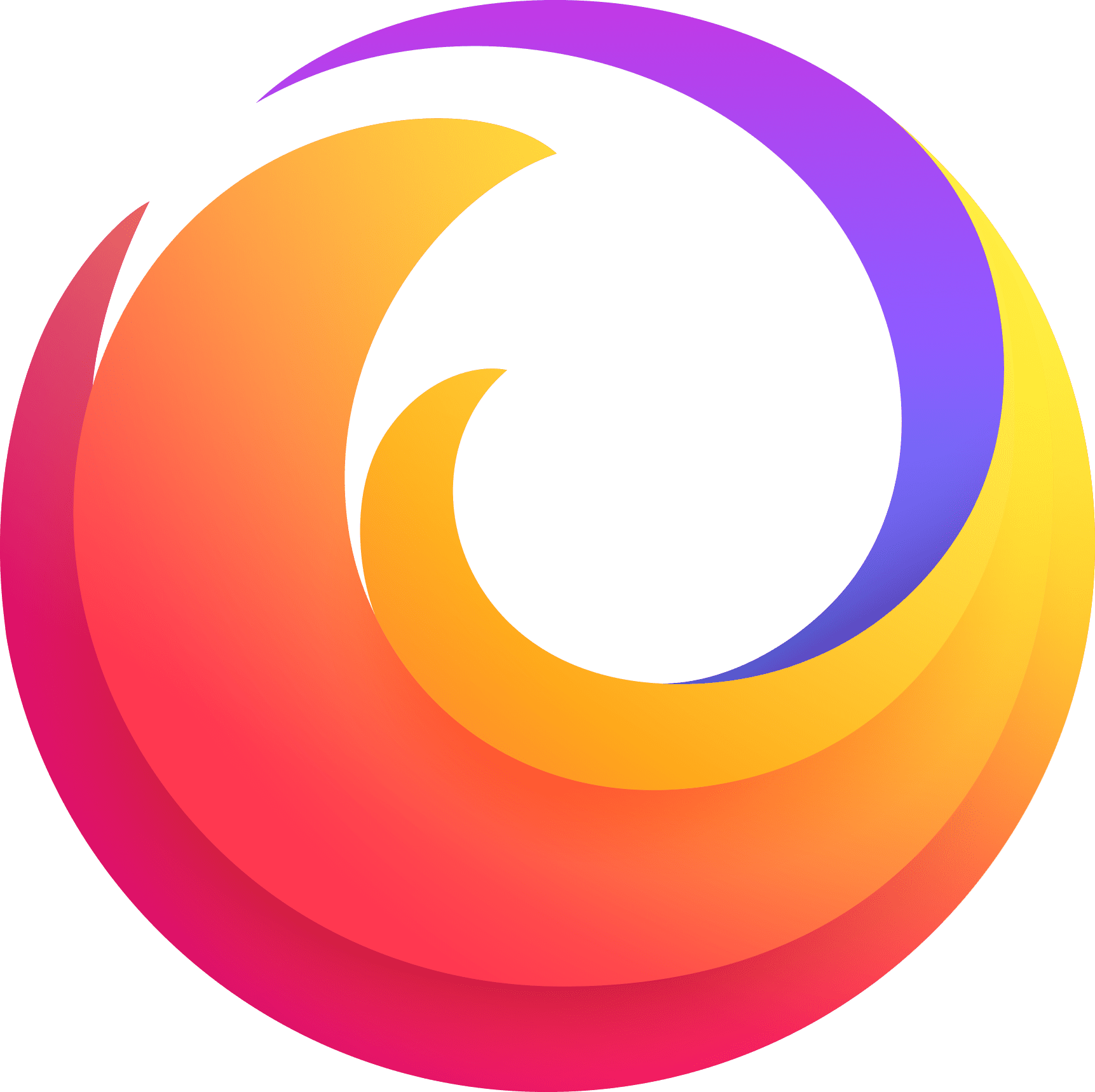 Visit

Firefox
Reliable privacy practices
Add-ons library
Easy to use
Firefox Review
Many web browsers from 20 years ago have disappeared as modern ones have taken their place, but Firefox is still going strong. Its add-ons library isn't quite as large as Chrome's and it suffers from high RAM usage, but Firefox has some noteworthy tricks up its sleeve.
At nearly 20 years old, Mozilla Firefox was one of the dominant web browsers of the pre-Chrome era and remains popular to this day. As we'll show in our Firefox review, this browser has adapted well to today's standards by keeping up with modern capabilities like having a library of add-ons, reliable privacy controls and a mobile version.
Key Takeaways:
Mozilla doesn't collect as much data on its users as Google, and dissociates activity from user identities.
Firefox will block trackers and fingerprinting activities by default.
Firefox can be augmented with extra tools from its add-on library, but occasionally faces compatibility problems with some.
Firefox's performance is fast enough for everyday use, but many other browsers use less RAM.
The industry standards for internet browsers have changed dramatically since Firefox was launched in 2002. Mozilla made several major updates to Firefox's design over the years to stay in the market while other applications have fallen away. We'll dive into the fine details of the new version of this classic browser in our review below.
Cloudwards conducted a fresh review of Firefox and expanded the review to cover more areas about the browser.
Firefox doesn't quite live up to Google Chrome when it comes to speed or extensions, but it's a more private browser by far.

Firefox can be trusted to protect your privacy in comparison to Chrome, but it's still a browser that collects user data. You'll need more than a trustworthy application to stay private online, as we explain in our anonymous browsing guide.

Firefox's security protections have caught up to Chrome's standards and even exceed it in terms of privacy. Firefox doesn't collect nearly as much data as Chrome and does a better job at dissociating each user's identity from their collected data.
Mozilla Firefox Review: Alternatives
Mozilla Firefox: Strengths & Weaknesses
Pros:
Reliable privacy practices
Add-ons library
Easy to use
Cons:
Some compatibility issues
High RAM usage
Features
Firefox innovated web browsing when it became one of the first browsers to support add-ons. Google Chrome later perfected the art of augmenting your browser with its own large library of extensions, eventually dwarfing Firefox's library.
While Firefox doesn't have as many add-ons as Google Chrome in terms of sheer number, Firefox nonetheless supports the most widely used types of add-ons like ad-blockers, password managers, productivity add-ons and many other features.
Device Sync
Users can sync their most important browser data across multiple devices by setting up a Firefox account. Creating an account requires only an email address and takes just a few minutes to set up. Once you're signed in, you can save bookmarks (read our guide on how to backup Firefox bookmarks), passwords, add-ons and other forms of data to your account that you can access from your other devices.
In its knowledgebase, Mozilla reminds its users that synchronizing your data is not the same as backing up your data — if you uninstall the browser without syncing the data first, it's gone forever.
The best way to separate user data on a shared computer is to create a profile for each user. Two people can log in to the same browser on the same computer with their individual Firefox accounts to access their personalized settings while keeping it private from everyone else.
It's also possible to create separate user profiles on the same installation without logging in to your Firefox account, although this is the more tedious option. As Mozilla explains in its knowledgebase, you can add, remove and change user profiles by launching the profile manager on your computer.
PDF Viewer
Firefox is equipped with its own built-in PDF viewer, so no external applications are necessary for opening PDF documents. If you prefer using a different PDF viewer, the Firefox viewer can be manually disabled and replaced with a third-party tool.
The Firefox PDF viewer sports a minimalist design that takes up little screen space. Its modest interface consists of a single horizontal bar beneath the address bar containing some buttons for viewing the document. At the top left is the "toggle sidebar" button, navigation arrows and page count.
Zoom controls are located in the center of the bar, and all the way to the right are buttons for printing, downloading, viewing the document in full screen and opening the document in a new tab or window. At the end of the toolbar is a button that opens up a menu for more viewing options such as rotating the document and changing the spread layout.
Reading List
iOS users can save pages for offline reading with Firefox's reading list feature. The next time you anticipate being in a location without an internet connection, the reading list will help you out by downloading the webpage in advance so you can read that page while on a bus, plane or wherever you find downtime without an internet connection.
Pages added to your reading list will be synced across all of your devices. The in-browser reading list feature is limited to iOS, but PC and Android users can save pages for offline viewing via the Pocket app.
Context Menu
Firefox's context menu has the same basic features as most browsers — saving a page, copying and pasting text, etc. — but it has a handy screenshot feature we didn't see in Chrome.
Taking screenshots is easy with the "take screenshot" button in the context menu, and can be enabled by right-clicking anywhere on a page. This screenshot feature can be used to take full-page screenshots and save them to your computer, or you can click on an individual element on the page to screen cap only that one section.
For further precision, you can change the size and shape of the selection box to zoom in on any part of the page you like. This screenshot tool is a handy feature we didn't see in many other browsers.
Firefox has an "inspect accessibility properties" in addition to its usual "inspect" feature. The accessibility inspector is a developer tool used for examining the accessibility properties for any given element on a webpage. This button will open up the accessibility panel of the usual inspect element panel and display all the innards of the webpage pertaining to accessibility.
Dark Theme
Lastly, users can stick with the default light theme or customize it by switching to a stylish dark theme under "add-ons and themes." Firefox includes a handful of alternate light themes and a button that leads to Mozilla's add-ons library where you can install more personalized themes.
Ease of Use
Firefox features a client for mobile devices and a desktop version. Both versions have simple, easy-to-use interfaces based on Mozilla's new Firefox Quantum engine, and they don't differ too much from one another.
In the desktop version of Firefox, you'll see that it's a simple browser with a few buttons and controls surrounding the webpage. At the top is your standard search bar, bookmarks bar and a few more buttons for settings in the upper-right corner.
If you click on the settings icon (the three horizontal bars), you'll open up a more comprehensive menu of various actions that are otherwise neatly hidden from view when the menu is closed. Firefox isn't based on Chromium, but its interface and menus are similar to Chrome.
As you type in the address bar, Firefox will automatically populate it with search suggestions based on your search history, bookmarks, search engine results and other kinds of data. Go into Firefox's settings to manually select what kinds of suggestions will appear in the address bar.
U.S. users have the option of enabling "contextual suggestions" to receive localized search suggestions. Firefox will collect your city-level location data to suggest search results relevant to your area, plus data based on your engagement with the search suggestions. Firefox states that it doesn't collect or share user data to make these suggestions.
Firefox Tab Management
The default "new tab" page will display the Firefox logo at the top, with a Google search bar directly beneath it, followed by a selection of webpages in your search history and articles recommended by Pocket. Google is the default search engine, it can be manually changed under "settings" > "search."
Once you've opened more tabs in an open window than can be displayed, navigation buttons will appear beside your row of tabs. The arrow buttons on the left and right will scroll through the off-screen tabs and another button on the right will open a dropdown menu of all open tabs. You can search for individual tabs here if you have too many tabs open.
Tabs will stop shrinking in size and scroll off-screen as new tabs are added, so some text will always be displayed. This makes each tab slightly easier to identify and click on than with Chrome, which narrows them down to just the favicon.
Although Firefox used to support tab groups, this feature has been removed, so you'll have to get an add-on if you want to customize your tab management further.
Pocket is Mozilla's bookmarking app that enables users to save various internet content like articles, videos and web pages in a curated feed. The Pocket feed can be customized or turned off completely.
Mobile
Firefox's iOS and Android apps also have simple layouts: the address bar, menu button and reader mode are located at the top of the screen, and the navigation controls are at the bottom.
In the event the mobile version of a website doesn't have the same features as the desktop version, you can use the "request desktop site" action to view the desktop website on your phone.
Performance
Firefox experienced its largest transformation in 2017 with its Quantum update. The Quantum update was a complete overhaul of the browser's design and the core engine it runs on, which reduced RAM use and boosted speed.
We measured Firefox's performance by putting it through some speed tests along with Chrome, Brave, Vivaldi, Opera and Microsoft Edge. It came in last place, while Chrome came in first. It may sound like a slow browser, but it's only slow on paper.
Firefox is fast enough in everyday use for its relatively slower speed to not be noticeable. Read our Chrome vs Firefox and Opera vs Firefox to see how it compares to other browsers.
| Benchmark Test: | Speedometer |
| --- | --- |
| Browser | Runs per Minute |
| Chrome | 121 |
| Brave | 102 |
| Mozilla Firefox | 95.5 |
| Opera | 116.6 |
| Vivaldi | 97.3 |
| Benchmark Test: | Jetstream |
| --- | --- |
| Browser | Score |
| Chrome | 125.917 |
| Brave | 116.936 |
| Mozilla Firefox | 80.131 |
| Opera | 121.802 |
| Vivaldi | 116.540 |
| Benchmark Test: | Motion Mark |
| --- | --- |
| Browser | Score |
| Chrome | 496.32 |
| Brave | 444.67 |
| Mozilla Firefox | 145.93 |
| Opera | 373.27 |
| Vivaldi | 285.25 |
We noticed that Firefox consumes a lot of system resources at once — it uses a lot of memory even with only a few tabs open and no extensions installed. Firefox and Chrome used up roughly the same amount of memory when running the same number of tabs, whereas Brave consumed less RAM by almost half.
Security
Firefox uses malware protection to protect its users from trackers that spy on your activities across the web. By default, enhanced tracking protection will block things like cross-site tracking cookies, fingerprinting, social media trackers, cryptominers and any kind of tracker hidden in web pages. Firefox manages to block the majority of malicious trackers and ads without breaking website functionality.
Firefox loads HTTP and HTTPS pages alike and notifies you with a red padlock icon when you reach a website over an insecure connection. You can make Firefox load pages over HTTPS by default by enabling HTTPS-only mode. If no HTTPS connection is available, Firefox will prevent you from reaching the webpage unless you manually choose to connect to the site over HTTP.
The HTTPS-only mode is not enabled by default on Firefox. Like with Firefox's password manager, this is an important security feature but it would afford more protection to all users if it was enabled by default.
Firefox automatically updates by default. Firefox downloads updates while you use the browser and installs them the next time you launch it. It's prompt about issuing security patches when Mozilla discovers bugs, so you won't have to worry about using an outdated version of Firefox.
Pop-Ups & Ad-Blocking
Firefox blocks pop-ups by default and will display a notification beneath the address bar when it does so. The notification bar contains an "options" button that leads to a menu with further pop-up controls, which includes allowing or blocking pop-ups for specific sites or disabling the notifications.
Because some websites rely on pop-up functionality for some of their features, Firefox provides the option to add websites to the pop-up allowlist while blocking all others.
Firefox does not block ads by default, but there are dozens of ad blockers available in its add-ons library. In fact, Mozilla compiled a list of five ad-blocking extensions the company recommends. There are many third-party add-ons compatible with Firefox, but these five have already been vetted by the company for malicious software.
Password Manager
A password prompt will appear each time you reach a website's login page. You have the option of saving your credentials within the browser and auto-filling the credential field next time you log into that website.
If you've chosen to store your passwords locally instead of on a separate password manager service, keep in mind that your locally stored passwords are not secured with a master password by default. Forgetting to set a master password could potentially give someone else access to all of your accounts if you use a shared device, or if your device gets lost or stolen.
Privacy
Unlike Google, Mozilla's data collection practices don't center around gathering and selling every user's data for the creation of targeted ads. Mozilla is a nonprofit organization that only collects as much data as it needs for the ongoing development of Firefox and doesn't sell your data to advertisers (or buy your data from them).
Mozilla's privacy policy makes it one of the better web browsers for privacy-conscious users, although it's not quite in our number-one spot for secure web browsers.
According to Mozilla's documentation, Firefox doesn't collect your browsing and search history to make money, but relies instead on distribution deals and partnerships for revenue. The data Firefox does collect on Firefox users includes technical and interaction data that is associated with a randomized identifier instead of your name or email address.
Firefox Data Collection
The technical data pertains to data about the browser itself and includes information on the operating system individual installations are running on, as well as crash report data.
Interaction data consists of information about the way the browser is used. Mozilla will collect data about navigation patterns, how many tabs a given user has open, the number of times an add-on was used, and other such information.
Mozilla claims that this type of data does not include information about the sites the user accessed, but only the way in which the browser was used. Despite all of this, some users will naturally want to opt out of data collection, no matter how anonymized or minimal the data might be.
If you're one of those users, you can stop Mozilla from collecting telemetry data by turning it off in the "privacy and security" menu in the settings.
Private Browsing Mode
Firefox has a built-in private browsing mode that doesn't save your search history, search queries, cookies, download entries or cached data. You can open up a private window by pressing Ctrl+Shift+P to browse the internet without recording your history.
Firefox's private mode offers a granular set of choices instead of recording everything or nothing. You can select which types of data the browser saves and which are not, in case you want to avoid retaining search and form history but keep your browsing history, or some other combination.
Alternatively, Firefox can be configured to not save any data at all, even without using private windows. This is equivalent to using private windows by default in all but appearance.
Private windows, incognito mode and similar features are commonly thought of as privacy tools that will hide your identity online, but that's far from the truth. Private windows won't hide your IP address from your internet service provider or prevent websites from collecting personal data about you — it simply doesn't save browser data that would otherwise be recorded.
Your best bet to boost your online privacy is to use a VPN. Out of all of our favorite VPNs, ExpressVPN is our top choice. Fast, secure and easy to use, ExpressVPN will give you peace of mind by concealing your identity from snooping third parties. Learn more in our full ExpressVPN review.
The Verdict
Firefox has held up well over the years. The current version has the modern appearance of Chrome and similar capabilities, while refraining from collecting as much data on its users. It's already a good privacy browser by default, but the long list of privacy controls gives each user even more power to customize and fortify their online privacy.
It's true that Firefox's library of add-ons is smaller than Chrome's, but Firefox still has thousands to choose from. Firefox isn't always compatible with modern add-ons, but unless you need a very specific capability that Firefox can't accommodate, it should otherwise be an excellent choice for your everyday web activities.
Overall, Mozilla is an impressive and dynamic browser that continues to adapt and improve in the modern era of the internet. Its feature-rich interface and privacy protections outweigh its shortcomings, and it still shows a lot of promise for continued innovation in web browsing.
What's your take on Firefox? Has it adapted well to modern technology, or do you think its time is up? Do you think Mozilla can be trusted to protect your privacy any more than Google? Is its RAM usage a dealbreaker for you? Let us know what you think in the comments below, and as always, thanks for reading.