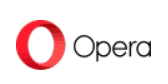 Visit

Opera
Lots of built-in features
Multiple mobile versions
Anonymous & easy device sync
Opera Review
Opera was launched in 1995 and remains in the game to this day, making it one of the oldest web browsers still under development. Opera built up its loyal user base for integrating a wide spectrum of features that would otherwise be left to extensions and separate programs.
It's gone through some major changes in the two-and-a-half decades since its launch. What began as a browser with a built-in email client has had to modernize in order to stay in the market, most notably by upgrading to Google's open-source Chromium framework in 2013.
Opera is still a unique browser that continues to innovate to this day, as we'll see in our Opera review below.
Key Takeaways:
Opera is designed with enough features to minimize the need for extensions.
Ever since Opera was acquired by the Chinese company Qihoo360, the browser's privacy has become doubtful.
There is one version of Opera for desktop, three for mobile devices, a Chromebook version, and a gaming version called Opera GX.
Opera was one of the first non-Google browsers to adopt Chromium as its base. Chrome and its extensions library now dominate modern web browser design, and it shows in Opera, but the trends set by Google have not stopped Opera from developing its own set of features that makes it unique.
12/26/2021 Facts checked

Expanded review to include more features as well as recent updates to the browser.
The privacy of the browser has been called into question ever since its acquisition by the Chinese company Qihoo360. Aside from the data collection practices typical of most web browsers, the company's presence in China opens the possibility for surveillance from the Chinese government – but we haven't seen any privacy violations yet.

Chrome outperforms Opera in speed and RAM usage, but Opera's unique design includes far more features than out-of-the-box Chrome. They both suffer from their own privacy concerns, but in different ways.
Opera Review: Alternatives
Opera: Strengths & Weaknesses
Pros:
Lots of built-in features
Multiple mobile versions
Anonymous & easy device sync
Cons:
Privacy & security concerns
Mini & Touch Android-only
Uses a lot of RAM
Features
Many other browsers are bare on their own and rely on third-party extensions. Opera's underlying philosophy is to be a fully featured browser that minimizes the need for external add-ons, so there are a lot of features to cover below.
Extensions
Opera ran on its own Presto rendering engine for most of its lifetime until it adopted Chromium in 2013. As the internet is increasingly tailored to Google Chrome, modern web browsers are flocking to Chromium in order to keep up with Google's pace, especially because Google owns the largest library of extensions in the Chrome web store.
Opera is compatible with Chrome extensions in addition to Opera's own extensions library. The library of Opera extensions includes the most widely used types of extensions, including the best browser security extensions, so most users' needs are covered. This includes ad-blockers, communication apps, malware scanners and other popular features.
PDF Reader
Opera uses Chrome's PDF reader. It sports a minimal design with all of the features displayed in a taskbar running across the top of the page and a vertical column for pages on the left. There isn't much to cover on this feature — it's a basic PDF reader that works well for reading documents within your browser.
Themes
Opera comes with several default themes as well as the option to make your own theme. You can use any image on the web as your theme by holding Ctrl, clicking the image and selecting "use image as theme." You can use images on your computer as well, or download other themes through the Opera or Chrome extensions library.
Context Menu
The context menu doesn't deviate much from the basic features found in most web browsers, featuring standard options such as interacting with text and saving files, plus developer tools like "inspect."
The two features of note are "add to speed dial" and "save as PDF." The former will add a page to the speed dial page that Opera begins on each time you launch the browser. The latter allows users to save whole web pages as PDFs instead of just bookmarking the links.
This would come in handy if you needed to take a screenshot of a website but still wanted to interact with the text and its embedded media. It's a nice feature that we would like to see on more web browsers.
Mouse Gestures
Opera comes with a set of novel navigation features called "mouse gestures." Navigating through the web with mouse gestures involves holding down the right mouse button, moving the cursor in a pre-scripted pattern, and letting go.
There are a few of these patterns that will move you through webpages and manipulate tabs and windows. It takes a little getting used to at first, but these gestures provide an efficient means of navigating the internet.
Ease of Use
Opera clients are available on desktop and mobile. Windows, Mac and Linux users can all download Opera for their desktop and mobile users can get it for either Android or iOS. Opera goes the extra mile by providing availability for Chromebook as well.
The company has also produced a gamer-focused variant called Opera GX, a lighter mobile browser called Opera Mini, and the one-handed variant, Opera Touch.
Desktop
Opera's interface on desktop is minimalist and easy to use. The first thing you'll see when you launch Opera is the browser's signature "speed dial" page, which displays several buttons for popular websites. These buttons provide easy access to such sites as Amazon, Walmart, Kayak and others.
They can be rearranged, stacked and customized to lead to any website you choose. Customizing your own speed dial page streamlines the process of manually opening new tabs and typing in each individual URL. A Google search bar is displayed above each of these buttons.
Like with most Chromium-based web browsers, simplicity defines Opera's design. The address bar, tabs and bookmarks are contained in the toolbar at the top of the page and let the web page take up the rest of the page. On the left side of the window is a vertical sidebar containing an additional set of buttons.
Buttons for communication apps, a media player, and additional settings are embedded in the vertical sidebar without crowding the window's interface with excessive visual elements. Opera is unique for having messaging apps like WhatsApp and Facebook Messenger built directly into the browser so you don't have to rely on an extension or a clumsy web page to use these apps.
The media player is a nice bonus — this app connects to several popular media streaming services so you can listen to music or podcasts while you browse the web. The media player is compatible with media streaming services such as Spotify, Apple Music, YouTube Music, SoundCloud and many others.
Workspaces
Separating your settings and browser data between personal and work use is an important part of any good browser, and Opera provides more organizational features than many of its big-name competitors.
At the top of the vertical sidebar are icons for your "workspaces," or sets of open tabs. Workspaces act as a middle ground between windows and tabs by keeping groups of tabs completely separate, but without the need to open a new window.
For example, all open tabs in one workspace will not appear in your other workspaces, so you can designate different workspaces for different purposes without opening dozens of tabs or windows. This is a handy feature for keeping personal and work tabs separate, sorting tabs by relevance, or just keeping your window from being cluttered with too many tabs.
My Flow
Opera introduces a novel way to sync data between your devices with a feature in the sidebar called "My Flow." You can send images, videos, links, notes and other types of media between your devices over an encrypted connection without creating an account.
Syncing your smartphone and computer involves scanning a QR code on the browser rather than logging in to an account. My Flow stores data up to 10MB in size and will automatically delete files within 48 hours. When you find something you want to share between your devices, you can click the "add to My Flow" button in the toolbar at the top of the page.
My Flow is a convenient feature on its own, but logging in with your account will grant you access to the browser's full range of features. All of your browser data and configuration settings will be preserved when using multiple devices.
Opera's lack of user profiles for a single email address is disappointing, since it's a convenient way to separate multiple users on a shared device, or to separate your work and personal data. The only way for users to remain separate is for each user to sign in with their own email address.
Mobile
There isn't just one Opera browser for mobile, but three: Opera, Opera Mini and Opera Touch. The standard browser is a fully featured mobile variant of the desktop version while the others are intended to be lighter applications, emphasizing ease of use over features.
Mini and Touch are only available for Android devices. If the two don't fit the profile of the browser you're looking for, be sure to check our best browser for Android guide.
The standard browser for mobile has more features than the other two Opera mobile browsers. Its interface is visually simple and easy to use without sacrificing too many features available in the desktop version, although it lacks some, such as workspaces and the sidebar.
Opera Mini
Opera Mini is a stripped-down version of the standard browser for mobile that's designed for performance and saving data. As a result, it lacks some of Opera's advanced features such as signing in to your Opera account, the built-in VPN, the crypto wallet and other features the standard mobile browser has.
If you open the settings menu by pressing the Opera icon in the bottom-right corner of the screen, "data savings" will appear at the top. The data savings menu will show you how much data your browser is saving and provides a set of options for optimizing your browser's data usage.
There are four data-saving options: off, high, extreme and automatic. Turning off data saving mode will let you browse the web normally with all web elements intact, but you won't be using the browser as it was intended.
"High" and "extreme" strip away extraneous web elements to varying degrees. High is enough for general optimized browser use, but extreme will pare down web pages to the bare bones, which is useful for those with slow connections. Some pages may not work in this mode.
Opera Touch
Opera Touch is another variant, but this one prioritizes ease of use. It has few features and derives its main purpose from its one-handed mode. Navigating across the web in this mode is made simple by a single button at the bottom of the screen that will branch out into a multitude of buttons when pressed.
These secondary buttons include options to navigate through existing tabs and open new ones without having to use more than your thumb. It's a good option for use during travel when you may not have enough time to use a feature-heavy web browser, especially when you need to quickly access the internet for only one thing.
Performance
We put Opera through three browser speed tests alongside Google Chrome, Brave, Mozilla Firefox, Vivaldi and Edge. It came in third place in Speedometer and JetStream 2 and fell into fourth place in Motion Mark.
Opera vs Google Chrome, Mozilla Firefox & Others
Despite failing to take first place, these numbers don't take away from the fact that Opera is a fast and responsive browser in practice. With that said, we noticed that Opera consumed a lot of RAM.
Chrome used fewer resources when performing the same tasks, while Opera was less efficient in its allocation of resources. Read our Opera vs Chrome guide to learn more.
The good news is that Opera's lightweight mobile browser, Opera Mini, provides a solution for users with slow connections, as it's designed to save as much memory as possible. Unfortunately for desktop users, it's only available for Android.
| Benchmark Test: | Speedometer |
| --- | --- |
| Browser | Runs per Minute |
| Microsoft Edge | 131 |
| Chrome | 121 |
| Opera | 116.6 |
| Brave | 102 |
| Vivaldi | 97.3 |
| Firefox | 95.5 |
Speedometer is a speed test that tests the responsiveness of web applications by simulating user actions. Microsoft Edge came in first place in every test we ran. Opera wasn't the fastest browser in this test, but it was far from being the slowest.
| Benchmark Test: | JetStream 2 |
| --- | --- |
| Browser | Score |
| Microsoft Edge | 134 |
| Chrome | 125.917 |
| Opera | 121.802 |
| Brave | 116.936 |
| Vivaldi | 116.540 |
| Firefox | 80.131 |
JetStream 2 measures JavaScript and WebAssembly programming techniques and averages the results with a geometric mean. Opera held third place once again and received a score closer to the fastest browser than to the slowest one.
| Benchmark Test: | Motion Mark |
| --- | --- |
| Browser | Score |
| Microsoft Edge | 517 |
| Chrome | 496.32 |
| Brave | 444.67 |
| Opera | 373.27 |
| Vivaldi | 285.25 |
| Firefox | 145.93 |
Motion Mark tests your browser's ability to render visual graphics. Opera fell behind Brave in this test, but it was faster than Vivaldi by almost one hundred points, and much faster than Firefox. Read our Opera vs Firefox comparison to learn more.
As you can see, Opera isn't the fastest or most efficient browser in the world, but its performance is still very good in practice. Even while sending emails, watching HD YouTube videos and browsing the web at high loads, Opera showed no signs of lagging.
Security
Despite being a Chromium browser, Opera does not use Google Safe Browsing to protect you from malicious websites. Instead, Opera uses Phishtank and Yandex to detect and block malware and phishing websites, both of which are less reliable than Google Safe Browsing.
Opera will notify you in the event you visit a website over an unsecure HTTP connection. A triangle with an exclamation point will appear in the address bar to the left of the URL, although it's easy to miss. The icon itself is small and shares the same color scheme as the browser, so it easily blends in with the browser window instead of standing out.
Built-In Ad-Blocker
Opera's built-in ad-blocker is disabled by default but can be toggled on or off in the "settings" menu. Some other browsers including Chrome require installing an ad-blocking extension to keep intrusive ads away, but as with so many of Opera's features, it's available in the browser by default.
The built-in ad-blocker operates on three filter lists that are regularly updated with rules that will automatically detect and block ads, banners and trackers. Users have the option of adding more filter lists if extra protection is necessary. One of the default filter lists, NoCoin, specifically defends against cryptocurrency miners.
Privacy
In 2016 Opera was acquired by the Chinese security company Qihoo 360, a developer of antivirus software and mobile apps. Given the Chinese government's authority over technology corporations and its power to compel companies to create backdoors in their products, Opera seems like a difficult web browser to trust.
Aside from that, Opera has some other privacy concerns to take into account. The browser collects some types of data and lets third parties collect data as well.
According to Opera's privacy policy, Opera users are anonymous and cannot be identified based on the data collected by Opera. The collected data includes data about the user's hardware and behavior when using Opera, which includes the browser's ransom installation ID, device ID, hardware specifications, environment configuration, feature usage data and operating system data.
Many of Opera's applications are derived from a multitude of third-party developers, which means the kind of data collected by one feature may vary from the data collected by another. It isn't clear from the privacy policy what kind of data the third parties collect or if it includes categories of data not limited to the hardware and usage data outlined above.
It's possible to opt out of some data collection in the settings menu, but it isn't clear exactly how much data you saved from being collected. No matter how you use the browser, there is no substitute for using secure cybersecurity best practices. Check out our anonymous browsing guide for more info, and our list of the most secure web browsers.
Private Mode
Opera's private mode is pretty standard, and mostly operates like Chrome's incognito mode. Your browsing history and cookies will be cleared once you close out of the window, but bookmarked sites, downloaded files and speed-dial buttons will remain.
The private mode isn't a privacy tool that will hide your IP address or conceal your activity from your ISP. This is a common misconception for private modes, when in reality only VPNs are capable of concealing your identity online. We recommend fortifying your privacy by using a VPN, which you can read more about in our guide on VPNs here.
Opera VPN
Opera is unique for having its own VPN built right into the browser. This is a feature we would love to see adopted by more browsers in the future, but even though it's a great idea, Opera's VPN is very limited.
The first thing we noticed is Opera's lack of server or location selection. Opera's only three location options are broadly categorized as Asia, the Americas and Europe, without providing any details on the number or location of Opera's VPN servers. We're also in the dark about what kind of encryption it uses. Opera claims this is a no-logs VPN.
We hope to see improvements in Opera's built-in VPN, but for now we'll have to recommend other VPN services for protecting your privacy. Take a look at our list of the top 10 VPN providers in 2021 for more information. ExpressVPN came out on top thanks to its solid encryption, no-logging policy and fast speeds. You can read our full ExpressVPN review here.
The Verdict: Opera Browser Review
Opera paved the way for web browsers that are both abundant in features and easy to use. Opera has come a long way since its origin as a browser–email client combo, and it continues to integrate a large number of features into a browser that would otherwise have to be augmented with extensions.
It's not the best browser for privacy, but its wide range of capabilities redeems many of its shortcomings. Opera's upgrade to Chromium means it's no longer a web browser with an independent engine in an age where Google sets the trends for modern web design. Still, Opera has a unique way of doing things that keeps it from becoming obsolete.
What do you think of Opera? Do you prefer browsers that come with a wide range of capabilities out of the box, or would you rather download extensions? Are its privacy practices a deal breaker? Let us know in the comments section below, and as always, thanks for reading.