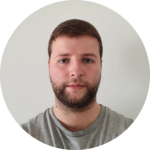 Andrej Hadji-Vasilev
Writer
Snap Shot
Andrej Hadji-Vasilev is a writer for Cloudwards. His writing and research focus on VPN reviews and how to use VPNs for specific purposes.
Background & Education
Andrej has had a passion for technology from an early age. Growing up, he was always on a mission to discover as much as possible about different technologies and keep abreast of tech industry news.
It is this passion that led him to study for a bachelor's degree in communication networks and security, which he obtained in 2018. In 2013, he merged his love of writing and research and his enthusiasm for technology and by starting to work as a freelance writer. Since then, he has completed projects for clients, written web copy and blogged for various websites.
Andrej's impressive technical knowledge and love of technology brought him to Cloudwards in May 2021. He focuses on VPNs, conducting tests and research into the best VPNs for specific purposes and writing VPN reviews.
Last articles
Last Reviews