Safari vs Chrome in 2023: Performance, Speed and Features Compared
Safari and Chrome are two of the biggest players in the browser world. While Safari comes ready-to-go on Apple devices, that doesn't mean it's the best option — especially as Chrome is often touted as the best browser out there. See who wins in our Safari vs Chrome comparison.
It's that time of year again where we put two of the most famous browsers in our virtual boxing ring for the battle of Safari vs Chrome. All Mac users will be familiar with Safari; it's the default browser for Mac devices and iPhones. 
However, just because Safari comes pre-installed by default, that doesn't mean it's necessarily the best. With applications available for the Google Chrome browser on both Apple desktops and iOS, you might be wondering if you should make the switch.
Key Takeaways:
While Safari and Chrome are both decent browsers, Chrome's vast library of extensions and customization capabilities means it's a slightly better choice
In the battle of performance, Chrome also comes up tops, offering better speed and graphics execution
The only round where Chrome lags a little is privacy and browsing data collection, which is why we advise using this browser in conjunction with a VPN
To help you decide, we've done a bit of research for you, comparing Safari and Google Chrome across Mac and iOS to see which one is better. If you're not a Mac user, then this article won't be one for you, so we suggest you check out our Microsoft Edge vs Chrome review for Windows devices instead.
04/11/2022 Facts checked

Cloudwards completed a fresh comparison of Safari vs Chrome. Since our last review, Chrome and Safari have remained relatively unchanged, making for a neck-and-neck race.
Both Safari and Chrome are good browser choices for Apple users. However, Chrome takes the lead over Safari in terms of performance, ease of use and customization, making it a better all-round browser choice.

Safari and Chrome are both secure, and Safari actually uses Google's Safe Browsing database. They are pretty much neck and neck when it comes to privacy and security, but if you're concerned about your online privacy, we'd advise using a VPN.

Probably not. If you're using Chrome, then Safari won't offer you anything that you haven't got already.
Safari vs Chrome: Rounds & Criteria
Our showdown between Safari and Google Chrome will take the form of five rounds, each focused on a different strength: features, ease of use, performance, security and privacy.
At the end of each round, one browser will come up tops and earn a point. Whichever of the two browsers scores three points overall will be the final winner. Is Chrome better than Safari? Let's find out.
1. Features
First up in our Google Chrome vs Safari showdown, we'll explore each of the browser's features. It's fair to say that Safari and Google both cover the basics of a good browsing experience pretty well but, in this day and age, most of us want more than basic functionality. Native tools, customization and extensions were all things we considered in this round.
Customization
Safari is pretty minimalist in design and functionality. While you can customize the look and feel of the browser on Mac, your options are limited. For example, you can change the background of the Safari home screen, but not the overarching color and theme of the desktop.
By contrast, Google Chrome gives you a lot more options. You can choose from over 24 color themes, or even customize your background with an image of your choice. It's a similar story over on the mobile applications for both.
Safari's home screen feels minimalist and static, while the Google Chrome mobile device app offers higher levels of customization. You can, for example, set your homepage to show you the latest trending news from Google News.
Google Extensions vs the Apple Ecosystem
Google Chrome also leads when it comes to extensions. Like Firefox, the Chrome extensions library is huge, varied and offers lots of applications for free. Read our Chrome vs Firefox review here.
Safari's library of extensions, in comparison, feels relatively limited. While you can access big names like Honey and 1Password, you'll also find that a lot of applications aren't compatible with Safari.
This is especially true for VPNs. Right now, none of the top VPN providers offer a browser extension for the latest version of Safari, but they do for Google Chrome. In essence, Chrome offers much more expandability and customization than Safari.
Syncing
Both web browsers offer solid syncing features. We like how Safari works in conjunction with a range of Apple features to offer a seamless browsing experience across all Apple products.
Combined with iCloud sync and Apple's iCloud keychain software, you can move from your iPhone to your iPad to your Mac laptop without your browsing experience being interrupted, and your browsing history will also save automatically. Here's the lowdown on how to get started with iCloud.
Safari also integrates into Mac's other applications by default. So, if you use Mac apps like Apple Mail, Apple Calendar and iMessage, you'll experience excellent continuity. We also like how, with compatible websites, you can use Apple Pay to pay for online shopping.
Google Chrome, though, also performs well on the continuity front. If you have a Google account, you can also sync your browsing experience across your other devices. While Google Chrome doesn't enable Apple Pay, it has its own option — Google Pay — which you can enable for a faster payment experience.
So, Google Chrome and Safari are pretty much neck and neck when it comes to features but, with its greater levels of customization and vast library of web extensions, Google Chrome takes the lead in this round.
2. Ease of Use
Both Safari and Google Chrome are straightforward to use on desktop and mobile devices, so in this round, we analyzed which user interface felt more pleasant to use. Across iPhone and Mac, Chrome takes a slight lead here.
Safari's user interface is minimalist and easy to get your head around. The search bar is at the top of the screen on both desktop and mobile. The home screen is then decorated with widgets showing frequently visited websites, favorite websites and suggested reading based on your browsing experience.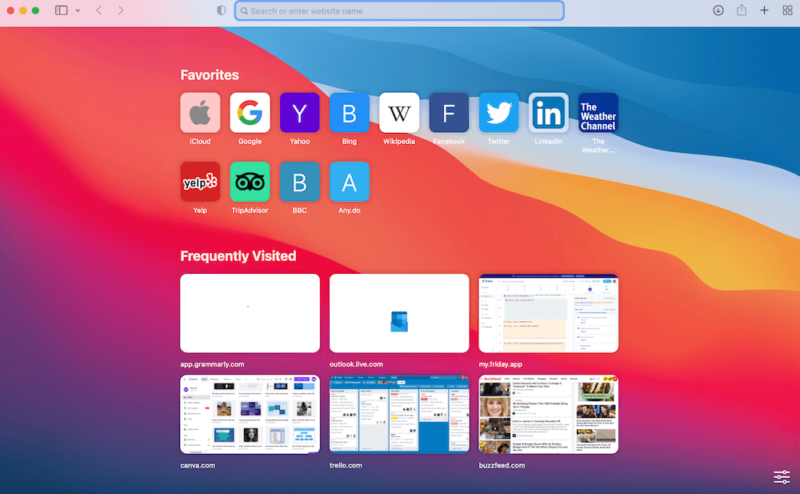 The experience is satisfactory and we also like how, if you open multiple tabs, you can click the four-square icon in the top right-hand corner of the browser to zoom out of all your open web pages, so it's easy to find what you need.
Chrome is also really easy to use. The homepage — unless you change it — features the famous Google search bar, along with frequently visited websites below it. There's also widgets in the top right-hand corner of the page, which give you quick access to Google applications like Gmail, Google Drive, Google Photos, Google Translate and YouTube.
In terms of finding bookmarks, Google Chrome's bookmarks are more seamlessly integrated into the browser, showing as small widgets below the search bar at the top of the page. To show bookmarks in Safari, you have to either manually click the bookmark tab in the control panel or enable the bookmark pane, which is quite big and invasive.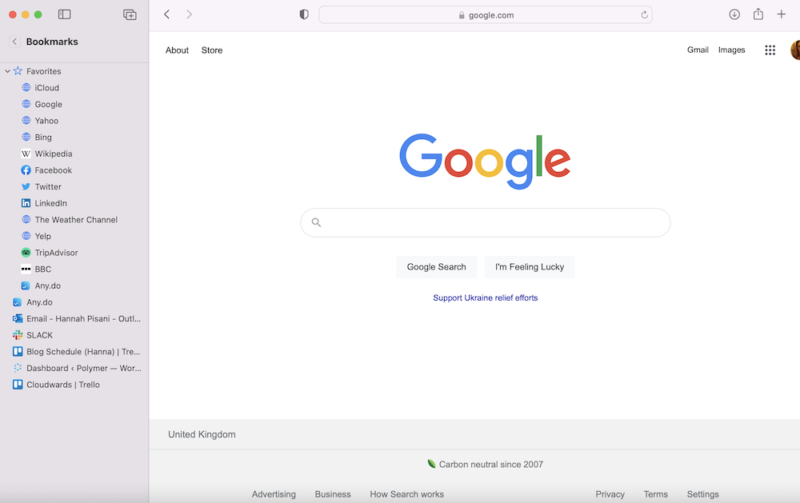 Overall, while both are easy to use, the Google Chrome browser feels a bit more dynamic and user-friendly than Apple's browser.
3. Performance
We've come to what is arguably the most important round: the Safari vs Chrome speed test. We performed a benchmark test using Speedometer 2.0, JetStream 2 and MotionMark to compare Safari vs Chrome performance.
We used a MacBook Pro with 16GB of RAM and an Intel Core i5 CPU running at 2 GHz to run these tests.
Benchmark Test Results
| Benchmark Test: | Speedometer |
| --- | --- |
| Browser: | Runs per Minute: |
| Chrome | 122.05 |
| Safari | 113.8 |
When it comes to speed, Chrome is the clear winner, reading 122.5 compared to 113.8 on Safari. While both are respectable scores, Chrome is undoubtedly the faster option.
| Benchmark Test: | Jetstream |
| --- | --- |
| Browser: | Score: |
| Safari | 125.705 |
| Chrome | 118.675 |
On JetStream, the tables turned. Safari's reading was 125.705, putting it in the lead as Chrome's score was 118.675. JetStream tests a browser's ability to deal with complex JavaScript workloads. This indicates that Safari will perform better when executing complex applications — but only marginally.
| Benchmark Test: | Motion Mark |
| --- | --- |
| Browser: | Score: |
| Chrome | 403.6 |
| Safari | 365.31 |
The last test we performed was MotionMark, which analyzes how the browser handles complex graphics. Chrome really shone in this test, coming in at 403.6 to Safari's 356.31. This means that Chrome's user experience and responsiveness outperforms Safari.
One thing worth noting is that Safari is a more lightweight browser than Chrome. While it might not be as quick, Safari is more economical for iOS and Mac performance than Chrome in terms of battery life, especially with multiple tabs open.
Despite this, with Chrome winning on two out of three of these mini rounds in the Safari vs Chrome benchmark test, it's fair to say that Chrome is the overall winner when it comes to performance.
4. Security
Both Safari and Chrome use Google's Safe Browsing database to keep users safe from phishing and malware. They also both offer password management functionality.
If you use Google's password manager or Safari's iCloud keychain, you'll also benefit from dark web monitoring, a feature that uses data analytics to alert you to the exposure of your passwords and email addresses in data leaks and breaches.
Despite these similarities, Chrome slightly takes the lead in terms of security features. We like that Google sends out frequent browser updates for Chrome, ensuring regular patching from potential vulnerabilities. Safari's updates, by contrast, are much more infrequent.
5. Privacy
Over the last few years, Google has gotten in trouble with data privacy regulators numerous times for its use of cookies and improper collection of personal data. Apple, by contrast, has managed to stay out of the headlines for these reasons.
We've taken an in-depth look at the best browsers for your privacy, which you can take a look at here.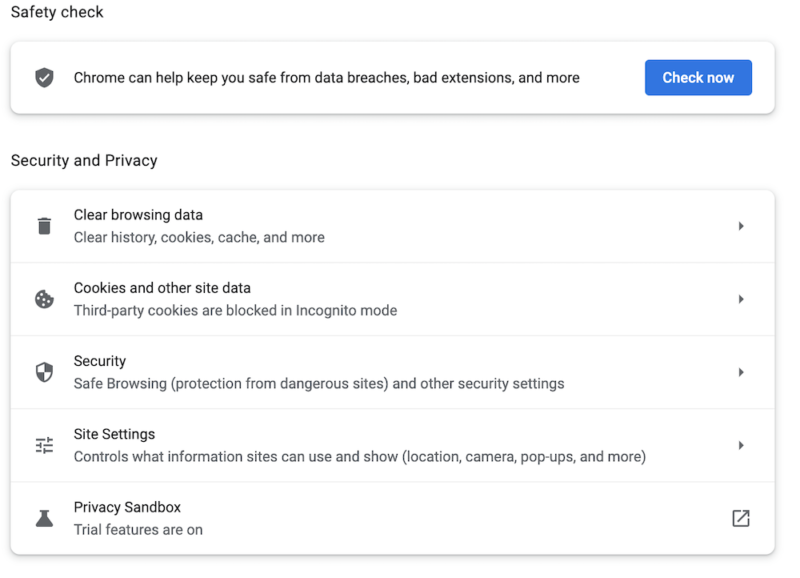 While Google appears to have learned from its mistakes and is taking steps to bolster user privacy, Apple takes the lead in this round. We like that Safari features a dedicated "privacy report" feature, which shows how the browser is protecting you from online profiling and cross-site tracking through its intelligent tracking prevention software.
Chrome also offers a "privacy checkup" function, but it's far less granular than Safari. Also, by default, your privacy isn't prioritized. Google automatically enables personalized ads, as opposed to blocking them. Incognito mode, as always, doesn't do much do actually protect your privacy.
This makes sense, as advertising is such a huge part of Google's business model, but it means that you should probably use a VPN in conjunction with Chrome. For this reason, Safari wins this round.
Round: Privacy
Point for
Safari
The Verdict
Ultimately, Safari and Chrome are both solid browser choices. For iPhone, iPad and Mac users looking for simplicity and deep integration across the Apple ecosystem, Safari is a good choice — and comes ready to go.
However, it's also well worth downloading Chrome and setting up a Google account if you haven't already. Chrome is a leading browser for a reason. It's fast, easy to use and comes with unparalleled customization options.
Because of this, Chrome is our ultimate winner, but we do recommend you use it in conjunction with a VPN to ensure your online privacy.
What are your thoughts on the battle between Chrome vs Safari? Do you agree that Chrome is the better browser overall, and why or why not? Let us know in the comments. Thanks for reading!