Livedrive Review
Cloud storage, backup and syncing. Terrible user experience. Advanced features for NAS backup and FTP/WebDAV access.
Last Updated: 17 Feb'17
I've watched Livedrive for close to 3 years now and I must say it's been a rough roller coaster. From being one of the worst services ever, to continually improving it's offering in terms of stability and speed, it's now somewhere in the lower middle. It provides a decent service, that simply cannot wow me, despite a good array of features. User experience is horrible, accurate pricing is hard if not impossible to find on their website. How and why I signed up for it, read this Livedrive review.
Our Livedrive Review 2017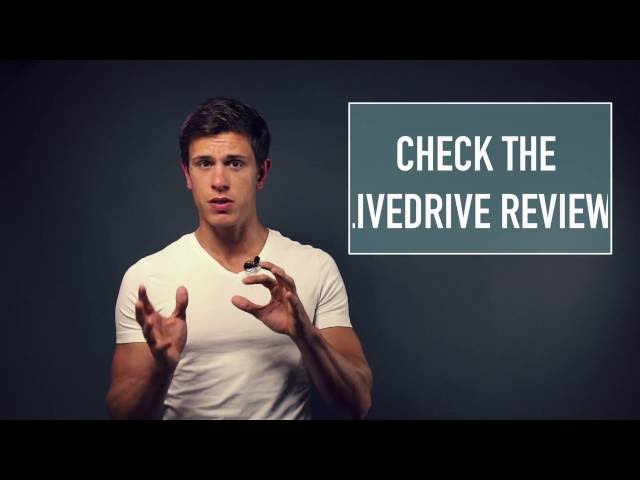 There seems to be a growing need for services that offer a combination of online backup and file synchronization. More providers put the file syncing feature on top of their backup offering, as an after thought almost, like, "wait a minute – we need to do syncing as well". Livedrive has been offering file sync and backup from the start of their company so there is a certain track record.
I'm not a great fan of one-size-fits-all solutions. But if you don't like to play with multiple apps and services, Livedrive could be worth a try if you're willing to look past a couple of it's shortcomings.
You shouldn't even look at Livedrive if having to fiddle around with preferences and menu panes is causing you severe headaches. Because that's what Livedrive is about.
Alternatives for Livedrive
So here I am again testing Livedrive for maybe the third or fourth time in 3 years. To my surprise it really didn't change much despite being sold now to J2 Global's cloud storage devision. There have been rumors of Livedrive facing legal actions because of discontent customers whose accounts were canceled due to excessive storage and bandwidth usage. So "unlimited" doesn't seem to be so unlimited after all.
Now for this Livedrive review I wanted to try something else: I decided to sign up for the Briefcase plan which only includes the cloud file locker but doesn't do backup. Now, Livedrive offers a 14-day free trial so I thought I had nothing to lose.
My plan was to switch to the Pro Suite plan during the trial because I obviously want to test their backup product, too. Now here comes the surprise: you can book more storage space in your trial period but if you want to upgrade your plan during trial, your account is converted automagically into a paid one. That's a bit naughty and not very customer friendly.
So, I decided to bite the bullet and purchase the Pro Suite plan at 25$ per month. Cheers.
One thing that I noticed during sign up is that they haven't changed their cluttered ol' website in maybe 4 years or so. So either they don't care or it works so darn well for them that they don't need to change it. Other services like Crashplan or Carbonite do an overhaul maybe once per year.
Unlike Backblaze or SugarSync you have to whip out your credit card before you can start your free trial "to verify your account".
I decided to bite the bullet eventually and signed up for the Pro Suite plan. Livedrive offers a money-back-guarantee after all. Let's see if they can keep their promise. 
Being used to very simple online backup solutions like Backblaze where it's basically just set-it-and-forget-it Livedrive comes with a plethora of different menus and preference panes.
After installing the software for the first time – nothing happened. I wasn't given the option to select my files for backup as I would expect. So I needed to dig into the system tray to find the Livedrive icon and hit "Manage Backups", then I could select which files and folders I'd want to back up.
If you want to check on your file transfer, Livedrive needs to open another window (the Livedrive Status window). If you want to check on the overall status of your backups there's another window to be opened, and on and on. I'd rather see this integrated into one coherent user interface. Did I mention you need to download extra software to restore your files? Well, you do.
One the plus side, it is very easy to select random files on your operating system for backup because Livedrive is available through the context menu. You can either choose to put it in your backup or Briefcase stack for sharing and syncing.
Now, the web application is a bit better organized but looks still very old fashioned. More 2010-ish. You can organize your files and delete backups if you like or share files from your Briefcase.
Somehow Livedrive manages to make adding extras to your plan very easy, like additional storage or computers to manage. Conversely, it's utterly hard to cancel. I can't seem to find a cancel button in my account so I guess I need to write a support ticket for that. Browsing through their TOS tells me to do so.
Livedrive doesn't recognize your operating system automatically when downloading their software (most services do these days), so make sure you know if you're on Windows or Mac.
Livedrive comes with a variety of features, so many it's almost overwhelming and one starts to ask, "do I really need all of that?". The answer is, probably not. But some things are nice to have, for example, in your Briefcase you can edit your JPG images directly, cropping, adding text, all done within the Livedrive web app.
Livedrive is also one of the few services that offers direct live streaming from the app. Though the streaming interface looks like the former RealPlayer from the early 2000's. I doubt anybody uses this feature because it just isn't fun.
If you signed up for either the Briefcase or Pro Suite you can share and sync your files across multiple computers. The Backup plan doesn't include syncing as it is only good for one computer. If you want to backup your whole family's computers you can either go for the Pro Suite (5 computers) or purchase add ons.
If you're anything like me you also want to back up your NAS devices but finding cloud storage services that include backup/storage of NAS boxes are hard to come by. Livedrive lets you backup your NAS if you're willing to pay for it. I'll gladly pay the 8$ extra per month to have it included, it's unlimited after all and I just like the extra peace of mind despite it being setup as a RAID (but RAID is not backup, as they say).
Livedrive pretty much follows industry standard of 30 day file versions (see also Backblaze) which should be plenty if you accidentally saved files and want to go back to their original state.
Data centers are located in Switzerland, at least when I uploaded my data and are protected with a fairly average 256-bit server side encryption. No local encryption is available, unfortunately.
Mac and Windows users can download native clients (no Java like Crashplan) but Linux users are losing out. You can access all of your files in the mobile app, available for Android, iOS and Windows 8 Surface.
The Windows 8 app is much more slick than anything else I've seen from Livedrive, so they've made a good effort to adapt to the new look and feel. Playback of movies and previewing images is a swift experience.
I do find this the more boring part of the review, but when pricing and plans become a bit more complicated like in this case it's worth pointing out. Also, it's pretty impossible to find out the real pricing on Livedrive's website. The only price you get is the discounted monthly rate if you sign up for two years. 
Livedrive comes in three flavors for consumers and two for businesses and one reseller package if you decide to open your own cloud storage shop. In this review I'll focus on the consumer plans and features.
Livedrive Backup
If you're just looking for an unlimited online backup solution, the "Backup" plan is the way to go. It'll backup all files and folders you select on your computer. There is no "just backup everything" button, but selecting folders is not so difficult.
Livedrive Briefcase
"Briefcase" is the cloud storage only option which comes without backup. You'll get a 2TB syncing and cloud storage folder that allows you to share files with your peers.
Livedrive Pro Suite
The "Pro Suite" is the flagship product which integrates backup and cloud storage into one solution. What's nice is that you're not limited to the Livedrive app to access your files you can pick another app that allows access via FTP, sFTP or WebDav. It's only for one user, though.
The business versions allow users to use Livedrive as a full blown collaboration suite with multi-user and computer access. You can setup an FTP server very quickly to share larger files, such as video or other media files. You can set granular permissions as to who can see/edit what files or folders.
My recommendation? If you like to give Livedrive a whirl either go for the Backup or Pro Suite plan. If you go for the backup plan pick a different file syncing service (Dropbox, SugarSync, MEGA to name a few) to supplement for the missing syncing and sharing features. Pick the Pro Suite if you more the all-in-one kinda gal or guy.
I spent a couple of emails with the support team back and forth to find out what the real pricing is. So, anybody who is wondering what they need to pay, I can save you some time and headaches. I must say, the support team responded very fast (but they better with such a simple query). I simply cannot understand how one can bury pricing info so deeply. I almost wanted to give this section as 0% rating but that wouldn't be fair either. 
Plan
Price Plan
Storage
Details
Backup

$ 8 Monthly

$ 96.00

1 Year

$ 84.00 (-13%)

$ 192.00

2 Years

$ 144.00 (-25%)

Unlimited GB

Backup only. No file syncing, or sharing. 1 computer included in standard plan. $1.50/month for additional machines.

Briefcase

$ 16 Monthly

$ 192.00

1 Year

$ 156.00 (-19%)

$ 384.00

2 Years

$ 288.00 (-25%)

2000 GB

Unlimited backup not included.

Pro Suite

$ 25 Monthly

$ 300.00

1 Year

$ 240.00 (-20%)

$ 600.00

2 Years

$ 456.00 (-24%)

Unlimited GB

5TB Briefcase storage.
5 computers included.
$8/month per 1TB for additional Briefcase space. $1.50/month for additional backup computers.
$8/month for NAS drive.

Business Express

$ 50 Monthly

$ 600.00

1 Year

$ 492.00 (-18%)

$ 1,200.00

2 Years

$ 888.00 (-26%)

2000 GB

3 users included.

Business Standard

$ 160 Monthly

$ 1,920.00

1 Year

$ 1,596.00 (-17%)

$ 3,840.00

2 Years

$ 3,000.00 (-22%)

10000 GB

10 users included. Add more users for $11.75$/month.

Reseller

$ 59.95 Monthly

$ 719.40

1 Year

$ 599.95 (-17%)

Unlimited GB

$159.95 setup fee
For me, backup is the cornerstone of any cloud storage service that offers syncing and sharing, and back up on top. I strictly follow the 3-2-1 rule of backup that we've covered in-depth here on Cloudwards.net before. Sometimes I tend to be even more paranoid, because I have at least two redundant cloud backup services running in the background (apart from constantly testing new services).
Before anything gets backed up you need to select your folders . As usual, I prepared my test folder of 10GB with a variety of file types, small and large (up to 6GB for a particular file). Those files are documents, presentations, movies, MP3, you name it.
First, I was a bit confused because Livedrive wouldn't launch the file wizard immediately after installation. I needed to dig it up from the systems tray and pick the "Manage Backup" item. Selecting files comes along very easy, if you can navigate your Windows computer and find a file you can use Livedrive, too.
Files are transferred to servers in Switzerland. So if you worry about US privacy laws you may feel a bit more comfortable. But just a bit. Because Livedrive doesn't offer local encryption. More on that in the security chapter.
Resource Hog
Unfortunately, Livedrive turned out to be quite a resource hog, dancing around between 20%-40% of resource utilization during backup and over 80% during restore. While it didn't slow down the system much it's much more compared to other background backup service like Crashplan or Backblaze.
On the plus side, the Livedrive software would scan your backup folders regularly and discover changes of files on the fly and almost instantly, uploading the changed portion onto their servers. Larger files seem to be pushed a lot faster than smaller files, for example, my RAW image files took at least double the time a large movie file would.
But even large files wouldn't be transferred at a constant rate. You can see the dancing in the network monitor. While that's not bad per se it slows down the overall process.
Outsmarting the reviewer
Initially, I wanted to test both the speed of the backup and Briefcase syncing folder to see if there is any difference. So I decided to upload the original set of test files. Livedrive is pretty smart because they have to save resources where they can, so the software detects if specific files have already been uploaded and wouldn't upload those files again. What Livedrive does is copying the files from the backup to the Briefcase folder.
That obviously speeds up the process and makes for a good user experience.
Scheduling
Livedrive has a few scheduling options. Right from the bat it's set to scan your system every hour. If backup folders change frequently (read: adding a constant stream of files) I would select "real time backup" to make sure file changes are detected instantly.
What's nice is that you can monitor uploads in real time to see where Livedrive's at in the process. There is no way to manipulate the order of files that are to be uploaded, though. Once files are up you can clean the list to see which files are remaining.
I mentioned it before and I'll say it again, I dislike Livedrive's overall usability. It gets worse: to restore files I need to download a separate software (Livedrive Restore 1.6). My first try restoring the entire backup folder wasn't successful. While I could select it, it would give me an error message that a restore cannot be performed with the current selection. So, I first tried to select a sub archive.
That seemed to work better. I was happy to see that I could restore my files to any location on my computer, but then again this is not a special feature that you wouldn't find in other services as well. In a second attempt it would do a full restore of the parent folder, I my initial fear I was to select sub folders one-by-one was unfounded.
Unfortunately, the CPU activity shot up to almost 90% while performing the restore, so slower/older computers may have a problem with it. You cannot prioritize restores once they are in the funnel. So you need to decide which files are most important to you before starting the download.
When my restore was complete there were a couple of errors with incorrect hashes, but I could restore them on a second attempt. 
Otherwise file were restored correctly.
Sharing files with Livedrive is an unexpected swift experience. Working from the Briefcase Livedrive adds a short context menu that provides you with the "Web Sharing" option. Sharing can be enabled either privately, for a specific user or publicly so that anybody with a link can access the file or folder. Make sure to strongly consider this option before you do so.
You can disable shared folders any time from the web interface or the Livedrive app, hitting the button "Stop sharing". I would have loved to see password protection for shared files and folders for added security.
File syncing works in a Dropbox like fashion. Download the Livedrive app onto a target computer and the contents of your Briefcase will be synced instantly to that PC or Mac. If you have selected folders to be only accessible via the web they wouldn't take up any space on your hard drive but be shown as "Livedrive online files". So in theory Livedrive can be used to free up some hard drive space. On Windows those folders/files would be additional greyed out so you cannot confuse them with files on your computer.
In my day-to-day experience with Livedrive syncing, it works quite reliably, though the problems with transfer speeds generally persist. Dropbox on the other hand was a bit faster, but nothing that would excite me either.
Across all cloud storage providers mobile access is still not there where I want it to be. Livedrive is unfortunately no exception. In fact, the only real use I see for the Livedrive mobile app is the occasional downloading of files to your device in case an important file is left at home.
Livedrive's mobile app doesn't even let you preview files without first having to download them. So going through a list of picture, for example, is a pain because you cannot get a quick glance what's behind "image_ds_3456.jpg" unless you download it.
So, at best, this is a plain file viewer that allows you to download files. I like the fact that you can send those files directly to communication apps like Whatsapp or Facebook, so sharing pictures that way is easy.
Streaming music files is not so easy. You cannot just click on an MP3 inside the app. You have to add it to a playlist first and then hit the play button. Once there playback works all right, you can skip tracks and hit pause, but that's just about it. I would love to see the option to enable/disable streaming when no WiFi connection is available but I couldn't find it in the options.
Livedrive offers so called "Reseller Plans" starting about $50 per month where one could create their own backup/cloud storage shop. And there are many who do. While I do appreciate more offers in the online backup space, it's hard to tell the value of those reseller services because the only thing they can compete in is price.
Sometimes you see ridiculous offers like $1 per year for unlimited backup. My BS-radar is telling me this is too good to be true, and the downfall of many Livedrive resellers proved me right.
So be careful when signing up for new too-good-to-be-true unlimited offerings. Make a search on Cloudwards.net before you commit to anything because we'll have you covered.
I just cannot warm up to using Livedrive as my primary backup and cloud storage service. If you can see past the clunky user interface and having to use a separate software for restores and dozens of software windows to accomplish simple tasks, then it could be a good solution for you.
Now, I do like the fact of using Livedrive as an online hard drive or even being able to connect it via FTP or WebDAV. That's certainly unique. But is it enough to warrant a recommendation? I'm not sure.
Backup and restore works well hand in hand, a few minor glitches aside. Overall I wonder why Livedrive doesn't spend sometime revamping their UI and website, especially the web interface. It's just not something I like to use.
In terms of speed I wasn't impressed either. While not terribly slow it was far behind our top services, Crashplan and Backblaze. I dislike the fact how Livedrive issues their trial accounts, credit card is mandatory, and you have to remember to cancel your free trial. I still have to cancel my paid account, because I couldn't upgrade to the Pro Suite for free. We'll see how that goes and I make sure to add it to the review.
UPDATE: Once I canceled my account, all my files were deleted instantly and I'm yet waiting to receive my refund. So be careful, if you still have important files before you cancel. 
Alternatives for Livedrive
Livedrive Features
www.livedrive.com
Free Storage
Free Trial
14 Days
System
Price
Starts from $ 8.00 per month
Mobile Access
Mobile Apps

iPhone
iPad
Android
WindowsPhone

Syncronisation
Free External HD Backup
Continuous Backup
Incremental Backup
Backup Scheduling
Bare Metal Backup
Exclude File Extensions for Backup
Network Drives
Bandwidth throttling
Web Access
HIPAA Compliant
File Size Limit
Unlimited GB
Included Machines
1
File Sharing
Multiple Accounts
Share Photo Albums
Music Streaming
Folder Collaboration
Outlook Backup
Local Encryption
Server Side Encryption
256-bit
Keeps deleted files
30
File Versioning
30