How to Watch Sherlock Online in 2023: It's Not Elementary
Sherlock is one of the biggest adaptations of the famous Holmes stories, and popular around the world. Finding a place to watch it online, though, can be tricky, which is why we've put together this guide on how to watch Sherlock online.
Sherlock is a British crime-drama TV series produced by the BBC. It is based on Sir Arthur Conan Doyle's stories and follows Sherlock Holmes (Benedict Cumberbatch) and his faithful sidekick, Watson (Martin Freeman), as they solve various mysteries in modern-day London.
Not available in your country?
Watch Sherlock now on Disney+ and other streaming platforms.
Status checked 2023/08/10:
www.expressvpn.com
If, like us, you love getting your teeth into a murder mystery, looking for clues, picking apart the evidence and seeing if you can work out "who done it" before the big finale, then Sherlock is worthy of your time. In this article, we are going to show you how to watch Sherlock online.
Watch Sherlock Online
Netflix has an impressive library, so it is disappointing that it no longer has Sherlock. However, this show is still available on Amazon Prime Video, Google Play, iTunes and Vudu.
Your access to certain content can be affected by streaming services' VPN bans. Only a few VPNs can get past the VPN proxy ban, but our best VPN for Amazon Prime Video list includes some that are up to the task.
How to Watch Sherlock With a VPN
Watch Sherlock on Amazon & Vudu
Like Netflix, Amazon has a vast number of movies and TV shows in its vault, so we were happy to see Sherlock in its lineup. You can opt to buy single episodes or get a full season in HD. A plus point when buying from Amazon is that you get to keep the copy of Sherlock and download it to your hard drive.
Another streaming platform we found Sherlock on was Vudu. All four seasons are available, however, there are no monthly fees with Vudu, you simply pay for individual episodes or seasons. Individual episodes in SD start at $4.99 and HDX starts at $6.99. For a whole season, it starts at $12.99 in SD and $19.99 in HDX.
Behind-the-scenes content is available, too, but the prices vary from video to video. With Vudu, you will also own a copy of Sherlock, so you can watch it many times over.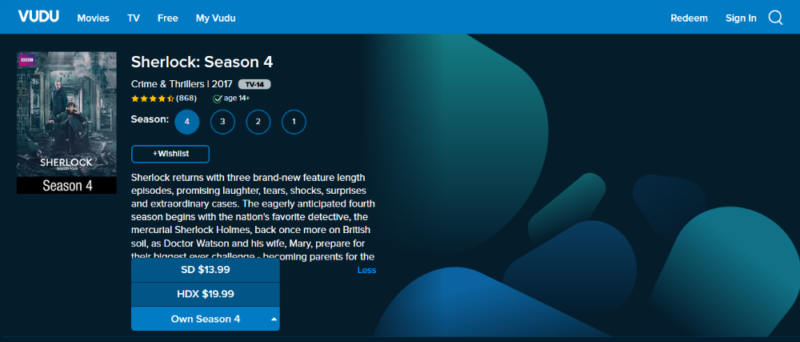 If you want to watch Vudu outside of the U.S., though, you'll run into problems. That's because it's only available in the U.S. due to strict content licenses. When we tried to access it from a non-U.S. server, we were presented with a black page. These are known as geoblocks, and you can get past them by using a VPN to get a U.S. IP address.
To get past any restrictions, you could pick a provider from our best VPNs, but ExpressVPN is our top recommendation. It can get into any streaming service, and it benefits from fast speeds and unlimited bandwidth. It's also our best VPN for streaming. Read our ExpressVPN review for more details.
Watch Sherlock for Free
There are many free streaming sites out there that offer the same content to watch, and we've picked two that we think will be good for you to watch Sherlock.
The first one is PutLocker. It's a good choice because it's easy to navigate and has a large amount of content on its servers. We found seasons one through four of Sherlock available to watch.
One annoyance with PutLocker and other streaming sites is that you get spammed with pop-up ads, but you can easily combat that by installing one of our best pop-up blockers.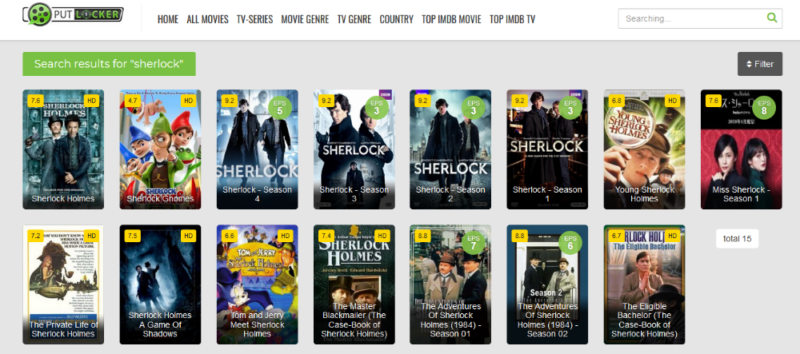 With any streaming sites, you'll also benefit from installing a decent antivirus due to malware and viruses that can come with the pop-up ads.
Sherlock Torrents
If you like to keep the content and create your own library, then torrenting may be a good option for you.
The Pirate Bay is a popular torrenting site, and we had no problem finding Sherlock on there. It showed seasons one through four, and they all looked like they were in good shape. Before downloading from a torrent, we suggest you take a look at how many seeders there are next to the link. The more seeders it has, the better the chance of the download being completed.
If The Pirate Bay is not for you, then there are alternative torrent sites available to download from. As with anything you download, though, there is a danger that it could include malicious content. For that reason, it's a good idea to use an antivirus.
Bitdefender is a good antivirus choice, as it will protect you from any cybercrime you encounter. Read our Bitdefender Antivirus review for more.
Also, although torrenting is an easy and cheap route, the vast majority of it is copyrighted content and by watching it you will be breaking the law. You should use a VPN to keep your IP address hidden from prying eyes.
We know looking for a suitable VPN can be confusing, so we recommend ExpressVPN. It's the best VPN for torrenting due to its server network that's optimized for torrenting and its excellent security.
Watch Sherlock on Kodi
You may have already heard about Kodi, but if not, it's an open-source home theater software that helps you manage your collection of digital media, such as television shows, movies, photos and music. If you would like to know more about Kodi, check out our Kodi guide.
Besides storing media you already have, you can access more content through repositories and add-ons. Although some people think that just having Kodi installed on their devices is illegal, that's not the case. It only becomes illegal when you start watching copyrighted content that you've accessed through illegitimate streams.
We searched the Exodus add-on, which is located in the Kodi Bae repo, and found all four seasons of Sherlock.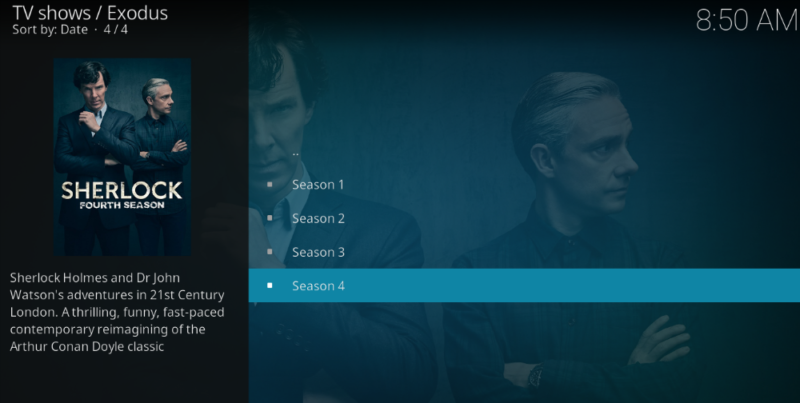 Please note, when you use Kodi to stream Sherlock, you will most likely be doing so through a torrent. For that reason alone, we strongly recommend that you install and use a VPN. Keeping your IP address out of the spotlight is a must when you are streaming illegal content.
Our top choice is ExpressVPN, but CyberGhost is a great option, as well, with great security and privacy. Read our CyberGhost review or check out our best VPN for Kodi guide for more choices.
Final Thoughts
We hope you found this guide helpful and you now know how to watch Sherlock online. There are the easy, paid routes to take, or you can choose to go down the free streaming, torrenting or Kodi road.
If you decide to go with the latter, make sure that you are protected with an antivirus and a VPN. You can't beat ExpressVPN, as it has excellent security and is a great choice for streaming. Plus, it also offers a 30-day money-back guarantee,
Have you watched Sherlock online? Do you have any other suggestions of where to watch Sherlock online? Let us know in the comment section and, while you are here, why not take a look at our other entertainment articles, too? As always, thank you for reading.