The Best Peacock VPN: Watch Peacock TV Anywhere 
A Peacock TV VPN needs three things: U.S. servers, fast speeds and excellent security features. Finding a VPN that meets that checklist can be tricky. Read on to learn about the best tried-and-tested Peacock TV VPNs.
Since launching in 2020, NBCUniversal's Peacock TV has made quite a splash in the streaming industry. Currently, it boasts over 80,000 hours of content, including blockbuster films and TV shows. However, the streaming service is available only in the U.S. and a few other countries. Thankfully, you can get around restrictions by using a Peacock TV VPN.
Key Takeaways: VPNs for Accessing Peacock
Aside from the U.S., Peacock TV is available to Sky and NOW subscribers in the U.K., Ireland, Germany, Austria, Switzerland and Italy. If you are in a different location, you'll need to spoof your location to a country that supports the streaming service. A VPN does that by changing your IP address to a different digital location, for example, the U.S. or any of the countries where Peacock TV works.
With so many VPNs on the market, it's hard to know which one works best for Peacock TV. We've done the heavy lifting for you, researching and testing dozens of top VPN services. Read on to learn about the best Peacock VPNs, including our top recommendation, ExpressVPN. We'll also touch on the best free Peacock VPNs and how to configure a VPN to stream your favorite shows.
Peacock TV works primarily in the U.S. and U.S. territories. If you need to access Peacock outside of these locations, you'll need to connect to a U.S. VPN server. However, Sky and Now subscribers in certain European countries can also access Peacock TV.

You can unblock Peacock TV using a VPN. Simply connect to a VPN server in the U.S. or a U.S. territory where Peacock TV works. Not all VPNs can unblock Peacock TV, though. Be sure to choose one that does and has fast speeds.

Windscribe and Proton VPN work well with Peacock TV. Both have free servers in the U.S. Windscribe is super-fast but offers only 15GB. Meanwhile, Proton VPN offers unlimited data, although you're likely to get slower speeds.
Top VPNs for Peacock
What Makes the Best Peacock VPN?
It goes without saying that the best Peacock VPN should be able to unblock the service. Speed and security features are also critical to consider. Before we dive into these points, here's a roundup of the VPNs that are up to the task:
When looking for a VPN for streaming, servers and unblocking ability take center stage. In the case of Peacock TV, you need a VPN with servers in the U.S. The more servers a VPN has in the U.S., the better. That way, you can switch servers if one isn't working or has gotten overloaded. However, any U.S. server from a top-class VPN should do the job the first time.
A VPN's speed is another key consideration. The last thing you'd want is to be hit with intermittent buffering wheels and stuttering while streaming your favorite series on Peacock. A high-speed VPN will ensure that your movies load fast and play without missing a beat.
If you're traveling, chances are high that you'll be using public WiFi. With cyber attacks on the rise, using public WiFi can be dangerous. You can mitigate this by protecting your data and internet traffic with a robust and secure VPN. Look for features like AES encryption, a kill switch to prevent leaks, a strict no-logs policy and different protocols to give you a good blend of speed and security.
The 5 Best VPNs for Peacock TV
Now, we'll examine our top five Peacock TV VPNs. We'll explain our reasons for choosing them and detail these VPNs' strengths and weaknesses, starting with ExpressVPN. It's worth noting that all the VPNs on this list have AES encryption, a kill switch, DNS leak protection and a strict no-logs policy.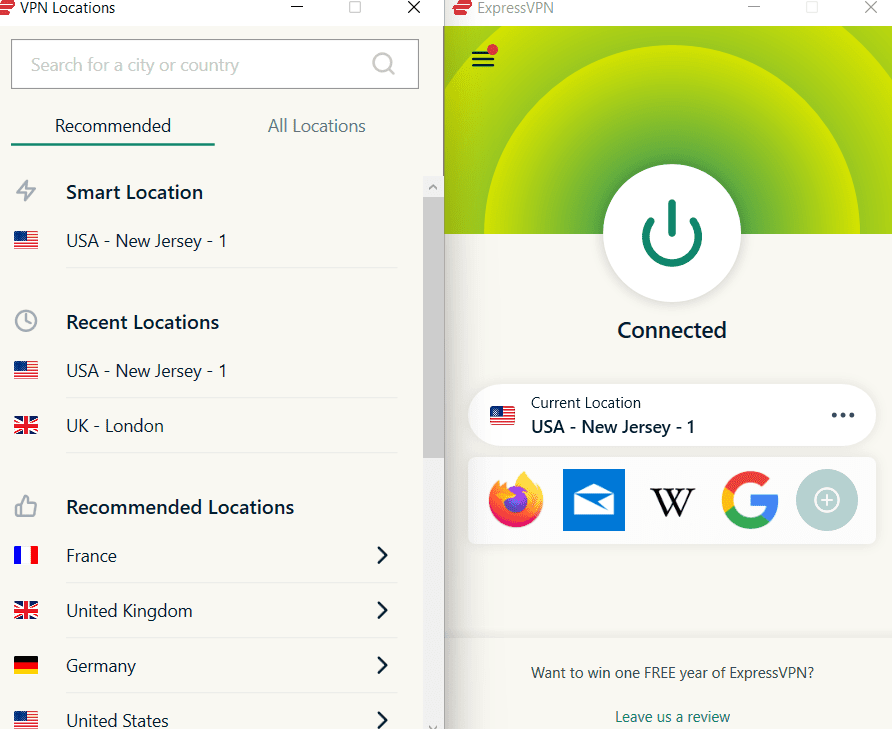 More details about ExpressVPN:
Pricing:

$6.66 per month (15-months plan)

Provider website: expressvpn.com
Pros:
Unblocks streaming apps
Fast streaming speeds
Easy to use apps
ExpressVPN is our top pick for watching Peacock TV primarily because of its speeds, ease of use and unblocking ability — it can access Peacock, Netflix Amazon Prime Video and many other major streaming services.
It has VPN servers in a number of major U.S. cities, including Washington D.C., New York, Los Angeles, Chicago and Seattle. Unlike VPNs that have dedicated servers for streaming, all of ExpressVPN's servers are optimized to unblock streaming sites without a hitch.
Additionally, ExpressVPN is an exceptionally fast VPN. Connecting to any of its U.S. servers will enable you to stream your favorite Peacock TV films in HD or 4K. For the best speeds, opt for ExpressVPN's proprietary Lightway protocol. It also offers OpenVPN, which is excellent for security. You can explore more about ExpressVPN in our full ExpressVPN review.
Enjoy Peacock on Your Smart TV With ExpressVPN
ExpressVPN is the best smart TV VPN, which is ideal if you intend to stream Peacock TV on a smart TV. You can install the VPN on any smart TV that has a mobile app store, such as Android TV.
Alternatively, you can install the ExpressVPN router app on compatible routers like Linksys and Asus. There's also ExpressVPN Aircove, a WiFi router with built-in VPN protection.
ExpressVPN has a monthly ($12.95) and six-month plan ($9.99 per month), but both are expensive. You will get the best deal if you opt for the one-year plan, which only costs $6.66 per month. All of ExpressVPN's plans have a 30-day money-back guarantee as well, giving you ample time to determine if it is a good fit.
More details about NordVPN:
Pricing:

$3.49 per month (two-year plan)

Provider website: nordvpn.com
Pros:
Large U.S. server network
Blazing fast connections
Excellent security features
Cons:
High latency on far servers
Second on our list is NordVPN, another top-rated VPN service. It has quite a server fleet in the U.S.: over 1,900 servers in 15 locations. You should have more than enough options when looking for a server to bypass Peacock TV's geoblocks.
You can count on NordVPN to give you excellent protection while watching Peacock TV. One feature, called "threat protection," protects you from malware-ridden sites and fends off ads. This makes it one of the best VPNs for public WiFi and allows you to enjoy streaming uninterrupted.
We've covered NordVPN's features in-depth in our NordVPN review.
Stream With Lightning-fast Speeds
Peacock TV recommends a streaming speed of at least 3Mbps to 8 Mbps, especially for live events and ultra-high-definition content. NordVPN is the best bet if you want to meet those requirements and stream smoothly. If you check our fastest VPN guide and VPN comparison charts, you'll notice that NordVPN posts consistently fast download speeds in the U.S.
At $11.99, NordVPN's monthly plan is quite expensive. However, the one-year plan significantly cuts the price to $4.99 per month. The best value plan, though, is the two-year plan, which costs $3.49 per month. You can try any NordVPN plan out for yourself using the 30-day money-back guarantee.
More details about Surfshark:
Pricing:

$2.49 per month (two-year plan)

Provider website: surfshark.com
Pros:
Budget-friendly option
Servers in 25 U.S. cities
Unlimited device connections
If you're short on money, we recommend Surfshark. It's an affordable VPN that has lots of features, perfect for streaming Peacock TV. For starters, it has servers in 25 U.S. cities, including New York, Los Angeles, Atlanta, San Francisco and Miami. All its U.S. servers can unblock Peacock TV on the first try without any hitches.
Furthermore, Surfshark has a wealth of security features. The secure and fast WireGuard is the default protocol on all apps, but you can switch to OpenVPN or IKEv2 (which is excellent for mobile devices). There's also the upgraded CleanWeb feature, which blocks ads, pop-ups and malware and alerts users about data breaches. We dive into the VPN's main features in our Surfshark review.
Enjoy Multiple Streams With Unlimited Simultaneous Connections
We consider Surfshark one of the best VPNs for multiple devices. This VPN provider offers unlimited simultaneous connections, so you can watch Surfshark on as many devices as you want and even share your subscription with family. For comparison, ExpressVPN and NordVPN allow only five and six connections, respectively.
You'll need to fork out $12.95 to get your hands on Surfshark for a month. To save money, opt for longer-term plans. At $3.99 per month, the one-year plan is economical. Even better, Surfshark has a two-year plan which costs only $2.49 per month. You can try out any of the plans using the 30-day money-back guarantee.
More details about CyberGhost:
Pros:
Many servers in the U.S.
Great customization features
Easy-to-use apps
If the first three VPNs don't tickle your fancy, give CyberGhost a look. You get to choose between over 1,400 servers in 11 U.S. cities to stream Peacock TV. All the servers we tested got into Peacock TV straight away, so you shouldn't encounter any difficulties while streaming.
CyberGhost is also suitable for Peacock TV because of its security features. As you'll notice in our CyberGhost review, the VPN has an effective ad and malware blocker. In terms of VPN protocols, CyberGhost comes with IKEv2, OpenVPN and WireGuard, offering a fine mix of speed and security to help you enjoy content and stay safe while streaming Peacock TV.
User-Friendly and Customizable VPN App
CyberGhost is one of the most user-friendly VPNs out there. Its simple and organized interface makes it ideal for people new to VPNs. What's more, you can customize the VPN to make streaming Peacock TV a breeze. With the "smart rules" feature, you can set up CyberGhost to immediately launch Peacock TV after connecting to a specific U.S. server.
CyberGhost has a monthly plan priced at $12.99. It doesn't have a one-year plan, but there's a medium-term six-month plan, which costs $6.99 per month. The best value plan is the two-year plan, which is priced at $2.37 per month. It also comes with two free months. CyberGhost's monthly plan has a 14-day guarantee, but the long-term plans offer 45 days.
More details about PIA:
Pros:
Servers in all 50 U.S. states
Good Peacock TV unblocking
10 simultaneous connections
As a Peacock TV VPN, PIA has a lot going for it. For one, it has servers in over 50 U.S. cities in all 50 states. This is the most extensive server spread of all the VPNs listed in this article. As a result, you're spoiled for choice when selecting a U.S. server to unblock Peacock TV.
If you go through our PIA review, you'll notice that the VPN sometimes struggles to unblock the major streaming services. However, it was able to unblock Peacock TV effortlessly, no matter the U.S. server we chose. It's on the lower rungs of this list because it's slower than the other VPNs, but it's still fast enough for a problem-free stream.
Stream Peacock TV Safely With PIA's MACE
PIA has a built-in ad blocker known as MACE. This feature blocks ads that can ruin your streaming experience. It also ensures your privacy by preventing cross-site trackers from monitoring and collecting data about you. What's more, it prevents you from landing on malware-ridden sites.
If you want to subscribe to PIA VPN monthly, it costs $11.95. The one-year plan ($3.33 per month) is also economical. PIA is the only VPN with a three-year plan ($2.19 per month), making it a good choice if you want a VPN for the long haul. All PIA plans are covered by a 30-day money-back guarantee.
How to Stream Peacock TV With a VPN
Below, we walk through the simple steps of setting up your VPN to stream Peacock TV. We'll use ExpressVPN as an example.
Download and Install a VPN

Go to your device's app store or the VPN's website and download the right app.
Where Is Peacock TV Available?
Currently, Peacock TV is available in the U.S. You can also access the service in specific U.S. territories, namely:
American Samoa
Guam
Northern Mariana Islands
Puerto Rico
The U.S. Virgin Islands
It's worth noting that, when using a VPN, you might get better speeds and streaming quality when you connect to a server in a U.S. territory close to your location. Peacock TV is also available at no extra cost to Sky and Now subscribers in the following countries:
The U.K.
Ireland
Germany
Austria
Switzerland
Italy
Can I Unblock the Peacock TV Streaming Service With a Free VPN?
You can access Peacock TV with a free VPN, but be wary of the dangers free VPNs pose. Free VPNs often log and sell your data to advertisers to make money. You could also end up with a free VPN that's riddled with malware. Plus, such VPNs usually limit your data, meaning you can't stream much before running out. That said, there are a few free VPNs worth using.
The Best Free VPN for Peacock TV
Our top two free VPN picks are Proton VPN and Windscribe. Proton VPN is the best free VPN. It offers a free server location in the U.S. and an unlimited free data plan, ideal for binge-watching as many Peacock TV hits as you want. There's more information about Proton VPN in our Proton VPN review.
Windscribe's free VPN service has a free server in the U.S. that's capable of unblocking Peacock TV. It offers 15GB of free data, which should be enough to stream a movie or two. Plus, it's also one of the fastest free VPNs around, which ensures a smooth streaming experience. To learn more about its features and performance, read our Windscribe review.
Final Thoughts
Finding a Peacock TV VPN shouldn't be difficult. All you need to do is to find a fast VPN with servers in the U.S. that can unblock Peacock TV. If money's not a concern, go for ExpressVPN, the best Peacock TV VPN. Its unblocking ability is unparalleled.
NordVPN is a slightly cheaper alternative. It's also fast, so you can rest assured that your stream won't stutter. For those who want a cheap yet feature-rich VPN, Surfshark is a good choice. CyberGhost stands out because of its easy-to-use apps and intuitive interface, making it great for beginners. PIA's collection of servers in the U.S. makes it a good option, too.
Which VPNs have you used to access Peacock TV? Which country were you streaming from? Did the VPN work and was there any lag? We'd love to hear about your experiences. Share them with us in the comments section below. As always, thanks for reading.