Crashplan Review
Decent backup speeds. Cross platform Java client. A near perfect balance between ease-of-use and features.
If you are serious about backup and constantly think about the best way to protect your computer(s) from data loss then Crashplan is an option that we can recommend. Crashplan tries to combine both worlds: inexpensive and easy-to-use online backup with a vast feature set. 
Our Crashplan Video Review 2017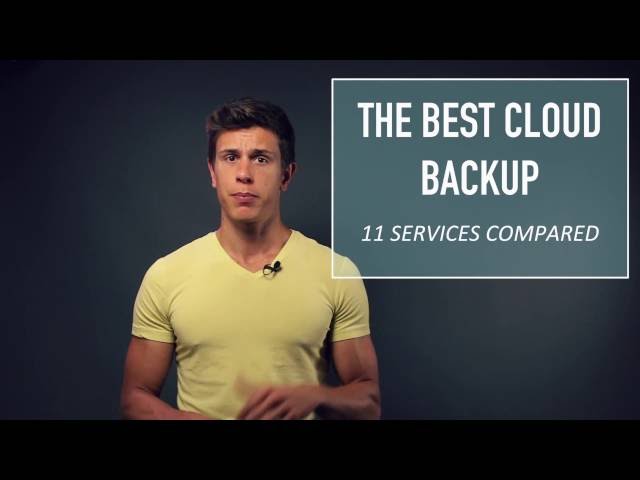 Sometimes they manage this seemingly adjacent strategies very well. However, in some occasions not so much and we're are going to cover the pros and cons in this review. 
Crashplan for experts and novices alike
Nevertheless, Crashplan is a backup solution for experts and novices alike: beginner computer users will find the backup wizard as easy as pie, getting started as quickly as possible with their first online backup while professionals and geeks can dabble into some of Crashplan's advanced features like scheduling and multi-location backup. 
Our team loves Crashplan because of its inexpensive Family Plan that allows you to backup up to 10 computers neither limiting file sizes, bandwidth or storage. That being said, Crashplan is one of the only providers that offer true unlimited online backup. 
How does Crashplan compare?
One of the most pressing questions you as a consumer have is how Crashplan compares to the rest of the providers in terms of features and overall rating and if it is the best choice for your needs. Crashplan performs exceptionally well when it comes to backup. It comes along with a great deep feature set for advanced users while not overwhelming the inexperienced user too much. 
Crashplan doesn't have features like collaboration, multi-user support, file sharing or syncing but it is truly unlimited. No limits in file size or storage capacity make the pretty good allround backup solution. 
*> Affordable, unlimited online backup *> Many useful features  *> No file sync or file sharing
It would be impossible to count and compare all the features in this one review so we developed a system that allows you compare each and every online backup service in a detailed comparison chart. Just hit the "Compare" button and the provider is added to your list possible alternatives right at the bottom of your browser window. 
If your done selecting your favorite providers, hit "Compare" and look at the extensive feature list we carefully researched for each service. 
This will make your choice a whole lot easier as you'll know exactly what you will find when signing up. If you miss a feature that we have not researched you can send us a request and we are more than happy to include it in our database. 
Alternatives for Crashplan
Full initial backups can take time. All of your files have to be transferred over the Internet to the respective service provider and, depending on your connection, this might take weeks. We use our 10GB test folder to test Crashplan's speed and performance on this selection of files. Of course for 10GB Crashplan might be an overkill as they offer unlimited online backup and with 10GB we're hardly scratching the surface. 
File detection
We are surprised to see that Crashplan is one of the few services that really detected all of our test files within the folder and is willing to back them all up. Carbonite, for example, is a pain, as it won't back up movie or audio files in the trial version and even if you pay for it, you can't back up movies automatically. Therefore, Crashplan was a relief, no fiddling with the files, no guessing what the hell happened to our files – nothing, just plain backup. 
Slow initial backup
Thorough file detection seems to come at a price with Crashplan. The initial backup is rather slow when you compare it to SOS Online Backup (8 hours). Crashplan takes over a day to backup all the files we have which is OK if everything is backed up properly. 
The backup started rather fast at around 300KB/s but later plummeted to only about 30-50KB/s which is only a fraction which our connection is capable of. One reason might be our location: we're based in Germany so files need to travel over the Atlantic all the way to California. We tried to change the network and CPU settings but couldn't get an improved throughput, unfortunately. 
Interesting fact: even if you "quit" Crashplan it will continue to back up in the background. In order to really pause your backup you have to hit "pause" in the client itself.  
So all-in-all we're a little disappointed by the speed of our backup but it is a small price to pay for an otherwise incredible powerful online backup solution. And we cannot stress enough that it's not really about the backup it's about the restore. So let's see how that goes. 
Let's get our files back!  
As we've mentioned before, it is all about the restore so let's see how Crashplan performs in this regard. The beauty of Crashplan is that it's just working. Just select your files, hit backup and – there you go. No long caching or preparing files for upload. It just starts right away. The same thing happens with the restore. Just hit the restore tab – select the files you want – and Crashplan starts the download immediately without delay. 
Again, Crashplan doesn't really impress us with download speed either. With an average of 412 KB/s, it falls way behind of what our connection is capable of and what competitors can do. So prepare yourself for longer backup and restore periods before getting your files back. A selective restore process seems to make more sense – just start with the files you need the most and postpone the full restore to a lazy Sunday afternoon.
Crashplan is part of the Code42 Inc. and is their main product that comes in a variety of shades: Crashplan, Crashplan+ (the individual cloud backup plan), CrashplanPRO and CrashplanPROe for businesses and enterprises. They've been in the backup and storage business for quite some time: starting in 2001 as a software development firm they quickly dived into the topic of becoming a data storage and backup provider for home and business users.
Founded in 2001 they are unlikely to go out of business
According to Crashplan they store over 100PB in various data centers around the world. If you want to know more details about the company, their philosophy and staff you should check out their About page.  Recently, Code42 got over $50m in venture capital. This clearly shows how much cloud storage and backup is growing as our lives get more and more digital. 
In this review, we'll have a look at Crashplan+ which is the unlimited personal plan that many of us here at Cloudwards.net use. 
Crashplan's pricing is pretty simple. For most the standard individual plan is the right choice. If you have more than one computer you should look at the family plan to save some money. Business users will enjoy more control and a nice backup dashboard of all machines and current system states. 
Plan
Price Plan
Storage
Details
Individual

$ 5.99 Monthly

$ 71.88

1 Year

$ 59.99 (-17%)

Unlimited GB

Includes 1 computer. 448-bit personal encryption key.

Family

$ 13.99 Monthly

$ 167.88

1 Year

$ 149.99 (-11%)

Unlimited GB

Same as Individual plan. Best plan for 2-10 computers.

Business

$ 10 Monthly

Unlimited GB

Includes: Real time dashboard/reporting and user level access. File sharing and syncing available through Shareplan.
30 Days Free Trial
Like many other cloud backup services Crashplan will give you a generous 30-day free trial that will allow you to play around with their software. 30 days might not be enough to back up all of your data but certainly enough to get feel if this service is valuable to you. 
Crashplan wants you to download the software client immediately as the first thing you see is a nice green button that invites you to download. Crashplan is one of the few services with a variety of available operating systems. You can select between Windows, Mac, Linux and Solaris. So there should be a client for everybody's needs. 
Create a new account or use an existing one
After installing the software client you need to choose if you are an existing user or if your want to create a completely new account. If you happen to experience a hard drive failure you can just re-download the client and insert your account details here to start restoring. 
If you create a new account make sure to choose a secure password and don't get fooled by the password strength indicator. It will show passwords that are weak as strong. We tried passwords like "qwerty" which were shown as "Good". Clearly, they are  not. In order to start your free trial you do not need a credit card. That way you can test the service without feeling overly committed.


 Be sure to choose a good password

After signing up you get a first glance at the client interface which can be overwhelming at first. But don't worry we'll dissect it for you here. 
Crashplan uses tabs to logically split the backup task into its vital parts: backup, restore and settings. The "Backup" tab allows you to organize your backups and that's where things can get complicated for some inexperienced users. 
The people behind Crashplan love redundancy and so they packed the client with backup features that will ensure, if used properly, that you'll never have to worry about data loss ever again. 
Crashplan Central – The cloud 
The online backup part of the client is called "Crashplan Central". "The central" being the famous cloud where your data is transferred to if you choose to go for the paid version. Crashplan will upload anything that you specify in the "Files" section of the client. 
If you are a Windows users Crashplan does a pretty good job selecting the folders and files from "My Documents" but you certainly need to revisit that to make sure to grab everything. The file selector is rather dull if compared to the overall feature-richness. We would have liked to see a little more control over file sizes, types or creation dates which can be especially useful for the backup sets that we'll dig into a little bit later. 
The good part about Crashplan is that you can also select attached drives to be backed up at no additional cost. 
 Hey, buddy, you back me up?
One of the things that make Crashplan unique is its peer-to-peer backup ability. That will allow you to backup anything – obviously encrypted – on a friend's computer if she also installs a Crashplan client and is willing to dedicate some space on her hard drive for your beloved movie collection. 
And the best part of it – it's completely free! So technically, you can get a free off-site backup for a phone call to a friend or colleague. We particularly like this feature as it adds another layer of security on top of the online backup part of the client. 
Backup to another machine 
Crashplan wouldn't do its name justice if there wasn't another layer of backups that you could add to your already backed up files. We like the extra options, however, most users will think: "Why do I need so many backups?". Well, because it's better to be safe than sorry. In our experience, at least one backup will fail any time soon.
You can select a computer that is in your network or under your control to backup your files or just choose a folder on an external hard drive to move your backup onto that drive. 
You've got a backup!
When your backup is finished you can get a notification via Email or via Twitter which is a nice addition we haven't seen elsewhere. Especially, if you're paranoid about backups you cannot live without a notification feature for on-the-go updates.
Speed up your backups with seeded backup
If you've made a backup over the internet before you know that transferring hundreds of gigabytes of data can take a while, sometimes weeks to finish. If you don't want to wait that long Crashplan offers something called "seeded backups". 
You simply order an external hard drive which they send to you. Then, you can use their client to backup your data with Firewire and set that hard drive backup to Crashplan. They'll take care of the rest. So, instead of waiting for weeks or possibly months you can have everything up and running in a couple of days. 
Keep in mind, however, that this service cost $124.99 and is only available in the US. 
Is your data really safe with Crashplan?
To us, security is of great importance when we review new online backup services. Nobody should be able to look into your data, not even employees of the company. Crashplan offers a variety of security features depending on the plan you choose and how far you want to go. 
The first level of security is your password that you use to access your client. However, as we've seen Crashplan is content with rather weak passwords so this can't be your only layer of security. 
The second level is a local encryption before your files are being sent to their servers. You can set your own private key to encrypt your data with either a 128-bit (Crashplan) or a 448-bit Blowfish (Crashplan+) security mechanism. Beware though: if you shall ever lose that key, you're never getting your data back. Not even Crashplan employees can help you with it. 
Then, your files are being transferred with a 128-bit SSL communication encryption keeping strangers from spying on you. 
Even though be believe that Crashplan has done a pretty good job of ensuring your data safety, it might make sense to encrypt your hard drive with TrueCrypt (Windows) or FileVault (Mac). But it is certainly not necessary to make this extra step, unless your data is highly sensitive. 
Features, Extras & Mobile
Features and Extras
Crashplan is certainly aiming to make online backup as easy as possible while still offering many advanced features for power users. As with all "two birds with one stone" solutions this is very hard to achieve. That's why we'd put Crashplan more into the advanced category because getting to your first backup is not as intuitive as with other providers such as Backblaze. 
If you like, however, to dig a little deeper into the preference menu you'll find a great set of features to fully customize your backup experience. Keep in mind that Crashplan is a backup only provider so there is no way to sync or share data as you might know it from Dropbox or other syncing services.
Let's throttle it!
Backup throttling can be extremely useful if you are behind a slow internet connection or if you have an older computer. For most users bandwidth throttling might be the most important part. You can even specify your bandwidth depending on what kind of connection your currently using (WAN or LAN). 
Crashplan goes beyond mere bandwidth throttling: you can define CPU usage for both when the user is using the computer or when he is away. 
Schedule your backups
Initially, Crashplan will run continuously in the background so you don't have to worry about your files being backed up. If you like, however, you can set your backups between specific times of the day. 
Schedule your backup while you are at the office
That can be convenient if you only want to backup your files while you're at the office. So you could go ahead and schedule your backups from Mondays to Fridays from 10:00 AM – 6:00 PM and when you're at home your backup is ready. 
Like to dig a little deeper?
There is even more to discover when you're willing to dig a little deeper. In the "Advanced Settings" you can select if you want your data to be compressed and if you'd like to use data de-duplication both of which settings will reduce the file size and thus speed up your backups quite a bit. 
Also, you'll have great control over your backup frequency: how many new versions do you want Crashplan to upload? Every hour? Every 15 minutes? Every minute? You can have it all setup in the "Frequency and Versioning" pane. 
Very important: make sure the slider "Remove deleted files" is on "never". That way even if you delete files from your PC or Mac they still remain in the Crashplan cloud.
Access your files on your mobile device
Knowing what consumers want is one of Crashplan's strong suits. Their mobile app for Android, iOS and Windows Phone allows your to access your backed up files when ever you need them. Forgot the presentation for your business meeting at home? No worries, just send it to your Email via Crashplan and there you have it. 
We have used this feature many times and couldn't live without it. The mobile client is very solid and runs quite smoothly on our iOS devices. The file search feature could be a little faster if you need your files quick. 
Crashplan is one of the few online backup providers that offer a native app for mobile devices where others merely give you a web client that is optimized for mobile.
Had a crash? – Get your files back!
What's the best backup worth if the restore doesn't work properly? You're right. Nothing. That's why we always test the restore process of the providers we review here. If you decide to go for an online backup service always make sure to set a schedule for restore testing purposes, say, once a month or quarterly even if your machine is running properly. That way you know that your data is safe. 
 Restoring files is as easy as backing them up. All you have to do is switch to the "Restore" tab that shows you a file tree of all your backed up data. Now you can go ahead and restore files by searching for a name or specific extension, like .jpg. 
You can choose any location you want to restore your files, even an external hard drive. If you have a backup from other destinations than Crashplan Central then you can switch those around as well. 
If you have a current local backup made with Crashplan the restore process will be faster than going over the cloud. Obviously, restoring your files from the software is not the only option: if you happen to be in a hurry or if you're just not at your computer you can access Crashplan's web client and browser/restore your files directly from your browser. 
Deal or no deal? We say: deal!
Crashplan is one of our favorite online backup services. It is fairly easy to use (though not completely hands-off) but offers a huge variety of feature that allow you to customize your backup strategy. 


Unlimited online backup and storage

 Unlimited file size 

 Great control over your backups

Triple redundancy, including rare features like free peer-to-peer backups

No sharing or syncing features

No integration into Windows Explorer 

If you're out the US backups can be slow

Overall, there is very little bad to say about . If you're looking for an online backup solution for yourself and if you're not completely illiterate when it comes to computer, you should give it a try. 
If you're looking for a backup solution for somebody else, probably Backblaze is the better alternative as it is easier to use,
Alternatives for Crashplan
Crashplan Features
www.crashplan.com
Free Storage
Free Trial
30 Days
System
Price
Starts from $ 5.99 per month
Mobile Access
Mobile Apps

iPhone
iPad
Android
WindowsPhone

Syncronisation
Free External HD Backup
Continuous Backup
Incremental Backup
Backup Scheduling
Bare Metal Backup
Exclude File Extensions for Backup
Network Drives
Bandwidth throttling
Web Access
HIPAA Compliant
File Size Limit
Unlimited GB
Included Machines
1
File Sharing
Multiple Accounts
Share Photo Albums
Music Streaming
Folder Collaboration
Outlook Backup
Local Encryption
448-bit
Server Side Encryption
256-bit
Keeps deleted files
Unlimited
File Versioning
Unlimited