NordVPN vs PIA: Reviewing Security & Speed in 2023
NordVPN is one of the biggest players in the VPN market, and for good reason. In our NordVPN review, we talk about how it has a respectable number of features, a very clean and easy-to-use interface, as well as solid security and privacy.
Private Internet Access, or PIA, is one of a small handful of VPNs that are based in the United States. In our full PIA review, we talk about how this could raise eyebrows with some people due to the relatively weak data privacy laws in the States.
That said, PIA VPN has been subpoenaed on more than one occasion and has never handed over user information to the authorities.
Knowing PIA's solid history of protecting user privacy, we thought it would be interesting to compare NordVPN to this relative underdog to see if PIA's clean track record can help it beat a VPN giant. The result is this PIA vs. NordVPN battle for the ages.
09/05/2022

Updated the comparison to include the latest VPN speed data.
Setting up a Fight: PIA vs. NordVPN
Unfortunately, these VPNs cannot fight each other in a literal sense, so we've developed some rules to facilitate a fair competition. There are five rounds and each is weighted evenly with one point being assigned each round. The five rounds are features, pricing, ease of use, speed and security.
We start each round by briefly going over what it is we're looking for, then give some detailed information on how each VPN performs in that category. At the end of each round, we draw a conclusion and award a point to one of the VPNs.
www.nordvpn.com

: PayPal, Credit card, Google Pay, AmazonPay, ACH Transfer, Cash
: 6
:
:
:
:

www.privateinternetaccess.com

: PayPal, Credit card, Amazon, Paygarden, Apple Pay, Google Pay
: Unlimited
:
:
:
:
1. Features
As you can see in our NordVPN vs. Mullvad comparison, we always start off these matchups with a look at the features of each provider, and NordVPN has a strong track record in this first round.
In this section, the most important things we look for are a kill switch and some way for the VPN to connect automatically. These are the two features we consider necessary for every VPN, because both of these features directly impact security, and without them, a VPN cannot be nearly as secure.
Aside from these, the features each VPN chooses to provide is just icing on the cake. Things like an ad-blocker, DNS options or even added layers of security are common additions.
NordVPN
NordVPN knocks it out of the park when it comes to the most essential items we just listed. It lets users configure a wide array of options when it comes to its automatic connection and kill switch.
Starting with the kill switch, there are actually two built into the desktop client. One is labeled in the settings as the "internet kill switch" and works by cutting off the flow of internet traffic if the VPN connection is lost.
The other one is called the "app kill switch" and, when turned on, it will automatically terminate any applications that you add to its list. This helps improve the performance of programs that don't need the VPN, while still keeping you secure.
NordVPN also has a well-designed auto-connect setup that makes it easy to configure. You can have the VPN connect automatically when the program starts or when Windows starts. You can also configure it to connect automatically only when you're on unsecure wireless networks (which means most public WiFi).
Additionally, you get to choose which region or country you automatically connect to. NordVPN also has some additional security features, such as custom DNS options and invisibility on LAN.
The most interesting of these additional security features are the CyberSec filter and the double VPN. CyberSec is a relatively new feature that NordVPN has introduced that works as an ad-blocker, as well as a malware and phishing filter.
The way CyberSec works is simply by blocking the sites that serve ads or are known to contain malware or phishing attacks. Although this isn't the most groundbreaking feature — and there are tons of similar free tools to protect your privacy — it's nice to have for those who don't already use some kind of ad-blocker.
Finally, the double VPN is exactly what it sounds like. It relays your traffic through more than one VPN server, making it even more difficult for anyone to track your online activity.
Private Internet Access
PIA has a very different layout with its settings menus than NordVPN does, which we'll investigate in more detail in the "ease of use" section. The first settings page that you're greeted with has checkboxes for launching the program on system startup, for whether the VPN connects on launch and a handful of drop-down menus with cosmetic options.
By default, the PIA client is locked into the taskbar and uses a dark theme. In the settings, however, there is the option to unlock the window from the taskbar and allow it to be moved around the screen, as well as a light theme and some options for how the system tray icon appears.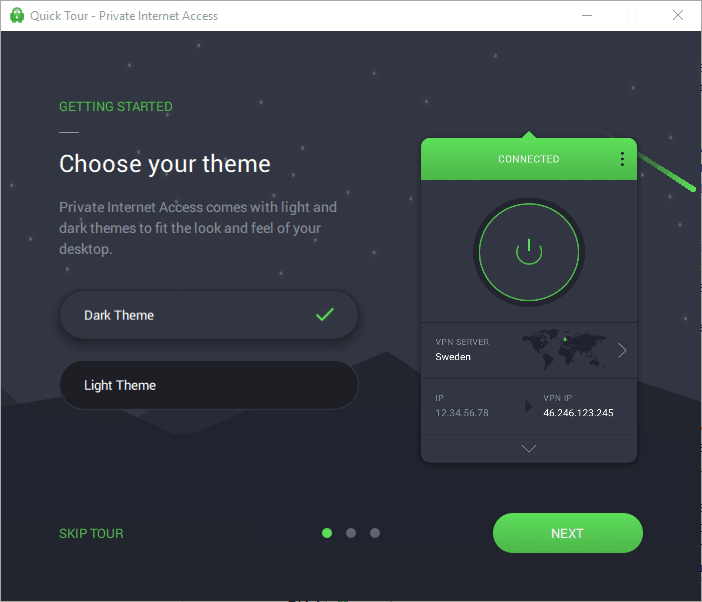 This is one of the best parts of PIA, and we are waiting for more providers, such as NordVPN, to incorporate a night mode into its white background, which can be pretty searing on the eyes on brighter monitors or in darker rooms.
With that said, this is about the only thing in PIA's settings that we can point to as being something others should follow. While the first page of the settings offers a checkbox for auto-connecting, there is no way to configure where the VPN automatically connects to.
Additionally, the kill switch offers three settings that aren't entirely well explained. The options are "off," "auto" and "always." "Off" and "always" are easy enough to explain, but the "auto" setting says that it blocks outside traffic while the VPN is on.
A kill switch typically works by blocking traffic if the VPN has lost its connection for some reason. Blocking outside traffic is something that every VPN should be doing by default, and having the kill switch setup like this is a bit odd.
Much like NordVPN, PIA also offers DNS options and even a malware blocker that it calls MACE. PIA also offers a tab in the settings labeled "connection" that gives users more control over the technical aspects of how the VPN works, such as encryption, protocol, handshake and port options.
One thing that is absent from both NordVPN and PIA's list of features is split tunneling, which lets users define a list of programs that use the VPN's protected connection while other programs use a normal internet connection. You can read more about split tunneling and see an excellent implementation of this feature in our ExpressVPN review.
Round One Thoughts
Private Internet Access has a very different settings menu than most VPNs, and it's not something we necessarily fault it for. There are tons of aesthetic options, and we wish more providers had a night mode for eye health.
PIA also has some much more advanced options available to tinkerers and power users than NordVPN. However, NordVPN put much more effort into the things that really matter and has prioritized functionality over looks with its feature set.
NordVPN's excellent kill switch and auto-connect options put it well ahead of PIA when it comes to features, which earns it the point for this round.
2. Price
Of course, no two products can be compared without looking at their pricing. However, this round does not end with how much each provider costs.
On top of the pricing, we take some time in this section to look at what kinds of payment methods are accepted, whether any kind of free plan or trial is offered, and whether there is any kind of refund policy.
NordVPN
As we saw in our NordVPN vs. TorGuard matchup, NordVPN has a pricing structure that starts off a bit rocky but quickly becomes enticing. If you are planning to sign up on a month-by-month basis, NordVPN's pricing is a bit on the high end, but it's about what you should expect from a top-shelf provider.
The annual option cuts the monthly price nearly in half, though, and the two- or three-year options offer an even more excellent bargain. All of the plans are the same in regard to what is included, with all of them allowing for up to six simultaneous connections and an unlimited amount of bandwidth.
Read our Surfshark vs PIA and Surfshark vs NordVPN to see how they stack up against a VPN with unlimited simultaneous connections.
NordVPN accepts all of the major payment forms, including credit cards, PayPal, Amazon Pay and even bitcoin. Although there is no free trial or free plan available, NordVPN does have a 30-day money-back guarantee. This at least offers some way to try out the service, but it still requires you to put down the large up-front cost of the long-term plan.
Private Internet Access
On the surface, PIA's pricing looks better than NordVPN's. PIA's monthly pricing starts around where NordVPN's annual pricing lies. This makes PIA the obvious choice for those who aren't looking for a long-term VPN subscription.
However, PIA only offers six-month and annual plans, with the six-month option hardly taking anything off the cost. The annual plan is about half as much as the monthly plan, though, when broken down into the monthly cost.
Although this does land PIA in a good territory as an affordable option, it still doesn't quite beat out NordVPN's very long-term three-year pricing. That said, PIA's plan comes with a little more than the NordVPN option, allowing up to 10 devices to be connected simultaneously.
Just like NordVPN, PIA accepts cryptocurrencies as well as more traditional payment, such as credit cards and PayPal. In fact, PIA accepts more forms of payment than NordVPN, throwing in options like Beam and Mint.
On one hand, PIA offers a seven-day free trial for their mobile apps. However, if you're interested in trying out a VPN completely for free, be sure to check out our best free VPN services roundup.
Round Two Thoughts
This is a hard round to score, since both providers have a pricing model that seems targeted toward different people. On the one hand, PIA offers solidly affordable short-term pricing, while on the other, NordVPN beats it out with its three-year plan.
What it comes down to, in this round, is that NordVPN gives users 30 whole days to decide if it's right for them and to get a refund, while PIA only gives you seven. This difference wins NordVPN the point in this round, but just narrowly. We feel it's worth pointing out here that, as you can read more about in our CyberGhost review, CyberGhost offers a longer refund period and better pricing than either of the VPNs we're looking at today.
3. Ease of Use
How easy it is to use a piece of software is a pretty subjective matter, but, in spite of this, it's something that is important to consider. Well-designed software can offer a pleasant experience, while poorly designed software can be miserable to use, getting in the way of your online productivity or procrastination.
In this section, we take a close look at the clients of each VPN and discuss what the user interface is like. The VPN with the more user-friendly and well-conceived client wins the point for the round.
NordVPN
It's hard to say who did it first, but NordVPN's general layout is a pretty common one among VPN clients (you can see an example of a very similar design in our ProtonVPN review). The first thing you're greeted with upon opening the software is a screen with a large map taking up most of the right side of the screen and a server list occupying the left side.
Around the map are a number of location markers that can be clicked on to connect to a server in that location. One thing NordVPN does better than most other providers that use this layout is that you can zoom in and out on the map to make it easier to browse all the server locations around the world, while other VPNs have a fixed perspective.
The server list to the left side of the map is alphabetized and shows the flag of each country next to it. Once you start using the VPN, a list of recently used servers will appear above the full server list, making it easier to quickly connect to frequented locations.
The recent servers list shows up to five locations before one is knocked off the list. For those who are interested in maximizing their screen space and minimizing clutter in their digital workspace, NordVPN lets users close the map portion of the client and only see the much smaller server list portion.
The settings menu of NordVPN's client is very efficiently laid out and makes NordVPN a great choice for anyone. There are a limited number of tabs within the settings, and we could find everything by looking under our first tab guess, which is quite a rare thing.
On top of the well-organized tabs, every option in the settings has a small, one- or two-line explanation underneath. These help further clarify what all the options do and solidify NordVPN as a great choice for those who aren't the most tech savvy.
Private Internet Access
By default, PIA's client is locked in place on the taskbar at the bottom-right of the screen. The window is much smaller than NordVPN's client, coming in at less than half the width and almost half the height.
As we mentioned, there are tons of visual options offered in PIA's settings, and one frees the VPN client from the taskbar, which lets you move the window to where you want it.
PIA's layout is very different than NordVPN's, with a large "power" button taking up about half of the already small interface. Clicking this power button connects you to the VPN in the location that is displayed just underneath. Another VPN that does this is ExpressVPN; read our ExpressVPN vs. PIA article to see other ways these services are comparable.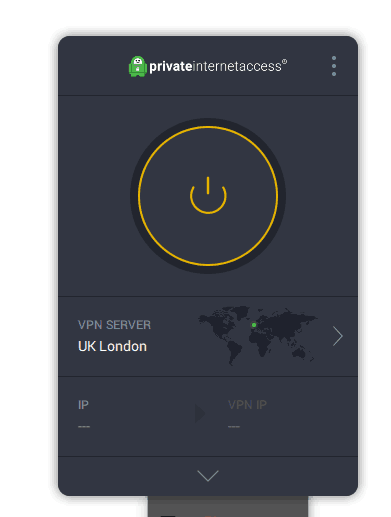 Clicking on the location will open the list of servers and, below this, will also show your IP address and the IP of the VPN server you are using.
Finally, a small arrow at the very bottom of the program expands the window to about the same height as the NordVPN client. This extra space shows even more connection information, such as account information, monthly usage and some quick settings options.
The main interface is very compact and efficient. The quick settings options are a great touch, and the overall look of the interface is clean. However, once you head into the settings menus, things are a bit more rough around the edges.
The settings have explanations, but some of the wording can be a bit unclear. Things like the three-mode kill switch that we mentioned in the "features" section only add confusing and unnecessary details to features that should be clear cut.
Additionally, the extensive connection and network options go far beyond what most people should be tinkering with. Although PIA could certainly be used by anyone on a basic level, much more technical functionality is offered in the settings, which might be something that turns some people away.
Round Three Thoughts
Both VPNs have refined clients that look good and do that job well. NordVPN gives users a globe to search for a good location to connect to, while PIA shrinks things down a bit to save your precious screen space.
Ultimately, NordVPN has a better chosen layout in the settings menus. The organization of the tabs is simple, making it easy to find what you need.
What's more is that NordVPN offers very clear explanations for what everything in the settings does. Meanwhile, PIA has some wording that could be confusing, and it offers settings that are a bit more technical than many people would have an interest in.
Round: Ease of Use
Point for
NordVPN
4. Speed
Much like ease of use, speed can easily make or break any VPN. A fast VPN can offer a similar web-surfing experience to not using a VPN at all, while crumby speeds will make you feel like you've been downgraded back to dial up.
Unlike ease of use, however, speed is a quantifiable matter that we can test objectively to determine a winner. Let's see how NordVPN and PIA compare in our daily, automatic speed tests.
US Speed Results
Download Speed
(Higher is better)
Upload Speed
(Higher is better)
Latency
(Lower is better)
When connected to the U.S. server location, you'll see that PIA offers excellent download speeds, but not as consistently as NordVPN. With upload speeds and latency, both VPNs are neck-and-neck. This means NordVPN is edging ahead, but let's also see how the VPNs compare when averaging their worldwide servers.
Global Speed Results
Download Speed
(Higher is better)
Upload Speed
(Higher is better)
Latency
(Lower is better)
The quality of these VPNs with speed and latency really shows in the global server performance. NordVPN offers excellent and consistent upload and download speeds, while PIA loses a significant percentage of its unprotected speeds.
There's less of a difference with global latency results, but NordVPN does offer lower ping, overall.
Round Four Thoughts
All things considered, PIA is a good VPN for speed if you're close to the server location. However, NordVPN is the better VPN for speeds overall.
5. Security and Privacy
The final round is what you'll probably see emphasized the most in every VPN's marketing: security and privacy. As with anything, you shouldn't take the company's word for how secure its product is.
To analyze the security of each VPN, we look at what kinds of protocols and encryptions are available and test for any kind of leaks, including DNS and IP information. We also check out the privacy policies of each VPN and dig into each one's past a bit to see if there have been any past privacy indiscretions.
NordVPN
In terms of security, NordVPN does not offer many choices. For the most part, both encryption and protocol are locked in and cannot be changed. That said, despite the lack of choices, it uses the best combo available right now.
For protocol, NordVPN uses OpenVPN, which is a highly secure and open-source protocol that has a proven track record of security, while still being transparent and offering solid speed on top of it all. You can read more about OpenVPN and other protocols in our VPN protocol breakdown.
The encryption used is AES-256, which, when paired with the OpenVPN protocol, is what we consider the current golden standard for internet security. As we expected with this protocol and encryption, we were not able to find any signs of DNS leaks, IP leaks or any other kind of data leakage.
As for privacy, NordVPN offers one of the more concise privacy policies out there. Coming in at about eight pages in length, the document does a reasonably good job of explaining exactly what information is collected, how long it is kept and what it is used for, without becoming too bogged down by excessive legal terminology.
NordVPN collects a pretty minimal amount of information on users. In fact, if you choose to pay with bitcoin, it's actually possible to set up an account without handing over any identifying information by using a throwaway email address.
Normal payment methods, such as a credit card, will still give NordVPN identifying information, though, but this is largely mitigated by the fact that the VPN itself gathers no identifying information on users.
The information gathered outside of the account setup is mostly limited to data collected from cookies on the website. Again, this information is non-identifying and is used for improving and maintaining the website.
Private Internet Access
PIA offers more choices for users when it comes to security, and it even offers this handy website that explains many of the encryption options and offers some recommendations. Like NordVPN, AES-256 encryption is available, but PIA also throws in AES-128.
AES-128 is less secure than it's 256-bit bigger brother but, in return, can provide slightly better speed and performance. There are also several options for data authentication that can protect from "active attacks," when someone intercepts the traffic between you and the VPN server.
As for protocol, PIA offers the same two options as NordVPN, which are both forms of OpenVPN. One of these, UDP, is better for overall performance, while the other, TCP, is more stable and will offer a more reliable connection.
Moving on to the privacy policy, PIA's is much longer than NordVPN's, with a total length of about 12 pages. The policy focuses specifically on the information gathered through cookies on the website, which — as in the case with NordVPN — is standard practice on almost all websites, and the information gathered this way is used to maintain the site.
Aside from the information gathered on the site, PIA runs its VPN with a zero-log policy that is backed up by real-world evidence. PIA has been subpoenaed by the FBI during investigations in the past, and it has proven itself as being incapable of handing over information to government bodies because it does not retain any identifying information.
Round Five Thoughts
Both NordVPN and PIA offer AES-256 encryption and the OpenVPN protocol, which is exactly what we look for when it comes to security.
Although PIA offers many more options when it comes to configuring the security of your VPN, this would, for the most part, only serve to sacrifice security in favor of speed. We suggest most people stick with the tried-and-true combo.
As for privacy policy, while NordVPN's is shorter and written in an easier-to-understand style, PIA has proven itself as stalwart in the face of government agencies at its door. Both have a solid no-logging policy and a clean track record.
This round is incredibly close, and both providers seem secure and trustworthy, so we're calling this final round a tie, meaning both providers earn a point.
Round: Security and Privacy
No clear winner, points for both
6. The Verdict
With a final score of five to one, NordVPN takes home the win in a landslide. Although PIA isn't a bad VPN, it simply cannot keep up with a true top-shelf choice like NordVPN.
NordVPN had superior speed, better features, was subjectively easier to use and even offered slightly better pricing options. The only point Private Internet Access was able to take was in a tie, since both providers have good security and a good track record of respecting user privacy.
If you've had experience with PIA or NordVPN, we'd like to hear how your experience compares to ours in the comments below. As always, thanks for reading.