Dashlane vs 1Password: Who Will Win This 2023 Battle?
When it comes to managing your passwords, it doesn't get much better than Dashlane and 1Password. Both password managers rank among the greatest options out there, fit with multi-device sync, excellent security and support for passwords, credit cards and more. If you're looking for a password manager, either will serve you well.
We're here to throw each password manager under a microscope, though. In this Dashlane vs 1Password comparison, we're going to explore the details that separate these excellent services. From features to security to pricing, we're going to get into the nitty gritty so you know which is the better password manager for you.
Honestly, you could go with either Dashlane vs 1Password and be fine, though there are differences between them, which we'll explore throughout this article. We also recommend reading our Dashlane review and 1Password review to get a better idea about how they perform against the rest of the password manager market.
Setting Up a Fight: Dashlane vs 1Password
1Password and Dashlane are the top two password managers we've used. Frankly, you could blindly choose either and you'll have a great experience. The purpose of this Dashlane vs 1Password comparison isn't to declare one as the definitively better option, but rather to get into the details to see which tool comes out on top.
Our two competitors will duke it out over a series of rounds, each of them worth a point. During this Dashlane vs 1Password guide, we'll throw each into the ring, comparing their security, pricing, ease of use, features and more. Whichever service comes out with more points in the end will be our winner.
As mentioned, we're going to get in the weeds here, especially when it comes to security. Although Dashlane and 1Password are at the top of the password manager game, there are some key differences between the two services. With this Dashlane vs 1Password guide, you should be able to make an informed decision about the best option for you.
1. Security
There's a lot to dissect with Dashlane and 1Password when it comes to security. For the short answer, both offer excellent security, fit with a zero-knowledge model and top-of-the-line AES-256 encryption. If you want to skip over the technical details, know that you'll be protected no matter which one you go with.
Encryption and Authentication
We here to split hairs, however, so let's start at the top. Encryption-wise, both services are sound.
Dashlane uses AES-256 to secure your vault contents. The key for this cipher is generated using your master password, which Dashlane never sees. Instead, Dashlane uses the Argon2d hash, plus a 32-byte salt, to authenticate your account when you log in (read our description of encryption for more on that process).
There's a little more to logging in with Dashlane, which we'll get to in a minute. 1Password has a similar process, using AES-256 for encryption and a hash of your master password for authentication. It uses a slightly more dated hashing algorithm and key derivation function — PBKDF2-HMAC-SHA256 — but at 100,000 rounds, it is still plenty secure.
Most password managers stop there, but Dashlane and 1Password go a step further. Dashlane uses a device key to authenticate new devices, which is needed to access your vault. This key is based on hardware and software characteristics of your device and 38 random characters, generated with the OpenSSL RAND_byte function.
1Password also uses two-secret key derivation. Whenever you download the app, 1Password generates a 128-bit secret key, which is based on, again, hardware and software characteristics. The device key, your master password and a random salt are used together to authenticate your account.
Two-Factor Authentication
Both of our competitors come with multiple options for 2FA, including support for our best 2FA apps. Starting with Dashlane, your second factor can either be a QR code or a six-digit key. QR codes are supported through apps like LastPass Authenticator and Google Authenticator. The code is time-based, changing every 30 seconds.
In the event you can't access your second factor, Dashlane has a few recovery options. The first is a backup phone number, which will allow you to authenticate with a new device and disable 2FA. Additionally, you can specify static codes that will bypass 2FA in case you need to access your account. Like your master password, Dashlane doesn't store these codes.
1Password has similar support through apps like Authy and Microsoft Authenticator, though goes further when it comes to business. Enterprise subscribers have access to Duo integration, which provides business-wide multi-factor authentication. Unfortunately, 1Password doesn't have as many fail safes in place if you lose your second factor.
The two are evenly matched, with 1Password having more options for business and Dashlane offering more for individuals. In addition to software 2FA, Dashlane and 1Password support U2F hardware keys like the YubiKey.
Open-Source Tools
It's worth pointing out that 1Password is built entirely on open-source software. Despite being a commercial password manager, 1Password has no problem leaving its source code to the masses. Although Dashlane makes use of some open-source software, it doesn't make its file format available to everyone.
Open-source software simply has more eyeballs on it, which usually leads to better source code and is helpful for security audits. Outside of security, 1Password's open approach means your encrypted vault will never become obsolete. Anyone can use the source code to read 1Password's file format.
Putting It Together
Picking a winner this round is tough. Dashlane offers a more modern key derivation function, but both tools work on a principle of device and user authentication. On the other hand, 1Password is built on open-source standards, whereas Dashlane keeps everything close to the chest.
Considering Dashlane's more modern key derivation function and its identity theft protection, we're going to give it the win this round. That said, both tools offer exceptional security, so you'll be secure no matter which password manager you choose.
2. Pricing
Dashlane is one of the most expensive password managers out there, with its Premium plan coming in at around $5 per month. Granted, the Premium plan gives you features like dark web monitoring, secure file storage and a virtual private network. However, the latter is less of a feature and more a nuisance compared to our best VPN picks.
1Password is more reasonable at $3 per month, but lacks Dashlane's extra features. Still, the base plan offers 1GB of encrypted document storage and unlimited storage for passwords. Features like travel mode and item recovery are present, too, which we'll get to in the "features" round below.
There's no denying that 1Password is cheaper, offering most of what Dashlane does for $2 less per month. Still, they're both on the expensive end of things. Keeper and RoboForm both offer cheaper monthly rates while adding some unique features of their own (read our Keeper review and RoboForm review, as well as our Dashlane vs Keeper comparison).
Dashlane has a more premium plan than even its Premium plan, however, in the form of Premium Plus. (What will they think of next?) Being less password manager and more identity theft protection service, Premium Plus adds credit monitoring and $1,000,000 in identity theft insurance for around $10 per month.
Regardless, you can try Dashlane or 1Password before you buy, though the process for each is different. Dashlane offers a 30-day money-back guarantee in addition to a free plan (more on the latter in a minute). 1Password, on the other hand, doesn't offer refunds but has a 14-day free trial available for new users.
Family Plans
Many password managers offer family plans that can accommodate five or so users (read our LastPass review for an example). For the same price as a Premium subscription with Dashlane, 1Password offers a family plan supporting five users. Each user gets the features of a personal subscription, including 1GB of document storage. Read our 1Password vs LastPass piece.
That's why 1Password ranked first in our best password manager for families guide. Although the plan starts at five users, you can add more for $1 per user, plus share five limited passes for guests.
Because of 1Password's multi-vault approach — which we'll get to in a minute — your family can segment their accounts while keeping everything in one area. That central hub of all your vaults allows you to recover other family member's accounts, too.
Dashlane, on the other hand, doesn't have a family plan. Sure, there's a business plan that you can use with a handful of users, but nothing specifically targeted at families. That, combined with the high price of Dashlane, pushes 1Password in the lead this round.
3. Free Plan
Although 1Password and Dashlane missed the mark for our best free password manager guide — having been beat down by options like LastPass and Bitwarden (read our Bitwarden review) — there's a clear winner for this section. To make it simple, 1Password doesn't have a free plan and Dashlane does.
That said, Dashlane doesn't have a great free plan. You're limited to 50 entries and don't have access to multi-device sync. Although it's not as limited as Kaspersky Password Manager or McAfee True Key, which cap entries at 15, Dashlane doesn't offer a lot for free users (read our Kaspersky Password Manager review and McAfee True Key review).
Still, it's something. Other options, like KeePass, offer more space for free, but Dashlane still has the advantage when it comes to usability and features. Read our KeePass vs LastPass piece.
Even with the free plan, Dashlane still gives you a taste of its Premium membership, as well. You can either start with Free and upgrade later or try Premium or Premium Plus. As long as you switch to Free in 30 days, you'll get your money back.
4. Ease of Use
1Password and Dashlane both have a solid user experience, though 1Password is more flexible. In addition to the mobile apps, 1Password has a browser extension, desktop application and browser interface. You're given the choice in how you want to access your passwords, no matter what device you're on.
It works differently than other password managers, however. Rather than giving you a single vault to store all of your passwords, 1Password allows you to have as many vaults as you want. Inside each vault, you can further organize your entries using tags. If you're importing passwords from another application, 1Password will try its best to assign tags to your entries.
Although 1Password is technically a password manager, it's capable of much more than storing your logins. It has a wide range of support for other entry types, including passports, rewards programs, server information and more. Furthermore, entries are customizable, allowing you to add or remove as many fields as you want.
Dashlane isn't as flexible, which results in a more streamlined experience. Your different entry types are laid out in the left-side menu, with no support for custom entry types. You can organize your passwords into categories, which are provided by Dashlane, but not much outside of that.
Frankly, both tools are very easy to use. That said, there are two sides to that coin. Dashlane doesn't have as many options. However, what it lacks in functionality, it makes up for in accessibility. It has a more traditional layout that offers all of the information the majority of users need.
However, 1Password is more powerful, a feat all the more impressive considering how accessible the application is. This Dashlane vs 1Password round could go either way. That said, Dashlane does have a more streamlined approach, so we're going to award it the win this round.
5. Browser Extension
Dashlane and 1Password both offer a browser extension, which serves its purpose for autofill and quick access to your passwords. That said, 1Password offers an extension that operates independently of any other application. The 1Password X extension allows you to access your logins from any Chrome, Firefox and other browsers.
1Password already supports iOS, Android, macOS and Windows. However, with 1Password X, it also supports Linux and ChromeOS. Granted, Dashlane has a browser interface that you can use with the extension. With 1Password, though, you only need the extension to view, edit and delete your entries.
Both tools have solid browser extensions, but 1Password's flexibility with its standalone version pushes it ahead this round.
6. Features
Part of the reason Dashlane and 1Password rank so high are their features. Starting with Dashlane, it moved beyond simple password management with version six, adding a VPN, identity theft protection and dark web monitoring. The basics are accounts for, too, including unlimited storage and sharing, as well as multi-device sync.
Although the identity theft protection features are, frankly, just okay, Dashlane has a lot of tools for managing your passwords. Like a lot of other password managers, it includes an identity dashboard. There, you'll be able to view weak, compromised and reused passwords (find out how to set up a strong password). Beyond that, Dashlane also uses the space to notify you of recent data breaches.
However, Dashlane's most unique feature is the automatic password changer. In conjunction with Dashlane's excellent password generator, you can use the tool to automatically update passwords across your accounts. Dashlane supports a wide range of sites, including Reddit and Citrix.
Although a great feature to have around, the automatic password changer isn't a magic tool. For the sites Dashlane supports, it's excellent, though there are a lot of sites missing.
1Password has a more focused experience. It lacks identity theft protection and dark web monitoring, though it still comes with unlimited storage and multi-device sync.
Like Dashlane, it offers a security dashboard in the form of 1Password Watchtower. Watchtower goes beyond other security analysis services, cross referencing your entries with haveibeenpwned.com to see if any of your accounts have been compromised.
Although lacking a password changer, 1Password offers a unique spin on the password manager model. Your subscription includes travel mode, which protects your personal information on the go. When enabled, travel mode will store all personal information on your mobile device in your vault, deleting whatever is stored locally.
Of course, it's stored in the cloud, and the moment you turn off travel mode, your data will sync with the cloud database. However, should your phone get confiscated or lost while traveling, the person who finds it won't be able to dig up any information on your device. Even with the necessary keys, your personal data simply isn't there.
Check out our guide to the best cloud services to protect with either Dashlane or 1Password.
Although Dashlane has more features, 1Password has a more focused list. The VPN and identity theft protection with Dashlane are welcome additions, though worse versions of other pieces of software. Because 1Password focuses its platform, the features feel better suited for a password manager.
7. Mobile Apps
Dashlane and 1Password topped our list for the best password manager for iOS, taking the first and second seat. Although 1Password came out on top, it was by such a thing margin that either could have occupied the space. Both provide an excellent mobile experience, no matter if you're on Android or iOS.
Starting with 1Password, you can see all of the information you can with the desktop version, just on your mobile device. Features like Watchtower are present, as well as support for multiple vaults, autofill and the 1Password browser. It even supports notifications and authentication through Apple Watch if you want to use it for 2FA.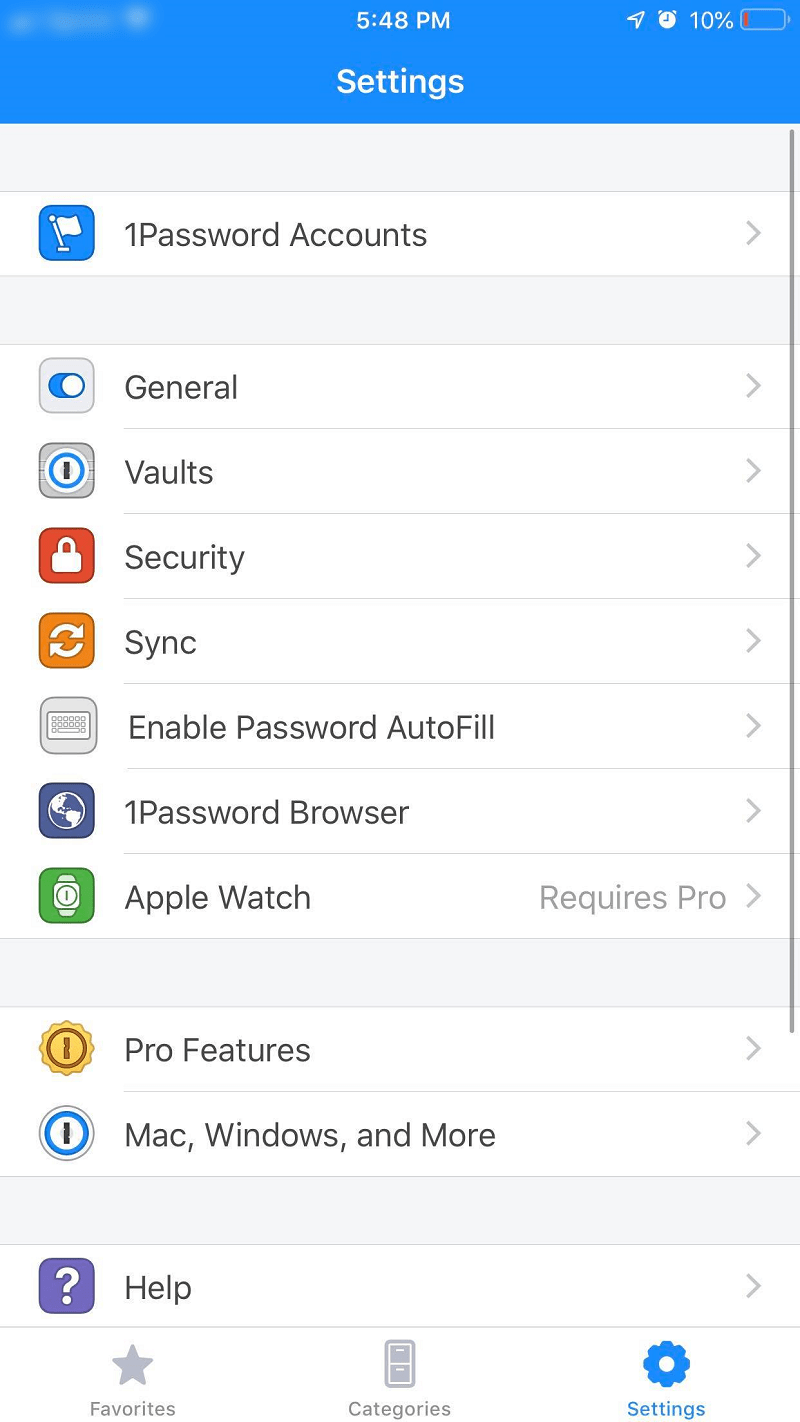 Dashlane is a similarly robust mobile app, with support for biometric login and 2FA. It includes an identity dashboard, where you can check in on Dashlane's identity theft protection features. There, you'll find notifications about your information on the dark web, your overall password health and any recent, relevant data breaches.
Additionally, Dashlane comes with mobile-specific features like contact storage, though you can always store contacts in 1Password using custom entry types. However, 1Password has one unique advantage: travel mode.
Although it's a great feature on its own, travel mode is specifically relevant for mobile devices, offering protection unmatched by other password managers. You can quickly remove all of your personal information from your mobile device, storing it inside your 1Password vault. Once the coast is clear, you can restore everything with a tap.
For sensitive data on the go, that feature is huge. Travel mode is, of course, great for travel, but it has other applications, too. Say, for example, you're going to a concert or going on a camping trip, both of which come with the risk of losing your phone. You can remove all personal data and store it in your vault in case your mobile device goes missing, so your information won't be compromised.
8. Business Plans
Although large enterprises will be better offer with a business password manager like Zoho Vault or OneLogin (read our OneLogin review and Zoho Vault review), Dashlane and 1Password have small business plans available. In fact, both earned a spot in our top password manager for small business guide.
Dashlane has a simple approach to business pricing. There's one plan that costs $4 per user per month. It goes beyond the nine to five, however. Dashlane includes something called Smart Spaces for each user. This allows them to have a business space and a personal space instead of keeping everything in a single shared vault.
There's no minimum number of users, though Dashlane offers a dedicated account manager for more than 50. In addition to all the features of the Premium plan, business users have access to the admin console for user and security policy management, as well as tools for user provisioning and group sharing.
1Password complicates things a bit more. Rather than focusing solely on smaller businesses, it offers multiple tiers of enterprise service. The Teams plan is the most direct comparison to Dashlane's business plan. At $4 per user per month, each user gets 1GB of document storage, Duo integration for business-wide MFA and unlimited shared vaults.
Business is twice the price, at $8 per user per month, though it comes with enough features to justify the extra cost.
With support for Active Directory provisioning, custom groups, usage reports and custom roles, 1Password Business might be the most flexible business password manager around. Each user on your account gets a free Family plan, too, as well as 5GB of document storage.
Although expensive, 1Password Business is stuffed full of features. That said, the price can easily get overwhelming when the user count gets high, making the plan suited for smaller businesses that need a lot of features. Those looking for hundreds of accounts are better suited with an Enterprise plan.
These custom solutions are pricey, including all the features of 1Password Business, as well as a dedicated account manager, onboard engineer and custom setup training. For large businesses, however, the features are unmatched.
For small businesses, 1Password and Dashlane go toe-to-toe, with both offering competent plans for teams with fewer than 100 users. That said, 1Password has more features for true enterprise applications, including directory integration and granular control over users and vaults. Those additional features are enough to push it in the lead this round.
9. Support
Dashlane and 1Password are pretty evenly matched in terms of support, that is to say they're both excellent. 1Password offers support routes through its Twitter, a contact email and community forums. If you're more interested in solving problems yourself, there's also a knowledgebase available.
For Dashlane, the options are similar. There's a knowledgebase and email address, though no community forums. Instead, it offers live chat during the work week from 9 a.m. to 6 p.m. EST in English, as well as French and German support through email. Unfortunately, none of the contact options run around the clock.
Dashlane's contact options are solid, but its knowledgebase stands out the most. Articles go very in depth, covering different platforms with screenshots and multiple sections. If you have a question, Dashlane likely has an answer in its knowledgebase.
1Password's forums are more impressive. Although the community is active there, 1Password support reps are, too. While testing the service, we constantly saw new threads with answers after only a few minutes, no matter the time of day. The knowledgebase is great, too, with plenty of topics and video tutorials, but the forums stand out the most.
Dashlane has more contact options, even though live chat is restricted to business hours. 1Password, on the other hand, has an extremely active forum and the same amount of detail in its knowledgebase. Unfortunately, this round is too close to call, so we're going to award a point to both.
Round: Support
No clear winner, points for all
10. Final Thoughts
Out of our nine rounds in this Dashlane vs 1Password comparison, 1Password came out with six points and Dashlane with four, with the last round, of course, ending in a tie. Although it's a definitive conclusion on the points scale, there's more to this story than the scoreboard.
It's important to remember that at multiple points during this Dashlane vs 1Password comparison, we made calls based on preference (the "ease of use" and "features" rounds are perfect examples). Multiple rounds could have gone either way, so we urge you to read our full reviews if you want a more in-depth look at each of these tools.
With that, 1Password is our winner. Do you agree that it should be? Why or why not? Let us know in the comments below and, as always, thanks for reading.