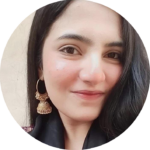 Kanza Javed
Writer
Location U.K.
Joined in August 2022
9 Posts
9 Reviews
Snap Shot
Kanza Javed is a writer for Cloudwards. Her writing and research focus largely on project management software. 
Background & Education 
Kanza Javed is earning her Bachelor of Arts in Psychology from the University of Leeds. Inspired by her love of both technology and writing, she decided to pursue a career in freelance writing while finishing her degree.
She has spent several years writing in the tech niche, covering a range of topics including various types of software, business technology and cybersecurity. For Cloudwards, Kanza spends most of her time reviewing project management software, including note-taking apps, email service providers, and document-editing services.
Former colleagues have praised her "invariable positive attitude," communication skills, research skills, and consistent production of stellar written work.
Last articles
Last Reviews