Visit

Obsidian
Free for personal use
Local storage feature
Plug-in compatibility
Obsidian Review
Obsidian is an efficient note-taking and personal knowledge management tool. It is free for individual users and has many helpful features to make your life easier. However, there are some areas where it could be improved. Our detailed Obsidian review will answer all your questions about the note-taking app.
Key Takeaways: Obsidian Notes App Review
Obsidian, a note-taking app that uses Markdown, is free for personal use but requires payment for commercial purposes.
The app offers advanced features and customization options, including plugins for personalization.
Obsidian provides local and online storage, with end-to-end encryption available for secure cloud sync.
Obsidian is a free note-taking app that was first released in 2020, and since then, it has received many updates, creating a comprehensive feature set. It is a relatively new note-taking app but has proven to be quite capable, making it onto our list of the best note-taking apps. We tested it out and wrote our Obsidian review to share why you should consider giving it a try.
The main purpose of Obsidian is to help users manage their knowledge, imagine and think more clearly and organize ideas efficiently. It achieves this by offering useful features such as bidirectional linking, multiple storage vaults and the ability to customize the app according to your preferences. The best part is that it is completely free for personal use, making it one of the best free alternatives for taking notes.
Although the app has many great features and is secure, it may not be the best choice for everyone because it doesn't offer rich-text formatting. However, if you are familiar with using Markdown files, this app is excellent because it exclusively supports the Markdown language for formatting your writing.
Obsidian Alternatives
Obsidian Review: Pros & Cons
Pros:
Free for personal use
Local storage feature
Plug-in compatibility
Highly customizable
Syncs across devices
Cons:
No web version
Expensive add-ons
Limited free support
Features
Obsidian has been improved and updated many times in the last few years, giving users essential and unique features. The company has also outlined a roadmap for future updates, which includes upcoming features like tasks, bookmarks and even two-factor authentication. However, certain key features, like collaboration, are not in-built and come as paid add-ons.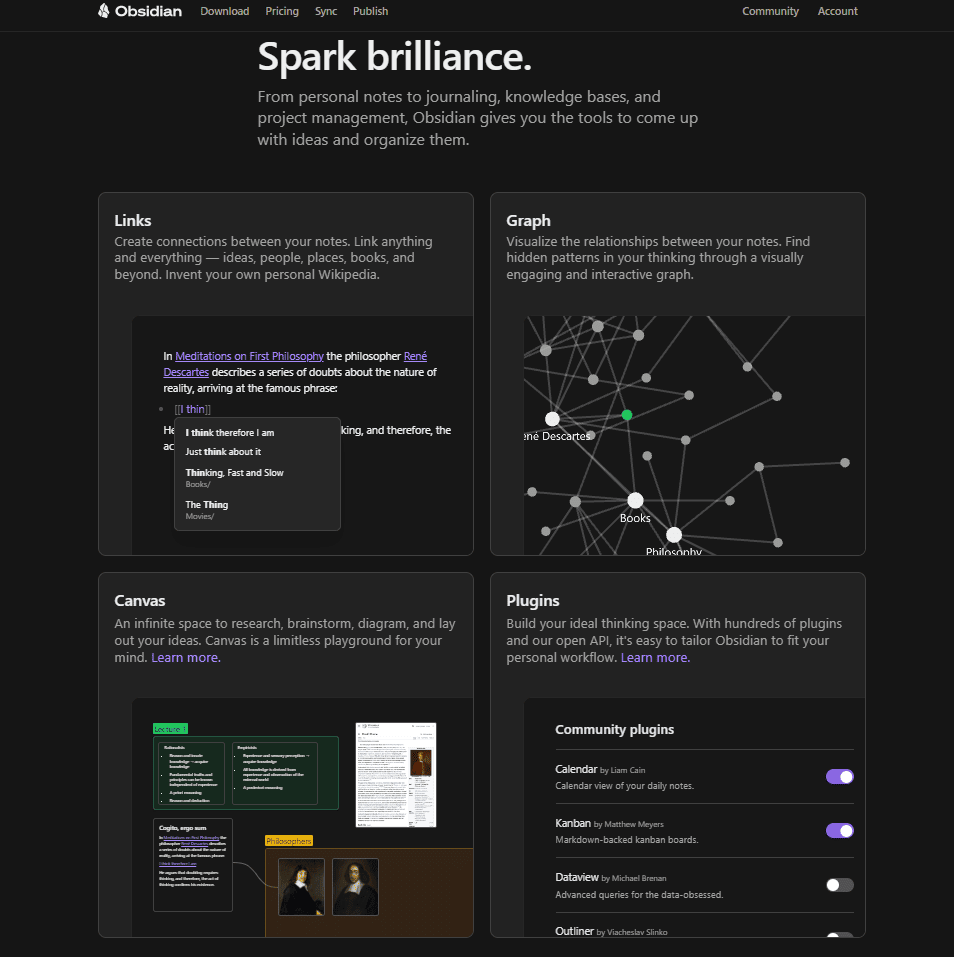 Core and Community Plugins
Obsidian offers many plug-ins that allow you to customize the program to fit your needs. The core plugins provide essential features like canvas, backlinks (or bidirectional links), bookmarks and more.
On the other hand, there are also community-made plugins for different purposes and in different languages. You can find a wide range of tools, from financial-related ones to those specifically designed for Japanese language support.
Audio Recorder
You can use the audio recording feature to create audio notes in Obsidian, which is available as a core plugin. It allows you to record audio and attach the file to your note. The audio recordings are saved in the vault you select and remain there even if you remove them from the note — you can use the File explorer to delete the recording.
Graph View
You can use the graph view to depict your notes visually. It shows your notes as connected dots, like a network. It is like a map of your notes that helps you explore and organize them.
While the Graph view shows all notes in your vault, a local knowledge graph shows you notes connected to the note you're working on.
Unique Note Creator
You can create notes in Obsidian with a specific timestamp that shows the exact date and time they were made.
Overall, Obsidian comes with few built-in features, but you can enhance its functionality by downloading community plugins. These plugins add a lot of useful features to the app. However, unlike other note-taking apps, collaboration in Obsidian is not free and may not be as straightforward.
Obsidian Features Overview
| | |
| --- | --- |
| Sync | |
| Share | |
| Embed note links | |
| Tag notes | |
| File attachements | |
| Email notes | |
| Web clipper | |
| Voice recorder | |
| Video recorder | |
| Handwriting support | |
| Ink-to-Text Coversion | |
| Optical character recognition (OCR) | |
| IFTTT/Zapier | |
Pricing
Obsidian's free version offers personal knowledge management software for everyone. If you need it for business purposes, a premium version is available. However, both premium and free users have some limitations.
Obsidian Free Plan
Obsidian is free to use for personal purposes. There is no premium plan available for personal use. However, there are some add-on services that you can purchase to improve your experience.
The Obsidian Sync add-on costs $10 per month. It allows you to access the version history of your notes and sync them across multiple devices. Similarly, the Obsidian Publish add-on costs $10 per site per month and lets you share your notes on the web. When you have one of these add-ons, you will also receive priority email support.
The free plan only provides community support, which includes the main forum and the Discord chat room for users to connect. Another unique free feature is the Sandbox Vault, which allows users to explore and try out different functions of the Obsidian app without saving any changes.
Obsidian Commercial Plan
You need a commercial license if you want to use Obsidian for professional purposes in a for-profit organization with two or more employees. This license costs $50 per user per year and includes priority support and a commercial-use license, but no additional features. But keep in mind that Obsidian Sync and Publish are not part of the commercial plan; you still have to buy them separately.
The add-ons also have their own limitations. With Obsidian Sync, you can only use up to 5 remote vaults, and each vault can store up to 10 GB of data. Additionally, if you want early access to beta versions and an exclusive Discord channel, you can get it for around $25 as a one-time payment.
| Add-ons: | Price (billed monthly) | Price (billed yearly) |
| --- | --- | --- |
| Obsidian Sync | $10 per month | $8 per month |
| Obsidian Publish | $10 per site per month | $8 per site per month |
In general, the free version of Obsidian is a great option for personal use. The paid commercial plan is also affordable, costing $4.17 per user per month. When compared to similar Obsidian alternatives like Joplin, Obsidian is much cheaper. You can even try the premium plans for free for 14 days.
User Experience
Obsidian has a unique user interface with tabs, which is not commonly found in note-taking apps. It uses Markdown as its text formatting language, making it simple and free from distractions.
The editing pane takes up most of the right side of the app's screen, while the sidebar on the left serves as the main navigation panel. You can either access the command palette to use several of Obsidian's commands directly from your keyboard or use the cursor to navigate around.
However, it's the high level of customization that makes Obsidian stand out. You can add your own themes, commands and even arrange tabs in a way that suits your preferences. There are various color schemes, fonts and styles to choose from, making it easy to create a visually pleasing environment.
You have two options for storing files: on your computer or in the cloud in the Obsidian vault (with the paid add-on). Notes saved on your computer are stored in a "local" vault, while notes that can sync across devices are kept in a "remote" vault. You can connect multiple local vaults to your remote vault. The Quick Switcher tool available in the sidebar's ribbon area lets you switch between vaults easily.
Obsidian Note Taking Apps
Obsidian offers advanced features, such as core and community plugins, on its mobile apps, too, so you get the same powerful functions on your mobile devices as on the desktop version. The mobile apps also offer many customization options, like adding templates and making custom hotkeys.
Obsidian software keeps your local vault stored in your device's local file system. If you are using Android, you can also use third-party cloud storage services like Dropbox, Google Drive, iCloud Drive, OneDrive and Syncthing to sync your files. However, iOS doesn't support integration with several services, including Dropbox, Google Drive, OneDrive and Syncthing.
As a whole, Obsidian has a simple design, but it could be more user-friendly. Other note-taking apps, like Evernote, have a less complicated and easier-to-use interface. In Obsidian, you need to use Markdown text editor for text formatting options, meaning it's a steep learning curve for non-power users.
Security & Privacy
Your notes in Obsidian are kept safe from unauthorized access and hackers because they are stored locally on your computer (well, unless someone hacks into your device). However, there is no built-in encryption for the local vaults. If you want to encrypt your text files in the local vault, you will need to use third-party disk encryption software.
On the brighter side, Obsidian offers end-to-end encryption for remote vaults through Obsidian Sync. This means your data is encrypted from the moment it leaves your device until it reaches your other synced devices. Obsidian uses the industry-standard AES-256 encryption algorithm, making it difficult for anyone to access your remote vault without the encryption password.
You can create a custom password for encryption and store it on your own. Alternatively, you can let Obsidian store the password on its servers for convenience — but that might not be as secure for your privacy.
The safety concerns mainly come from the community plugins that you can install. These plugins can be risky because they run code from third-party sources on your behalf.
Thankfully, before a plugin can be added to the store, it goes through a careful review process. The plugins must be open-source for the Obsidian team to check the code for malicious elements initially.
Moreover, once the plugins are approved, any security concerns surrounding them can be reported. The Obsidian team will then investigate these concerns and remove harmful plugins to ensure safety.
Can I Trust Obsidian?
Obsidian keeps your data safe with end-to-end encryption so that only you can access it. Nobody else, not even your internet service provider, can spy on your data. Plus, your data is encrypted even when stored on Obsidian's servers.
Obsidian doesn't have its own data centers currently. It uses DigitalOcean's data centers in the United States, which is unfortunately notorious for its poor privacy laws.
Obsidian keeps the version history of your Markdown files for about a year, and attachments are saved for two weeks. If your Obsidian Sync subscription ends, your data in remote vaults will be stored for one month. However, this doesn't affect your data in local vaults.
Overall, Obsidian provides high levels of security with end-to-end encryption. Plus, there's no need to create an account to use Obsidian. Since the files are stored locally, nobody — not even the Obsidian team — can access them. It offers better security and privacy compared to free note-taking apps like Google Keep (Read our Google Keep review).
Final Thoughts: Obsidian Note-Taking App Review
Obsidian is a reliable note-taking app with many advanced features and is easy to use overall. Its free plan for personal use is great, but if you want to use it for business, you must buy a commercial license. Its use of Markdown might be too big of a hurdle for some, but based on our Obsidian review, it is worth trying out if you are good with technology.
Many note-taking apps don't have the same unique features as this one. For example, you can create keyboard shortcuts, rearrange the order of panels and add extra features using plugins. However, it has a few drawbacks, such as not having a web version and lacking rich-text formatting options. 
Nevertheless, it is highly regarded for offering local note storage and secure cloud syncing with end-to-end encryption. What improvements would you like to see in Obsidian? Is it better to store your notes locally instead of using Obsidian Sync? Let us know in the comments below and, as always, thanks for reading.
FAQ: Obsidian Review
Obsidian is a note-taking app that you can personalize and customize to your liking. It is secure and has many useful features, which is why we rate it as one of the best note-taking apps around.

Obsidian is free if you want to use it for personal purposes. However, if you plan to use it professionally, you will need to buy a commercial license.
Visit

Obsidian