IdentityForce Review
IdentityForce is a powerful, old-school identity theft protection service that has been around for a long time and still stands the test of time. Though it's not entirely without flaws, there is a lot to like here, as you can read in our full IdentityForce review.
IdentityForce is an identity theft protection service that's been around since 2005, though its legacy dates back much further than that. Built from the remnants of multiple privacy-and-loss-prevention companies founded by the Bearak family, IdentityForce carries the tradition of protecting personal information into the modern age of the internet.
In this IdentityForce review, we're going to see if it has the chops to make it on our best identity theft protection list. We signed up incognito for an account, evaluating its features, ease of use, protection and more, to see if it's the right identity theft protection service for you.
For most people, the answer is yes. Tradition has clearly had a great impact on IdentityForce, which shows through its thoughtfu list of free resources and no-nonsense dashboard. That said, getting around the website can be a chore, as it feels like a mishmash of modern design with relics of the past.
Features
IdentityForce offers a comprehensive list of features across all of its plans. As we'll get into in the next section, it keeps things simple with only two personal plans, offering the same core protection between them. No matter which plan you choose, you'll be protected on all fronts.
That protection starts with $1,000,000 in identity theft insurance, which is the number that most leading services throw out. Any out-of-pocket expenses or lost wages are covered if your identity is stolen.
You shouldn't get anywhere near the $1,000,000 mark, though. IdentityForce makes recovery specialists available around the clock, and they'll handle all of the paperwork and phone calls for you.
Furthermore, you should be able to quickly stem the bleeding. IdentityForce constantly monitors your name, social security number, bank account information and more. If there's ever an account opened in your name or fraudulent activity tied to your personal information, you'll be notified immediately.
That protection carries into other more tame areas of identity theft, too. In addition to tracking your bank account info and SSN, IndentityForce can also monitor your Facebook, Twitter, YouTube, Google+ and Instagram accounts for fraudulent activity.
Hacking social media accounts to spread malware is common practice in cybercrime, usually ending in defamation and, sometimes, criminal charges.
As you can see in our how to secure your webcam guide, a few years ago hackers attacked social media accounts in order to gain access to webcams. The attacker would infiltrate a user's account and use it to send malicious links to that user's friends.
In 2013, Miss Teen USA, Cassidy Wolf, was blackmailed with nude photos that were captured with her webcam using these tactics.
With IdentityForce, you don't have to worry about that. Although you'll still have to stay vigilant to not click on malicious links — our best antivirus software can help with that — you won't have to worry about being the one sending out the messages.
IdentityForce includes additional local protection in the form of anti-phishing and anti-keylogging software. Phishing and keylogging are two of the main ways that personal information is stolen, so it's nice to see IdentityForce include some rudimentary tools.
Even so, we recommend that you also use an antivirus with these features, such as Bitdefender (read our Bitdefender Antivirus review).
Your account also includes multiple resources in your dashboard, including a loan comparison calculator, credit card comparison calculator, a glossary of terms and sample letters. We'll talk more about those in the "ease of use" section below.
IdentityForce Features Overview
| | |
| --- | --- |
| Credit Monitoring | |
| Social Security Monitoring | |
| Dark Web Monitoring | |
| Coverage | $1,000,000 |
| Antivirus | Anti-phishing and anti-keylogger |
| Credit Bureaus | Transunion, Equifax, Experian |
| Knowledgebase | |
| Email | |
| Live Chat | |
| Phone | |
| 24/7 Support | |
Pricing
IdentityForce keeps the lineup simple for personal plans. There's the base plan, UltraSecure, that provides a full suite of protection at a reasonable price, as well as UltraSecure+Credit, which provides the same features in addition to full protection and credit monitoring, a credit score tracker and a credit score simulator.
UltraSecure
$1,000,000 in coverage, Lost wallet assistance, Dark web monitoring, Bank activity alerts
UltraSecure+Credit
$1,000,000 in coverage, All of the features of UltraSecure, Tri-bureau credit monitoring, Credit score simulator
Compared to LifeLock, the lineup is excellent. As you can read in our LifeLock review, this service uses pricing psychology to push you toward a more expensive plan, offering subpar protection on the lower tiers. With IdentityForce, that isn't an issue. The base plan comes with everything you need, including $1,000,000 in identity theft coverage. 
The price is solid, though we've seen cheaper options (read our Identity Guard review for an example of that). You can choose to pay monthly or annually, and if you spring for the annual plan, you'll get two months of protection for free. You aren't charged for the first two weeks, either, so you can try it out risk-free.
UltraSecure and UltraSecure+Credit are the two personal plans IdentityForce offers, but it has other services available, too. ChildWatch is IdentityGuard's child protection service, and while it's offered as a separate product, it uses the same pricing structure as the personal plans. There's also a family plan and a business plan.
The family and business plans are offered only through contact, which makes sense, given the unique needs of each family and business. Even so, a basic pricing structure on the website would've been nice to see.
Overall, though, the pricing is solid. IdentityForce costs less than expensive services like LifeLock, despite not offering a budget tier like Identity Guard. It pushes ahead of the competition, however, with a two-week free trial and the ability to be paid annually.
Ease of Use
IdentityForce's website is modern, but it looks more like a B2B service than anything else. With multiple options in the header and countless suboptions below them, it can be difficult to find where you need to go, no matter how attractive the overall aesthetic is.
That's because IdentityForce includes a lot of educational pages in the main navigation. Pages like "IRS Tax Fraud & ID Theft" should be reserved for the knowledgebase, not the main menu. We like how responsive the website is and the care that's been put into crafting each page, but there's a lot of fat left over, in terms of navigation.
Thankfully, a few buttons on the homepage will point you in the right direction. Clicking on "join free for 14 days" or "get protected now" will send you to the product page, showing IdentityGuard's two personal plans. There's an expandable features list under each option, too, so they're easy to compare.
After selecting a plan, you'll be brought to a checkout screen where you can choose your billing cycle and enter your personal information. You can also add family members on this screen.
Although your family members will be tied to your account, there isn't a discount for grouping everyone together. Whatever you're paying per month for your protection applies to all family members you add.
Finally, you can enter your credit card information and complete signup. IdentityForce makes it clear on this final page that you're signing up for a 14-day free trial that will automatically renew with the billing cycle you choose, going as far as to show the date of when you'll be charged. Even on this final page, you can change your billing cycle.
IdentityForce Setup
After you've paid, IdentityForce will bring you to a final page with a button that'll send you to your dashboard. Although it may seem like your signup is over, setting up your account has just begun. Clicking the button will send you to a long form where you'll have to enter all of your personal information.
Some information, such as your name, email address and date of birth, is already filled in for you, but you'll need to expand on that with your social security number, address and more.
Although it's a hassle, setting up any identity theft protection service is. The positive here is that IdentityForce sends you directly to a setup screen, rather than dumping you in the dashboard and hoping you find your way.
This setup page isn't only for entering your personal information, though. IdentityForce also asks you to set a password and gives you the option to initiate two-factor authentication. Additionally, you can set up mobile alerts.
Having everything on a single page is a treat. Rather than digging around to find what you need, IdentityForce provides a comprehensive setup page in a checklist-style fashion. Some information is required, such as your password and social security number, but other fields are optional, such as your medical account number and passport number.
Despite being optional, IdentityForce shows you that these pieces of information can be protected. IdentityForce even goes as far as to say "you can update or add unfinished information on your dashboard" under the "save" button. Setting up identity theft protection is a pain, but IdentityForce makes the process much easier.
IdentityForce Dashboard
After you've filled out the form, you'll be booted to the dashboard, fit with a slew of pop-ups that explain what each button does. In addition to your personal information and any alerts you may have, IdentityForce shows the latest in identity theft news — including any major data breaches — as well as your protection status.
The dashboard also shows how many identity elements you've entered, as well as the fields for information you haven't entered yet. From the dashboard, you can quickly add, say, your driver's license number with a single click.
Additionally, you can connect your social media accounts under the "social information" tab. If you signed up with a Gmail account, your Google+ account will automatically be monitored.
If you've already entered all of your information, the dashboard is simply a monitoring tool. However, there is a reason to log in to your account. The "resources" tab in the left-side menu will send you to a long list of free tools. Those include calculators for mortgage refinancing, auto lease versus buy, credit card comparison and mortgage qualification.
This section is a treasure trove of goodies. In addition to the calculators, IdentityForce includes links to download the IdentityForce mobile app and PC protection tools, sample letters for junk-mail opt-out and credit disputes, the complete consumer-action handbook and an extensive glossary of financial terms.
IdentityForce provides a crash course in keeping your identity protected on top of monitoring your personal information. Instead of hoping for the best, IdentityForce gives you the tools you need to stay protected, so if something happens, you'll know exactly what to do.
Protection
As mentioned in the "pricing" section above, IdentityForce doesn't restrict protection based on the amount of money you spend. The base-level plan, UltraSecure, includes everything you need, with $1,000,000 in identity theft insurance at the center. That's the standard for most identity theft protection services (read our ID Watchdog review for an example).
However, it's unlikely you'll need to make a claim. The base plan monitors fraud, change of address, court records, the dark web, payday loans, sex offender lists and social media accounts for any use of your personal information. In anything pops up, you'll be notified through a text message and email.
IdentityForce has you protected in areas that can't be monitored, too. For example, you can review your medical ID from your dashboard to ensure you're the only one using your medical benefits. Additionally, IdentityForce allows you to quickly cancel credit and debit cards if you lose your wallet.
If you go for the UltraSecure+Credit plan, you'll also get tri-bureau credit monitoring, reports and scores. IdentityForce also provides a credit score tracker and simulator with this plan.
Although IdentityForce covers all the bases it should, the core protection package isn't what impresses us the most about the service. After all, the standard for any identity theft protection service should be full protection, so IdentityForce isn't breaking the mold when it comes to monitoring your data. What stands out are the included resources.
Everything from opting out of marketing emails to resolving automotive disputes is covered extensively in the dashboard's "resources" section. IdentityTheft doesn't provide anything new outside of the calculators mentioned in the "ease of use" section above, but it combines everything in a single spot.
These resources give you the necessary information for resolving any issues you may have, but furthermore, they help prevent those issues from happening in the first place. While most identity theft protection services simply monitor your personal information, IdentityGuard provides proactive tools so you can stay safe in the first place.
Support
IdentityForce provides a "support" tab in your dashboard, which makes it easy to find what you need. Clicking on it will bring up three tabs. The first two, "restoration" and "insurance," provide some basic information about what to do if you need to restore your identity or make an insurance claim. The last one, "support center," takes you to the knowledgebase.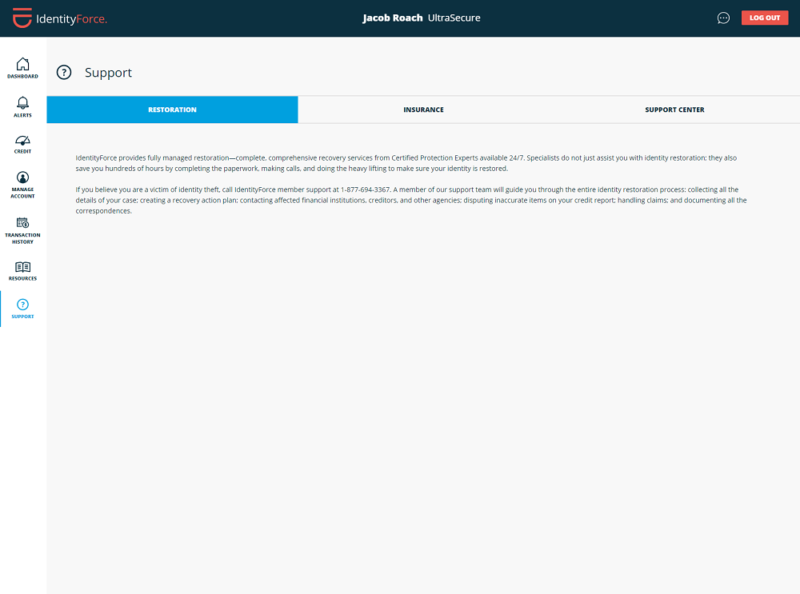 The knowledgebase doesn't share the same grace as the rest of the website, but that's not apparent at first. Support articles are broken up into nine categories, and clicking on a category will bring up a short list of questions pertaining to it. IdentityForce lays everything out like an FAQ, meaning each question has a short answer that you can find by clicking on the question.
For eight of the nine categories, the page will simply update with a list of questions, keeping the top navigation intact. However, clicking on the "new dashboard resources" category will bring you to a separate page with a list of videos, rather than the FAQ format seen with other categories.
The knowledgebase is great, mostly answering simple questions and directing you toward support for anything more involved. It's strange that one of the categories takes you to a separate page, though. It's a small issue, overall, but it makes the support area — like the main navigation on the website — feel clunky.
If you need support, you'll need to call IdentityForce. You can send an email or leave a message using the "questions" button at the bottom of the screen, but for anything serious, getting on the phone with someone is the prefered method of contact. Thankfully, support reps are waiting to take your call around the clock.
Outside of the strange design of the knowledgebase, support is excellent. Like the resources provided in your dashboard, IdentityForce mixes education and support into one area.
There are answers for questions pertaining to the service, such as "how can I customize my bank and credit card activity thresholds" in addition to general education answers, such as "can I get a free copy of my credit report."
The Verdict
In terms of pricing and protection, IdentityForce is simply another option for identity theft protection. However, it sets itself apart with an abundant list of free resources and wonderfully designed dashboard. It stands above other identity theft protection services, but it doesn't charge any more, making it an obvious choice for securing your personal information.
You can browse our archive of identity theft protection reviews, but you're not going to find a service as robust as IdentityForce. It ticks all the boxes an identity theft protection service should, and does so with a modern interface and reasonable price. 
Do you plan on taking advantage of IdentityForce's two-week free trial? Let us know about your experience in the comments below and check out our guide on how to prevent identity theft. As always, thanks for reading.
IdentityForce FAQ
You can cancel IdentityForce by calling support at (877) 694-3367 or by using the "manage account" section of the online dashboard.

IdentityForce is owned by EZShield, which is a portfolio company of The Wicks Group. The two have merged under the name "Sontiq."

IdentityForce offers two plans: UltraSecure and UltraSecure+Credit. UltraSecure costs $17.99 per month and UltraSecure+Credit costs $23.99 per month. You can also purchase either plan annually to receive two months for free.
Visit

IdentityForce