AirVPN Review
An enthusiast-built program, AirVPN has security that rivals that of any of the top providers on the market. Its interface, however, requires a lot of patience, making this a poor choice for people just getting to grips with VPNs. Read all the details in our AirVPN review.
If you look through our list of the best VPNs, most of them are designed to be intuitive and simple. Many times, though, this comes at the cost of functionality because settings get tossed to streamline the look and feel of the VPN. Thankfully, some VPNs manage to do both (read our ExpressVPN review for that).
AirVPN takes the path less traveled and breaks this mold by offering a VPN made by enthusiasts for enthusiasts. Although it's not for everyone, it has some unique features to offer those who like customization.
We give a lot of credit in this AirVPN review for all the features the service managed to pack in, but we also found a lot that concerned us, ranging from poor streaming performance to some questionable security moments. Read on to see what we found and what we think AirVPN needs to work on before positioning itself among our rankings.
Strengths & Weaknesses
Pros:
Tons of features & customization
Decent speeds
Competitive long-term pricing
Cons:
Dated-looking website & interface
Cluttered settings with tons of tabs & options
One of the most difficult VPNs to use
Poor streaming performance
Alternatives for AirVPN
Features
With most VPNs, parsing out what features are offered is a simple task. For the most part, a quick glance at the website and into the settings of the software will give you a pretty complete look at what the VPN focuses on and what it's capable of.
For better or worse, AirVPN's settings menu has a dizzying 12 tabs, with each one chockablock with options. This is a double-edged sword, as we'll see throughout this AirVPN review, because it means there's no shortage of customization, but that's at the cost of being much more of a hassle to use than some of the more standard VPN services.
Let's start our look at AirVPN's features with two basics: its auto-connect options and kill switch. AirVPN does allow you to connect on system startup, but you can't choose which VPN server it will use; it will automatically connect to your most recently used server selection.
Although nothing in the settings actually says "kill switch," AirVPN has a tab labeled "network lock," which performs a similar function. The difference is that AirVPN's "network lock" blocks all traffic that isn't passing through AirVPN's tunnel. Many standard kill switches perform this task only while the VPN is on, but you can set up the "network lock" to always filter your traffic.
Beyond those basic features, a lot of what AirVPN has chosen to include is geared toward tinkerers and power users.
Tinkering with OpenVPN
One of the tabs allows you to configure custom OpenVPN directives, which lets the user add commands that alter very specific aspects of how the client connects and configures the protocol. This gives knowledgeable users a huge amount of control over how the VPN operates, but the average user really gets nothing out of it.
However, if you're the kind of person that this appeals to, then the good news doesn't end there. AirVPN has a wealth of networking and DNS settings that let you configure almost every aspect of your internet traffic's IPv4 and IPv6 behavior.
There is also a tab called "routes," which lets you define a set of rules regarding what IP ranges must use the VPN's tunnel or, alternatively, which ones are exempt from it.
This is very similar to split tunneling, but rather than using URLs or functioning on an app-by-app basis, it uses IP addresses instead. This is a great feature to have, but if you head over to our ExpressVPN vs CyberGhost article, you can see two versions of the same idea that are much more user-friendly.
We can't fault AirVPN for packing in as many features as it does. However, it could be overwhelming, especially when the options involve technical aspects of VPN operation that many users might not be entirely well versed in. The only glaring omission that we noticed when it comes to features is that AirVPN is one of only a few VPNs that still doesn't offer a mobile app of any kind, for either Android or iOS.
All of this paints a pretty clear image that AirVPN is geared toward enthusiasts who want to spend time configuring the perfect VPN for their exact needs.
AirVPN Features Overview
| | |
| --- | --- |
| Payment methods | PayPal, Credit card |
| Accepts cryptocurrency | |
| Simultaneous connections | 5 |
| Supports split tunneling | |
| Unlimited bandwidth | |
| Free trial available | |
| Refund period | |
| Worldwide server amount | 242 servers in 20 countries |
| Desktop OSes | Windows, MacOS, Linux |
| Mobile OSes | Android, iOS |
| Browser extensions | Chrome |
| Can be installed on routers | |
| Can access Netflix US | |
| Can access BBC iPlayer | |
| Can access Hulu | |
| Can access Amazon Prime Video | |
| Encryption types | 256-AES, RSA-4096, HMAC SHA384 |
| VPN protocols available | OpenVPN |
| Enabled at device startup | |
| Allows torrenting | |
| No-logging policy | |
| Passed DNS leak test | |
| Killswitch available | |
| Malware/ad blocker included | |
| Live Chat | |
| Email support | 24/7 |
| Phone support | |
| User forum | |
| Knowledgebase | |
Pricing
On its website, AirVPN's pricing is in euros by default. Because of this, there will be some variability in the exchange rates over time if you use the U.S. dollar. With that said, AirVPN offers six plans, ranging from a mere three days to three years.
The three-day plan costs a couple of dollars and seems to be aimed at people interested in trying the VPN out. AirVPN does have a free trial available, but you have to contact support to access it, and we were not able to get the form to work (we'll talk about this more in the "ease of use" section.)
If you're looking for a VPN with a great free plan that doesn't require you to contact support, be sure to take a look at our ProtonVPN review.
The monthly pricing is in line with what we would expect from a middle-of-the-road VPN, and the three- and six-month options bring this down by a couple of dollars a month. The one-, two-, and three-year plans each take about a dollar per month off the cost of the previous plan, making the monthly cost of the three-year option only about $3 per month.
While other providers, such as CyberGhost, offer even better pricing in the long term, AirVPN's pricing still comes out looking quite competitive (check out our CyberGhost review). AirVPN allows users to pay with PayPal, credit cards or a wide variety of cryptocurrencies, including bitcoin, ethereum, litecoin, monero and even dogecoin.
The only thing that loses AirVPN big points in this round is its refund policy. If you don't like the service, you have only three days to message its customer support for a refund. What's worse is that the terms of service also mentions that if you have used more than 5GB in that time, your refund request will be denied, so be careful if you're using the refund period to try the VPN out.
Ease of Use
As we've already touched on in the "features" section, AirVPN has largely abandoned ease of use in favor of functionality. Just one look at AirVPN's website says a lot about where the effort is being directed. To put it bluntly, the website — and the AirVPN client as well, for that matter — are dated and ugly.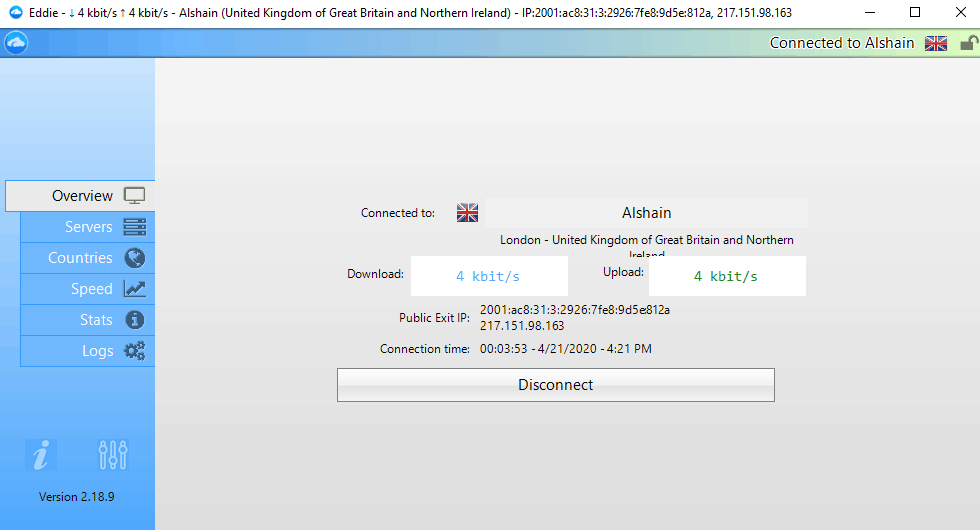 Despite being visually cramped and unappealing, there is a lot of information displayed right on the front page, and the tabs at the top make the site easy enough to navigate. However, the tabs in the settings of the software do not help nearly as much.
Figuring out what all the options in the menus do is quite a task. As we said earlier in this AirVPN review, features have names like "network lock" and "routes" that are hardly helpful, even to those who are versed in VPNs. This makes finding features and learning what they do very difficult.
Also, the default settings were not correctly configured for the VPN to run properly on our setup. Our testing computer has IPv6 disabled on the OS level, but an AirVPN setting was causing the service to look for this IPv6 layer and disconnect when it was not found.
We went into the AirVPN settings and changed "layer IPv6" in the "networking" tab from "inside tunnel" to "blocked." This process should give you a good idea of the level of troubleshooting you should be ready to do to get AirVPN working; this kind of configuration is not required by most VPNs.
Finally, as we mentioned, some of the elements on AirVPN's website were not working at all for us. For example, when we tried to contact AirVPN using the website form to get a trial, we were told that some of the fields were required to submit the form, but we had already filled out every field.
Between the broken elements on the website, the dated and unappealing design, and the excessive number of options with no explanation or strange names, AirVPN is certainly not a very user-friendly VPN. However, that might not be the purpose of this VPN.
For those who want a more plug-and-play VPN solution that requires no configuration, be sure to take a look at our NordVPN review.
Speed
This section is where things began to get strange. First, we tested the closest server, which was called the "lich" server and was said to be located in New York (City, we presume), which is near where we tested.
When we tested this location, we saw a 163ms ping time, which is much higher than it should be; many VPNs this close to our location come in at about 8ms. According to the website we used to test the speeds, it was connecting to a server in Accra, Ghana — in Africa — to perform the test.
Location
Ping
ms
Download
Mbps
Upload
Mbps
Unprotected

5

292.45

344.10

U.S.

163

93.97

266.17

UK

86

40.14

17.95

Switzerland

216

59.91

97.85

Hong Kong

198

36.66

156.88

Brazil

241

56.27

107.14

Average

181

57.39

129.2
We'll look at this strange connection behavior in more detail in the following "security" section, but for this section it's important to explain the high ping time. Other than the New York location, we saw about average ping times and download speeds, which ranged from 36 Mbps in Hong Kong up to 93 Mbps in the U.S.
Overall, things still felt decently quick on every server, despite the fact that we were getting only about a sixth of our unprotected speeds. Out of all the servers we tested, the Brazil server was the most noticeably sluggish, most likely because of the high ping.
Generally, about 5 to 25 Mbps is recommended for HD streaming, so we were able to watch videos on YouTube and Twitch, even on the slowest servers. Some videos would play only at 720p, though, including the servers in Brazil and China.
Security
If you look at our description of encryption and VPN protocol breakdown articles, you'll see that, at the moment, the best combination for security is OpenVPN protocol paired with AES-256 encryption.
AirVPN offers this pairing, with a wide variety of UDP and TCP configurations to choose from. On top of this, we weren't able to detect any IP address leaks or DNS leaks.
However, we noticed some odd behaviour that raised some questions for us. As we mentioned earlier, when we performed our speed test on the New York server, our speed test website told us that this server was located in Accra, Ghana. A similar thing happened while testing the server in Brazil, which said it was connecting to Washington, D.C.
We traced the route of our connection to the New York server, finding that it was routed through some locations in Europe. We reached out to AirVPN about this issue, which said it was strange that our ISP decided to route the connection through Europe.
However, the ISP of the New York server, M247, showed in the hostname of one of the IP addresses in Europe. When we asked AirVPN about that, we didn't hear back, even several days after asking.
It's possible — though we have no way to confirm — that the ISP operating this server is redirecting traffic through another location or, more likely, the ISP could be using a virtual server. This has nothing to do with AirVPN directly, but rather one of the many ISPs that make up AirVPN's network.
We didn't experience this behavior with all locations. The majority of them were fine. Still, you might want to double-check the location you're connecting to.
We weren't able to detect any DNS or IP leaks, and the protocol and encryption in use are both very strong. As for the route our connection took, we have more questions than answers. What we know for sure is that the majority of locations are fine, though you should be aware of some oddballs.
Privacy
AirVPN's privacy policy offers a good amount of detail regarding what information it collects, how it's stored and for how long. AirVPN has a no-logging policy and limits the information it knows about you to a username and payment method. For those who want maximum privacy, paying with crypto will further minimize the information that AirVPN has about you.
The privacy policy also offers details about how AirVPN secures the facilities that store your information, which is pretty interesting.
The policy mentions that any servers that store personal data are protected by redundant security measures, including responding to only a small whitelist of private host names and that the physical machines themselves have "state of the art surveillance" to prevent unwanted access.
One thing to keep in mind, though, is that AirVPN is based in Italy, which is part of the 14 Eyes spying agreement that allows countries to gather and share information more easily. This means that Italy doesn't have the best privacy laws and isn't the ideal base for a VPN.
Streaming Performance
AirVPN does not have any dedicated streaming servers, like the ones you can see in our Windscribe review, so we had to do all of our streaming testing on the standard servers. We were not able to get Netflix, Hulu or Amazon Prime Video working on the standard U.S. servers.
We were also not able to watch anything with BBC iPlayer while using the UK servers. It's very possible that there is a way to punch through geoblocked content using AirVPN by taking advantage of its immense amount of customization in its settings. However, after we tried a few different things, we'd had enough.
It was already immensely clear that AirVPN wasn't going to be making it onto our best VPN for Netflix article, and there are tons of ready-to-go solutions for those who are interested in streaming foreign content.
Server Locations
AirVPN has a relatively small server selection, with about 200 servers spread across 22 countries. Some countries have more than one VPN server location, such as the U.S., which has 37 servers in 10 cities.
For comparison, the largest server network we know of belongs to HideMyAss. In our HideMyAss review, we talk about its impressive 290 locations in 190 countries around the world.
Customer Service
AirVPN offers customer support through email, as well as a small FAQ knowledgebase and a user forum. Although the email support is helpful, it can generally take a while to get a response. Because of this, we found that the user forum was actually an excellent resource.
The odds are high that if you're encountering a problem, someone else has had the same issue and already asked about it on the forum to get an answer. This also fits with AirVPN's theme of being an enthusiast-focused VPN service, since it allows users to share helpful tips and tricks that would probably not be applicable to more pedestrian VPNs.
The Verdict
Although there are countless VPN providers that try to offer a simple, no-frills experience, we feel there is still a place for a VPN that caters to a different audience. AirVPN goes a long way toward catering to a corner of the VPN market that gets less attention.
However, AirVPN's streaming performance and strange behavior during our testing did nothing to put our minds at ease, the way a VPN should.
If you've used AirVPN before, we'd love to hear in the comments below how your experiences compare to ours. As always, thanks for reading.
AirVPN FAQ
AirVPN is based in Italy. Although Italy doesn't have the worst privacy laws out there, it's still far from the best. Countries like Switzerland, Norway and the Seychelles are often where you'll see VPNs based. On top of that, Italy is part of the 14 Eyes agreement, which is a multinational spying ring that shares information.
Visit AirVPN