Best Skype VPN for 2023: Bypass VoIP Blocks & Unblock Skype From Anywhere
It's easy to unblock Skype using a virtual private network. VPNs also encrypt your connection, ensuring your Skype conversations remain private. In this guide, we help you find the best Skype VPN based on your preferences and budget.
Skype and other VoIP services are banned in multiple countries, including Brazil and Iran. If you want to use Skype in those countries, you'll need a VPN (virtual private network). However, you can't just use any VPN, as many VPNs do more harm than good. This guide walks you through your best options, so you can select the best Skype VPN for you.
Key Takeaways: Best Skype VPN
Governments have different reasons to ban Skype. For example, the UAE banned Skype because the Telecommunications Regulatory Authority (TRA) believes Skype's VoIP calls are unlicensed. On the other hand, Skype has been removed from app stores in China multiple times in the past because the government wants citizens to use services that agree to their condition of accessing user data.
Wherever you are, VPNs can help you access Skype and other VoIP services securely. The tricky part is finding the best Skype VPN, so you don't end up sacrificing security and privacy to unblock Skype. That's what we help you with in this guide, but if you want to cut to the chase — we recommend ExpressVPN.
02/19/2023 Facts checked

Article rewritten to reflect changes in VPN services and the list of countries where Skype is blocked.

10/23/2023

Updated the article to reflect ExpressVPN's recent increase of 5 simultaneous connections to 8.
Yes, Skype works just fine with a VPN. You might face issues if you're using an unreliable VPN, though.

Using a secure VPN like ExpressVPN (or any other service in this guide) ensures your connection is encrypted, making your Skype calls safer.

ExpressVPN is the best VPN for Skype. However, you might also consider other pocket-friendly services like NordVPN, Surfshark and CyberGhost. Consider Windscribe if you're looking for a free service with limited access to features.
Top VPNs for Skype
What Makes the Best Skype VPN?
The best Skype VPNs offer a combination of security, privacy, the ability to effectively bypass geo-restrictions and fast speeds. With that in mind, we tested numerous VPN services and found the following to be the best:
A VPN with great security generally offers multiple security protocols, including OpenVPN and WireGuard. They also offer security features like a kill switch and split tunneling. In addition to security, you should check a VPN's commitment to privacy by reading its privacy policy. The best VPNs commit to zero-logging.
Speed is critical for Skype users. You've probably experienced pixelating video and voice breaks when you're Skyping on a slow internet connection. You want a VPN that offers fast speeds and unlimited bandwidth to ensure a decent video and voice calling experience.
Even though all VPNs can help you acquire another country's IP address, not many can effectively bypass geoblocks. You want a VPN that lets you access Skype every time without fail. A good VPN can also help you access content on other potentially blocked services like Netflix and Amazon Prime Video.
The 5 Best VPNs for Skype
We found five of the best Skype VPNs based on the criteria explained in the previous section. Each service has its strengths, so pick one based on your budget and preferences.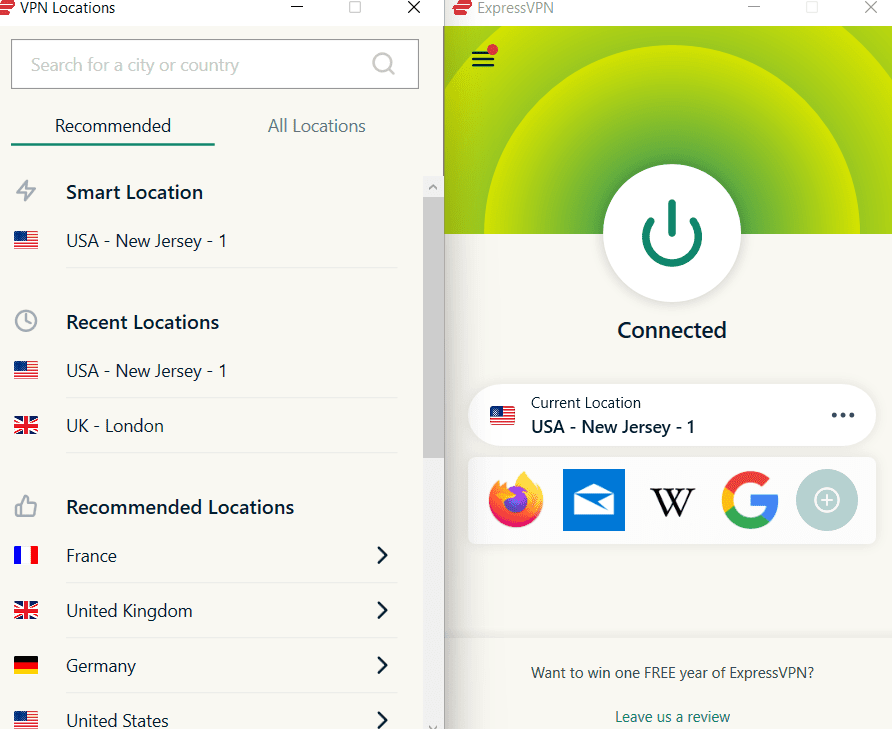 More details about ExpressVPN:
Pricing:

$6.66 per month (15-months plan)

Free plan: None, 30-day money-back guarantee
Provider website: expressvpn.com
Pros:
Fast servers
Secure protocols
Easy to use
ExpressVPN is the best VPN for Skype because it offers fast speeds, unblocks Skype with ease and offers excellent security. Using ExpressVPN ensures you can always access Skype without worrying about anyone stealing your data or identifying you online.
The premium VPN service uses OpenVPN and AES-256 to encrypt your connection, though you also get other options including IKEv2, L2TP/IPsec, PPTP and ExpressVPN's proprietary Lightway protocol.
ExpressVPN is available for Android and iOS devices, in addition to Windows, macOS, Linux, ChromeOS, smart TVs and routers. If you know more people who want to access Skype, you can share your account. ExpressVPN allows up to eight simultaneous connections and unlimited bandwidth, so sharing your account won't negatively impact performance.
Effectively Unblocks Geoblocked Platforms
ExpressVPN lets you unblock Skype with ease. You won't have to switch between a ton of servers hunting for one that can unblock Skype. Moreover, ExpressVPN also effectively unblocks other VoIP services, like Viber and WhatsApp. Learn more about ExpressVPN in our ExpressVPN review.
ExpressVPN is a premium VPN service that doesn't come cheap. The best value plan (the annual plan) costs $6.66 per month (including the three free months), but you can start with ExpressVPN's six-month plan ($9.99 per month) or the monthly plan ($12.95 per month). You can also try ExpressVPN risk-free using its 30-day money-back guarantee.
More details about NordVPN:
Pricing:

$3.19 per month (two-year plan + three months)

Free plan: None, 30-day money-back guarantee
Provider website: nordvpn.com
Pros:
Fastest VPN
Great security
Massive server network
NordVPN is the fastest VPN as per our U.S.-based speed tests. If fast connection speed is your priority, you won't find a better service than NordVPN. Like ExpressVPN, NordVPN also effectively bypasses geoblocks.
The service also ensures your connection is always secure. It encrypts your internet traffic with security protocols including OpenVPN, IKEv2 and NordLynx (NordVPN's take on WireGuard). The app includes a kill switch to automatically cut your internet connection if the VPN connection drops abruptly, and split tunneling, so you can split your internet traffic between encrypted and encrypted tunnels.
NordVPN allows up to six simultaneous connections. If your friends, family or colleagues also want to use Skype, you can share your account with them. Since NordVPN offers unlimited bandwidth, everyone using the account can enjoy top-notch speeds and hi-res video calling over Skype. Learn more about the service in our NordVPN review.
Fast Connection Speeds
NordVPN is the fastest VPN in the U.S. This means you can make video calls over Skype without worrying about call quality issues because of slow speed. You can also stream other video content in high quality using NordVPN.
NordVPN is a premium service that's priced attractively. The best value plan (the two-year plan) costs $3.19 per month. If you want to start with a shorter subscription, you can select the annual plan costing $4.99 per month or the monthly plan costing $12.99 per month. You can also try NordVPN first to see if it fits your needs using its 30-day money-back guarantee.
More details about Surfshark:
Pricing:

$2.49 per month (two-year plan)

Free plan: None, 30-day money-back guarantee
Provider website: surfshark.com
Pros:
Unlimited device connections
Features NoBorders mode
Unlocks Skype & stream apps
Cons:
Site may collect IP addresses
Surfshark is a pocket-friendly VPN. While it hasn't been around for long, it manages to match other premium services with its performance and feature set. Surfshark offers decent speeds, top-notch security and a great server spread. More importantly, it unblocks Skype with ease.
You can choose to encrypt your connection using a protocol like OpenVPN, IKEv2 or WireGuard and a cipher like AES-256 or ChaCha20. The app also includes security essentials like a kill switch and split tunneling. Find out more about Surfshark in our Surfshark review.
Surfshark is loaded with features. For example, the NoBorders mode feature enables you to bypass firewalls in censorship heavy countries. As you can imagine, a feature like NoBorders mode can come in handy when trying to download Skype and use it in a country where Skype is blocked.
Unlimited Simultaneous Connections
Surfshark is one of the few premium services that offers unlimited simultaneous connections. You also get unlimited bandwidth, so you can share your account with friends or family who also want a VPN. This means you can reduce the cost of using Surfshark considerably, even though it's not expensive to begin with.
Surfshark's best value plan (the two-year plan) costs $2.49 per month. Alternatively, you can opt for the annual plan costing $3.99 per month or the monthly plan costing $15.45 per month. If you're not feeling ready to commit, you can try it risk-free using the 30-day money-back guarantee.
Surfshark Starter
Unlimited GB bandwidth, Unlimited devices, Secure VPN, Ad blocker, Cookie pop-up blocker.
Unlimited GB
Unlimited
Yes
Surfshark One
Everything in Starter, plus Antivirus protection, Identity protection, Email Breach and Credit Card Alerts, Online Alias
Unlimited GB
Unlimited
Surfshark One+
Everything in One, plus Data removal
Unlimited GB
Unlimited
More details about CyberGhost:
Pricing:

$2.37 per month (two-year plan)

Free plan: None, 45-day money-back guarantee (14-day on monthly plan)
Provider website: cyberghost.com
Pros:
Massive server network
Automation features
Great security features
CyberGhost unblocks Skype without a hitch. If you frequently make Skype calls, you'll appreciate CyberGhost's automation features. You can use the "smart rules" on CyberGhost to automatically launch the VPN when you launch a specific app, or instruct CyberGhost to auto-connect to a specific server at startup.
CyberGhost is a secure VPN that offers protocols like OpenVPN, IKEv2 and WireGuard to encrypt your connection. With CyberGhost, you also get security features, like split tunneling (only available on the Android app), a kill switch and NoSpy servers.
The only problem is that CyberGhost is slightly slower compared to other services on the list. You can still make video calls without any significant issues, though.
However, to try and get the best possible speeds, you can sort through the servers by server load and distance to find the best one. Find out more about CyberGhost's detailed, intuitive interface and other features in our CyberGhost review.
Massive Server Network
CyberGhost has over 9,000 servers across 91 countries. This means you have plenty of options when selecting a server. The server list includes many underrepresented locations, too. If you're in one of these countries, you can use CyberGhost to access local websites on an encrypted connection.
CyberGhost's best value plan (the two-year plan) costs $2.37 per month. If you don't want to commit for the long term, you can choose the six-month plan ($6.99 per month) or the monthly plan ($12.99 per month). CyberGhost also offers a more generous 45-day money-back guarantee if you want to try it before committing.
More details about Windscribe:
Pricing:

$4.99 per month (two-year plan)

Free plan: Unlimited data, 3 servers
Provider website: protonvpn.com
Pros:
Good free plan
Fast speeds
Flexible pricing option
Cons:
3-day money-back guarantee
Proton VPN is one of the best free VPNs on the market. Unlike most free VPNs that are slow and insecure, Proton VPN offers an excellent service even on the free plan with its top-notch security and fast connection speeds. Moreover, Proton VPN is also effective at circumventing georestrictions on Skype and other platforms.
The free version offers unlimited data, which means you can make as many video calls as you'd like without worrying about running out of data. Proton VPN has an app for almost all devices, including macOS, Windows, iOS, Android and Linux, which means you can use it to make Skype calls securely on all your devices.
Even if you do end up with an unsupported device, you can use Proton VPN on your router, which allows you to use the VPN on all connected devices. Read more about Proton VPN's feature set in our Proton VPN review.
Profiles
Profiles is a feature similar to "Presets" on NordVPN. They're essentially a group of settings you can save, so you don't have to manually configure the VPN repeatedly. Proton VPN offers two pre-loaded profiles "Fastest" and "Random" which connect you to the fastest connection and a random server, respectively.
You can create custom profiles to quickly connect to a server in a specific country, specialty servers, or the fastest server in a certain country. For example, you might configure a profile that connects you to the fastest U.S.-based server, so you can make high-quality Skype video calls.
Proton VPN's pricing is straightforward. It offers two plans, one of which is free forever. The paid plan costs $4.99 per month with the 2-year option. That's a fair price considering the quality of service. However, more premium VPNs like NordVPN are priced more attractively.
If you like Proton VPN's interface and feature set, though, it's well worth the additional small amount. There's also a 30-day money-back guarantee in case you're not fully satisfied with the service.
Why You Should Use a Skype VPN: Is Skype Secure?
Skype is a secure service. However, conversations aren't end-to-end encrypted by default. This means Microsoft can view your communication data if it so pleases, unless you use the "private conversation" feature in Skype.
Voice and video calls aren't end-to-end encrypted by default, either. It's best to make sure you turn on the "private conversation" feature, but a VPN for Skype is also a smart move.
Country Blocks & Bans: What Countries Is Skype Blocked In?
Here are a few countries where Skype is banned:
Brazil
Guyana
North Korea
Kuwait
Oman
China
United Arab Emirates
Using Skype is legal in countries like Mexico and Venezuela, but internet service providers block Skype, rendering it unusable.
Is It Safe to Use Skype in China?
The Chinese version of Skype logs user data like any other platform you use in China. Even though Skype isn't entirely blocked in China, it has vanished from the iOS and Android app stores in the past.
Previously, Microsoft had partnered with GMF and TOM. Both GMF-Skype and TOM-Skype complied with the Chinese government's censorship and monitoring requirements. With GMF-Skype, no surveillance capabilities had been found in the software, which meant users could use GMF-Skype to make calls without worry in the past.
The current Skype version can be easily downloaded from skype.gmw.cn. It's a modified version that can log user data, which means you should use a VPN when using Skype in China (or anywhere) because there's no end-to-end encryption. Using a VPN encrypts your traffic, so no one can read it.
Is It Legal to Use a VPN With Skype?
Yes, it's legal to use a VPN with Skype in all countries where VPNs are legal. Most governments in the world don't have any restrictions over using a VPN specifically with Skype. Note that if Skype is banned, accessing it with a VPN can be considered illegal depending on the country in question.
However, the use of the VPN itself isn't illegal.
Can You Use a Free VPN for Skype?
Yes, you can use a free VPN for Skype. However, you should find a reliable free VPN. Most free VPNs are slow and many are insecure. Consider using a premium VPN with a generous free plan like Windscribe for excellent security and performance.
Final Thoughts
Skype has been popular for over a decade as an easy way to make VoIP calls. However, some countries block Skype, which means you can't connect with friends and family who use the service. That's where a VPN can help.
A VPN allows you to use Skype anywhere in the world and secures your connection, making your data unreadable to any third-party. We listed five of the best VPNs for Skype in this guide. ExpressVPN is your best bet, but if you're on a budget, consider NordVPN, Surfshark or CyberGhost. Windscribe is a great free alternative if you don't mind the data cap.
Beyond unblocking Skype, these VPN services enable you to access other social media platforms and websites. Learn more in our VPN unblock guide.
Have you used a VPN for Skype before? Which one, and how was your experience? What was the VPN's impact on call quality? Let us know in the comments below and, as always, thank you for reading.