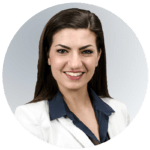 Sandra Pattison
Editor
Snap Shot
Sandra Pattison is an editor and writer for Cloudwards. Her writing and research focus on streaming devices and VPNs.
Background & Education
Sandra began her career at Cloudwards in 2018 as a content writer, focusing on cloud-based software, including VPNs and online security. She became an assistant editor in 2019 and was promoted to editor in 2021.
Sandra is an experienced writer and editor with a strong background in all aspects of the writing field. She has written and edited for several websites, such as EcommerceBooth.com, WPKube.com and MeridianThemes.net, creating long- and short-form content, blog posts, how-to guides, help guides and landing pages. She is also a skilled researcher and fact-checker.
As an editor for Cloudwards, Sandra works closely with a team of writers and is the first pair of eyes to look over content on its way through the editorial queue. She checks articles for quality and consistency and creates briefings for writers to follow.