OneDrive vs Dropbox — What's The Best Cloud Storage Provider
Dropbox and OneDrive are two competing cloud storage picks that might seem very much alike at first glance. It therefore stands to reason that many people probably stick to checking out how much storage they're getting and how much it will cost before making their pick.
At Cloudwards.net, however, we know there's much more the average consumer should be looking at besides these things. To help our readers make the decision about the best cloud storage service, we've put together this head-to-head comparison piece to help illuminate the most important differences between Dropbox and OneDrive (but you can also look at our cloud storage price comparison).
Our conclusion is that while OneDrive might appear to offer more value on the surface, the Dropbox approach to content control and encryption make it the clear choice for users who value their online security.
The Battle: Dropbox vs. OneDrive
Since cloud storage solutions can differ in very important ways, it's important to take a look at how Dropbox and OneDrive stack up. You can read our explanation of what OneDrive is, but over the course of four rounds, we'll detail each service in the categories of price plans, sync, content control and encryption.
www.dropbox.com

www.onedrive.com
1. Pricing
First up, let's look how our two contenders compare when it comes to pricing.
Dropbox
Dropbox Basic grants users 2GB of free cloud storage. While that lags behind many of Dropbox's main competitors — including OneDrive — Dropbox does let users earn more free space through referrals. On a free account, referrals net 500MB each, up to 16GB.
For people in need of more space, Dropbox Pro comes with 1TB of cloud storage, billed monthly or annually.
The cost is in line with what I would expect for 1TB of cloud storage. The problem with Dropbox's pricing plan structuring is that they don't offer smaller or larger storage allocations. This lack of flexibility again puts it at odds with some of its chief competition, including Google Drive and OneDrive (read our Dropbox vs Google Drive vs OneDrive comparison).
Dropbox Pro users can take advantage of the referral program, netting 1GB of additional storage per referral. Referral space is capped at 32GB.
Dropbox does offer a reasonable business plan, which is priced at $12.50 per user. Each business user initially granted 1TB of storage space, but Dropbox will grant up that to unlimited storage upon request — and at no additional charge. You have to purchase at least five licences, though, so this probably isn't going to be an option for most ordinary consumers.
OneDrive
Microsoft grants 5GB of free cloud storage to start you off with. If that isn't enough, they offer three different options for ordinary consumers.
The inclusion of a 50GB plan for just $1.99 per month is a nice touch. Many users don't need 1TB of cloud storage and should appreciate the lower cost option.
Sign up for the 1TB personal or home plan, though, and you also get access to desktop versions of Office 365. Anybody can now use Office Online for free but the desktop versions let you work outside of your browser.
Office 365 apps include:
Word: word processing
Excel: spreadsheets
Powerpoint: presentations
OneNote: note taking
Microsoft's 1TB plan is priced below its closest competitors, including Dropbox. Office 365 Home is an especially good deal for families: The $9.99 price tag is what most services charge for a single user.
Like Dropbox, Microsoft also offers a business plan, which come in several flavors ranging from $60 to $120 per user, per year.
Microsoft doesn't mandate a minimum user count for its business plans. On the OneDrive Business Advanced plan, though, if you sign up for at least five users, your storage allotment per user becomes unlimited. It's interesting that OneDrive doesn't extend that benefit to the Business All-In-One plan.
Round One Thoughts
Dropbox started a partnership with Microsoft in 2015 to allow subscribers to view and edit content with Office Online. This integration is seamless and all takes place from within the Dropbox web interface. You have to be online to use it, though.
That 1TB OneDrive subscribers gain access to the desktop version of Microsoft's popular office suite remains a nice advantage to picking OneDrive over Dropbox. Where OneDrive really shines over Dropbox, however, is flexibility and cost. OneDrive offers a 50GB option and a family plan (we also have a guide to the best cloud storage for families). Plus, its 1TB plan is $3 cheaper per month than Dropbox Pro.
2. Sync
This round is about determining which of the two providers will keep your files up to date the best, as well as checking the connection speeds of both services.
Dropbox
DropBox lets you sync content across any device on which you've installed the Dropbox application. Supported desktop platforms include:
Windows
Mac OS
Linux (Ubuntu, Fedora)
Installing the application on your desktop creates a sync folder, which can be used just like any other folder on your OS. Moving content into this folder uploads it to a Dropbox data center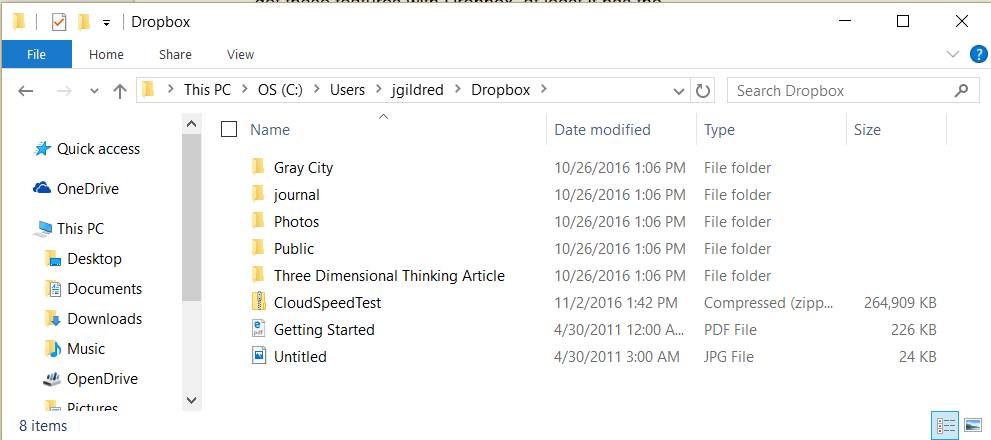 Dropbox has mobile apps for:
Android
iOS (iPhone, iPad)
Windows Phone
Blackberry
Overall, the devices supported by Dropbox include both the popular platforms and a few that aren't so common, like Ubuntu and Fedora.
To see how well Dropbox manages the sync process, I performed a few tests on my Windows laptop to gauge file transfer speed. These tests included sending a 258MB compressed folder to and from the cloud.
For context, my upload and download speeds were averaging 160/12 Mbps when these tests were conducted, according to speedtest.net.
| | Avg. upload time | Avg. Download time |
| --- | --- | --- |
| Dropbox | 4:44 | 0:19 |
| OneDrive | 3:55 | 0:14 |
These are pretty good times but with Dropbox it actually gets better. That's because Dropbox incorporates something called incremental sync. Incremental sync is a file transfer process in which only the altered portions of a file are synced. Because the entire file doesn't get uploaded or downloaded every time a file is altered, it saves both time and system resources.
To find out how much, I performed another test in which I made a small alteration to the compressed folder on my laptop (I deleted one of the files inside of it). The alteration was reflected in my Dropbox cloud storage in just 13 seconds.
To help further manage impacts on system resources, Dropbox lets users throttle the upload and download speeds. This process can be managed from the system tray icon.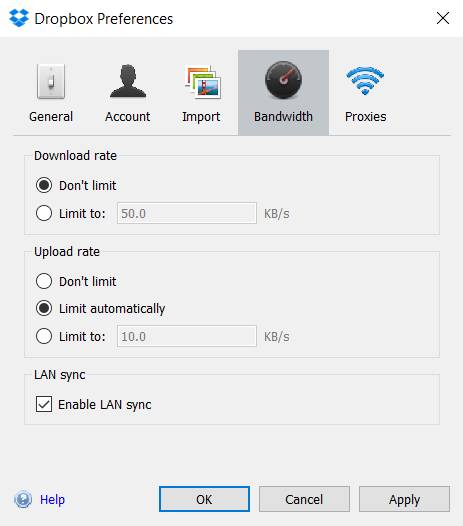 While it's not likely an issue most people will encounter, when you're uploading files to Dropbox through your browser, there is a file size limit of 20GB. There is no limit if you upload from your desktop or mobile app.
OneDrive
OneDrive comes pre-installed on Windows 10 devices and is designed to be an integral part of the Windows experience as Microsoft follows the trend of shifting services to the cloud.
Installation is also available for Mac OS X 10.9 or higher, which is handy if you like to work from different different platforms for different tasks, or like MS Office but prefer Mac machines. Microsoft does not support any variation of linux.
Mobile access is broad, though, with apps for:
Android
iOS (iPhone, iPad)
Windows Phone
Blackberry
To compare the two, I performed the same sync speed tests on OneDrive as I did on Dropbox.
| | Avg. upload time | Avg. Download time |
| --- | --- | --- |
| Dropbox | 4:44 | 0:19 |
| OneDrive | 3:55 | 0:14 |
For initial file transfers, OneDrive outperformed Dropbox by a small margin.
The problem is that, unlike Dropbox, OneDrive does not incorporate incremental file transfers into its network architecture. That means that altered files are replaced in their entirely every time a file is changed. This can leave individual users and their collaborators waiting if the file is particularly large.
It also ties up more bandwidth and system resources, which can impact your ability to accomplish other tasks. Making things even more murky for users, Microsoft doesn't support sync speed throttling. That can be a problem if you're working from a slow connection or uploading large files.
OneDrive also limits file size uploads to 10GB, regardless of whether you initiate these uploads from your web browser or your device's sync folder. That's not going to impact most users, but it is something to be aware of (read our guide to OneDrive's file size limit).
Round Two Thoughts
Dropbox supports a slightly wider range of platforms than OneDrive but most users won't care since both support Windows, Mac OS, iOS and Android.
The bigger issue — and a really compelling reason to pick Dropbox over OneDrive — is Microsoft's inexplicable failure to incorporate incremental file uploads in their transfer architecture. This can cause sync to drag unnecessarily. For those with limits on their data plans, it also consumes more megabytes.
The inclusion of sync throttle controls by Dropbox is just one more reason why it's the easy pick in round two.
3. Sharing and Content Control
How easy do our two contenders make sharing files and content across devices?
Dropbox
Sharing with Dropbox is executed via the web interface. Simply highlight the object or objects you want and click the "share" button.
When sharing content, you create a link attached to that content. For distribution, you can either email the link to specific individuals from within the interface, or just copy and paste it wherever you want.
You can share content at both the file and folder level. Only folder shares can be granted edit permissions, though. If you share an individual file, invitees are restricted to viewing.
One of the key aspects of content control that Dropbox gets right is the inclusion of both passwords and expiry dates for links. Unfortunately for non-paying users, you need to be a Dropbox Pro user to access these options.
From the Dropbox web interface, you can easily monitor your shared content from two different different pages.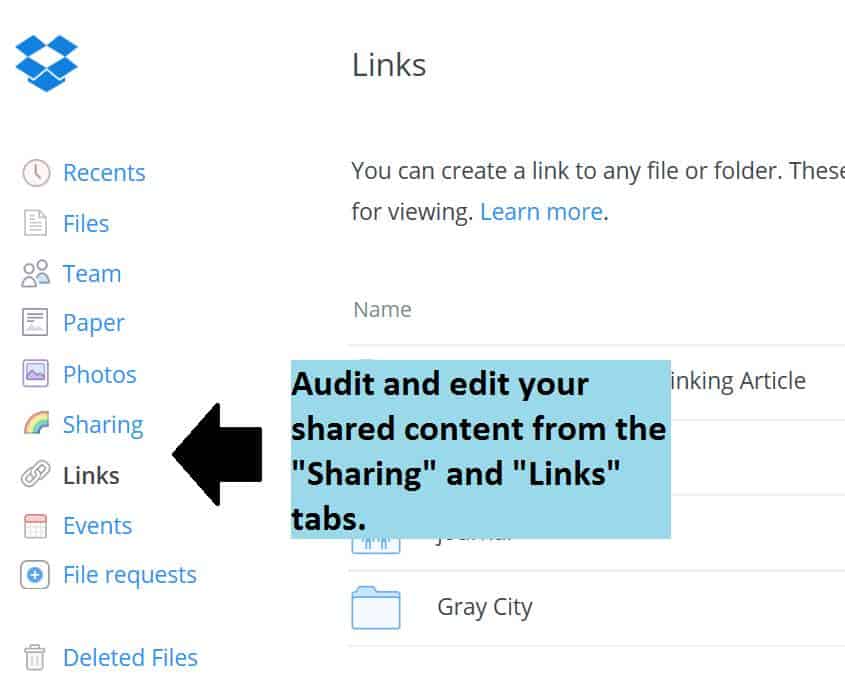 The "sharing" tab lets you view which folders and files you have shared and which have been shared with you. The "links" tab lets you manage link options tied to your shared content.
There's a third page called "events" where you can audit general activity on your account. This includes actions taken both by you and those invited to access your content.
Should you or one of your collaborators make an unwanted file change or accidentally delete a file, Dropbox lets you recover both deleted files and previous file file versions.
You can recover deleted and previous versions of files so long as it's within 30 days of the deletion or file change. If you're a Dropbox Pro user, there's also an option to purchase extended version history (EVH), which bumps that up to one year.
If you're a Dropbox Business user, you can recover deleted or previous file versions indefinitely and without having to pay for the privilege.
OneDrive
OneDrive has one of the best looking web interfaces of any cloud storage service. It's crisply designed and well laid-out — making it easy to share multiple objects at once.
As with Dropbox, when you share a folder or file OneDrive creates a URL link pointing back to it. You can attach permissions to that link that lets users edit shared content or restricts them to view-only access.
From within the web interface, you can either copy the link to distribute manually, send it via email, or share to a variety of social media platforms like Facebook and Twitter.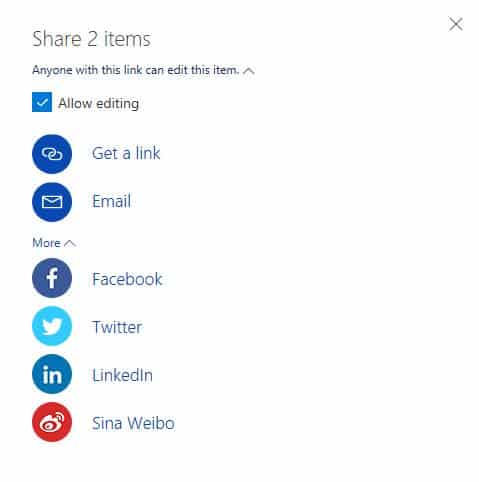 OneDrive does not let you set passwords or expiry dates on shared links, though. That's a cause for concern, since it means those with whom you've shared links can pass them along to others without your consent or knowledge.
OneDrive's web interface does let you audit shared content with a "shared" tab, which will help you not lose sight of what is out there.
OneDrive integrates automatically with Office Online. While you can audit what changes others have made to a particular document from within the relevant Office application, OneDrive doesn't give users with a way to audit activity more broadly like Dropbox does with their events page.
OneDrive lets you recover previous versions of files, only for Microsoft Office file types. You're stuck with any changes made to non-Office files, which makes the exclusion of better control and audit options even more dangerous
Deleted items can be recovered from your recycling bin for 30 days regardless of file type. However, should the contents in your recycle bin exceed ten percent of your total cloud allotment, the oldest items will be automatically and permanently deleted after three days.
Round Three Thoughts
Both services make it very easy to share content. Not being able to adequately protect that content should make you wary of doing so with OneDrive, though.
While you have to be a paying subscriber to attach passwords and expiry dates to content shares with Dropbox, at least the options are there. Dropbox also offers better audit capabilities and more flexible deleted file and version recovery.
Round: Sharing and Content Control
Point for
Dropbox
4. Security
Last but not least, how safe is storing your data with either service?
Dropbox
Dropbox encrypts data in transit with transport layer security (TLS) and 128-bit AES encryption. 128 bits might seem low when 256-bit encryption is an option but for all practical purposes its uncrackable. Also, the less complex the encryption, the faster the upload time.
Once files arrive at the Dropbox data center they're decrypted. Afterwards, file content gets encrypted again, this time using 256-bit AES. They do leave your metadata in plain text, though. This helps with indexing processes but is also a security concern since there's still much someone can tell about you from metadata alone.
Generally speaking, Dropbox has strict policies against employees accessing user data. In certain cases, though, such as under the direction of a warrant, they will decrypt and share your data.
They're able to do so because they retain your encryption key. Dropbox does not offer an option for zero-knowledge (end-to-end) encryption. If that's a concern or you'd like to learn more about what zero-knowledge encryption is, Cloudwards.net has many articles on the subject — such as this article on secure Dropbox alternatives.
Dropbox does let users set up two-factor verification to access their data, which helps protect against weak passwords, which can be undone by brute force attacks.
Once enabled, in addition to logging into your account with your password, in the future you'll be asked to enter a security code sent to your mobile phone, or use the mobile app to verify your identity.
OneDrive
As with Dropbox, OneBox data is encrypted while in transit using SSL/TLS.
However, at-rest data is only encrypted at this time for OneDrive Business account, and that's not good given some of the data breach concerns I mentioned above, coupled with the fact that Microsoft is frequently the attack of hacks given its ubiquity.
OneDrive Business accounts are protected with 256-bit AES.
Additionally, by its own admission, Microsoft scans your files for objectionable content. While this is an effort to crack down on the spread of child pornography, and Microsoft claims not to use the scans for anything else, some users might be uncomfortable with this process.
Per their internal policies, copyrighted materials, such as films, won't be removed unless a copyright infringement notice is filed with them. Furthermore, they claim not to use such scans for marketing purposes.
Still, given their lax encryption policies and the fact that they scan your your data in the first place, my advice is to only use OneDrive for ongoing work projects that aren't sensitive in nature (read our dedicated piece on OneDrive's security).
5. The Verdict
As an optimist with a sense for utility, I try to find the value in everything. However, given that Dropbox integrates with MS Office products, I'm having a little trouble advocating for a case where you might want to use OneDrive instead as this negates the only real advantage it would have.
Microsoft's strategy behind OneDrive seems like it relies on Windows 10 users to think it's integral to the experience, rather than one where it tries and match competitors like Dropbox in features and functionality
That's a shame because if Microsoft made a few tweaks, OneDrive could be superior product. The mechanics of the interface are fantastic, and it looks superb.
For now, though, Cloudwards.net without reservation recommends Dropbox over OneDrive. Do you agree? Let us know in the comments below, thank you for reading.