iPhone Safety Tips: Keep Your Device Safe in 2023
Apple has long touted the security of the operating system running its products. By praising iOS devices for integrated software and hardware, Apple created a narrative that users believe. As tempting as it is to trust your iPhone's security out of the box, it's important to take extra measures to ensure your data is safe.
There's a downside to locking down your iPhone, though. The more actions you take to protect it from security threats, the more cumbersome your experience using it can become. It's up to you to decide the extent of safeguards you're willing to implement. We're going to present you with ways to tighten the security on your iPhone that cover threat prevention and data recovery.
Making your iPhone secure takes time, but these simple measures will have you feeling better going forward.
VPN for iPhone
Smartphones go with you everywhere. That means you're probably doing most of your streaming, surfing and shopping on your mobile device. If you want to protect your privacy while doing those things on the go, a virtual private network for the iPhone is a must.
With companies tracking your online activity to better cater their advertising to your tastes, your privacy is in doubt. A VPN can help by encrypting your internet traffic and masking your IP address from prying eyes.
Understanding VPNs is harder than setting one up. It's a topic we're passionate about here at Cloudwards.net, and we have plenty of resources for those who want to go deeper into the subject — just look at our best VPN guide. For information on what a VPN is and how it works, read our what is a VPN article to get up to speed.
There are a few great VPN options for iPhone — you can see our top five in our best VPN services for iPhone — but ExpressVPN is our favorite. If you've read our ExpressVPN review, that should come as no surprise.
It's expensive, though. Thankfully, there are cheaper options. NordVPN and Surfshark both made the cut in our picks for iPhone. You can learn more about them in our NordVPN review and Surfshark review. You can see how NordVPN stacks up against our top provider in our NordVPN vs ExpressVPN comparison, too.
ExpressVPN can protect your desktop, too. If you decide to equip your iPhone with a VPN, consider locking down your MacBook or iMac, as well. For suggestions and more information on its benefits, read our post on the best VPN for Mac. We rated ExpressVPN first there, too.
Password Managers for iPhone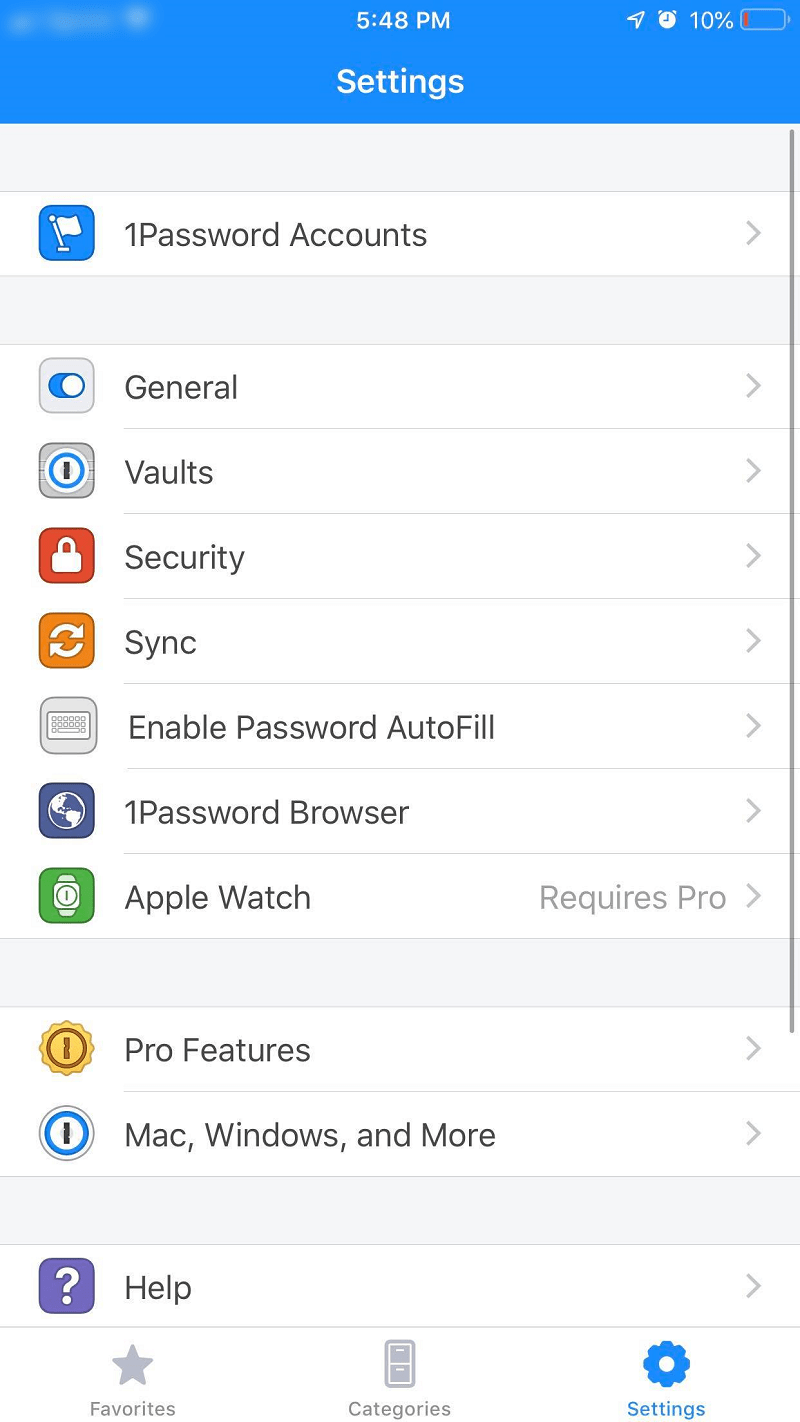 Once you get a password manager, you'll wish you had downloaded one sooner. Not only does it provide another layer of security, but it also expedites web navigation. You won't need to remember the passwords for all your login credentials. Instead, the manager stores that information and fills it in automatically.
The way it works is simple. When a website you've visited before, such as Amazon.com, asks for your login credentials, the password manager will send you a prompt requesting to populate the required fields for you. Instead of typing your email and password from the keypad, it only takes a few taps to log in with a password manager.
There are a few password managers to choose from. Apple's iCloud Keychain is built in to the iPhone. While it's a good option, we can only recommend it for users who exclusively use Apple products.
There are better options and Apple has made it easier to use them. It added a feature in iOS 12 called AutoFill that integrates third-party apps into the iPhone's settings. All you need is an app that will save and populate your passwords.
We've done the heavy lifting for you and compared the best password manager for iOS apps. 1Password ranked first in that guide for its excellent user experience (read our 1Password review), but it isn't the best password manager overall.
The top pick in our password manager reviews is Dashlane (read our Dashlane review), though 1Password's mobile experience knocks it down a few pegs for iPhone. You can see how the two compare in our Dashlane vs. 1Password piece.
1Password is able to save and sync passwords across operating systems, whether it's iOS, macOS or Windows OS, and it ranked second in our best password manager for Mac guide. The only downside is that there's no free plan. If you're on a tight budget, make sure to read our best free password manager piece.
Once you install and set up a password manager, you'll find it to be an essential app you never knew you needed.
Backing Up Your iPhone to Cloud Storage
The personal data stored on your phone, such as photos, contacts and messages, is important. At the risk of sounding like a lecturing parent, it's a good idea to make a copy of your information. You'll be glad you did if you lose your iPhone or delete something by accident. Apps are easy to get back, but photos, contacts and messages are irreplaceable.
A cloud backup service is the simplest way to save your iPhone's content. Apple offers a backup service called iCloud that's conveniently built in to the device's settings. To learn how to use it, see our how to backup your iPhone guide. If you've already backed up using iCloud, whether you did so on the iPhone or iPad, here's how to restore iPad from iCloud backup.
Despite how easy it is to use, iCloud falls short compared to other backup services. We've reported on Apple's cloud security in the past. If you're skittish about using Apple's backup service, consider going with a third party. Our best cloud backup for iPhone guide is a good place to start.
If you don't get a chance to read our rankings, our IDrive review shows why it won first place. IDrive works well with iPhone in that it's convenient, fast and secure, which is just how Apple users want it.
Backing Up Your iPhone to a Computer
If you're uncomfortable backing up to a cloud server, there's always the old-fashioned way: saving to a computer. All you need is your iPhone, a USB cable and an internet connection to download free software.
macOS and Windows users get iTunes as an option. You can sync contacts, calendars, photos, apps and music. Any other content you want to copy will require a manual backup, which will save almost all the data on the device.
The only downside is that you can't access or view the contents of an iTunes backup. It's a copy saved somewhere on your computer that you can only restore from should the need arise. If iTunes suits you and you want to know more about how to use it, read our iTunes backup guide.
The good news is that alternatives to iTunes exist. The bad news is that they'll cost you.
For non-Mac users, we recommend iExplorer. Unlike iTunes, which offers media playback, iExplorer excels as a phone management software. It has a minimalist interface that looks similar to iTunes. Plus, it offers more than Apple's media player by letting you save text messages in common formats such as .txt and .pdf.
CopyTrans offers similar features to iTunes and iExplorer for managing your phone. It also houses and displays contacts, notes and more. At $29.99, it's a cheaper option than iExplorer, too.
For more information about those tools, read our guide on how to backup text messages on iPhone.
Built-In iPhone Safety Tips
Updating your iPhone's software does more than introduce new features. It also helps protect your data. Each time Apple rolls out a new update, it makes tweaks to the OS that adapt it to current threats.
Running an outdated version on your iPhone opens the device to vulnerabilities that can compromise data. Apple makes it easy to stay up to date on the latest software by including a downloader in the settings that alerts you each time a new version drops.
To check what software version your iPhone is running, go to the settings icon, which is the one that looks like a silver metal gear. Tap "general" and choose "software update." You will see one of two things: that your software is up to date or there's another version to download.
You can also turn on "automatic updates" there, which will download and install new software versions for you if you don't want to check manually.
If you have an iPhone 6 or later, and it still has a home button, you probably know about the Touch ID feature. It allows you to use your fingerprint to open the lock screen and access the iPhone without entering a numerical passcode. Not only is it convenient for bypassing your lock screen, but many third-party apps use it for health and fitness, as well.
Beware of untrusted apps that ask for your Touch ID, though. Apple claims to vet apps submitted to the App Store, but fraudulent ones still slip through the cracks. There are reports of a Touch ID scam that tricks users into making expensive purchases with their fingerprint.
Following the above measures will build a proverbial armor around your iPhone. For more tips on how to stay safe using the internet, check out our online privacy guide.
Final Thoughts
Out of the box, the iPhone will satisfy many users' standards for security. It comes loaded with built-in features that protect data, but that doesn't mean it's invulnerable to threats. Further measures are necessary for those who want maximum security.
Of all the methods detailed in this article, getting VPN is the best starting point for making your iPhone safer. That, combined with a password manager and backing up your data regularly, will guard your iPhone from harm. By using those methods, you're taking steps to prevent your iPhone and personal information from suffering a breach.
Are there are iPhone safety tips we forgot to go over? How are you keeping your iPhone safe and secure? Let us know in the comments below, and thanks for reading.