HideMyAss Review
The service with the largest network on the market, HideMyAss has a great interface and decent pricing. However, as you can read in our full HMA review, it doesn't do that great a job of actually hiding your ass as it keeps logs.
HideMyAss, a brand owned by the Avast network, has always been a "could be better" provider. It has a massive server network. It's so large, in fact, that HideMyAss made our best VPN guide, but the VPN's mediocre speeds and questionable privacy practices make any upsides lose their luster. It isn't a bad VPN provider, but we can't help but feel like you could do better.
We feel much the same way about its sibling, which you can read about in our Avast SecureLine VPN review.
In this HideMyAss review, we're going to detail our experience after spending time with the software. Over the course of this review, we'll talk features, pricing, user-friendliness, speed, security, privacy, streaming performance, server locations and customer service. At the end, we'll give you our verdict.
Though not doing anything impressive, HideMyAss manages useable results close to home with a condensed interface. Its support is surprisingly good, too. That said, those high points are outweighed by the privacy-unfriendly practices of the company behind it.
HideMyAss Video Review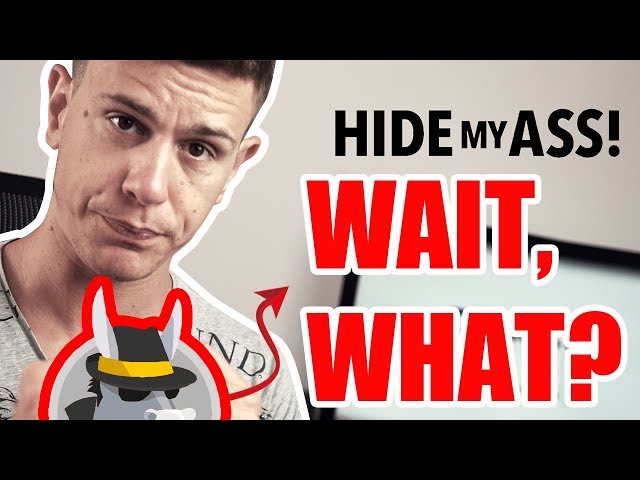 Alternatives for HideMyAss
Strengths:
Excellent support
Easy to use
"Freedom" mode
App kill
IP cycling
Multi-year plan
Gets into Netflix
Weaknesses:
Not the cheapest
Mediocre speeds internationally
Worrying privacy policy
No split tunneling
Blocked by BBC iPlayer, Hulu & Amazon Prime Video
HideMyAss has a usability-focused feature set, meaning it doesn't include the bells and whistles of a more complex provider like TorGuard (read our TorGuard review). That said, it covers its bases well, so, though it's not particularly feature-rich, there are no egregious omissions.
Some level of automation can be programmed into HideMyAss. Though standard start-up settings are also present, you can tell it to automatically connect when you connect to the internet and exclude certain networks when you're connected to them.
Additionally, there's an IP shuffler that will cycle the static IP you're using after a specified interval. IPVanish used to have that feature, but discontinued it, as you can see in our IPVanish review. HideMyAss's inclusion is welcome, and the fact that you can set custom intervals to cycle makes it even more appealing.
Like any decent VPN, HideMyAss includes a killswitch, but you can select which apps it applies to instead of having to protect your entire connection. This feature, commonly referred to as "app kill," is surprisingly absent from most VPNs. One of the only other providers to offer it is Astrill (read our Astrill review).
Though similar to split tunneling, app kill isn't the same. Split tunneling allows you to send some traffic over the VPN while other traffic uses your normal connection. HideMyAss can be set up that way — though it requires hands-on time and tech know-how — but there's no way to do it in the application.
HideMyAss Features Overview
Starts from
$
4
99
per month
Worldwide server amount
280 locations in 190 countries
Can be installed on routers
Can access Amazon Prime Video
Enabled at device startup
Malware/ad blocker included
HideMyAss isn't the cheapest provider around, but we wouldn't consider it overpriced like Hide.me (read our Hide.me review). Even so, HideMyAss's monthly rate isn't impressive and there isn't a big discount on multi-year plans. it isn't expensive, but we can't help but feel like you can get more for your money elsewhere.
Like most VPN providers, HideMyAss has bad monthly rates. It's the same price as NordVPN (read our NordVPN review), but with one fewer simultaneous connection. Though in the range of top-tier providers, we wouldn't consider HideMyAss top-tier, so the premium over mid-tier options, such as StrongVPN, doesn't look great (read our StrongVPN review).
HideMyAss's annual plans aren't much better. Though it's around $10 cheaper than ExpressVPN (read our ExpressVPN review), HideMyAss is more expensive than other providers. For example, CyberGhost is $20 cheaper for a year (read our CyberGhost review) and Private Internet Access is even less.
That is somewhat balanced by the two-year option. A lot of VPNs top out at a year's worth of service, but HideMyAss is among the few that offer longer subscriptions. Though the offering is nice, the two-year plan, once again, costs more than the competition. For example, PIA charges half the price for two years (read our PIA review).
As is the case with other aspects of the service, HideMyAss's pricing is best summarized as "average." You're paying what seems like an average of market rate for an average number of simultaneous connections.
In addition to giving you a 30-day refund window, HideMyAss offers a seven-day free trial, though it's difficult to find on the website. The week-long trial requires a payment method on record and will auto-renew once the trial has ended.
HideMyAss accepts credit cards, PayPal and even some gift cards. You can't pay with cryptocurrency, though, so privacy-focused patrons will have to put their bitcoin wallet away for a rainy day.
HideMyAss's sign-up process isn't difficult, but it's more involved than it is with other VPNs. After choosing a plan, you'll have to enter your payment details. Though it accepts PayPal, we weren't able to reproduce it as a payment option. During out testing, it would sometimes only allow credit card payments, while in other cases it would display the normal payment options.
If you're paying with a credit card, you'll have to enter your full details, including your city, state and zip code. Providers that only need your email — NordVPN and ExpressVPN come to mind — have the checkout process nailed down in a way that HideMyAss doesn't.
After you confirm your payment, you'll be sent a couple of emails. One of them contains your license key, so make sure to note that. You'll then create a password and download the client.
Though you can log in to the application using your username and password, the license key is a far easier way to authenticate. Why HideMyAss decided to include both options is beyond us. Even so, all you need to do is copy your credentials into the window and you'll be set.
HideMyAss has the annoying "mode" selection you get with PureVPN (read our PureVPN review). That said, it isn't as pandering in HideMyAss's case. The app opens with three modes: "instant," "location" and "freedom." Though we prefer the streamlined approach of, say, ExpressVPN, HideMyAss's mode approach isn't horrible.
Basically, the modes allow different ways to filter the server results. "Instant" automatically connects you to HideMyAss's recommended server, "location" lets you choose your own and "freedom" chooses from a list of servers located in free-speech countries.
If you choose "location" mode, you can browse HideMyAss's massive network. By default, it opens with "quick access" locations, which are a combination of recently used and recommended servers. There are also tabs for streaming, peer-to-peer and favorited servers.
Going at it the hard way is, well, hard. HideMyAss doesn't make it easy to scroll through its massive list of servers, simply organizing them by first letter. That approach to server navigation feels lazy. On the website, it organizes locations by region, so it's odd that they aren't grouped like that in the app. In most cases, the best way to find a server is to use the search bar.
In the settings, which are accessed through the hamburger menu in the top left corner, you'll find the few features HideMyAss offers. There aren't many settings, but the essentials are accounted for with small reminders next to advanced features.
A diagnostics button that generates word vomit for support reps is also in the settings. Though a common thing for VPNs to include, HideMyAss has a "generate support package" button that will easily tie the log up with a bow to hand to a support agent.
HideMyAss is capable of fast speeds when staying close to home, but it's not on the level of the fastest VPN providers on the market. It took a generous helping off of our unprotected download speed, but still managed usable results. Though our results outside of the U.S. were still usable, our high unprotected speed gave us a lot of wiggle room.
| Location: | Ping (ms) | Download (Mbps) | Upload (Mbps) |
| --- | --- | --- | --- |
| Unprotected (St. Louis) | 10 | 172.81 | 11.21 |
| New York (streaming) | 41 | 108.8 | 10.23 |
| London | 107 | 20.75 | 5.33 |
| Amsterdam | 135 | 21.84 | 6.85 |
| Sydney | 208 | 114.86 | 2.93 |
| Tokyo | 151 | 120.59 | 5.12 |
You can see a significant decline when going across the pond. London and Amsterdam took around an 80 percent tax, and the small difference between the two locations suggests that it has something to do with distance, not individual servers.
Surprisingly, though, the results from Sydney and Tokyo were the fastest of the lot, despite being significantly farther from our testing location. Results like those suggest that HideMyAss has some locations that are better optimized than others, which isn't bad, but we're not excited about it.
Latency stayed low, but HideMyAss wasn't able to make the cut in our best VPN for gaming guide. If you're sticking close to home, it's a fine option for gaming, but don't expect to reach over any body of water without lagging out.
HideMyAss is based around OpenVPN, which is the best option for most users, as you can read in our VPN protocol breakdown. Though OpenVPN can be paired with a variety of ciphers, most providers use AES 256-bit, and HideMyAss falls in line. If you want to learn about the differences in encryption, read our description of encryption.
On that front, everything is solid. HideMyAss abides by the best in VPN security. Some of its security features are nice to see, too, most notably app kill and IP cycling. It's missing IPv6 leak protection, though, which is particularly important for VPNs, as you can see in our IPv4 vs. IPv6 comparison.
While not necessarily a security feature, it's important that we mention HideMyAss's "freedom" mode. As we said, it automatically routes your connection through a country with free-speech laws, which is significant for those trying to bypass censorship and enjoy a more open internet.
HideMyAss's security is solid. It hid our DNS requests and IP address, as verified by third-party DNS leak tests. It didn't route our request through multiple DNS points, either, which is nice to see.
Because HideMyAss is a brand in the Avast network, the writing's on the wall for this section. If you're unfamiliar, Avast's free antivirus is notorious for collecting, selling and sharing user data. You can read our Avast Pro review for the details on that service. As for HideMyAss, your privacy isn't a concern to it.
HideMyAss makes no bones about it in its privacy policy. It stores "a timestamp and IP address when you connect and disconnect" from the service. Though it doesn't store or monitor information about what you're doing with the service, your original IP address and the IP address of the server you're connecting to are married together.
It's possible that HideMyAss has logged even more in the past. Following the LulzSec attacks in 2011, the FBI arrested Cody Kretsinger on suspicion of breaking into the Sony PlayStation network. He was using HideMyAss to protect himself while committing cybercrime.
HideMyAss didn't hide anything once the news hit. In a blog post, it admitted it cooperated with authorities, and defended its actions by saying "these types of services that do not cooperate are more likely to have their entire VPN network monitored and tapped by law enforcement, thus affecting all legitimate customers."
Though that's a defensible stance, there is no evidence to back it up. Once someone can produce proof that privacy-focused providers, such as ExpressVPN and Mullvad (read our Mullvad review), have their networks tapped, we'll reconsider. HideMyAss's logging practices could be dangerous for legitimate users who are tunneling from countries with strict censorship.
We can't say for sure that HideMyAss will cooperate with foreign governments — it claims it won't — but the fact remains that if someone came knocking, they could find something. If you want to stay off the record, we recommend choosing one of the battle-tested options in our best VPN services for China guide.
We used HideMyAss's recommended streaming servers to test multiple streaming platforms. Though it was able to access Netflix, it won't be making our best VPN for streaming guide. It had inconsistent to no access with other platforms, making it a mediocre choice for platforms other than Netflix.
Most surprising, it wasn't able to get into BBC iPlayer. Though HideMyAss doesn't have a streaming server for the UK, most services that can access Netflix can access BBC iPlayer, too. If you're looking for free British content, we recommend going with the best VPN for BBC iPlayer instead.
That goes for Hulu and Amazon Prime Video, as well. HideMyAss was able to access those platforms a couple of times, depending on which server we were using, but we were blocked in most cases. Our best VPN for Netflix picks have no issues with Amazon Prime Video or Hulu, so check them out if you're interested.
HideMyAss is an industry leader when it comes to server locations. Almost 1,000 servers cover over 280 locations in 190 countries. Compared to VyprVPN, which has a small server network, HideMyAss looks even better (read our VyprVPN review).
Some locations are virtual, meaning instead of a physical server in that location, there's a fake server spoofing it. There are security concerns when using virtual servers, so use them at your own risk. Thankfully, HideMyAss identifies which servers are virtual in the application.
As for which locations you can access, HideMyAss is almost everywhere. Traditionally underrepresented areas, such as the Middle East, South America and northern Africa, have plenty of locations. Though not relevant for most users, exotic locations are important, particularly for travelers.
HideMyAss didn't make the cut in our best VPN for travelers guide because of its questionable privacy practices. If it wasn't for that, though, it'd be at the top of the list.
As with other aspects of the service, HideMyAss falls in line with other VPN providers in customer support. You get access to live chat and email support, as well as a knowledgebase and community forum. For most, live chat is the best option for clarifying aspects of the service or directing you to knowledgebase entries.
Surprisingly, though, the live chat reps know a thing or two about the service. We reached out with a question about whether the killswitch was global or only worked on certain apps. Not only was the rep able to provide an answer, but he was able to do so without having to ask his boss.
Because of that, we recommend live chat for most issues, though email support is available if you need to put a problem on the back burner. When we reached out via email, a rep got back to us in five hours, which is snappy, but nowhere near as fast as live chat.
The knowledgebase is massive, but HideMyAss does a good job of organizing the mess. Though some articles contain screenshots from older versions of the software, the service provides full details on topics from setup to troubleshooting. In cases where the process varies across operating systems, it provides different sections, too.
One interesting feature in the knowledgebase is that you can follow articles. Though we're not sure of its usefulness, the fact that you'll be notified when pieces are updated is nice.
There's a forum, too, but we'd be stretching it if we claimed you'd use it. The forum is mostly requests to cancel accounts and general VPN clarifications. There are almost no community responses. In nearly every thread, there's simply a comment from a support agent saying a ticket has been created.
Ignoring the obvious issues with privacy, HideMyAss is still only a decent VPN. The speeds are fine, the user experience is above par and the support is excellent. Even with that, though, it doesn't bring anything new to the table and it's hard to make a recommendation because of that.
While we normally look for things such as a low price point or particularly useful feature as a lighthouse, HideMyAss has nothing of the sort. If you want a better VPN experience that protects your privacy, we recommend reading our other VPN reviews.
What do you think of HideMyAss? Let us know your thoughts in the comments below and, as always, thanks for reading.