HideMyAss Review
The service with the largest network on the market, HideMyAss has a great interface and decent pricing. However, as you can read in our full HMA review, it doesn't do that great a job of actually hiding your ass as it keeps logs.
HideMyAss has evaded our best VPN list for a while, showcasing problems in pricing, usability and privacy. Although some of those problems are still present, it's closer to the top now more than ever before. The revamped interface emphasizes accessibility, a feat that's made all the more impressive by a long list of features.
In this HideMyAss review, we're going to take a look at the newly designed fifth version, talking about the new features it brings as well as the overall design of the updated interface. Along the way, we'll also be checking up on security, privacy, streaming performance, speed and server locations, all before giving our verdict. 
The service is much improved, but even then, it's a tough sell at its asking price. Privacy is still not HMA's strong suit, despite the fact that the privacy policy is easier to digest than before. Likewise, the pricing is high, despite the fact that you receive a generous discount when signing up.
HideMyAss Video Review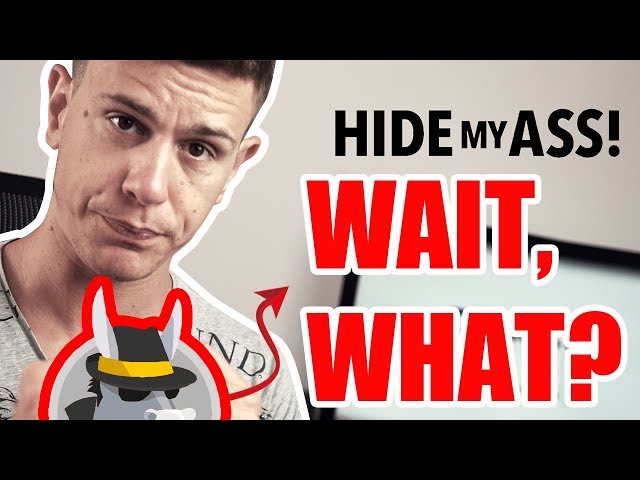 Strengths:
Massive server network
Kill switch
App kill
IP cycling
Streaming & P2P servers
Gets into Netflix
7-day free trial
Weaknesses:
Expensive renewal rates
Lackluster privacy policy
No split tunneling
No DNS controls
Alternatives for HideMyAss
1

HideMyAss


www.hidemyass.com

/month

PayPal, Credit card

5 Simultaneous connections

Unlimited bandwidth

Can access Netflix US

Allows torrenting

No-logging policy
2

ExpressVPN




★★★ Best VPN 2020 ★★★


30-day money-back guarantee
www.expressvpn.com

/month

PayPal, Credit card, Bitcoin

5 Simultaneous connections

Unlimited bandwidth

Can access Netflix US

Allows torrenting

No-logging policy
3

NordVPN




$$ Best Budget VPN 2020 $$


30-day money-back guarantee
www.nordvpn.com

/month

Credit card

6 Simultaneous connections

Unlimited bandwidth

Can access Netflix US

Allows torrenting

No-logging policy
4

CyberGhost


www.cyberghostvpn.com

/month

PayPal, Credit card

7 Simultaneous connections

Unlimited bandwidth

Can access Netflix US

Allows torrenting

No-logging policy
5

TorGuard


www.torguard.net

/month

PayPal, Credit card

5 Simultaneous connections

Unlimited bandwidth

Can access Netflix US

Allows torrenting

No-logging policy
HideMyAss has a long list of features, covering all of the bases we like to see. That starts with a kill switch, which will cut your internet connection if you ever drop from the remote server. Although it works by default across your whole connection, you can also set it up on an app-by-app basis. 
This feature, commonly referred to as "app kill," is fairly uncommon, though very useful. With it, you can, for example, ensure that your torrenting client doesn't leak personal information without interrupting your web browsing session. 
Similar to app kill is split tunneling, which HideMyAss also includes. This feature is also rare — read our PureVPN review for an example of it — allowing you to send some traffic through the VPN tunnel while other traffic stays on your unprotected connection. It's especially useful for online backup, when you want the full amount of bandwidth available (read our Backblaze review if you're in the market for that). 
Other features include DNS, WebRTC and IP-leak protection, as well as IP shuffle. This feature randomizes your IP address after a specified time period, from 10 minutes to once a day. By doing so, any online trackers you may have gathered using the same IP will drop off once it changes. 
As we'll get into in the "server locations" section below, HideMyAss is in a league of its own when it comes to locations. The numerous servers are easy to pick from, though. In addition to offering P2P and streaming servers, HMA also has a speed test built into the application, so you see which server is best for you. 
Although the essentials are accounted for, HideMyAss is lacking in some areas. We've seen ad-blockers and malware protection from other VPNs — read our Windscribe review for an example — which HMA unfortunately doesn't include. It isn't a deal breaker, but still something to consider.
HideMyAss Free Proxy
HideMyAss also has a free proxy available that you can use in your browser. It's limited to one tab — you enter the URL you want to go to — but it's still the best free proxy out there. Even so, we'd recommend against using it. In theory, proxies perform a similar function to VPNs, but in practice, you're left unsecured. 
You read more about that in our VPN vs. proxy vs. Tor guide, but in short, a proxy doesn't encrypt your connection like a VPN does. In most cases, proxies are, well, a proxy, passing any encryption you may already have on your connection. Although it'll replace your IP address, you're not any safer than browsing on a standard connection.
HideMyAss Features Overview
Starts from
$
4
29
per month
Can be installed on routers
Can access Amazon Prime Video
Enabled at device startup
Malware/ad blocker included
HideMyAss has stock pricing, and although that's not inherently a bad thing, the lack of a monthly subscription stings. You'll have to shell out at least $80 when signing up and even more upon renewal, making HideMyAss's price more in line with a service like Astrill over the long term (read our Astrill review).
Unlike services that establish a baseline monthly price, such as ExpressVPN — as you can see in our ExpressVPN review — HideMyAss starts at one year. Breaking down the renewal rate by month, HideMyAss charges $11.99 per month. However, that price doesn't change based on the duration you're purchasing. 
You'll save money on the initial term, as HideMyAss offers a 42-, 50- and 64-percent discount for its 12-, 24- and 36-month plans, respectively. However, when it comes time to renew, you'll be paying the $11.99 per month for whatever duration you choose. 
That shoots up the renewal price of a three-year subscription to $431.64, despite it only costing $154.39 upon checkout with the initial 64-percent discount. 
HideMyAss isn't alone in offering discounts on multi-year subscriptions, as you can read in our NordVPN review. However, unlike NordVPN, HideMyAss jacks up the price upon renewal. NordVPN, on the other hand, continues charging whatever you paid when you signed up. 
The lack of a monthly plan makes sense, then, in light of HideMyAss' somewhat deceptive pricing. It's easy to get looped into a three year plan — it offers the greatest value, after all — only to be charged more than $400 when your time is up. HideMyAss also says it'll charge whatever the renewal rate is at the time of renewal, which, after three years, is likely higher.
HideMyAss Free Trial
Thankfully, HideMyAss offers a seven-day free trial, and not in the same way as TorGuard (read our TorGuard review for more on that). That said, the free trial is hard to find. We found a link on the "about us" page, but the free trial isn't mentioned otherwise. Like most trials, HideMyAss will start billing you automatically after it's over.  
If you miss the free trial — you'd be forgiven for doing so — HideMyAss has a 30-day money-back guarantee. Although that's the standard for most VPNs, it would make sense to offer a longer refund window, seeing that you're forced into at least a year-long subscription. CyberGhost, for example, offers 45 days (read our CyberGhost review).
Getting started with HideMyAss is like getting started with any other VPN. After clicking the "get it now" button on the home page, you'll choose a plan, then enter your payment and billing information. After confirming payment, HideMyAss will ask you to create an account, though the transition isn't as seamless as we'd like. 
HideMyAss opened a small window to create our account, which was apparently step three in a four-step checkout process. HMA doesn't include all four steps on a single page, no matter if you're purchasing a plan outright or using the free trial. It's not a difficult hurdle to overcome, but it's nevertheless a strange one. 
Finally, you'll need to verify your email. HideMyAss sends you two emails when you sign up, one asking you to verify and the other containing your order number and license key. 
It's important to note that neither of these emails contain download information. HMA will take you to a download page after you create an account — that's step four — but given the tiny pop-up window, we skipped past it. 
Finding the downloads page is more trouble than it's worth. Even when you're signed in on the website, clicking on the "download" tab will bring you to a product page. Even stranger, HideMyAss asks if you want to purchase a subscription when the application starts, yet doesn't make downloads available to everyone. 
It would make sense to have the "downloads" page lead to, well, downloads. Instead, HideMyAss reserves your installation files for your account page. You'll have to sign in, click on "my account," then click on your username to find them. Although simple to navigate to, the downloads page is easy to miss. 
HideMyAss Login
Once you download the application, HideMyAss will ask you to log in, but only the first time. As the application points out, you won't need to log in each time you want to use the app. The newly designed fifth version is a joy to use, showing your original IP address, the "lightning connect" location and an on/off toggle.
You'll want to do a few things before connecting, though, most importantly, turning on the kill switch. You can find the kill switch, app kill and auto-connect settings in the "more" tab located in the top-right corner. This expanded area will show your preferences for these three settings, and clicking on one will open the relevant screen in the settings. 
The settings menu is basic, giving you baseline controls over the kill switch, app kill and IP shuffle. Although we enjoy a simplistic approach — read our AirVPN review for the opposite of that — a few more settings would nice. For instance, you can't set up custom DNS or port forwarding in the application. 
You shouldn't need to go into the settings much, though. Locations are easy to find, segmented by region and searchable, and you can cycle your IP on the main screen. HideMyAss is fluid once you get it downloaded. We just wish there were a few more knobs to tinker with. 
HideMyAss was a little sporadic in terms of speed results, but that doesn't mean it was slow. Although it's just short of our fastest VPN list, it put up some impressive results. Staying close to home, we held most of our unprotected download speed, dropping by around 30 percent with the recommended location.
| Location: | Ping (ms) | Download (Mbps) | Upload (Mbps) |
| --- | --- | --- | --- |
| Unprotected (St. Louis) | 7 | 72.75 | 20.8 |
| Lightning Connect (Chicago) | 17 | 47.2 | 17.96 |
| Brazil | 155 | 58.91 | 16.5 |
| United Kingdom | 122 | 15.04 | 11.14 |
| United Kingdom via New York | 103 | 67.84 | 21.71 |
| Japan | 158 | 40.68 | 18.63 |
All of our testing was done using OpenVPN with UDP, which, as you can see in our VPN protocol breakdown, is the greatest factor for speed. Additionally, we ran all of our tests on physical servers, with one exception. We'll get to that in a minute. 
The "lightning connect," or recommended option, was surprisingly slow compared to some other options. Brazil, for example, was around 10 Mbps faster and Japan was only a few megabits slower. Although consistent in those three locations, HMA dipped in the UK, dropping our download rate to only 15 Mbps. 
Latency was also an issue. Although it stayed low when tunneling over far distances, the jump between tunneling near our testing location to tunneling abroad was severe. It's usable, though, especially for normal online tasks. If you're looking for latency intensive tasks, such as gaming, we recommend choosing an options from our best VPN for gaming guide. 
The UK was by far the worst performing location, but we also tested the UK via New York City. As we'll get into in the "server locations" section below, HideMyAss has physical and virtual servers. Virtual servers come with downsides in terms of security, but upsides in speed. Essentially, we were able to acquire a UK IP address without connecting to a server in the UK. 
Instead, we connected to a server in New York that virtually appeared as if it was in the UK. By doing it this way, you're able to get the speed benefits of tunneling close to home while still getting the IP address you need.
When it comes to VPN security, HideMyAss sticks with the status quo. Your connection is secured with AES-256 — which you can learn about in our description of encryption — with OpenVPN. By default, OpenVPN uses UDP, which is fine for most cases. However, if you want packet confirmation, you can switch to TCP, too. 
The kill switch and app kill also help with security, cutting your internet in case you lose connection to the remote server. HideMyAss has settings for automatically connecting on public networks, as well, but that's nothing we haven't seen before. 
Something we rarely see is IP cycling. HideMyAss allows you to constantly change your IP address. You can set it up to automatically happen in the settings or you can do it manually by hitting the correct button on the main screen. Although it's mainly a way to access websites that have an IP blacklist, cycling your IP is helpful for security, too.
It makes you that much harder to track across websites, on top of the AES-256 encrypted connection. Cycling your IP also means that websites can't ban you for using a VPN. 
All of that should be weighed against the use of virtual servers. Virtual servers come with security issues, but HideMyAss doesn't force you to use them, thankfully. Each virtual location is noted in the application, so if you're only comfortable using physical locations, you can do so. 
HideMyAss Torrenting
One of the big reasons to use a VPN is for torrenting, as torrenting is illegal in most countries. Thankfully, it's fair game with HideMyAss. It has a set of peer-to-peer servers around the world ready to use. Plus, with a kill switch and app kill, you won't be exposed if your connection drops. 
To ensure your torrenting is safe, we ran DNS leak tests, as well as IP and WebRTC leak tests, and HideMyAss came out clean.
HideMyAss makes it clear on the features page that it "doesn't log your IP address," and although that's true, this section is a little more complex than that. Let's start with the free proxy. If you're using HMA's web proxy or browser extension, your IP address, browsing history and downloads are stored. In short, don't use the proxy. 
As for the VPN, some data is collected, though it's not as bad as your IP address and URLs you've visited. While using the VPN, HideMyAss collects timestamps of your connection, the subnet of your original IP address (which isn't identifiable), the IP address of the server you're using and the amount of data transferred. 
In a vacuum, storing this information is fine, even if it's not ideal. However, combined with the information you sign up with, it could be dangerous. When creating an account, you'll have to enter a username, password and email address. Unlike Mullvad, which gives you a user key, your email address is tied to your username (read our Mullvad review).  
Assuming HideMyAss is using FreeRadius, which is a reasonable assumption to make, that means your username is tied to the information HideMyAss collects, which can then be tied to your personal information on file. The servers are configured to dump your username immediately after your session ends, at least according to HMA's privacy policy. 
The smoking gun here isn't that HideMyAss collects this information, but rather that it keeps it on file for 30 days. 
Collecting timestamps and subnets of an originating IP address is commonplace, but this data is usually collected into server memory, where it's discarded immediately after disconnecting. HideMyAss, by all accounts, logs this data, even if it's only for 30 days. 
If information is being stored, the next step is to figure out where it's stored. For HideMyAss, the answer is messy. Although HMA is based out of the UK, its parent company, Avast, is based out of the Czech Republic. The Czech Republic has better privacy laws than the UK — you can read about the UK's practices in our UK porn pass guide — but neither is ideal.
As you can see in our massive censorship guide, the UK and the Czech Republic participate in online surveillance. Although the scope and intrusiveness may not be as extreme as, say, the U.S., it's still present. 
HideMyAss isn't lying when it claims to not log your IP, but it's important to know that some information is logged. Its transparency in the privacy policy is nice to see, so we don't believe there's any malicious data collection going on behind the scenes. Despite that, it's possible that what is collected could be tied back to you.
Although we had high hopes for HideMyAss in terms of streaming performance, we were let down. It was able to break into Netflix, and although it could've earned a spot in our best VPN for Netflix guide, it won't be making the list in our best VPN for streaming one. It was blocked by Hulu and Amazon Prime Video, no matter what locations we tested. 
We gave it a fair shot, too, testing multiple locations and cycling the IP address about 10 times with each. Even so, we were met with a proxy error across Hulu and Amazon Prime Video. If those platforms are important to you, be sure to read our best VPN for Hulu and best VPN for Amazon Prime Video guides. 
In addition to Netflix, BBC iPlayer worked, but given that HideMyAss has IP cycling and multiple streaming locations, we expected more.
If there's any area HideMyAss excels in, it's server locations. There's a staggering 290 locations spread across 190 countries. The network isn't that large, though. More than 1,000 servers is nothing to shake a stick at, but other services, such as NordVPN, have three to four times the number of servers. 
HideMyAss is able to achieve so many points of presence with few relative servers by offering virtual locations. Essentially, virtual locations provide the IP address of the location listed while not having a physical server in that location. For example, you might be connecting to a U.S. server, but you'll appear to have, say, a Cyprus IP address. 
There are pros and cons to virtual servers. On the one hand, they're great for speed, allowing your connection to travel a short physical distance while still getting an IP address in the location you want. On the other hand, it's hard to know where the physical server is located and how it's operated, which poses some security risks.
Across the HideMyAss website, you'll find a small, yellow button in the bottom right corner. That button opens a live chat window, which is available around the clock. You'll have to jump through a few hoops to talk to someone, though. 
After opening the chat window, HideMyAss will ask you to describe your problem. It'll search for your problem in its knowledgebase before starting the chat. Although we don't have a problem with this system, HideMyAss opens the article in the live chat window, which can make for some strange formatting. 
Once you get to the live chat, things look up. Reps are helpful and responsive, though only able to answer basic questions. We recommend checking the knowledgebase first when you encounter an issue. HideMyAss includes everything from getting-started guides to troubleshooting tutorials, covering multiple versions of the software and different operating systems. 
You can also find the community forum on the knowledgebase page. It's not super active — the most active thread only has three posts from the past week at the time of writing — but it's there if you need it. HideMyAss answers questions in multiple languages on the forum but mixes everything together, which makes navigation difficult. 
Although we like seeing a forum, its quality is all about the community, which it seems HideMyAss lacks. There isn't a discussion on most posts. Rather, the forum functions as a way to publicly ask questions of the support team. 
If you'd prefer to ask questions privately, HideMyAss also provides email support through a contact form. We heard back in a few hours, but live chat is still the preferred method of contact. For technical issues, though, email support is available. 
HideMyAss is much better than it used to be, with an overhauled interface that emphasizes usability and a long list of helpful features. However, some of the critical areas it was lacking in before have stuck around. The privacy isn't great, the streaming performance should be better and the pricing is out of touch with the rest of the VPN market. 
Even so, the speed is excellent, as are the server locations. HideMyAss isn't perfect, but it's better than it was before. That said, at the asking price, making sacrifices in a few areas is still too much. If you want to shop around more, we recommend reading our other VPN reviews. 
What do you think of HideMyAss? Do you plan on taking advantage of its free trial? Let us know in the comments below and, as always, thanks for reading.
How to Use HideMyAss

HideMyAss is simple to use. After signing up for an account and downloading the application, all you need to do to connect is tick the "on" switch. If you want to change your location, you can search or browse by clicking the currently selected location. 

What Is HideMyAss VPN?

HideMyAss is a virtual private network owned by Avast, a Czech cybersecurity software company. Despite being purchased by Avast in 2016, HideMyAss still operates out of its headquarters in the UK. Its largest selling point is a massive server network. 

How Safe Is HideMyAss?

HideMyAss is safe to use, concealing your IP address and DNS requests with AES-256 encryption. However, it's not the most private VPN. Although HideMyAss doesn't collect your IP address, it still stores some basic connection information.