ClearVPN Review
ClearVPN is a new VPN service by MacPaw. It's still missing some key options, and its speed isn't the best, but it does throw in a few surprising features. Read this ClearVPN review to see if that's enough to land it a spot on our top VPN list.
Starts from
$
4
58
per month
ClearVPN by MacPaw is a new VPN on the scene. You may have already used MacPaw's CleanMyMac or CleanMyPC software, which users swear by. However, as you'll see in this ClearVPN review, we can't say the same for its VPN.
ClearVPN offers unique personalization features in the form of its shortcuts system, yet we found it lacking in other areas, including its ability to bypass geoblocks. Also, its speeds aren't impressive enough to make our list of the best VPN providers, and it doesn't come with extra security features, such as kill switch or split-tunneling, either.
Key Takeaways:
ClearVPN offers a limited free plan for users to test out the VPN, but there is no free trial for the premium version.
The DynamicFlow technology offers users faster connection speeds and an improved streaming experience by connecting to the most optimal server, but the lack of servers makes this a little moot.
The Premium plan can unblock Netflix, Amazon Prime and HBO, but not BBC iPlayer.
Doesn't include extra security features such as split-tunneling or a kill switch.
Regardless, we have spent time testing out each feature and running our own evaluations to offer you a deeper insight into this new VPN service. Although it's nowhere near ExpressVPN in terms of quality, speed or ability to bypass geoblocking, you can still see if it's right for you with the ClearVPN free plan.
ClearVPN is safe to use due to its zero-logging policy and AES-256 bit encryption with an OpenVPN protocol.

ClearVPN has the potential to become one of the best VPNs, but it's still not there yet. This is mainly due to its average speeds and lack of servers. However, it's still a relatively decent VPN with good geo-bypassing abilities and strict privacy laws.
Strengths and Weaknesses
Pros:
30-day money-back guarantee
Unblocks Netflix, Amazon Prime & HBO on Premium plan
Malware & ad blocker available
Secure & private torrenting
Many shortcut options
Cons:
Expensive
Cluttered layout
Can't unblock BBC iPlayer
Not many locations available
No kill switch or split tunneling
Features
ClearVPN isn't exactly jam-packed in the feature department, which was a little disappointing. That's especially the case when compared to other premium VPN providers, such as CyberGhost, which offer a lot more for a lot less.
Let's start with the launch-on-startup feature. This ensures that your VPN boots up as soon as your computer connects to a WiFi network, eliminating the need to turn it on manually each time.
ClearVPN's Personalized Shortcuts
ClearVPN offers a personalization feature it calls "shortcuts." Shortcuts are links to content tailored to you based on your real location and your usage habits. For example, ClearVPN might suggest a shortcut for a Netflix series popular in your country, and if you open the shortcut frequently, it will show up on the app's home screen.
On the dashboard, you can see a list of available quick actions — which include "unblocking streaming & entertainment" and "browse securely & privately" — to make sure your data is safe. While they seem like useful additions, a VPN should realistically cover all these bases anyway when connected to a server. Therefore, we found these particular features a little out of place and confusing.
There is also a shortcut option called "downloads'' that allows you to access torrent sites and ensures that the connection is secure and private while torrenting. Other shortcuts include quick access to Google Stadia, social networks, live sports and much more, all of which lands you right on the platform's homepage.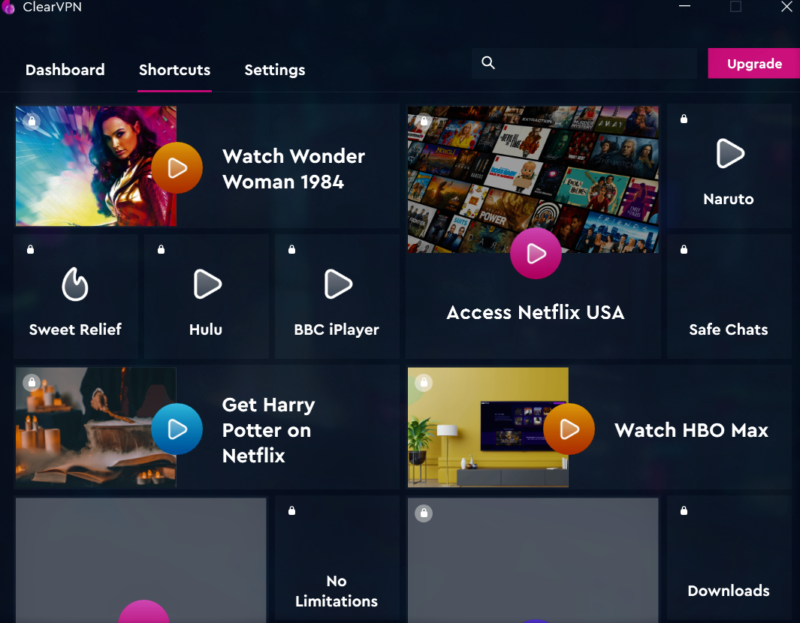 Lastly, ClearVPN also allows easy access to popular content in your real location with shortcuts to watch through Netflix, HBO Max, Hulu and so on. However, when we tried out the Harry Potter shortcut, we ended up on the Netflix homepage, not the movie like promised.
ClearVPN Compatibility
ClearVPN is compatible with both Windows and Mac operating systems as well as iOS and Android devices. The downside is that it doesn't include a Chrome browser extension (check out the best VPN for Chrome), nor will it work on your router. However, since it's a relatively new provider, that could change in the future.
DynamicFlow
ClearVPN's most interesting feature is what it calls "DynamicFlow technology," which claims to analyze the user's current network status and connect them to the best and secure server. This guarantees faster speeds and an improved streaming experience — at least in theory.
It lacks some basic features, though, such as a kill switch, which will automatically cut off the internet connection if the VPN disconnects. We were also hoping to see split tunneling, which lets you divide internet traffic between a VPN tunnel or a basic internet connection.
As we already mentioned before, our testing speeds were not as impressive as we thought they would be. However, ClearVPN still performed better than other VPN providers, like Avira Phantom, and we could stream content from Netflix U.S. fairly well from our location in Vietnam.
ClearVPN Features Overview
General

: PayPal, Credit card
: No
: 6
: No
: No
: 30-days
: 18 countries
: Windows, MacOS
: Android, iOS
: No

Streaming

Security

: AES-256-GCM, SHA2-384, PFS
: IPSec, OpenVPN, IKEv2
: No

Support
Pricing
ClearVPN works out to be pretty expensive. It costs as much as hide.me and ExpressVPN but without the extra features. Even its annual and two-year plans end up being pricey, as well.
While ClearVPN does include a free version to try it out, it's very limited — we'll dig into this in a bit. VPNs such as Windscribe and TunnelBear offer a much better free version, as you can see in our Windscribe vs TunnelBear article.
Its monthly premium plan works out to be $12.95 per month, and this allows you to connect to a specific country, enjoy unlimited data and have full access to all of its shortcuts. ClearVPN also includes up to six simultaneous connections.
However, its best deal is the two-year premium plan, which costs $109.95, which is only $17 more than the annual plan. Still, when you consider that a premium VPN, such as NordVPN, offers a two-year plan for half the price, it doesn't seem that great.
ClearVPN Free Plan
ClearVPN offers a very limited free plan to test out some of its functions. However, we found it too meager since you have no control of which server you're automatically connected to. Plus, the only features you can test out is its malware blocker and its automatic VPN protection. It would also have been nice to try out some of its shortcut options, but no luck there, either.
Luckily, it does offer a 30-day money-back guarantee for products bought directly via MacPaw. We tested this out for ourselves and were nicely surprised to have our money back the next day when on the website it says that it might take a few business days.
MacPaw accepts PayPal and credit card payments. However, we didn't see any options for cryptocurrency payments (learn more about bitcoin here).
Ease of Use
We can't say that ClearVPN is easy to use, but it does have an attractive interface. If you've used any of MacPaw's other software before, such as CleanMyMac, you might already be familiar with its modernist approach.
Downloading ClearVPN was very easy, offering guidance for Mac and Windows users on its official website. Once you've installed the app, all you need to do is register with your email address, set a password and you're ready to go.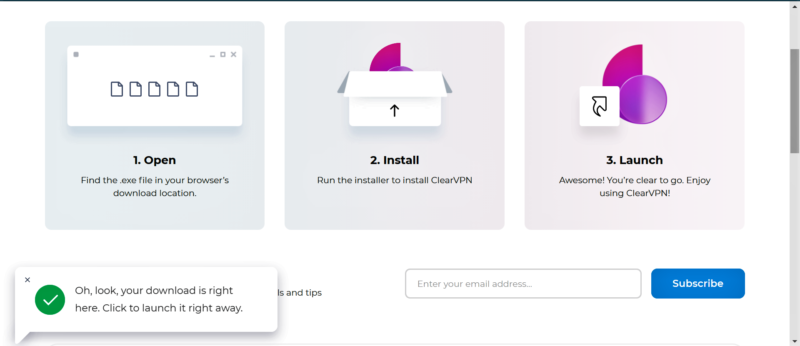 At first glance, the app interface is pretty confusing. There are a ton of various options to choose from, which might be overwhelming for first-time VPN users.
If you're using the free version, most of the quick options on the dashboard will have a pink "upgrade'' button next to them. Right next to the dashboard, you have the shortcuts tab. There, you'll have access to all the shortcuts that the app has generated for you based on your location.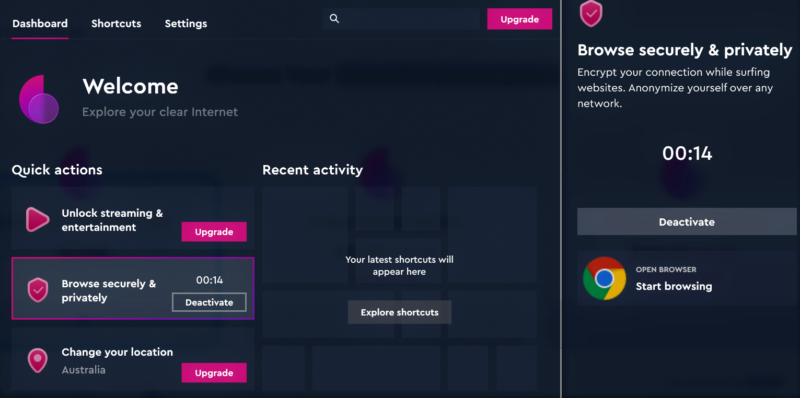 ClearVPN Shortcuts
Some of the shortcuts come in handy when you want to have quick access to a streaming service, such as Hulu, or to improve your gaming performance (see which VPN is best for gaming) when enabling the "improve online gaming'' shortcut.
Right next to the shortcuts is the settings section, where you can enable the VPN to launch upon startup. Under that is an option to share your analytics to improve the app. Lastly, you can also subscribe to its newsletter for extra info or check for updates.
We like the fact that it's possible to contact support via the app in the settings menu or access the help center. Nevertheless, the layout of the desktop app seems cluttered and difficult to navigate.
Although having multiple options to choose from is always helpful, sometimes with a VPN provider, less is really more. For a more minimalistic approach, we prefer NordVPN or TunnelBear (see our TunnelBear vs NordVPN article).
Speed
Location
Ping
ms
Download
Mbps
Upload
Mbps
Unprotected

4

67.77

38.23

Australia

254

27.49

0.89

Singapore

47

58.54

29.61

Brazil

332

12.14

5.33

United States

200

4.68

4.21

United Kingdom

279

13.80

8.56

Average

222

23.33

9.72
In all of our VPN reviews, we test every provider's speeds using Speedtest.net for extra accuracy. It's also important to note that you will see a drop in your download or upload speeds even when using the fastest VPNs like ExpressVPN.
While ClearVPN won't be winning any prizes for the fastest VPN in the world any time soon, some of the countries we tested performed pretty well. That's especially true in Singapore, which is pretty close to our testing country in Vietnam. We only saw a 10 percent drop in our overall speed, and the latency remained low, too.
However, once we started to branch out a bit to other continents, that's when we saw a more significant decrease in ClearVPN's performance. Australia still held up pretty well, but we saw pretty low speeds in the United States and the UK. Although we could still stream Netflix in good quality and watch YouTube videos, we experienced some buffering in the beginning.
In short, ClearVPN performed OK. However, we had hoped to see much better performance due to its DynamicFlow feature, which claims to guarantee faster speeds by connecting you to the top server in your desired location.
Security
ClearVPN is as safe as you can get, when it comes to encryption. It employs the near unbreakable AES-256 CBC algorithm with the OpenVPN connection. OpenVPN is an open-source protocol that offers better security and can run on almost all platforms. Check out our VPN security article for more info.
On top of that, ClearVPN also employs the perfect forward secrecy — or PFS — with IKEv2/IPsec protocols. This essentially means that the VPN and client use a different encryption key for every session rather than a single master key. It also makes it difficult for anyone to keep tabs on you and may even protect you from potential hackers.
We also tested ClearVPN for any DNS or WebRTC leaks on ipleak.org and were happy to see that no potential leaks were detected. However, the fact that the VPN lacks a kill switch is concerning. A kill switch will block your internet connection if the VPN fails, and without that protection, there's a chance your activities online could be exposed.
Overall, it's a bit of a letdown that ClearVPN offers no leeway for configuring the protocols or making any changes whatsoever. In this regard, ClearVPN is quite constricting, especially when compared to providers like NordVPN and Surfshark that offer a ton of extra security features.
Privacy
ClearVPN states that it follows a strict, zero-logs policy, which means that it doesn't store, collect or share any of your personal data, like your IP address.
After scouring its privacy policy, we could see that it still collects some info, with your permission, of course. Some of which include your device information, speed test data, crash reports or anything else that can help them improve their service. You can also choose to share additional information such as crash reports, when turning on the "share analytics'' option in the ClearVPN app.
In the end, because ClearVPN is a new VPN on the scene, we couldn't find any data breaches or concerns about their privacy policy, — so we won't know how it will hold up here, yet.
Streaming Performance
We initially encountered a couple of streaming issues with ClearVPN on Netflix, especially with servers in the United States and Australia, where the upload and download quality wasn't the greatest. However, after a couple of seconds of buffering, we could stream Netflix in pretty good quality.
We were also able to bypass geoblocks with Amazon Prime Video, Hulu, HBO Max and all of the Netflix libraries. Unfortunately, we couldn't unlock BBC iPlayer, which was strange since it's an actual shortcut on ClearVPN's dashboard. We're hoping that it's only a temporary issue.
Server Locations
Currently, ClearVPN has servers in only 18 countries, which isn't a lot at all, considering that CyberGhost has up to 6,800 server locations in 89 countries. More countries means having more access to geo-restricted content, such as Netflix and other local streaming channels.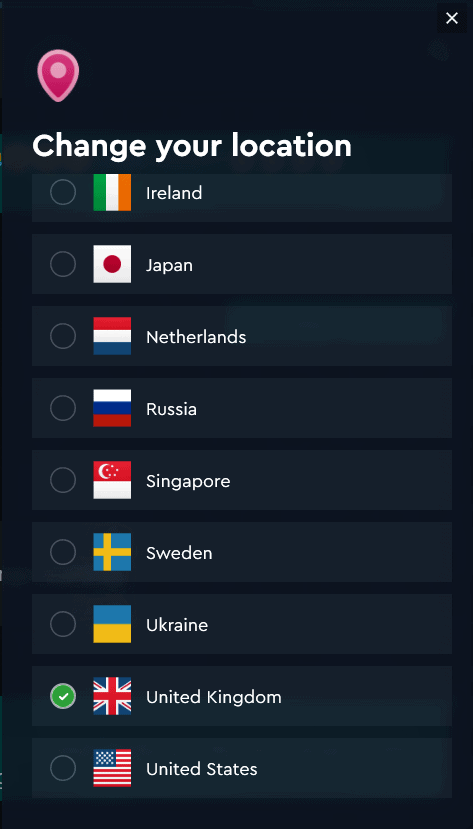 After contacting support about the number of servers ClearVPN has in total, we still haven't heard back from them at the time of publishing, after waiting a week. However, we can say that ClearVPN covers the top countries around the world, including locations in Europe, Asia, Australia, America and Brazil. There were no servers in Africa or the Middle East.
Customer Support
ClearVPN's customer support page can be accessed via the app itself or through MacPaw's official website, making it easy to find.
After contacting customer support regarding our refund, they replied and processed the payment the very next day. However, when we emailed them our questions regarding their servers, they still haven't replied to us at the time of publishing. So, we're guessing it's a hit and miss with customer support.
ClearVPN offers an informative FAQ section, covering the top queries about its VPN, which we found useful. Additionally, there is also an "about ClearVPN'' section on the site that includes extra information about the provider and its features.
Overall, ClearVPN does a good job of informing users about the VPN and offers many helpful guides on installing the service across various systems. However, we would have liked to see live chat support. Currently, you can only contact the support team by submitting a request and waiting until they get back to you (we're still waiting).
The Verdict: ClearVPN by MacPaw
ClearVPN is the perfect example of an excellent concept with poor execution. However, we believe that it has the potential to become a relatively good VPN service, mainly due to its DynamicFlow feature and unique aesthetic style. Its speeds were OK, too, and it performed relatively well during our streaming tests.
Still, there are a few aspects it needs to address. For example, we'd like to see extra security features, like a kill switch and split tunneling, plus better layout structure of the shortcuts functions (like having them link to the right thing) and more server locations. It would also be better to have more control over configuring the protocols and extra servers, too.
Have you tried out ClearVPN yet? What's your favorite VPN service to use? Let us know what you think in the comments below. Thanks for reading.