The Best Kodi Add-ons for Sports in 2023
Sports fans often find themselves disappointed when browsing YouTube, Netflix and other streaming services. These often show just for secondhand content, with major sports mainly reserved to cable providers. However, using Kodi, you can often watch sports as a live event or as a recap from sources.
Kodi is a free, legal and open-source media player for Windows, Linux and Android. While it's base version meddles only in organization, it can be expanded with add-ons to provide a nearly infinite amount of content.
Unofficial add-ons delve into some questionable legal areas, as the streams are obtained illegitimately. While we will recommend some of those add-ons for streaming sports, it is essential you use them only with the best VPN for sports.
A VPN will keep your IP address private and connection secure when using Kodi. It is best practice to keep yourself protected, but also to unlock region-locked content. Many sports streams will not work depending on your region and a VPN can overcome that. Make sure to check out our picks for the best Kodi VPN.
Official Kodi Add-ons for Sports
While the best sports add-ons for Kodi come from unofficial repositories, there are still options in Kodi's official one. Many require a subscription of some sort and usually only show events after they've aired, but the option is still there.
BT Sport Video
This add-on accesses content from BT Sport, one of the largest UK broadband providers (and only the UK, we're afraid). For £10 per month (roughly $14), you get access to all four of the BT Sport channels which sit alongside HD counterparts.
The downside is that you must have broadband from BT in order to use the app on Kodi. If you don't have a package already, then the add-on doesn't make much sense. The overall cost would be on the same level as a cable package.
However, it does make sense if you already have broadband from BT. The small extra cost opens up the possibilities on Kodi. As long as you're in the UK and have a plan with BT, then this add-on is a must.
Fox Sports Go
If you're in the U.S., then Fox Sports Go is one of the simplest ways to stream live games legally. The service costs nothing extra besides your cable subscription, and you can use it across both your Kodi box and mobile device.
It works off of an existing cable subscription, so you'll need one in order to use it. Thankfully, Fox accepts plans from just about every provider imaginable so it's likely you'll find yours there.
The extra cost of a cable subscription may be too much for those who don't already have one. If you do, however, then it's a great add-on for Kodi that allows you to watch a wide range of U.S. sports from your TV and mobile device.
Unfortunately, this is true for all official add-ons. There are only a few that offer subscriptions apart from cable. In order to get content for free or liberated from geoblocking constraints, you'll need to install unofficial add-ons.
Unofficial Kodi Add-ons for Sports
If you don't have cable, you'll need unofficial add-ons. These additions, which aren't officially supported by Kodi, open up a massive realm of streaming possibilities. As mentioned before, this is piracy and therefore illegal, so make sure you protect yourself with a VPN before heading to open sea.
SportsDevil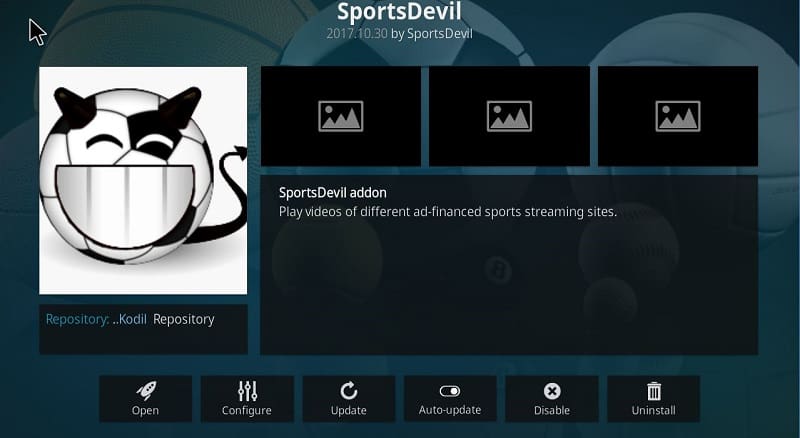 For streaming live sports, it doesn't get much better than SportsDevil. This add-on comes courtesy of the Kodil repository (http://kodil.co/repo/) but it can be found in a few others as well. This add-on doesn't archive any content, so it's best suited for those who want to catch the game live.
The best part of SportsDevil is how much is available: just about every sporting event imaginable has a stream, many at 1080p. There are also constant streams to the NFL Network and ESPN.
Many events will have multiple streams available from different sources. There will almost always be a dead link or two, so the options are definitely welcome. If you're lucky, you'll also find a 720p stream for mobile.
The only issue with SportsDevil is organization. Instead of listing games with available streams, SportsDevil only lists sources. That means you'll have to crawl through sources to find a game, and then hope a stream is available.
At first, this is a huge hassle. The streams come from questionable websites laid deep in the internet. However, after a while you will begin learning which sources work the best, making the add-on much more useful.
Project D
If catching games live isn't important, Project D is a great choice. It has a great offering of older games from the NFL, NHL, NCAA, WWE and much more (we have another guide that shows you how to stream NHL games, though). The add-on feels complete with background images and neatly organized content.
Where SportsDevil fails in organization, Project D thrives. Sources aren't listed, only the games: once you choose a game, Project D will automatically scrub sources for it. Unfortunately, that's the weakness of Project D as well. Games are added weeks after they air, with no live streams available.
Project D comes in it's own repository (http://repo.projectdaddon.com/) which is a huge plus. With other add-ons, you may find yourself jumping from repo to repo as each goes offline. As long as the developers control the repo, the add-on will be live to use.
Bennu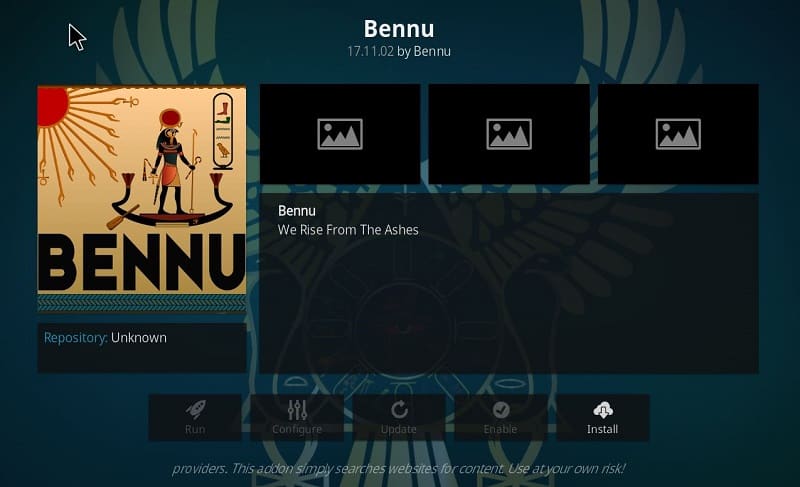 A staple for many to watch sports was Phoenix. However, after going on and offline multiple times, the future of Phoenix is in question. Bennu is a fork of Phoenix and, like the original tine, comes packed with content.
Like Project D, Bennu mainly offers streams of previously aired games. However, the add-on, in most cases, seems much quicker. Between this and Project D, you'll find a stream as fast as possible.
Bennu is much more than a sports stream, though, as it has a wealth of TV shows and movies available to stream as well. It's not on the level of Covenant or Elysium, but it does the job well enough.
You can find Bennu is both Colossus and Kodil (http://kdil.co/repo/), however we had trouble installing from the former. Installing from Kodil went smoothly, but experiment with both if you're having issues. The official link to Colossus is dead, but you should be able to find it if you already downloaded the zip.
Installing a Kodi Repo
Official add-ons come from the Kodi repository which is included with each download. To get Project D, SportsDevil or Benu, you'll need to install the appropriate repository. Repositories can be installed directly through Kodi or via a .zip file. The latter is more reliable if the repository goes offline and you need to reinstall, so opt for that if you can.
Installing from a Computer
To get the .zip file of a repository, just click the links above. You'll be taken to a directory where you can download it directly.
Once that's done, open up Kodi and take the following steps:
Click "add-ons"
Go to the "add-on browser" (open box icon)
Click "install from zip"
Navigate and select the saved .zip file
After a few moments, you'll get an add-on enabled notification. Once you do, click "install from repository" in the same menu and choose the add-on you want.
Installing from URL
If you run Kodi on a mobile device or don't want to download the entire repository on your desktop, you can enter the URL as a source through the application. You are still installing the repository, but instead pulling the zip file from the website through Kodi.
Kodi must be setup to install repositories from unknown sources first. To do so, take the following steps:
Click the "settings icon" that looks like a cog
Go to "system settings"
Hover your cursor over "add-ons"
Tick the "unknown sources" slider to the right
Go back to the Kodi home screen and install the repository:
Click the "settings icon"
Go to "file manager"
Select "add source" from the left column
Click "<none>"
Enter the "URL" for the repository you want
Give it a name
You can then take the steps as if you were installing from a saved zip file, but instead select the source you created. As with before, install add-ons from the "install from repository" option.
Conclusion
There are many different add-ons for streaming sports on Kodi. If you have an existing subscription, then official add-ons are a great option due to their reliability. However, there are still plenty of choices from unofficial repos.
Make sure to use a VPN with both official and unofficial sources. A lightweight service will provide security, geoblocked content and increased speeds due to the recent repeal of net neutrality in the U.S. Check out our best VPNs for 2017 and sign up for one.
To get more on Kodi, look through our Kodi archive. You'll find tutorials, lists and more including how to watch the NFL on Kodi and the best unofficial Kodi add-ons.
What add-ons do you use for sports? Let us know in the comments below and, as always, thanks for reading.