Amazon offers various cloud storage services, the most well-known arguably being S3. But there's another, Glacier, that's worth considering.
With Amazon Glacier, cloud storage becomes affordable for all, with massive backup space available for a pocketful of loose change. Before you head to Amazon and sign up for Glacier, you need to know two things: its limitations and the way it works.
We'll look at features alongside cost, since the two are related, and then we'll look at the actual backup process.
Amazon Glacier Pricing
Amazon Glacier doesn't have a straightforward price per month. The service is billed according to a number of factors:
Disk space – you'll pay per gigabyte per month to store your archives
Bandwidth – you'll pay a fee for this, depending on how much data is transfered
Duration – if you store a file for less than three months before deleting it, you'll be penalized
Location – different physical locations have different pricing tiers assigned to them
Retrieval – it takes at least 4 hours for a file to be made available
Estimating the cost of a Glacier plan is far more complex than other cloud storage services like Dropbox or SugarSync. If you want to get an estimate of the monthly price, there's a calculator here.
Why is Amazon Glacier So Affordable?
Glacier is designed for long-term storage. The clue is in the name. Glacier effectively puts your data into a deep freeze. Once uploaded, data is less accessible, so it's not a storage service designed for continuous cloud backups or file syncing. 
When it comes to restoring a backup, think of Glacier like the cloud equivalent of a tape backup drive. It takes a long time to get to your data, and it's expensive to do so. In short, Amazon is happy to store your files cheaply as long as you don't need to access them too often, too fast, or too soon.
How Glacier Works In Practice
Signing up to Amazon Glacier is simple, but you need to understand how this cloud storage service works. You create a storage account with Amazon directly (you can use your regular Amazon login for this).
---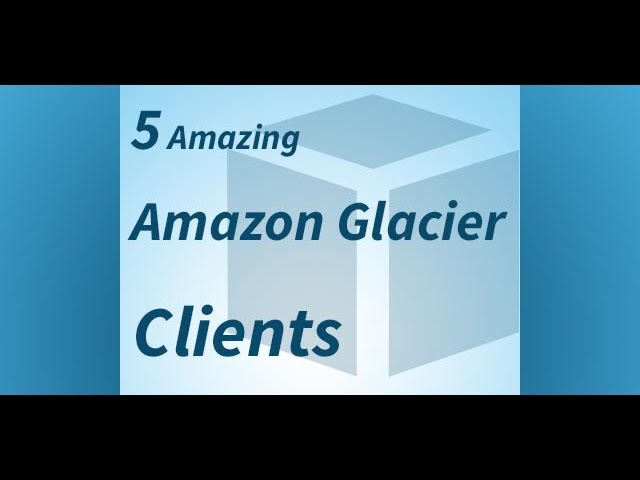 ---
You then have the option of downloading a third-party application – the Amazon Glacier client – to manage the files. Let's look at some of the applications you can use.
Windows – free for personal use, $29.95 for commercial use
If you're looking for an intuitive, free client, look no further. Fast Glacier supports multi-part uploads, so it's great for uploading large amounts of data into the cloud when you don't have a T1 connection at your disposal. It's also free for personal users.
One really good feature is the ability to hook up multiple Amazon Glacier accounts, so it's a great client if you use the cloud storage service at home and at work. It's also compatible with Windows Explorer using drag and drop.
Cross platform, free 
Glacier Uploader is a Java client for Glacier. It's a useful utility to throw onto a memory stick or onto another cloud backup service, just in case you need it.
Glacier uploader works on Windows, Mac and Linux, so if you're continually moving around the office or server room, it's a good choice. Glacier Uploader requires a little more technical know-how than some other solutions, so if you want something simple, keep searching.
Mac OS X, $39.99 
Arq offers pre-upload encryption for added security, and it can back up to both Amazon S3 and Amazon Glacier. That's really useful, because it means you can use instant access cloud storage (S3) alongside slow cold storage (Glacier), mixing the two for different folders and files.
Users can download a trial of Arq before paying for it. If you're sick of Time Machine and its unpredictable behaviour – particularly when using a NAS drive like the My Cloud – Arq could be worthy of investigation.
Cross platform, free
The Simple Amazon Glacier Uploader (SAGU) takes the command line Glacier application and wraps an attractive user interface around it.
It's not the most feature-packed tool, naturally, but it does work on Windows, Mac and Linux as it's built in Java so it's super-portable.
Mac/ Windows, free
Cloud Gates creates a virtual drive on your computer that's hooked up to your Amazon S3 or Amazon Glacier account. You can then upload data to this drive via your normal FTP software.
The Cloud Gates blog hasn't been updated for 9 months, but its Twitter account is still active. The website is somewhat basic, though, so proceed with caution if you're not confident.
Windows, $29.99 for personal use, up to $299.99 for commercial use 
CloudBerry Backup is more like a traditional backup tool, since it allows you to upload data according to your pre-defined schedule. CloudBerry Backup supports Amazon Glacier, Amazon S3, Google and Azure, so it's a very handy utility for those who use multiple cloud storage services on Windows.
There's a 15-day trial available so you can give it a try before purchasing it. Commercial users will have to pay between $79.99 and $299.99 for a copy. The website is clearly designed to attract enterprise clients, so if you're backing up corporate data, this might be the solution for you. 
Conclusion
No matter which Amazon Glacier client you use, remember that backups take up hours to be made available, and that's without the time needed to download the data. Don't use Glacier for files you need in a hurry, like your college work or urgent presentations.
Additionally, you'll have to request an entire archive (zip file) – not just a single file. Every time you access an archive, you pay for the bandwidth used to download it, too. Glacier really is a storage service for the packrats rather than casual cloud storage customers.