How & Where to Watch Home Alone Online From Anywhere in 2023: Access Disney Plus With a VPN
Many of us simply can't leave Home Alone out of our Christmas movie lineup. If you want to watch the comedy classic these holidays but haven't been able to track it down, this guide explains how and where to watch Home Alone online.
When we hear the phrase "Christmas classic," Home Alone is often one of the first movies to come to mind. That being said, not many streaming services have the rights to stream the franchise. This guide helps you prepare for the Christmas season with all the info you need on where to watch Home Alone and how to stream it from unsupported locations with a virtual private network like ExpressVPN.
Key Takeaways:
You can stream Home Alone on Disney Plus. If you're in a location where Disney Plus is unavailable, you can access your account with a VPN.
A VPN allows you to unblock streaming platforms like Disney Plus from restrictive locations while keeping you anonymous and secure online.
ExpressVPN is our top recommendation for streaming, but NordVPN and Surfshark are also well worth considering.
Let's kick off with a quick recap. Christmas comedy Home Alone (1990) stars Macaulay Culkin as Kevin McCallister, an eight-year boy accidentally left alone at home when his family heads off on their Christmas holidays. When hapless burglars (played by Joe Pesci and Daniel Stern) target the McCallister family home, Kevin is the one who must defend it at all costs.
Now, let's get into the nitty-gritty of where Home Alone is available online and how to stream it from anywhere.
You can watch Home Alone on Disney Plus or Hulu + Live TV. Alternatively, you can buy or rent it on Amazon Prime Video, Vudu, Google Play, iTunes, ROW8 or Redbox.

Yes, but you can only watch it there with a Hulu + Live TV subscription.

No, you need to buy or rent Home Alone on Amazon Prime Video.
Where to Watch Home Alone Online
You can watch Home Alone and all of its sequels on Disney Plus. Disney Plus is available in a wide variety of countries worldwide, but not everywhere — for example, it's blocked in China. The Disney Plus content library may also differ slightly depending on your location due to copyright reasons.
Luckily, you can access your Disney Plus account from restrictive locations or access different Disney Plus libraries with a VPN. We'll show you how to do that further down.
We also found Home Alone movies one, two and three on Hulu, but you need a Hulu + Live TV subscription to watch it there. In addition to Disney Plus and Hulu + Live TV, you can buy or rent Home Alone (1990) and its sequels on the following platforms:
Amazon Prime Video
Vudu
Redbox
ROW8
iTunes
Google Play
Where to Watch Home Alone for Free
Unfortunately, Disney Plus no longer offers a free trial. All the other services we found Home Alone on are purchase or rental services.
If you choose to use unofficial free streaming sites or torrenting sites to stream or download Home Alone, we recommend being cautious, as you can't be sure how secure these sites are. If you go this route, be sure to use a VPN and make sure your antivirus software is up to date.
The Home Alone Franchise: How Many Home Alone Movies Are There?
Six Home Alone movies have been released in total, three of which are television films. Here are the specifics:
Films
Home Alone (1990)
Home Alone 2: Lost in New York (1992)
Home Alone 3 (1997)
TV Films
Home Alone 4: Taking Back the House (2002)
Home Alone: The Holiday Heist (2012)
Home Sweet Home Alone (2021)
How to Watch Home Alone With a VPN
If you're traveling somewhere Disney Plus is not supported, or you can't find Home Alone in your country's Disney Plus library, follow these steps to start watching the movie. Please note that you need a Disney Plus account for this to work.
In this tutorial, we show you how to connect to a U.S. server to access Disney Plus, but you can connect to any country's server as long as Disney Plus is also supported in that country (i.e. U.K., France, etc.). We will use our top streaming VPN recommendation, ExpressVPN, as an example for this tutorial. We'll share some more VPN recommendations further down.
The 3 Best VPNs for Watching Home Alone
Aside from unlocking a wide variety of streaming platforms from around the world, a VPN is an important piece of security software that keeps you safe online from hackers, snoopers and even your internet service provider. Read on to find out our top VPN recommendations for streaming securely from anywhere.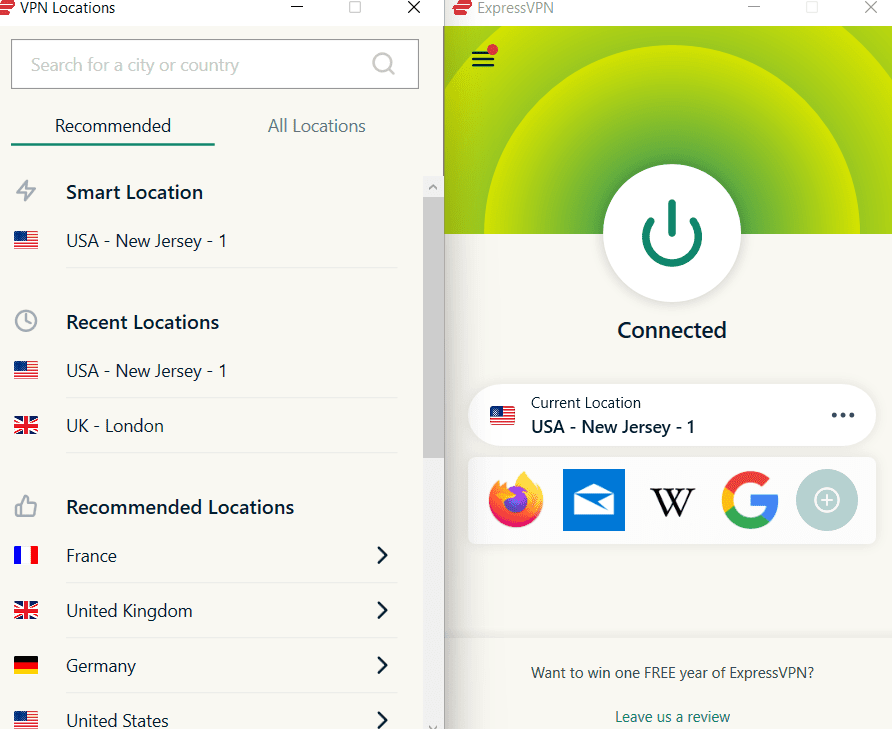 Pros:
Watertight security
Very fast servers
Easy to use
Not only does ExpressVPN sit in first place on our most secure VPN roundup, but it's also an excellent streaming VPN. ExpressVPN has the power to unblock major streaming services including Disney Plus, Netflix and Amazon Prime Video and, in our experience, it manages to get around the geoblocks in seconds. For this reason, ExpressVPN is our top recommendation for streaming.
The only downside to ExpressVPN is the price, but its security, speeds and streaming performance make it well worth it. If you'd like to try ExpressVPN risk-free for 30 days, you can take advantage of its no-questions-asked money-back guarantee. Find out more in our ExpressVPN review.
Pros:
Top speeds
Affordable 2-year plan
Intuitive desktop interface
If ExpressVPN doesn't float your boat, NordVPN is a secure and less pricey alternative. NordVPN's speeds are outstanding, which makes for a solid streaming experience free of buffering. Its desktop app is also very easy to use and is designed, so you can connect to various locations in a single click.
That being said, NordVPN comes up just behind ExpressVPN because its mobile user interface isn't as easy to use as ExpressVPN's — the world map design on a handheld device can be a little awkward to navigate.
This is a minor gripe, though, and NordVPN more than makes up for it in other areas. Like ExpressVPN, you can try the service with a 30-day money-back guarantee. Find out more in our NordVPN Review.
Pros:
Very cheap 2-year plan
Good speeds
Unlimited simultaneous connections
Cons:
Higher latency on U.S. servers
Surfshark is a feature-rich VPN that allows for unlimited simultaneous connections. This is perfect if you share your VPN with family and friends who are fans of streaming. Moreover, our recent speed comparisons revealed that Surfshark's download speeds are pretty much neck and neck with NordVPN's — which is excellent.
On the other hand, Surfshark might not be the best option of our top three if you're considering using it for gaming as well as streaming. This is because we noticed higher latency on Surfshark's U.S. servers in our tests, though its latency was much better on some overseas servers. This aside, Surfshark is a great streaming VPN and we feel very confident in recommending it.
You can try out Surfshark with its 30-day money-back guarantee and find out more in our Surfshark review.
Final Thoughts
Before you click away, kudos for planning your Christmas movie selection well in advance! We hope our how-to guide has meant you have one less thing to worry about this holiday season.
Now that you have learned where to watch Home Alone, check out our guide on how to watch One Flew Over the Cuckoo's Nest and Saving Private Ryan.
Did you find our guide useful? Which VPN do you use to access geoblocked streaming services? Let us know in the comments and, as always, thanks for reading!